Why Aren't More Fashion Brands Designing Adaptive Clothing?
Image Source: Courtesy of Slick Chicks / Roohi Photography
"The first thing we do in our day is put on our undergarments and not all of us put them on one leg at a time," Helya Mohammadian, founder and CEO of adaptive underwear brand Slick Chicks, told POPSUGAR. "People have different experiences and some people need help changing." Sure, there are a handful of brands with adaptive collections or clothing designed around the needs and abilities of people with varying degrees of disability: there's Nike, which produced the first-ever hands-free sneaker, Go FlyEase, that allows wearers to slip feet in without zipping, tying, or velcroing closed; ASOS created the first wheelchair-friendly jumpsuit back in 2018; and Target and Tommy Hilfiger sell adaptive clothing. But when one in four US adults have a disability, and diversity and inclusion efforts are at an all time high — why aren't there more fashion brands catering to this significant population? We spoke to three adaptive fashion designers who have been designing with this approach since their inception to gather more insights on the importance of adaptive fashion and the potential hurdles brands face to become adaptive.
What Is Adaptive Fashion?
Adaptive fashion began in the 1980s when caregivers realized the need for easy-to-wear clothing for their loved ones with disabilities. Some manufacturers and distributors started making clothes for this community based solely on function, but with the help of fashion designers like Mindy Scheier and Tommy Hilfiger in 2014 and 2015, respectively, these offerings began to incorporate style and functional elements. That can mean different types of fastenings, elastics, and openings for easy access to stomas, catheters, lines or for those who use a wheelchair.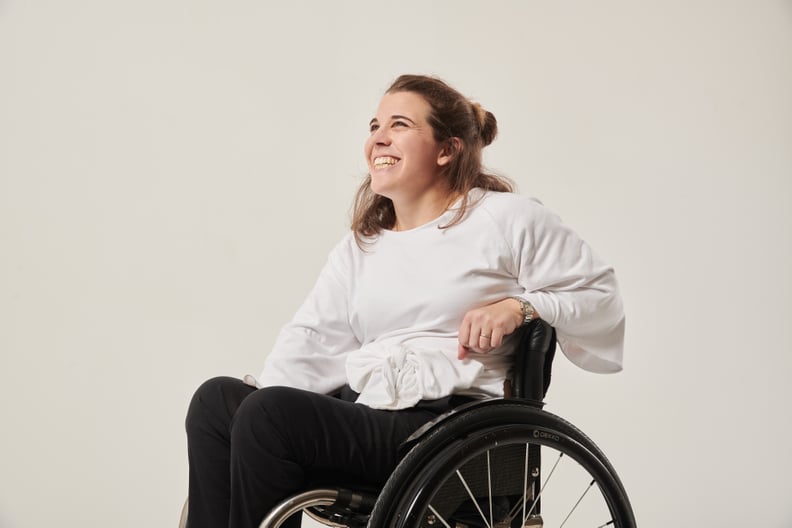 For sensory concerns, designers invest in soft and seamless fabrics and moisture-wicking fabrics to prevent infection. When beginning a design, Mohammadian asks: "Is this bridging the gap between fashion and function? Is it stylish? Would it give somebody dignity and independence but still make them feel sexy and confident?" in order to maintain the integrity and empathy in adaptive clothing.
At Mighty Well, adaptive medical accessory and apparel company, adaptive fashion also includes the shoppers' experience on their site. For this reason, all their products are FSA (flexible savings account) and HSA (health savings account) accessible. "It helps patients financially because we know that they're dealing with so many other healthcare and wellness costs," says Emily Levy, co-founder and chief brand officer at Mighty Well.
"[Adaptive fashion] can be the difference between feeling comfortable and like yourself, verses being forced to dress in a way that doesn't express your own taste"
Although you do not have to be disabled in order to design an adaptive collection, Victoria Jenkins, founder and CEO of fashion brand, Unhidden believes the best adaptive designers have a close relationship to disability that allows them to create these meaningful garments. Meaning, brands who do it well incorporate models with lived experiences with different health care challenges, spend time with the disabled community getting clarity on their concerns for clothing, and most importantly, test on the community for accuracy before manufacturing a product. "It is critically important to Mighty Well that patients with lived experiences are part of the design and feedback process. So, it's not just the way the product is designed, it's inclusive of the experience of how the product is brought to market," Levy agrees.
Why Aren't More Fashion Brands Designing Adaptive Collections?
"[Adaptive fashion] can be the difference between feeling comfortable and like yourself, verses being forced to dress in a way that doesn't express your own taste," Jenkins tells POPSUGAR. "We deny every person with a disability the basic human right of clothing, and in an age where what we look like is so intertwined with how we are perceived, the mental toll can be severe."

According to Jenkins and Mohammadian, the root cause is companies failing to involve disabled people in the process. "If fashion companies are not hiring people with disabilities, which I'm sorry to say is common, then they have no daily view of the impact this has been having and therefore, no motivation for change," Jenkins shares. "Hiring the occasional disabled model is a start but there is a long way to go." The failure to invite the targeted customer in this process for feedback and fittings suggests that desires for inclusivity could be performative, and not genuine.
Adaptive Fashion Needs To Be Normalized
In terms of adaptive fashion becoming mainstream, all our experts are concerned that financial commitments are stopping fashion designers from creating with this design approach. "If I, as a start up, can make adaptive clothing. A bigger brand, with a wider supply chain, and access to trims far cheaper than I do, surely can. This standard excuse falls short," says Jenkins.
Thanks to the lack of awareness presented in the media and agency to the disabled community, there is so much misconception and miseducation around disabled people. Disability advocates believe that fashion houses have an opportunity, and responsibility, to shift the narrative by making people with disabilities visible. All three fashion designers hopes to see brands look at their policy on inclusion and decide how much disability is represented within their own company. "If they do not practice what they preach from within, they will struggle to meaningfully engage outside of their company," shares Jenkins.
Case in point: shopping for clothing can be challenging for anyone outside the ableist, straight-sized norm. The disabled community has $490 billion of spending power in the United States alone, failing to cater to this sector is not only exclusionist, but also not a smart business move.