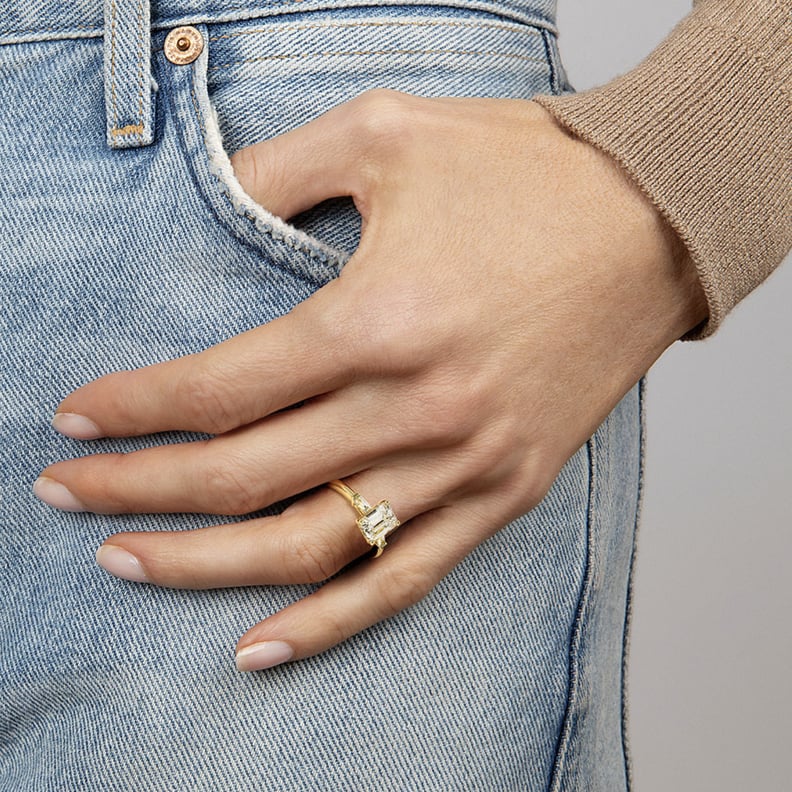 Brilliant Earth
Macy's
As POPSUGAR editors, we independently select and write about stuff we love and think you'll like too. If you buy a product we have recommended, we may receive affiliate commission, which in turn supports our work.
Shopping for an engagement ring is no easy feat — especially if you're looking for something on a budget. Weddings are notoriously expensive occasions, and by the time you start budgeting for the honeymoon, reception, and let's be real, open bar, you might feel more inclined to keep your engagement ring-spending within reason.
Whether you've been with your SO for quite some time, are newly involved, or are still on the hunt for that special someone, one thing's for certain: making it official-official shouldn't have to come at a high cost. And fortunately, with the help of retailers like Walmart, Amazon, Macy's, and more, we've discovered there are actually plenty of affordable engagement rings that look incredibly luxe — but actually cost much less.
You have enough on your plate trying to coordinate the perfect engagement and wedding ceremony, so we did a little homework for you and rounded up the 10 best affordable engagement rings that money can buy. All of our selects cost less than $3,000 (yep, you actually read that right) but look just as elegant and timeless as a designer piece. From diamond-encrusted accessories and delicate gold bands to affordable Moissanite engagement rings and pieces with atypical shapes like rounded or pear stones, our curated guide is designed with every couple, style, and budget in mind. Keep reading to shop our top picks, and find your match.
— Additional reporting by Marina Liao, Samantha Sutton, Krista Jones
01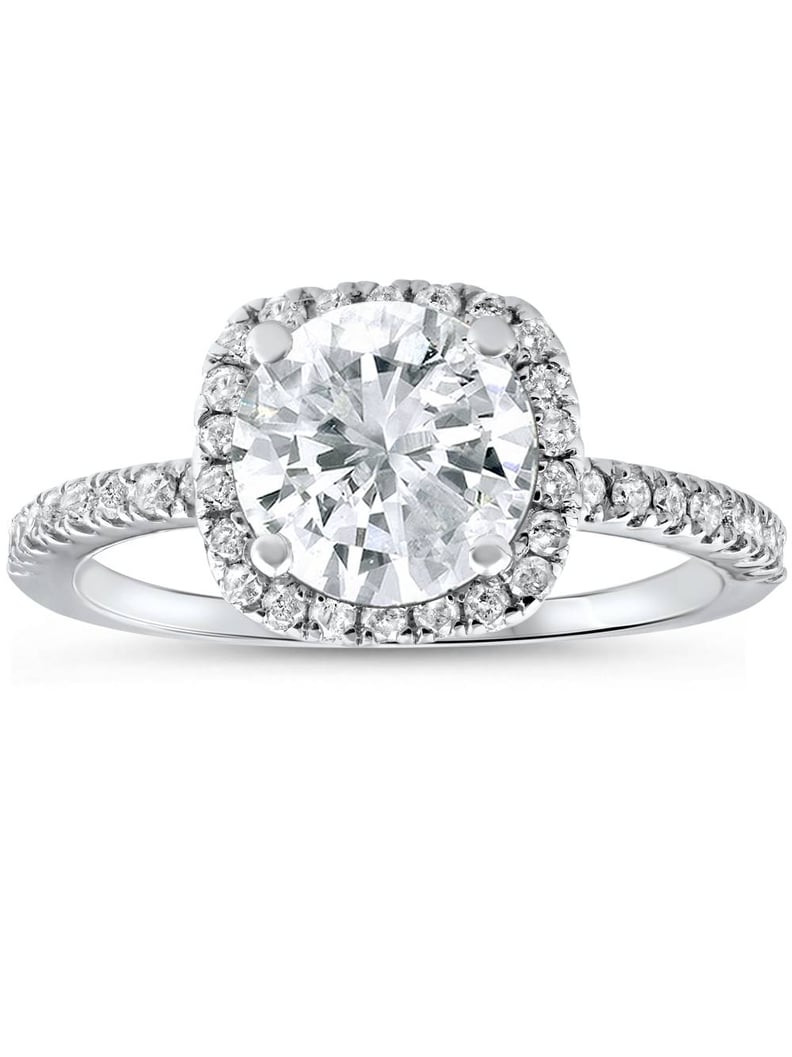 Best Affordable Moissanite Engagement Ring
JeenMata 2 Carat Round-Cut Moissanite and Diamond Infinity Halo Engagement Ring ($359, originally $698)
This is one of the best affordable engagement rings that money can buy — especially if you're on a budget or shopping for an affordable Moissanite engagement ring, in particular. The halo style features a 1.7-karat cut front and center, with a solid 10-karat white gold band surrounding it. The piece boasts a timeless elegance that feels so classically chic, yet it still costs well under $1,000.
02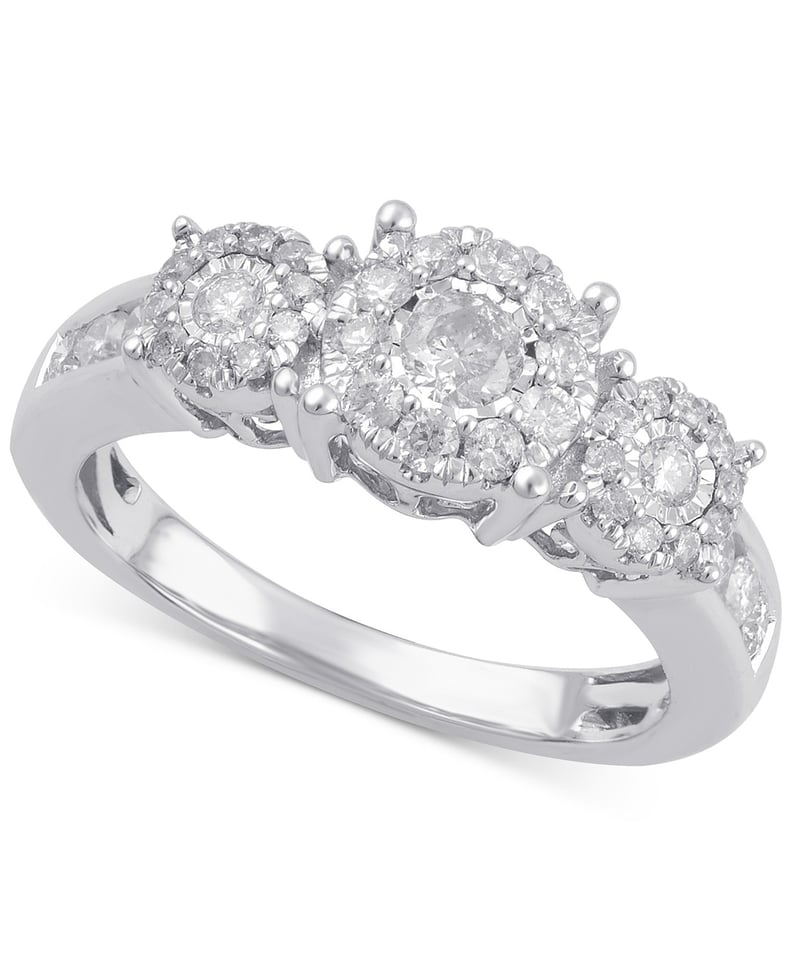 Best Affordable Engagement Ring With Multiple Stones
Diamond Three Stone Engagement Ring ($699, originally $2,250)
For a diamond engagement ring that'll never go out of style, we'd go with this three-stone piece from Macy's. The glitzy accessory boasts a cool, rounded cut that's defined by a romantic 14-karat gold detailing. The price is just right, and even if the white gold isn't your preference, the piece also comes in a yellow and rose gold choice.
03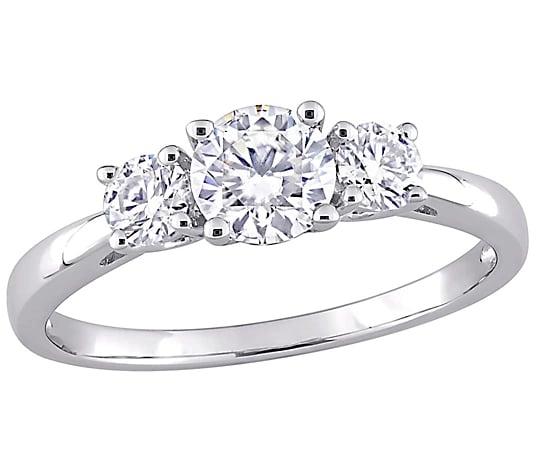 MoissanIce Moissanite 3-Stone Engagement Ring
MoissanIce Moissanite 3-Stone Engagement Ring ($193)
Keep it classic with this affordable Moissanite engagement ring. The minimalistic style feels both charming and timeless with its three-round cut and sterling silver finish. While the ring only features a 0.85-carat design, what it lacks in actual diamonds it makes up for in shine. Plus, you can't beat that under-$200 price tag.
04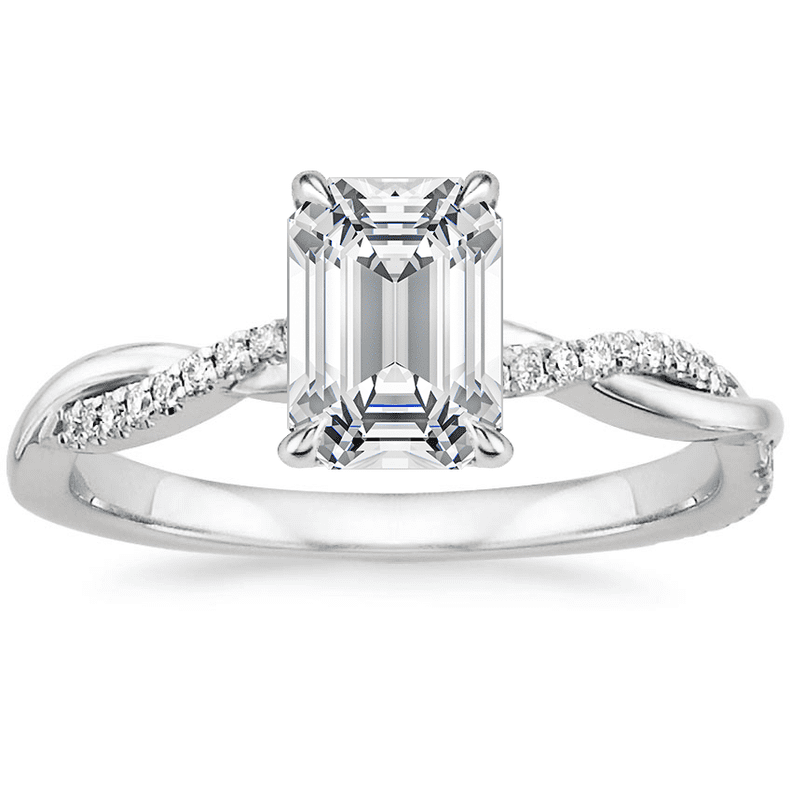 Best Affordable 18K Engagement Ring
Brilliant Earth 18K White Gold Petite Twisted Vine Diamond Ring ($990)
Your partner will have no doubt that your love is everlasting with this infinity-inspired twisted diamond ring. The jewelry piece is elevated by a sparkling strand of pavé diamonds which wrap seamlessly around the finger, giving the illusion of a twisted vine design. Despite its feasible price tag, we also love that this affordable engagement ring is available to shop in a wide variety of sizes, metals, and shapes, so you can make the piece entirely your own.
05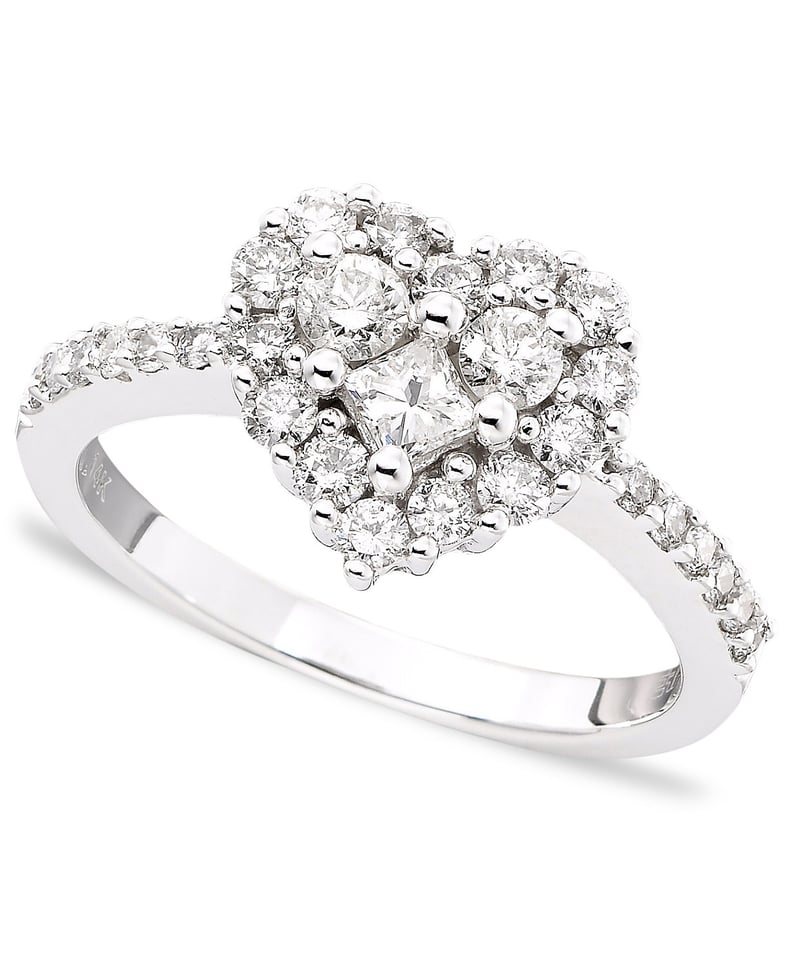 Best Affordable Heart-Shaped Engagement Ring
Classique by EFFY Diamond Heart Ring ($1,750, originally $3,500)
You'll love the princess cut on this heart-shaped engagement ring. With this diamond-centric style, your partner will literally be able to put their love for you on full display, as the bold accessory features a 9/10-carat design, and is elevated by 14-karat white gold to give it an added shine.
06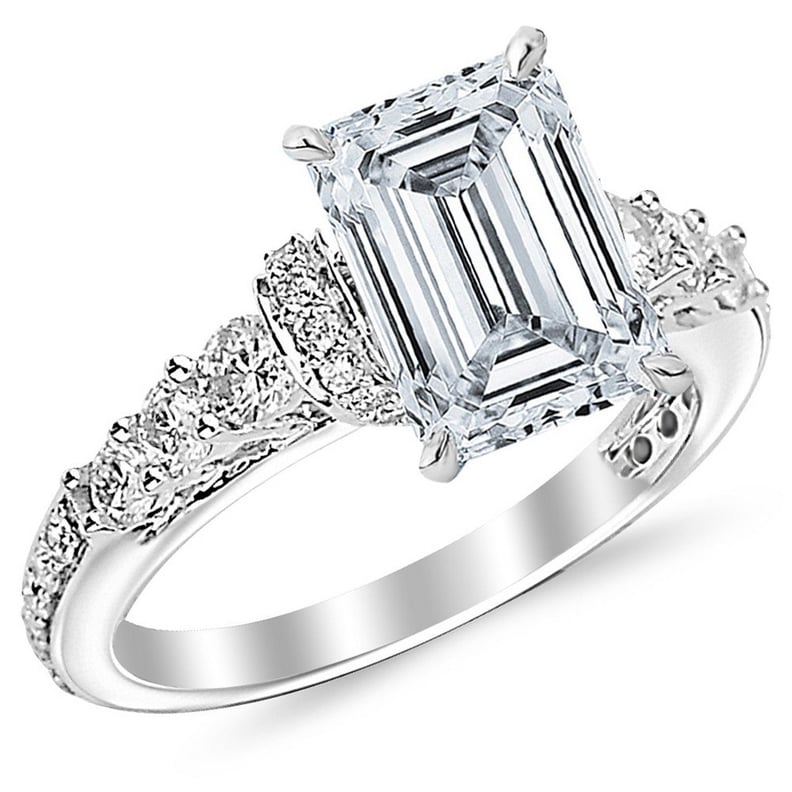 Best Affordable Diamond Engagement Ring
Houston Diamond District Diamond Engagement Ring ($2,700)
You might not peg Amazon as a go-to destination for engagement-ring shopping, but this Houston Diamond District Diamond Engagement Ring proves that you probably should. The flattering, 1.5-carat style is fitted with intertwined diamonds that seem never-ending. Best of all, the accessory is 100 percent natural and made from conflict-free diamonds, so it's a piece that you can feel truly good about wearing.
07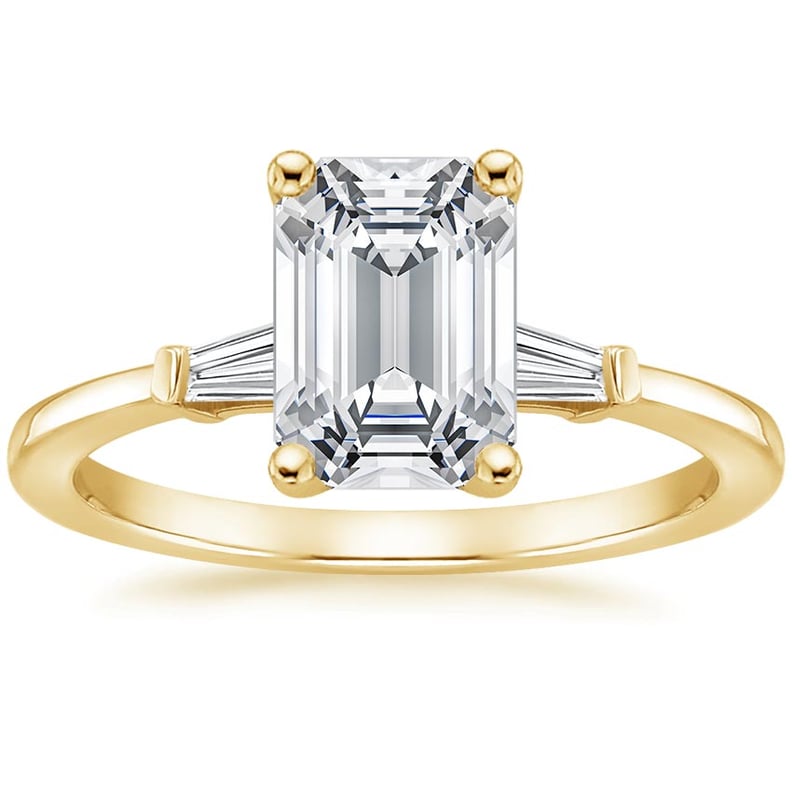 Best Affordable Tapered Engagement Ring
Brilliant Earth 18K Yellow Gold Tapered Baguette Diamond Ring ($1,290)
Looking for a unique affordable engagement ring? Look no further than this tapered style from Brilliant Earth. A 2-carat cut serves as the centerpiece for the elegant ring, which is made all the more jaw-dropping thanks to the delicate gold band surrounding it. Rings with larger carats tend to boast a much steeper price tag, so the affordability of this style makes it a real winner in our books.
08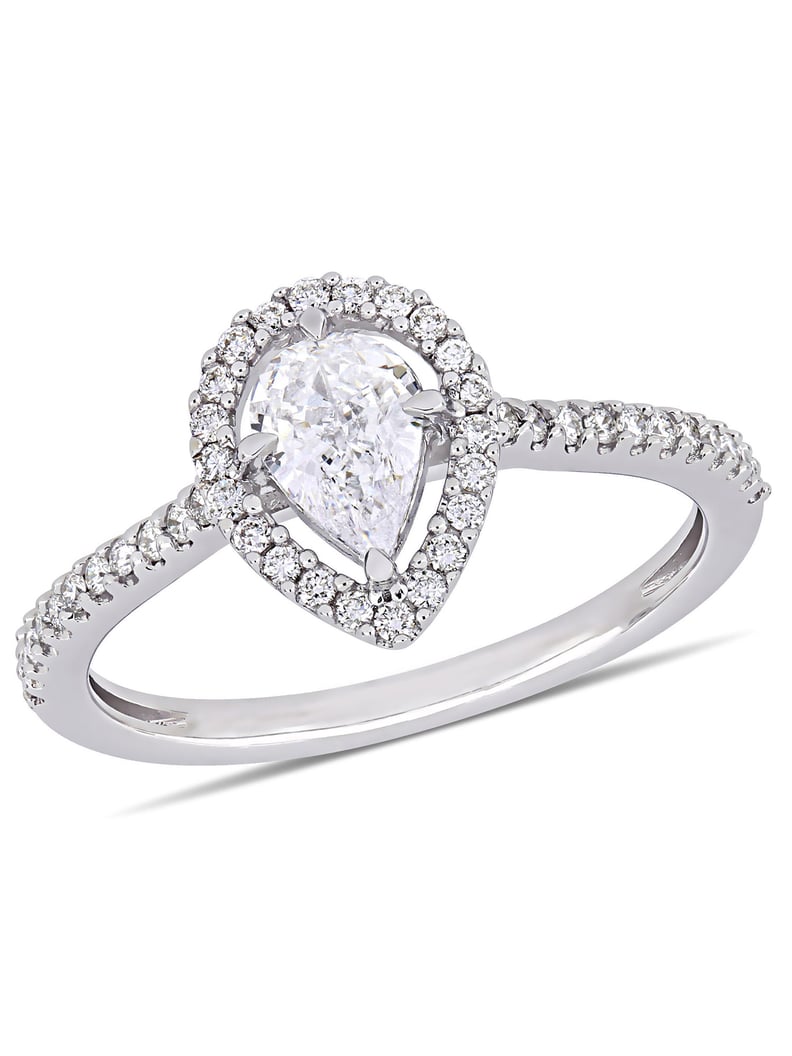 Best Affordable Pear-Shaped Engagement Ring
Miabella Diamond Pear-Shape Halo Engagement Ring ($2,891)
Thanks to celebrities like Victoria Beckham and Hailey Bieber, pear- and oval-shaped engagement rings have been trending for the last few years. Unlike traditional rectangular styles, these pieces are designed to evoke more of a softness, especially when they're accentuated by buttercup-set stones like the ones running along this Mirabella style.
09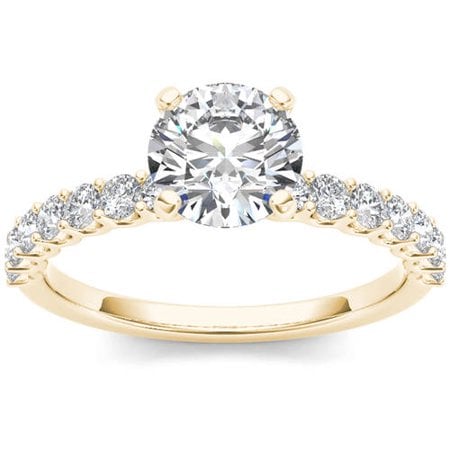 Best Affordable Gold Engagement Ring
Imperial Diamond Yellow Gold Engagement Ring ($1,230)
White gold and sterling silver metals aren't for everyone. If your partner is more of a yellow gold-lover, opt for something classic and timeless like the Imperial Diamond Yellow Gold Engagement Ring. The 1-carat statement piece is unlike anything we've ever seen before, making it a thoughtful buy that'll prove to be just as unique as your partner. The piece boasts a four-prong setting that's designed to draw the eye to the center (and namely the large rounded diamond) while also showcasing the clarity of the surrounding stones.
10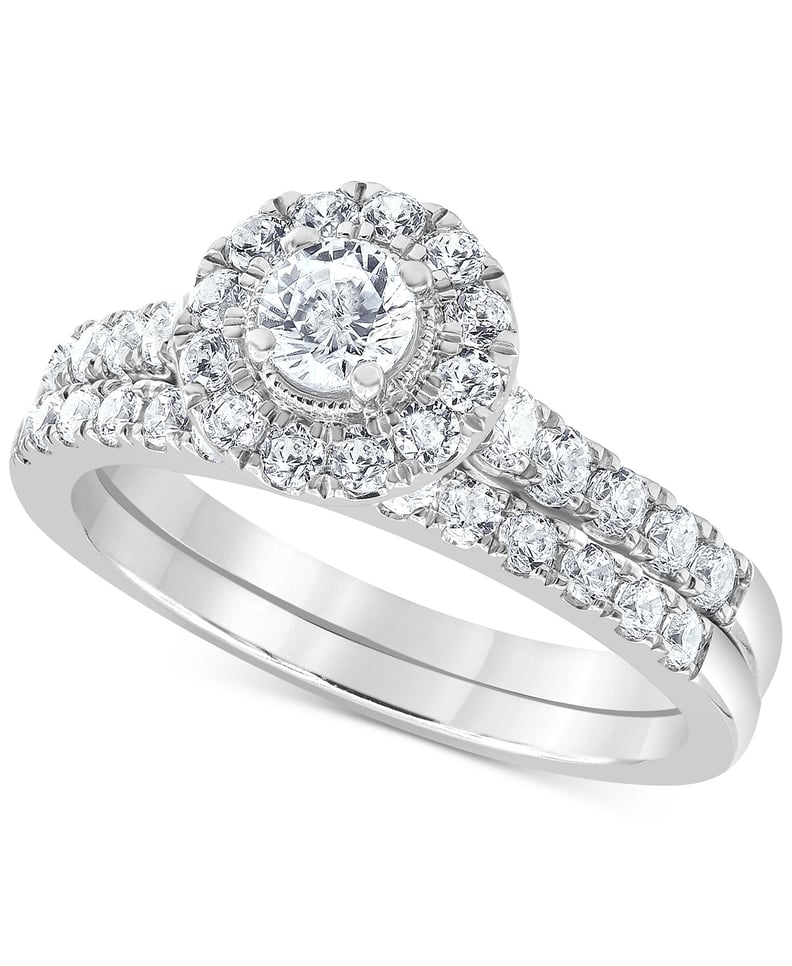 Best Affordable Halo Engagement Ring
Diamond Halo Bridal Set ($899, originally $2,100)
A halo engagement ring will never go out of style — and if you don't believe us, just look at this diamond-encrusted piece for further proof. With a 1-carat design and rounded silhouette that's meant to showcase every sparkling detail clearly, the darling bridal set seamlessly combines multiple engagement ring trends into one — and all for under $1,000.