18 Ariana Grande Outfits I Still Think About When I Get Dressed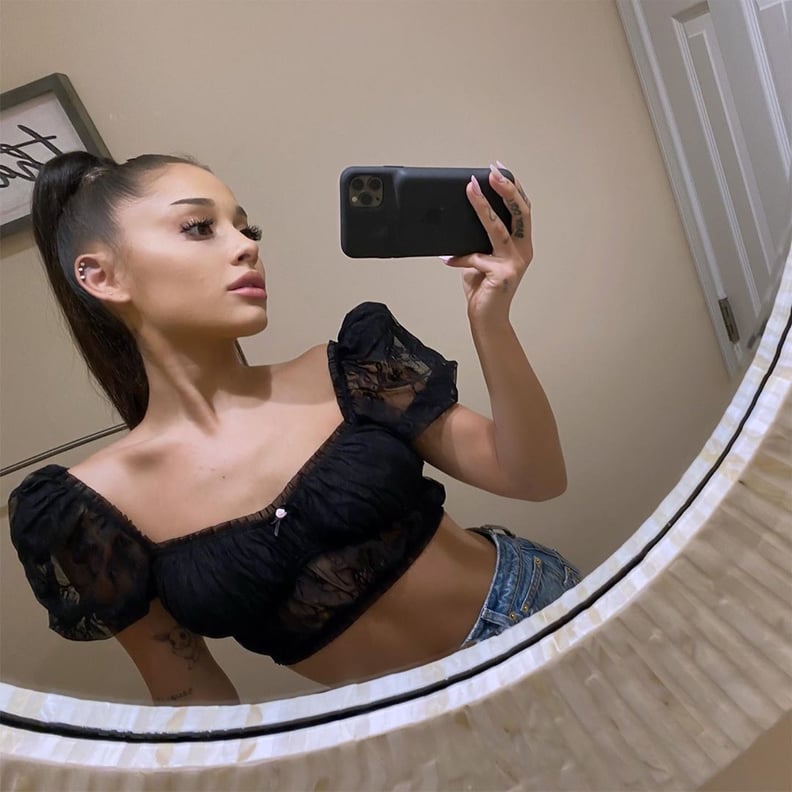 Ariana Grande's street style isn't entirely dangerous, unless she's pointing her sharp stilettos in the wrong direction. Most of Ariana's outfits are eye-catching and bold, but they're always effortless. It must be so easy to style Ariana (she's worked with both Mimi Cuttrell and Law Roach) because she routinely sticks to signature combinations. While her onstage ensembles tend to be a little more dramatic, if I asked you to picture Ariana running into a Starbucks, you'd probably imagine her in a hoodie and thigh-high boots. (We call that "lampshading," and Ariana is the queen.) Ariana's put so many spins on this look, we're surprised she continues to come up with new variations. That said, we can learn a little something from them all.
You may not want to dress like Ariana Grande all the time, but there's no denying we all have days when we're feeling relaxed, sexy, and confident all at once — those three descriptors are a great way to describe Ariana's off-duty ensembles, don't you think? Ahead, see how the star has maintained her prowess when it comes to fashion, and pick up on some tips you'll bring back to your own closet the next time you're getting dressed. While I'm petite and I'd benefit from Ariana's platform sneaker and heel hacks, you'll find that her go-to pieces are actually pretty versatile and flattering for a wide range of body types.
01
Ariana Grande Outfit: Lace Crop Top + Jeans
Ariana's known to show off a mirror selfie in a romantic crop top and jeans — and her choice in tops is never boring. This one falls somewhere in between a going-out look and lingerie.
02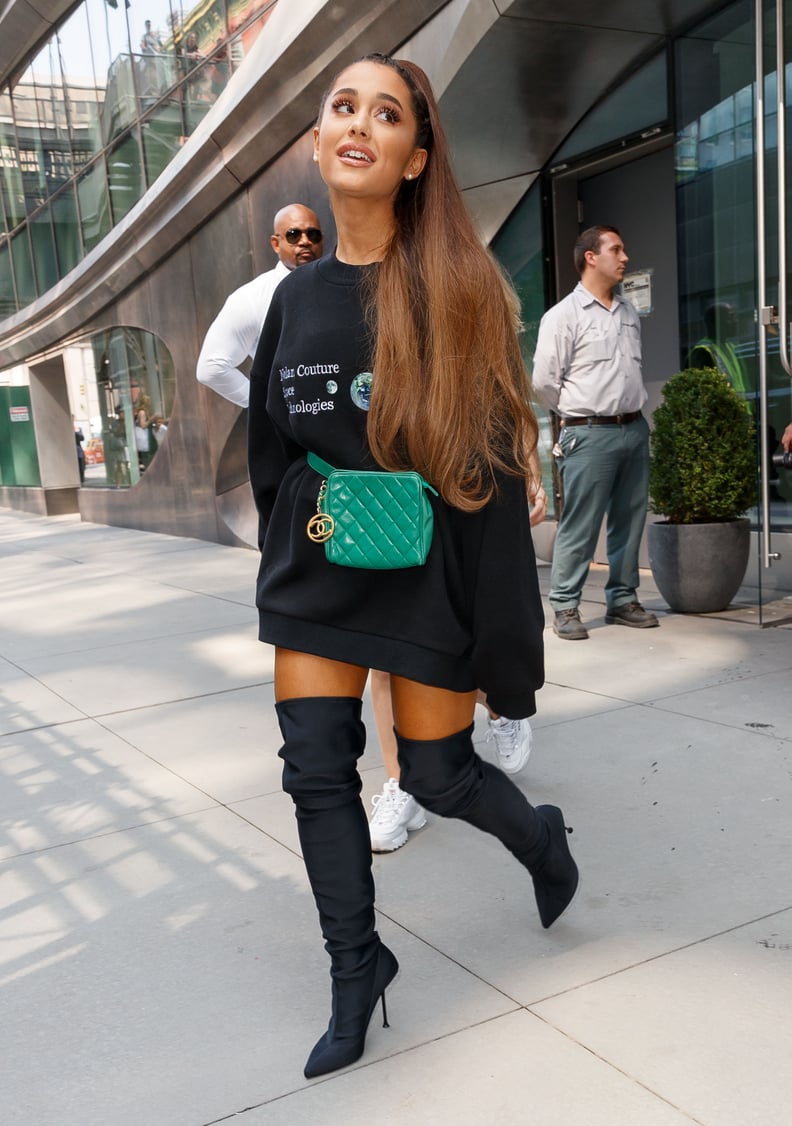 Ariana Grande Outfit: Sweatshirt + Waist Bag
Ariana often wears oversize hoodies with sharp, thigh-high stiletto boots, but cinching her waist with a vintage Chanel fanny pack created shape while also adding a pop of color to an otherwise neutral look.
03
Ariana Grande Outfit: Brown Sweatshirt + Gucci Boots
Ariana smartly shows her brand love by drawing attention to a monogrammed accessory, and she pulled that off flawlessly by selecting a pullover that matches the Gucci logo.
04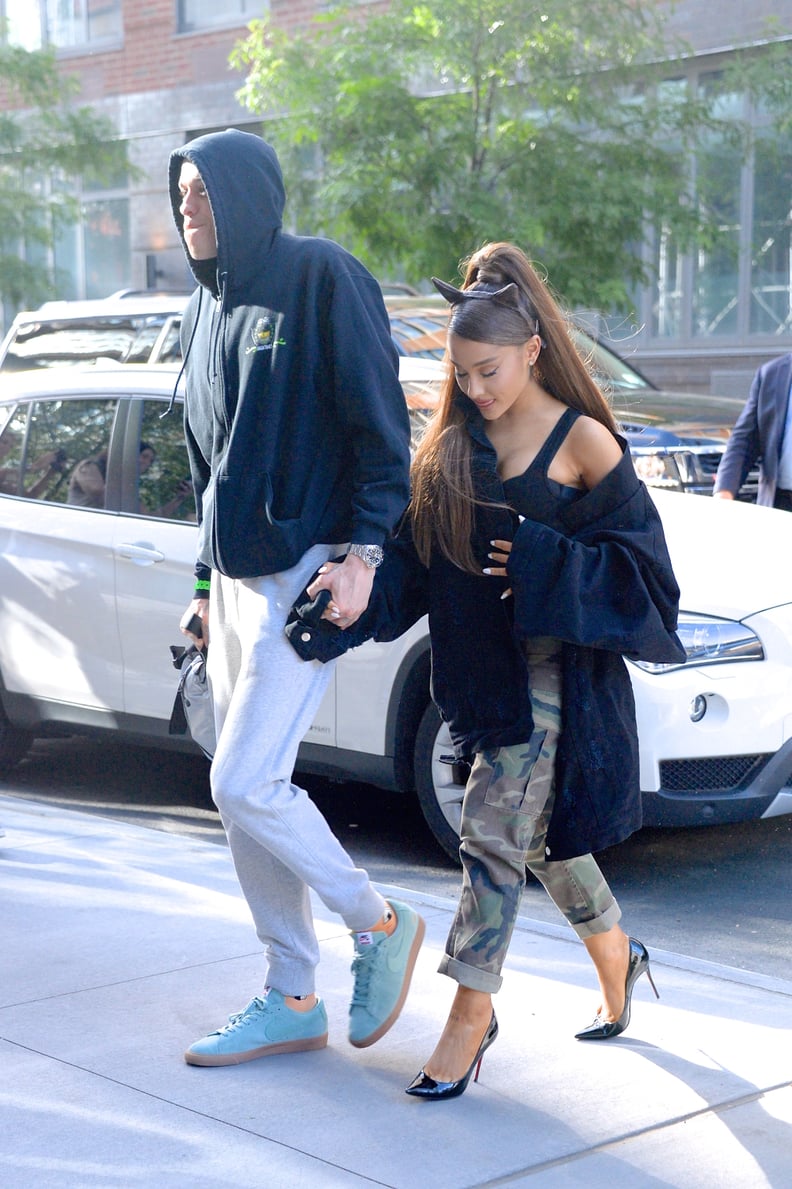 Ariana Grande Outfit: Camouflage Pants + Heels
You might call Ariana the queen of the cuff. When she's wearing a pair of great heels like these patent Christian Louboutin pumps or even a platform sneaker, Ariana makes sure her pant leg doesn't hide the surprise.
05
Ariana Grande Outfit: Pink Feather Top + Jeans
Ariana is a girl after my own heart. One look that stands the test of time is a going-out top and true blues, and you should never shy away from a top with personality — especially if you're going to be meeting new people. Your true colors deserve the spotlight.
06
Ariana Grande Outfit: A Black Dress + Bow Slides
Ariana's ear accessory is something she's made iconic. We barely even blink an eye when she steps out with a pair on, but it was Ariana's other accessories — tulle Marco De Vincenzo heels and a Marzook disco bag — that she used to play up an all-black outfit.
07
Ariana Grande Outfit: Sweatpants + Boots
Ariana's look is proof that you absolutely can wear your shearling sweats with sleek '80s boots to change the entire feel of a weekend outfit.
08
Ariana Grande Outfit: Yellow Sweatshirt + Glitter Boots
While glitter boots were a street style must have for some time, Ariana seamlessly worked them into her signature wardrobe, rather than wearing them with a fabulous minidress or a utility jumpsuit. Sometimes owning a trendy piece just looks cooler when you work it in your own, unique way.
09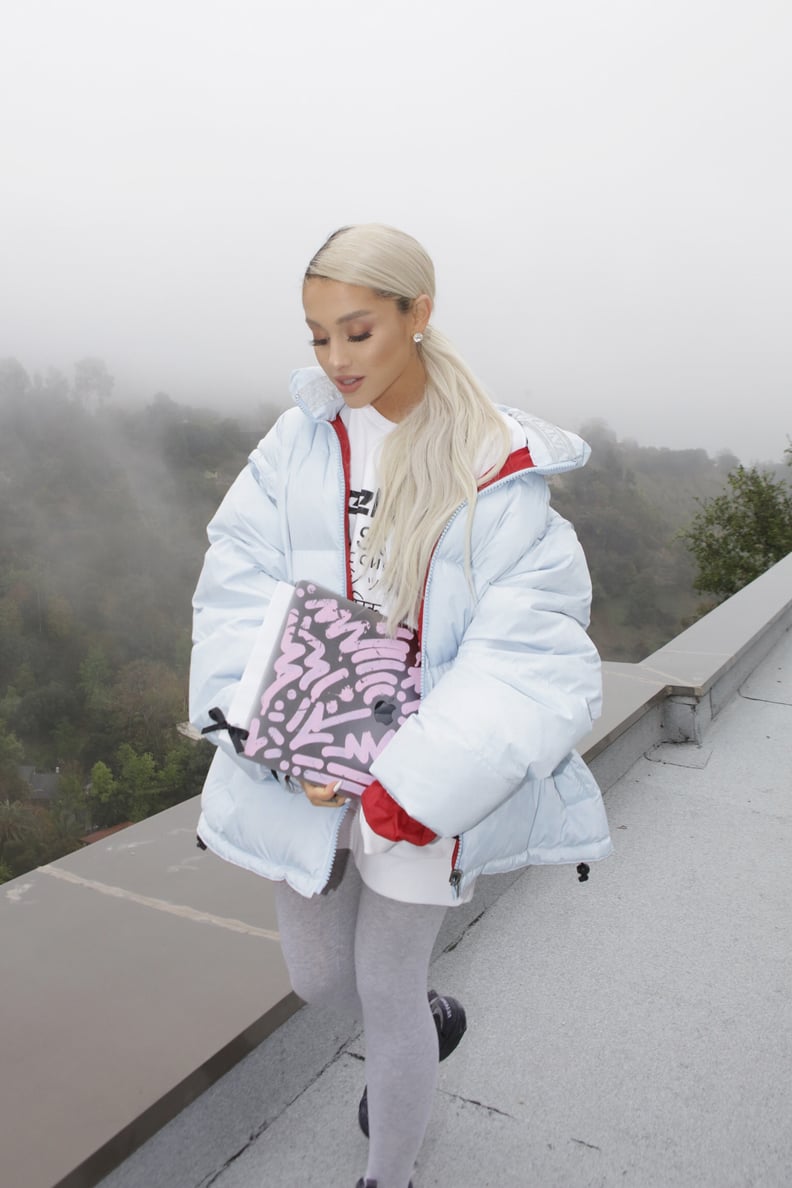 Ariana Grande Outfit: A Puffer Coat + Leggings
I'd argue that no one looks cooler in an oversize puffer and sleek ponytail than Ariana Grande. She put a glamorous spin on athleisure with the addition of glistening diamond studs.
10
Ariana Grande Outfit: A Leopard Tank + Sweatpants + Sneakers
Ariana took her shirred top from edgy to casual with white low-tops instead of platforms.
11
Ariana Grande Outfit: A Sequined Top + Black Gloves
12
Ariana Grande Outfit: An Off-the-Shoulder Top + Puffer
Another famous Ariana look? Wearing oversize silhouettes and layers off the shoulder to add a little sex appeal to her street style outfits, which are usually finished with a pair of slouchy cargos.
13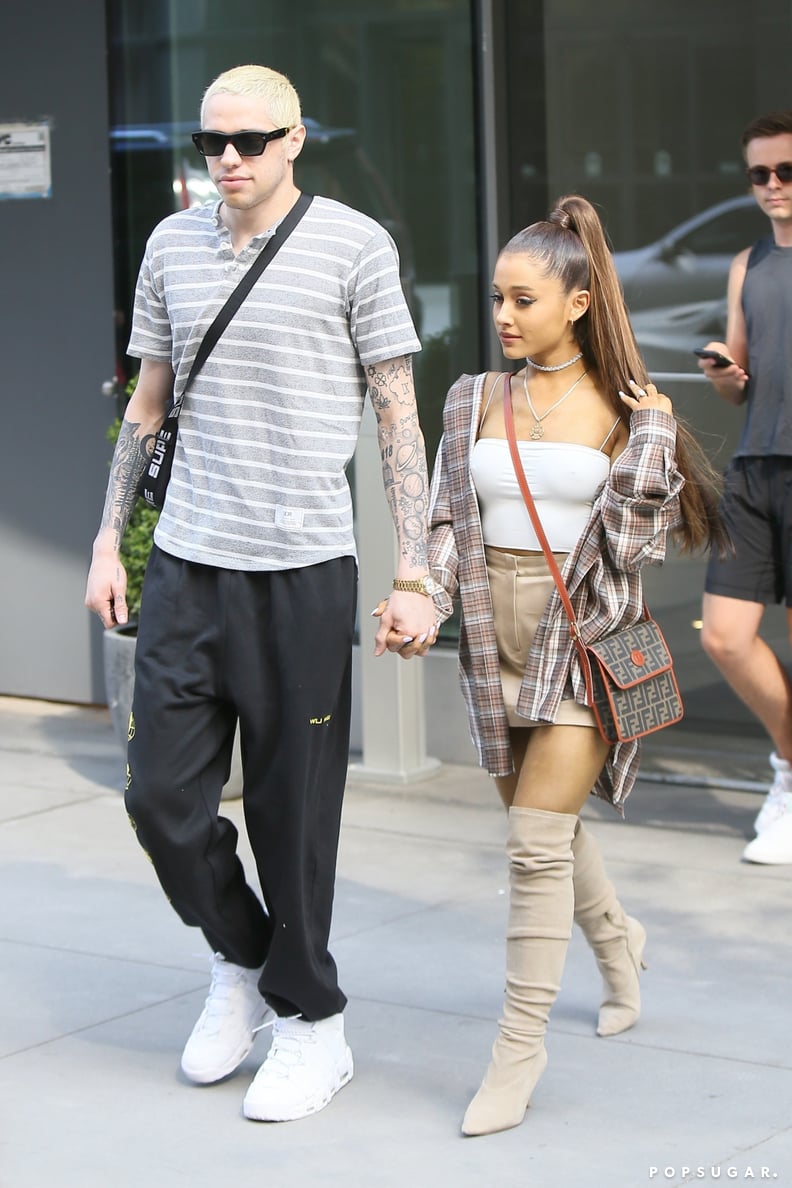 Ariana Grande Outfit: A Plaid Flannel + Miniskirt + Fendi Bag
Ariana showed us the beauty of a perfectly mixed print look in New York City. As long as you break up your patterns with neutral separates, you're good to go.
14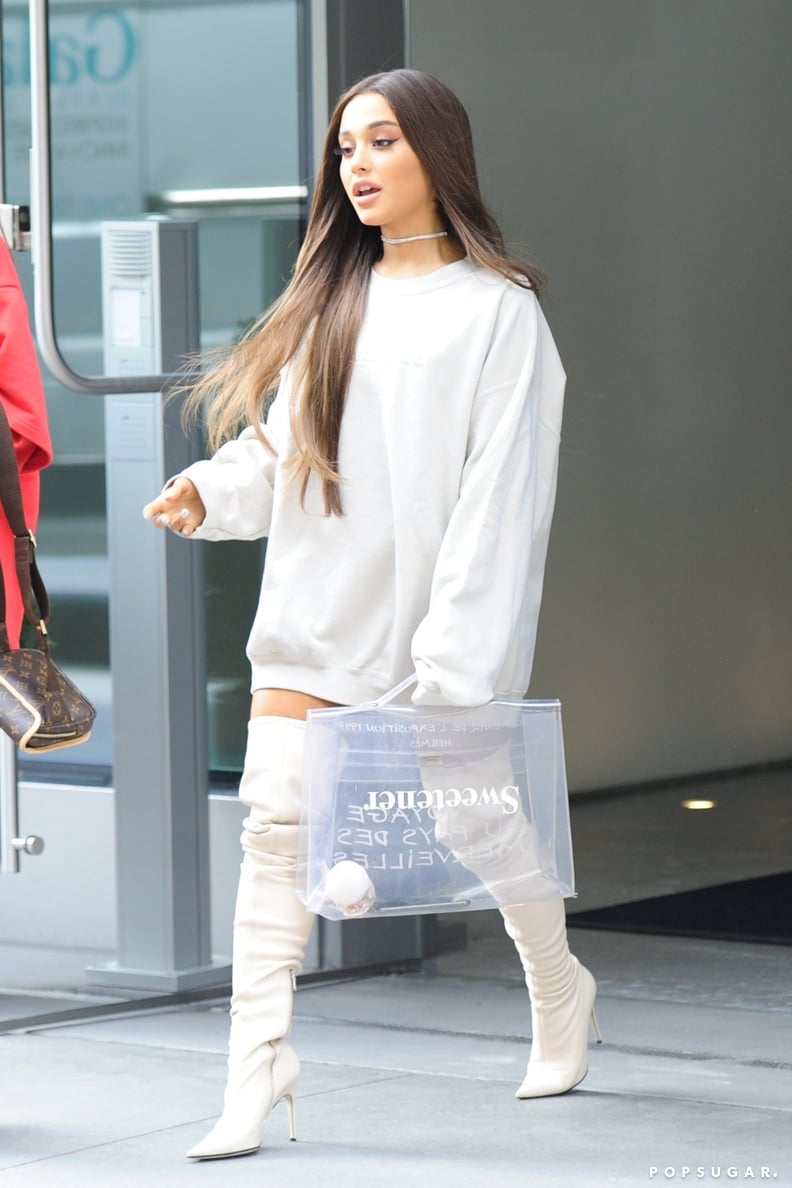 Ariana Grande Outfit: A White Sweatshirt + Choker Necklace
Ariana fully committed to this monochrome look by adding a shimmering choker that played up her color palette. If you're going to go for it, go for it.
15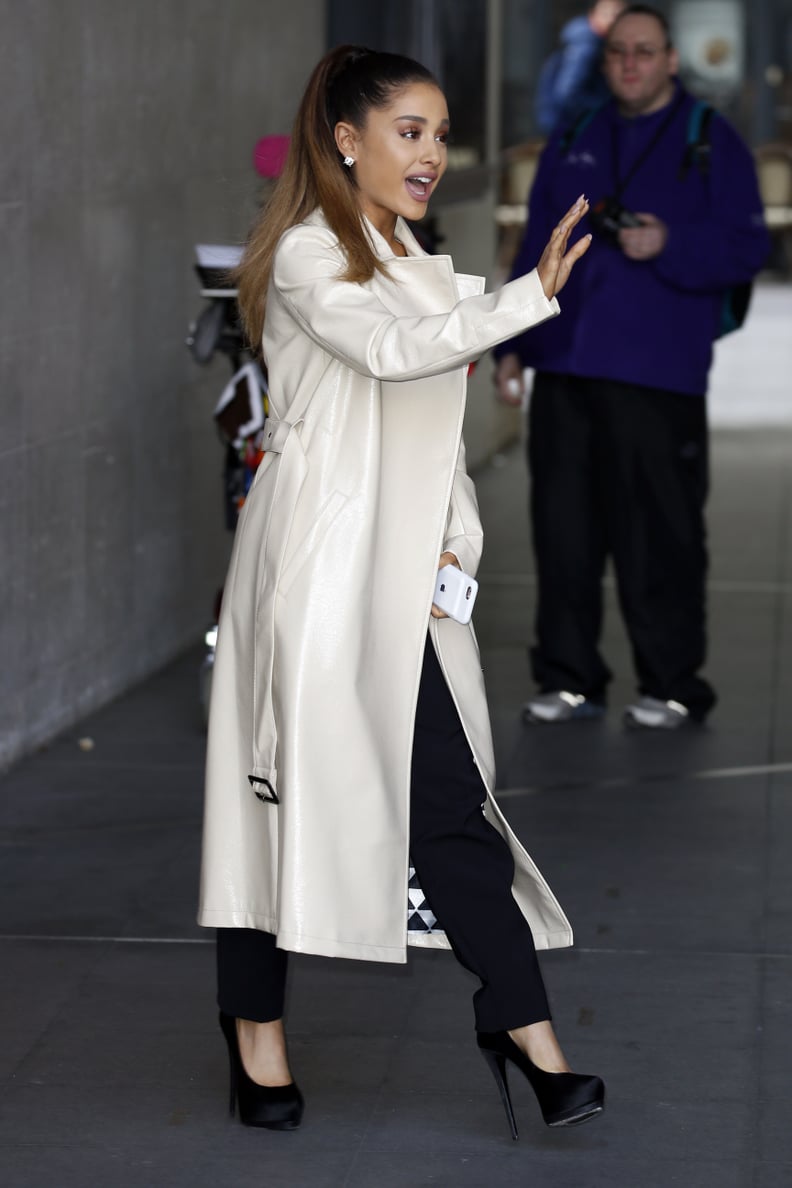 Ariana Grande Outfit: A Leather Trench Coat + Platform Heels
Rather than getting her leather trench shortened, Ariana brought it to the perfect height with a pair of sky-high satin platforms in London. But if you're not a heels person, there's nothing wrong with quality tailoring too.
16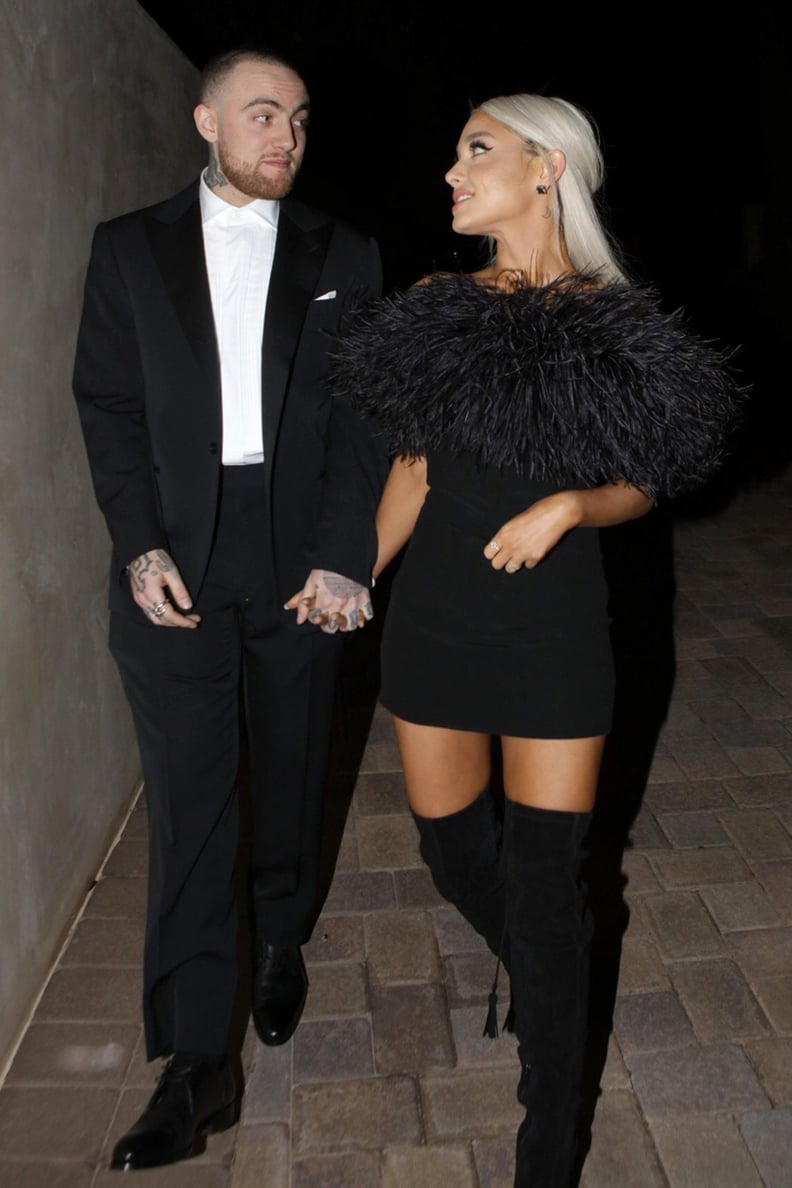 Ariana Grande Outfit: Black Feather Dress + Boots
Ariana attended the Oscars afterparty in 2018 with Mac Miller, sporting a Saint Laurent dress that cost a whopping $11,900. Even still, Ariana made this luxury number her own with her signature thigh-highs. The dress didn't wear Ariana. Ariana wore the dress.
17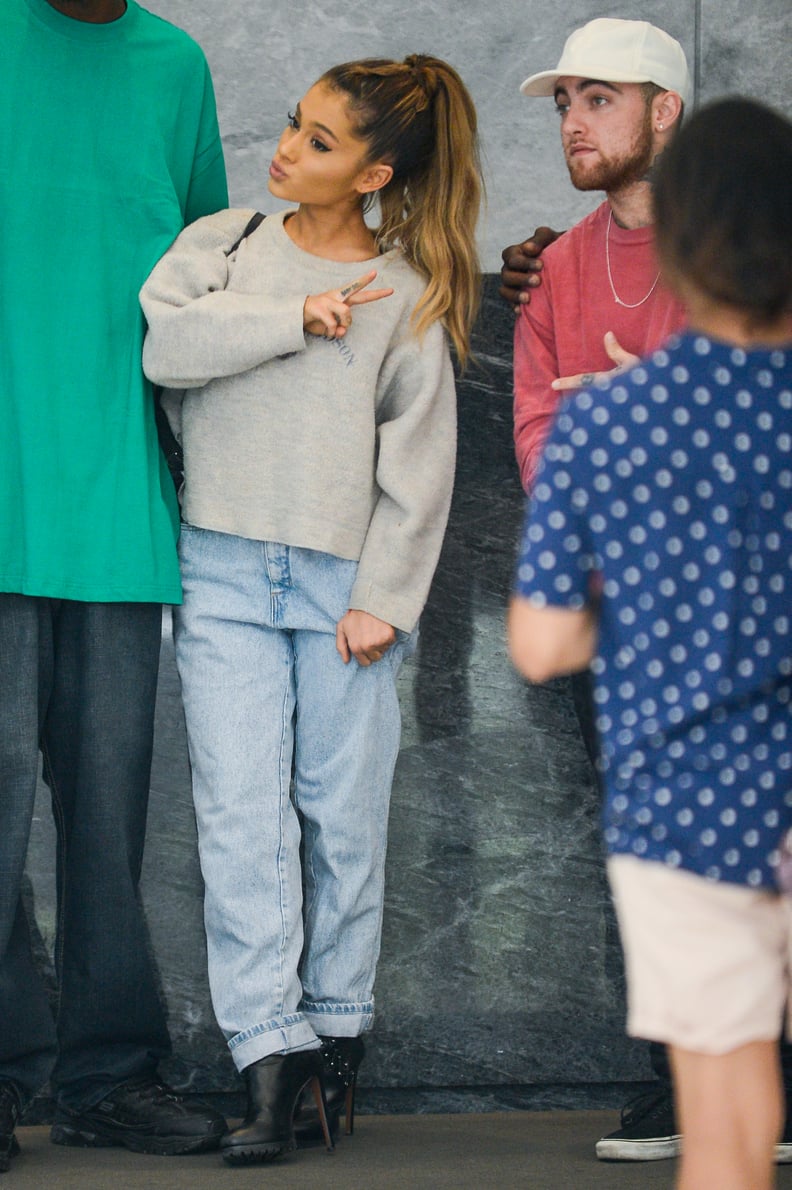 Ariana Grande Outfit: A Cropped Sweatshirt + Cuffed Jeans
Ariana was wearing completely cozy, slightly oversize separates, but still managed to flatter her petite frame since her pullover was cropped and her jeans revealed a pair of polished statement boots.
18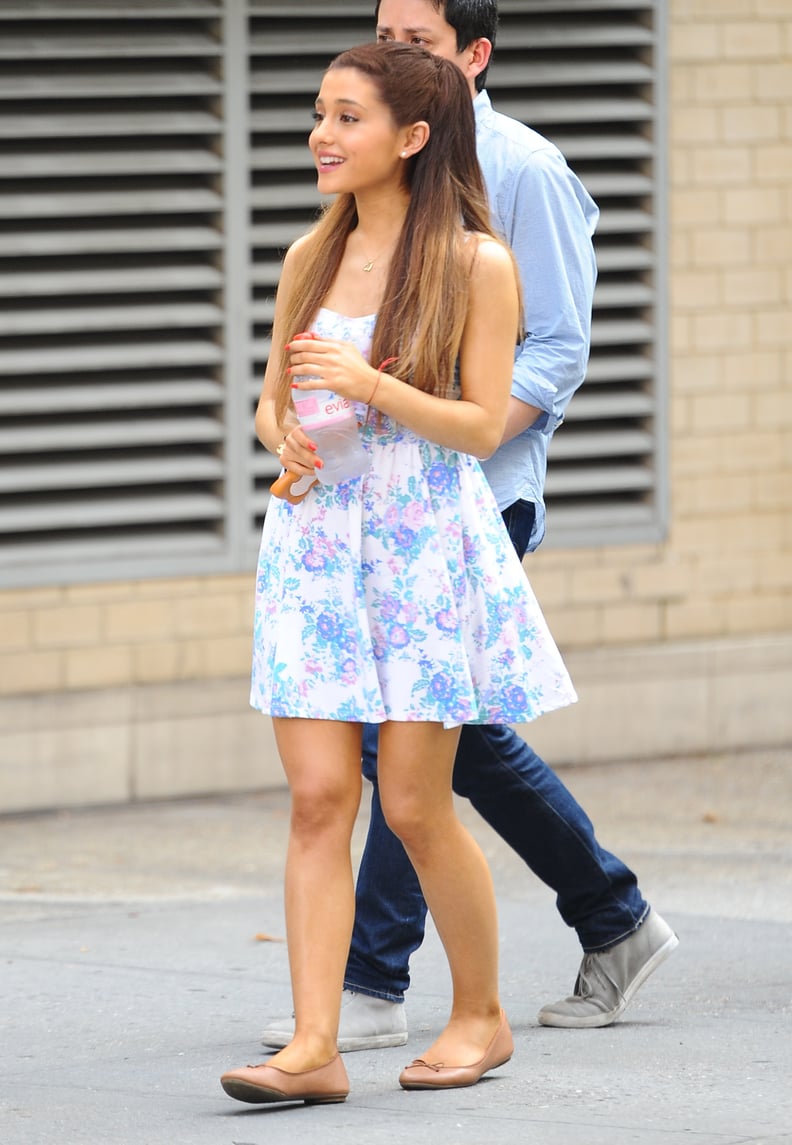 Ariana Grande Outfit: A Floral Dress + Flats
We know it's rare to see Ariana in flats, but when she does go for a feminine look like this one, it's usually effortless. The ballerina style in a neutral shade is a nice go-to for more casual occasions.
19