If you like the mismatched look, there are many jeans you can find that have two differently shaded pant legs. Then there are the pairs that are light wash in the front and dark wash in the back. But there's only one brand you can shop if you want to challenge yourself to walk around feeling like you're straddling two trends — like one of your legs is fully committed to the skinny jean and the other is a relaxed hippie leg, straight out of the '70s: Ksenia Schnaider. Celine Dion's stylist, Pepe Muñoz dared the singer and newfound style icon to walk boldly in said pants during Paris Haute Couture Fashion Week, and Celine pulled them off no sweat.
Designers Ksenia and Anton Schnaider "were incredibly honored and super happy because of [Pepe's] choice since it takes the bravest fashionistas to try one of 2019's most viral denim trends." But Celine is not the only brave soul to kick it in half-skinny, half-flares. When I first laid eyes on the jeans, I brushed them off as a celebrity costume — something Lady Gaga might wear; certainly no trend that would stick. But now this look is popping up on Instagram influencers, and Estonian rapper Tommy Cash even styled them for his concert in Kyiv, Ukraine.
Also me! Yes, me. I tried them. I had to! How else would I attempt to understand the appeal of making strangers do double takes in NYC? I've worn swimsuits to the office and I dressed up like Regina George, but in the Big Apple, anything goes. I lived here for four years and none of my outfits have ever actually stopped traffic. But these jeans, on the other hand, helped me do it — together, we literally stopped traffic. My coworker Nikita cracked up as she tried to illustrate one woman's reaction to the pants behind me, re-creating this lady's "WTF?!" face with wide eyes and a scrunched up nose. At first, I guess, I was a little embarrassed.
"It took me a second, but I had finally navigated the blurry line between feeling self-conscious about the way I looked and feeling like a total boss."
But still, I paraded along the crosswalk trying to really immerse myself in the world of Celine Dion. "This is what it feels like to be Celine! My heart will go on!" I thought to myself repeatedly as people looked my way and laughed. Even if any of them knew Celine Dion was the first celebrity to wear the weird pants I was wearing (trust me, they didn't), Celine Dion is six inches taller than me and she has legs for days. I feel like she looked a little less ridiculous in these show-stopping true blues.
The skinny side of my jeans was rolled so you could get a good look at my sandals (thanks for the tip, Celine), and my wide leg pooled to the ground. Every step I took felt different. I felt unbalanced and slightly foolish. "Whoa!" one dude said directly to me, while pointing directly at me. "Yep, I know, these things are wild!" I agreed, slowly starting to find humor in the whole idea behind wearing something so statement making. Jeans are supposed to be kind of neutral and easy to style with anything, not perplexing. But these throw you for a loop — and they're meant to! It took me a second, but I had finally navigated the blurry line between feeling self-conscious about the way I looked and feeling like a total boss. I was well aware of my uneven, hilarious pant legs, and with that, came poise.
So I have to wonder: are these jeans actually therapeutic? Should I put them on when I'm feeling unsure of myself? Can they nudge me to rise to the challenge, whatever the challenge may be? To onlookers, the Ksenia Schnaider asymmetrical pants are superficial, maybe even a subtle beg for attention. But for the wearer, they can be something more: a lesson in self-confidence. While these are certainly not for my everyday life, these jeans and I, we had a moment. Ksenia Schnaider jeans, it's true, I'm everything I am because you loved me.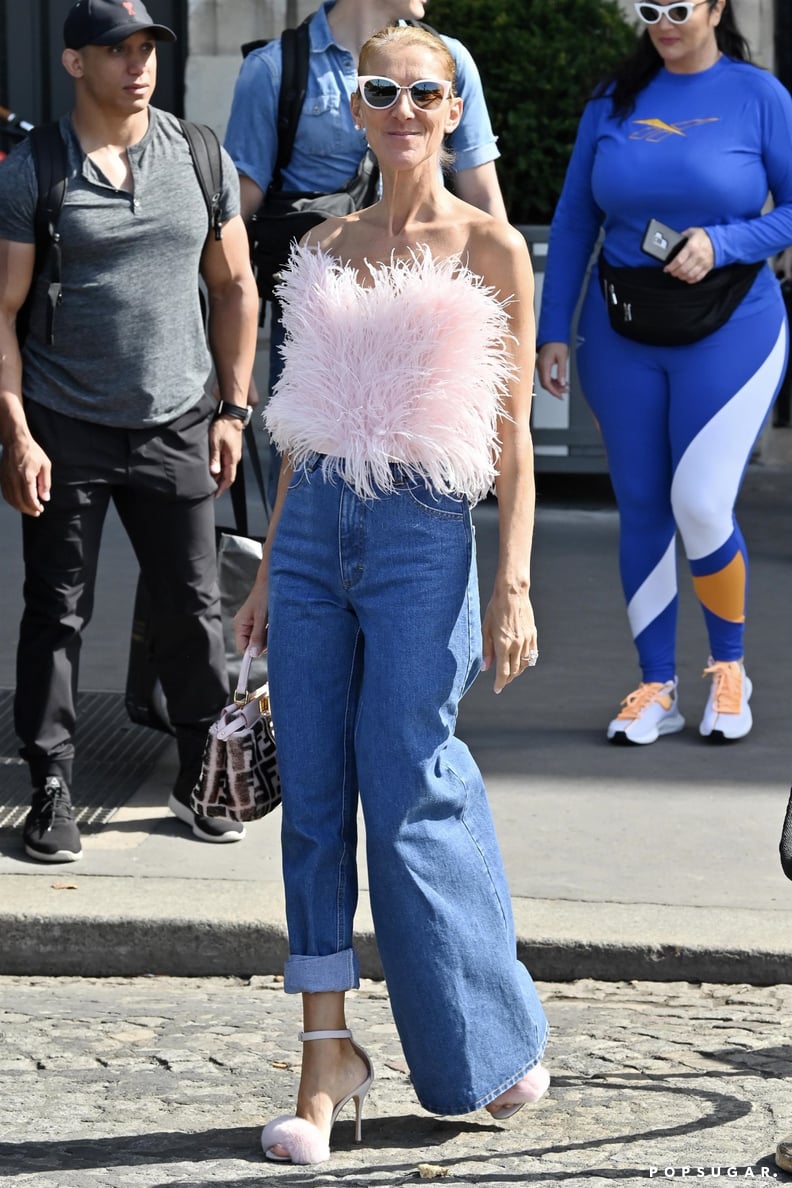 Celine Dion Wearing Ksenia Schnaider Jeans During Paris Haute Couture Fashion Week
Celine amped up her outfit with a feather pink top, furry sandals, and a monogrammed Fendi bag.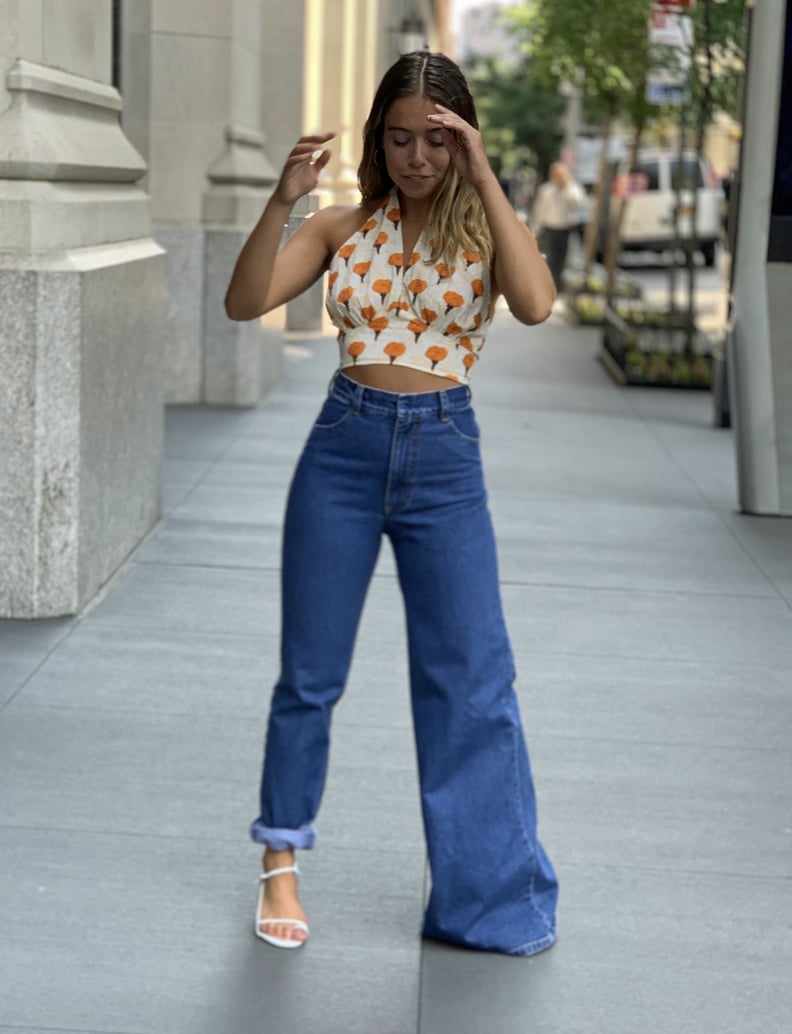 I Tried Out the Ksenia Schnaider Jeans in NYC
I wanted to play to Celine's kitschy, ultrafeminine vibe so I wore an AISH halter top in a standout floral print with white RAYE sandals.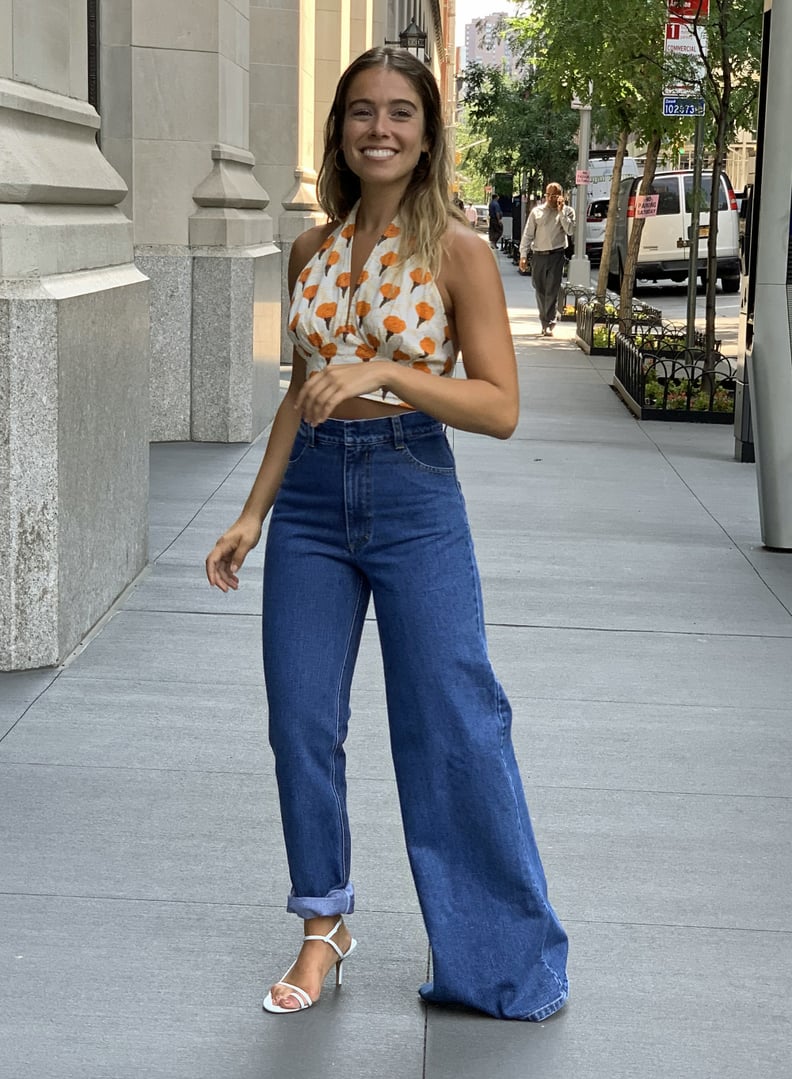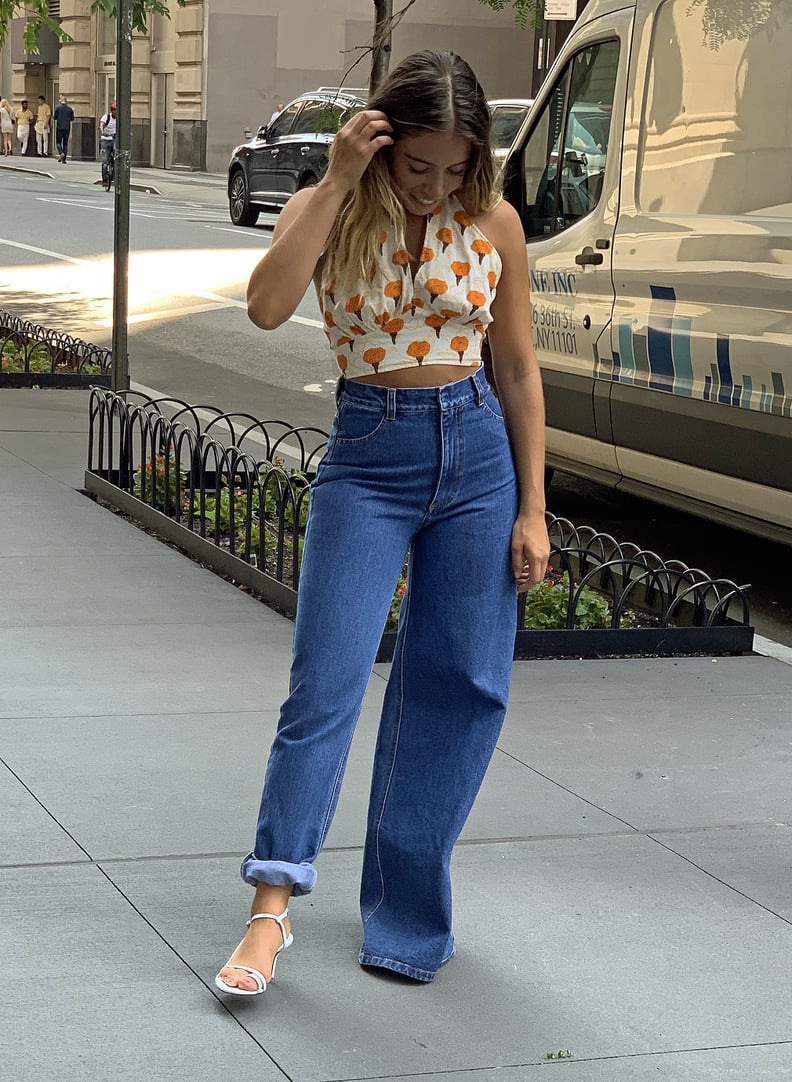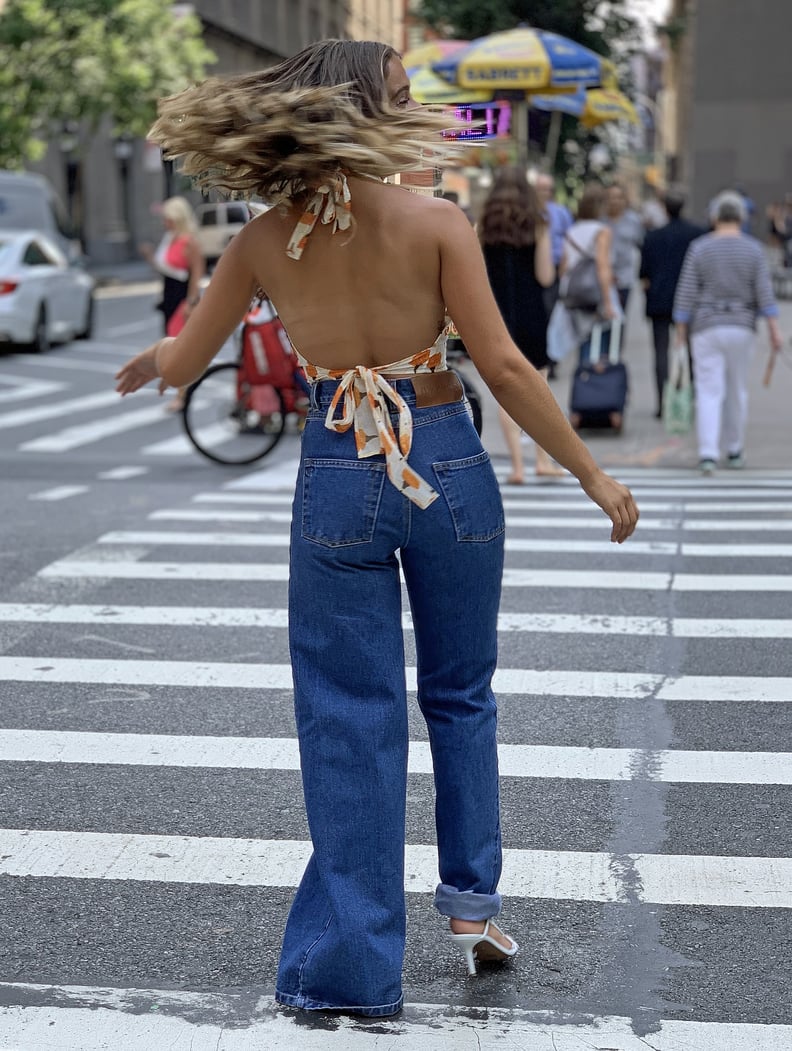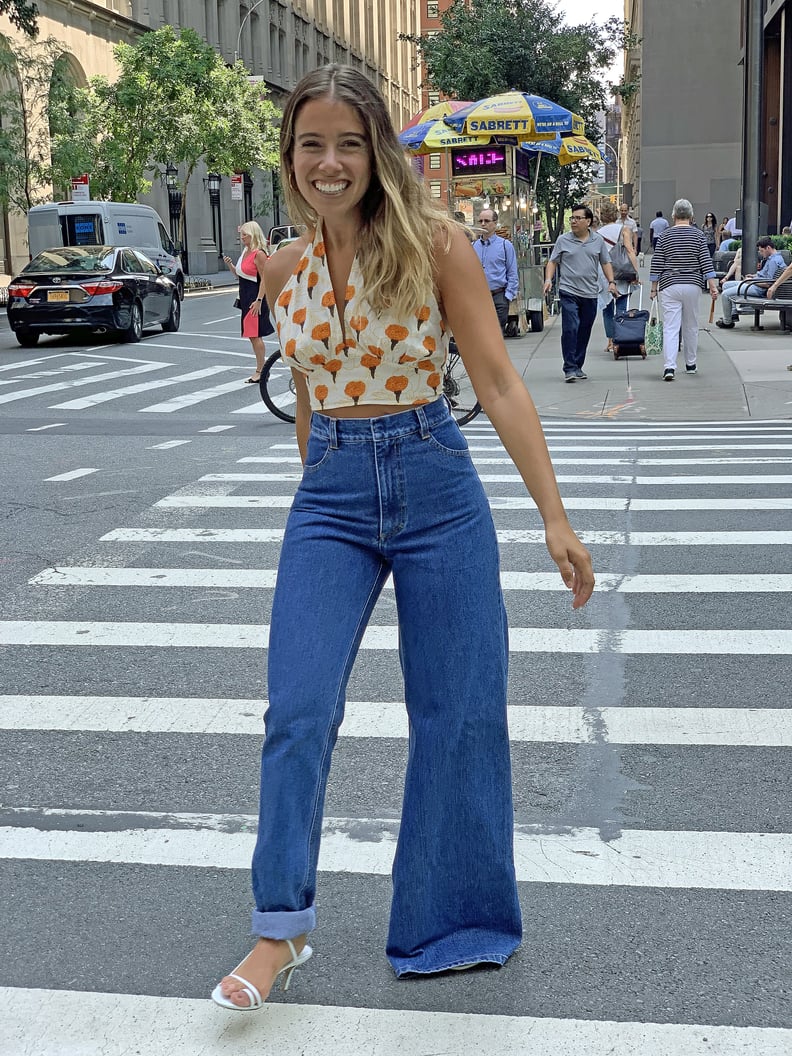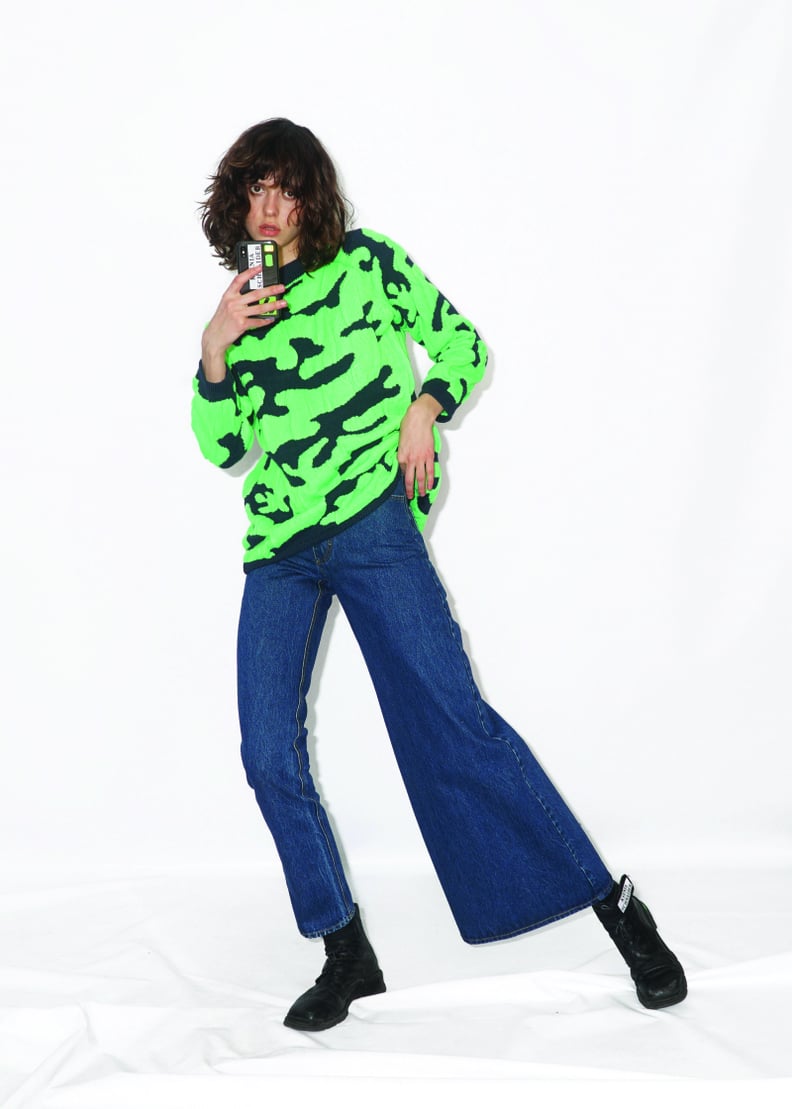 Shop the Jeans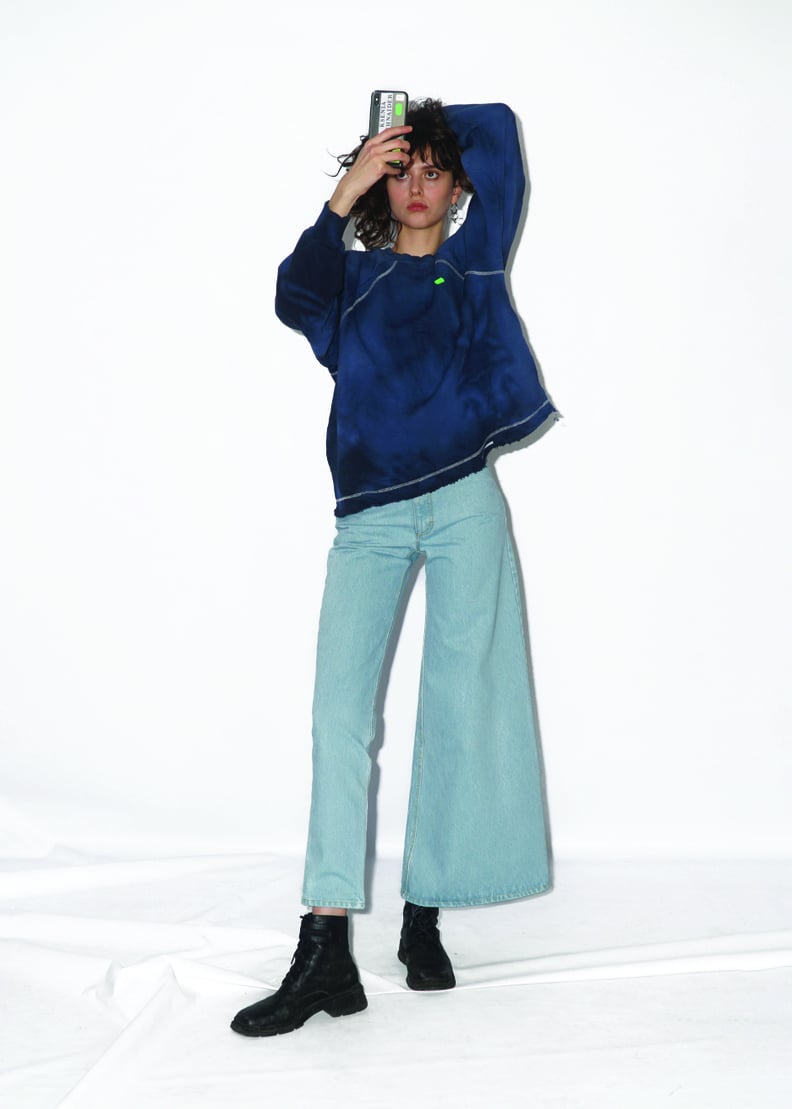 The jeans were also available in a light blue.