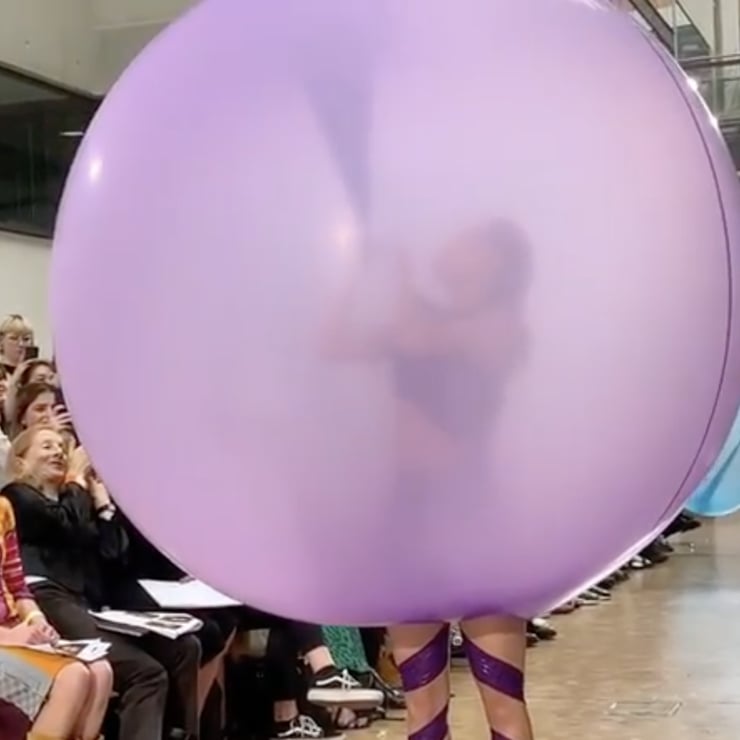 There's a new fashion trend literally blowing up on the internet right now, and it might just be up there among some of the wackiest ones we've seen in a long time. On May 30, Norwegian designer Fredrik Tjaerandsen appeared at Central Saint Martins' annual BA Fashion show to present a collection of blow-up balloon dresses that basically put ordinary latex dresses to shame.
Tjaerandsen is a student at Central Saint Martins who has worked with a handful of luxury fashion houses, including Balenciaga and Louis Vuitton. The designer closed out the school's annual show by having models debut the rubber garments as they were blown up into giant, colorful balloons and deflated halfway down the runway. According to a recent interview with Love Magazine, the dresses are made with a latch on the inside that allows the wearer to release the air in the "bubble" at any time.
"I have constructed these pieces with an air pressure system that lets the wearer control the air-flow," he said. "Whenever the wearer wants to deflate it, they open a latch inside to release the inverted bubble part and then that dives out of the deflating bubble."
Thanks to his innovative designs, Tjaerandsen ended up taking home the L'Oréal Professionnel Young Talent Award, which is the highest award design students at Central Saint Martins can receive. Read ahead to see videos of how the dresses look and work in action.