POPSUGAR Photography | Gemma Cartwright
POPSUGAR Photography | Gemma Cartwright
Every editorial product is independently selected by our editors. If you buy something through our links, we may earn commission.
Swimwear shopping is up there with buying a new pair of jeans when it comes to soul-destroying shopping excursions. No matter your size, trying to find the perfect fit and the style that makes you feel your best can be a losing battle. I think this is why I've become absolutely obsessed with bikinis: despite having 101 body hang-ups, I know the right ones are out there! I'm a UK size 14 (that's me in the picture above), so while I can buy a bikini from pretty much any shop I walk into, very few of them have really been designed for my body type. I spent my fair share of vacations feeling pretty uncomfortable in my hastily bought, ill-fitting cheap bikinis. But over the years, I've gotten to know my body, tried things outside of my comfort zone, and learned which brands work best for a curvier figure. It took me a while to realize that we all experience this bikini freak-out, no matter what size we wear. I'm not special in struggling to find a style that works. So for all my fellow curvy ladies looking for a way to feel a bit more confident on the beach, here are my top tips!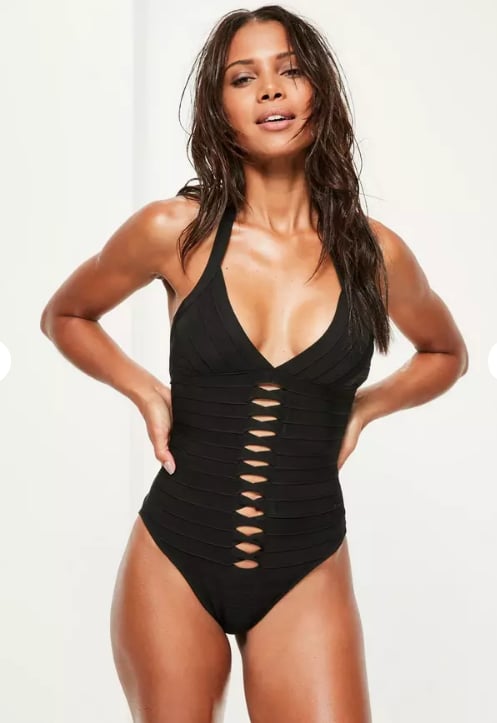 Don't Do Boring Black
There's a reason every retailer has a whole host of black swimwear options every year, and it's because women of all sizes love the classic look of a black bikini or swimsuit. But wearing black when you're curvier feels particularly "safe," so I have a personal rule that anything black needs to have a little something fun going on: a cutout, a mesh panel, some strapping detail, a little motif. It's easy to get away with all of that with a black swimsuit, and it's a really good way to experiment while remaining in familiar territory, perfect if you're still struggling to feel confident next to your size-8 mates.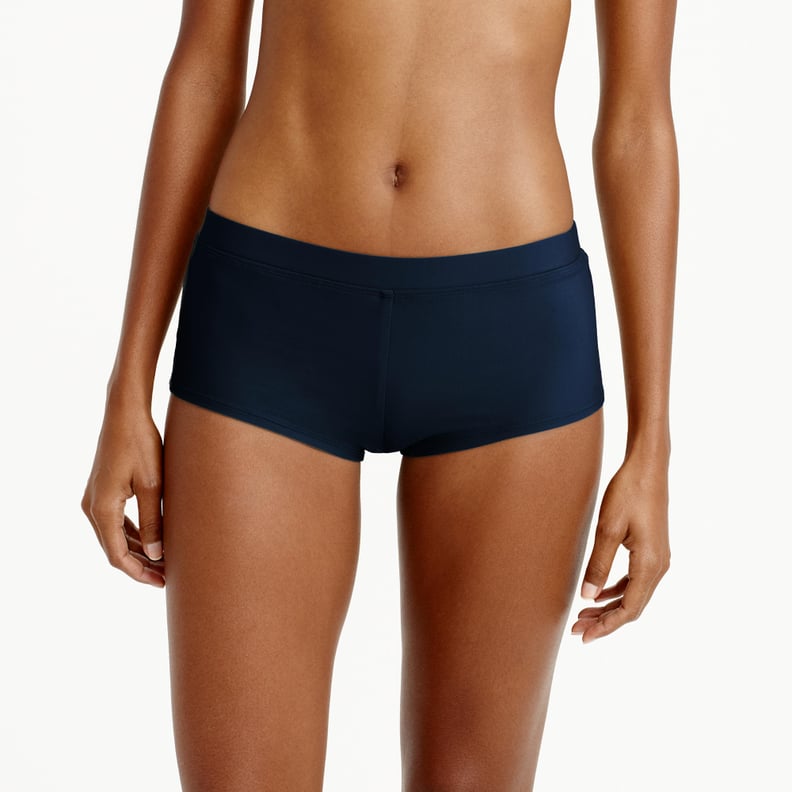 Say No to Boy Shorts
I always know when a swimwear guide for curvier women has been written by someone slim, because they'll inevitably suggest boy shorts. "They offer more coverage," the writer will explain; "They hide a multitude of sins," as if every single one of us over a size 12 wants to cover as much flesh as is humanly possible due to shame. In my experience, boy shorts are the most unflattering piece of clothing ever, regardless of dress size. They cut the body off at what is often the widest part, putting two horizontal slashes right across the hips and stomach. They cling oddly around the thighs, they make bums look flat and wide, and if you're really unlucky, they also give you horrific camel toe. If you love them despite all this, go ahead and wear them, love them, enjoy them! But as far as I'm concerned, these abominations are best left loitering on the sale racks where they belong. There are so many better options.
J.Crew Bikini Boy Short ($40)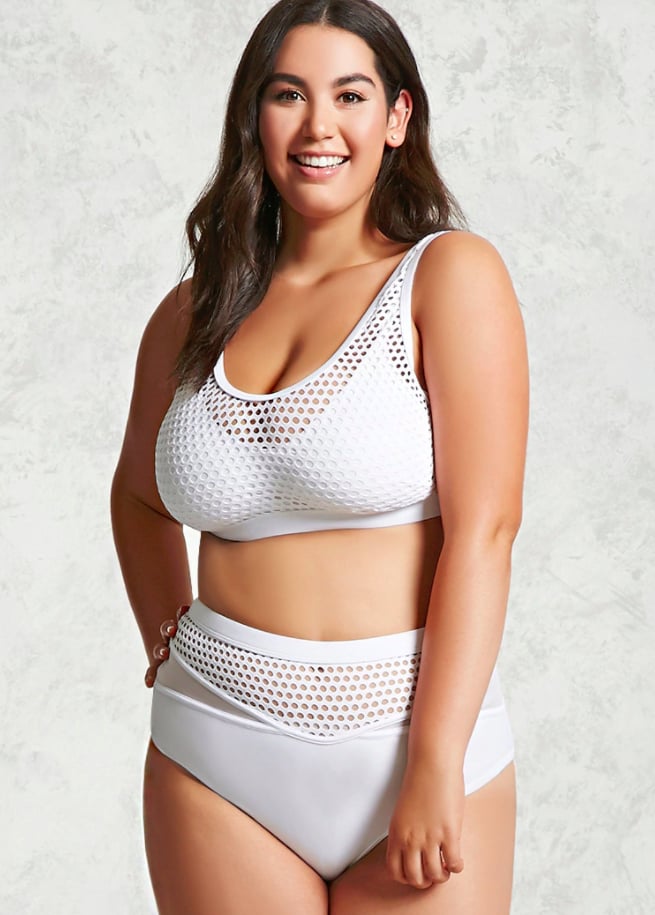 Take Inspiration From the Women Who Look Like You
When I'm looking for a new style, the curvy or plus-size sections of websites are often my first port of call. Even though, at a UK size 14, I'm able to shop from the "straight" ranges in most stores, these models look a lot more like me, and these photos give me a far better idea of how certain shapes and silhouettes are going to look on my body. Forever 21 and Asos are particularly useful for this and both seem to be continuing to diversify the models they use. The other place to look is, of course, the blogging community and Instagram. Hashtags like #mybodyisabikinibody, #effyourbeautystandards, and, yep, #fatkini provide incredible real-life inspiration for women of all sizes and ages.
Forever 21 Plus Size Mesh Bikini Top ($18) and Bikini Bottoms ($16)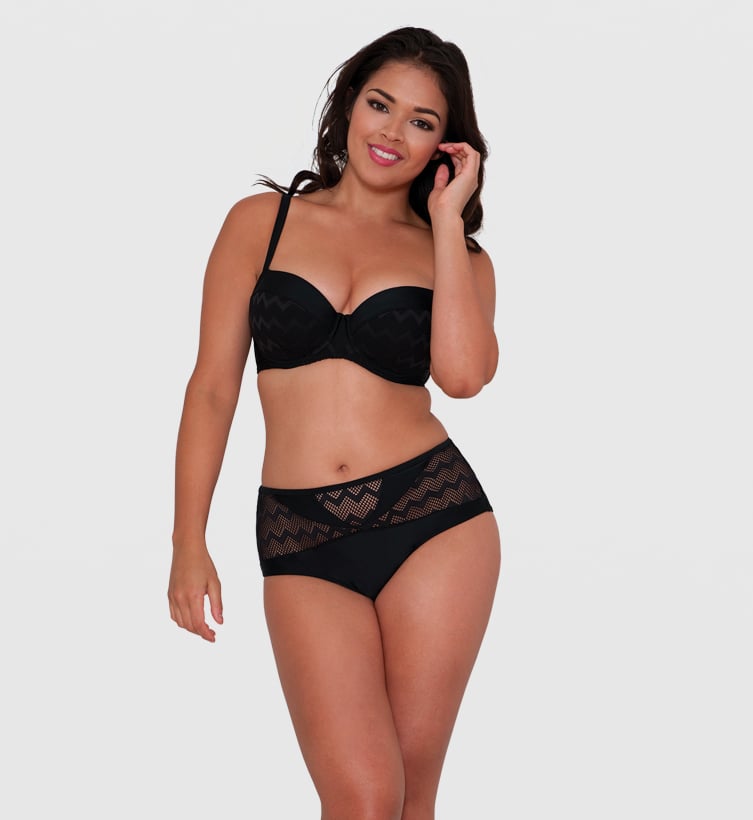 Shop by Cup Size
Almost every single one of my favourite bikinis come from brands like Freya and Curvy Kate, who sell bikini tops by cup sizes. As a 34E, I need a fair amount of support, and choosing something specifically designed for my size ensures this, plus I can then buy multiple briefs in whatever size works for me to mix and match. Even if you're not fuller-busted, shopping by cup size ensures the perfect fit rather than making do with something generically designed for all women of the same dress size. After all, there's a big difference between someone a size 14 who's 5'2" and apple-shaped and someone who's 5'8" and hourglass! More and more brands are now doing this, but try Debenhams, Boux Avenue, and Figleaves to start with.
Curvy Kate Hi Voltage Bikini Top ($46) and Briefs ($24)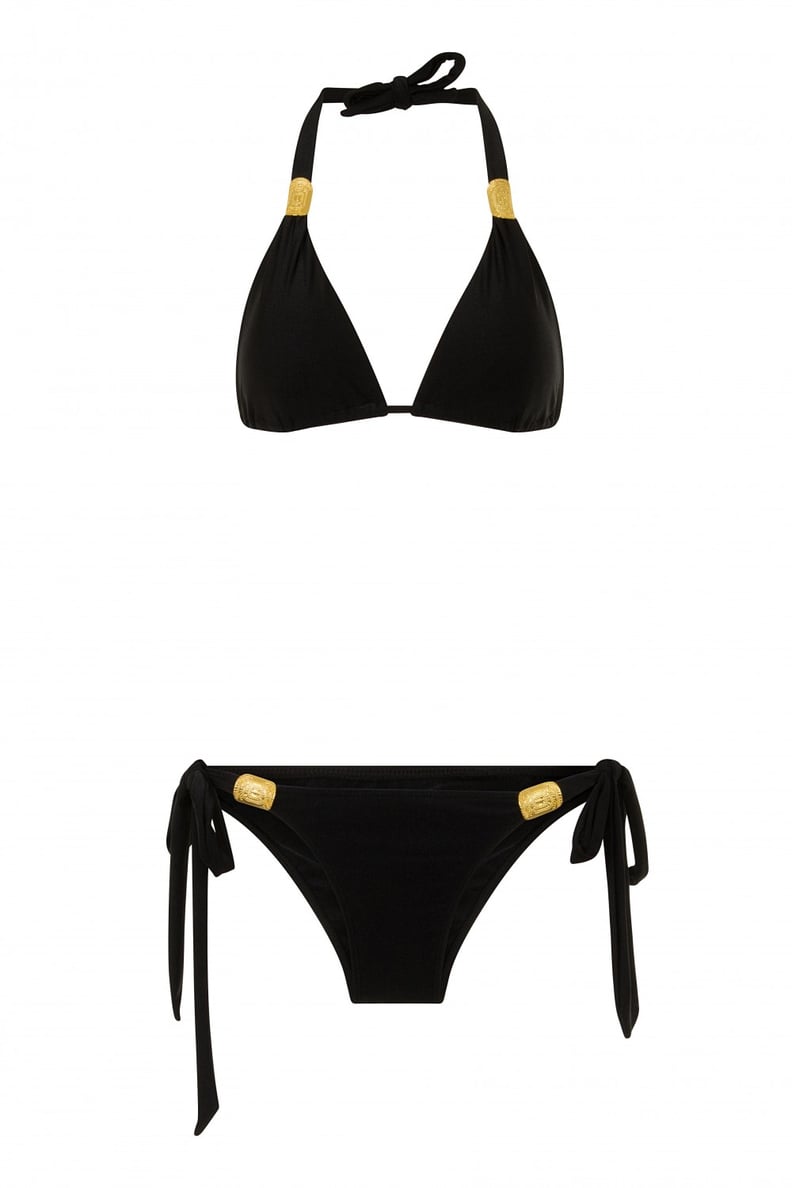 Consider Something Skimpier
As with boy shorts, high-waisted "big knickers"-style bikinis are also pitched as the go-to for curvier women. I love them because I'm obsessed with the clothing of the '40s and '50s, but they're not always the best option if you're looking for something that'll make the most of your curves. They're great if you're tummy-conscious or making the first tentative steps toward wearing a bikini after years of one-pieces. But if you have a defined waist, its actually worth trying some skimpier numbers too, as they are amazing for balancing out your silhouette. Tie-side briefs are great as you can adjust them, and I'm also a huge fan of bikinis with sliders (little beads on the hips and above the cup on the top) which can be moved slightly to adjust the fit and to increase or decrease coverage slightly to suit your requirements. You can also look for decorative panels at the center of the hip (beads, chains, etc.), which draw the eye inwards and show off all your best bits!
Bahimi Tia Maria Bikini ($45)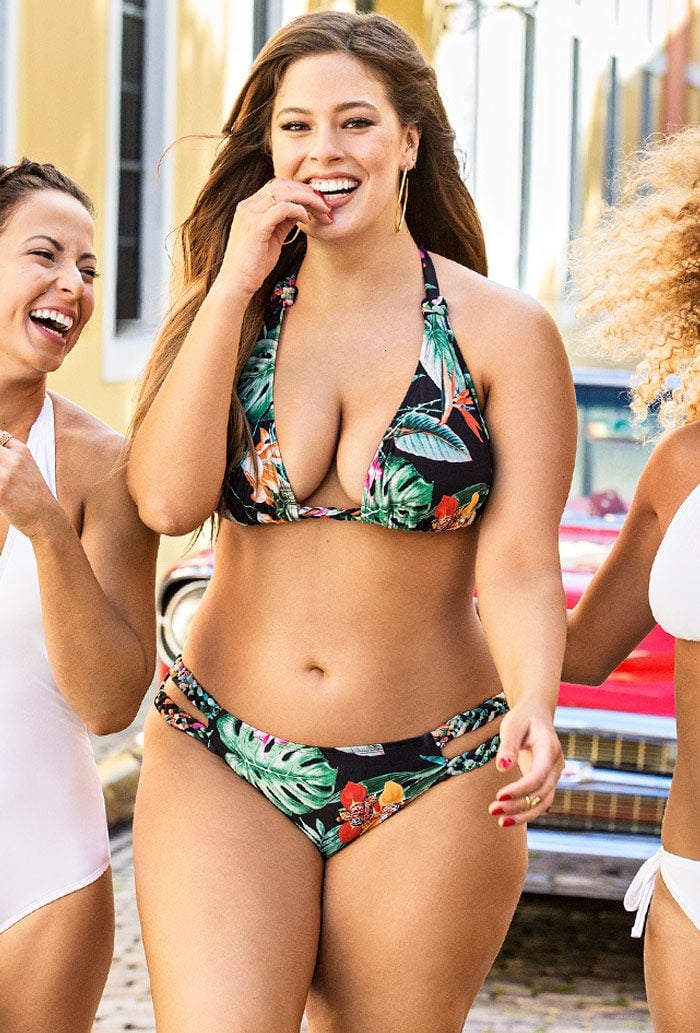 Have Fun With Prints and Color
If you're not 100 percent confident about your body, you may be worried about opting for anything other than a classic "flattering" style in a dark "slimming" color. But no item of clothing is going to magically change your body (it can only sculpt it a little bit, so you may as well just throw caution to the wind have some fun). There are so many amazing styles out there in fun colors and prints, and life is too short to miss out on them. Next time you're shopping, instead of trying on the bikini you think you should wear, try on the one you really want to wear. You might be surprised by how awesome it looks on you. If you love it, it'll show when you wear it!
Ashley Graham x Swimsuits For All Princesa Tropic Bikini ($84)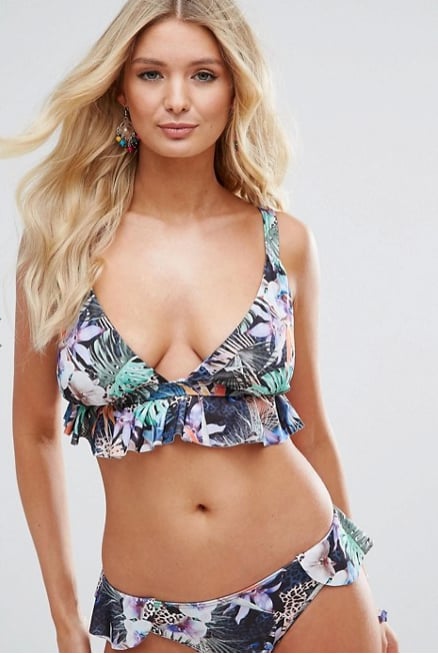 Beware Too Many Frills or Fuss
I'm always cautious of advising people to avoid things entirely, because quite honestly, if you love it, you should wear it. But I have found, much to my disappointment, that one thing I do need to watch is too much fuss on a bikini. I love frilled briefs and feminine details, but if I'm not careful, because of my tummy and thighs, I can run the risk of looking like I'm dressed as a toddler in anything too girlie and fussy. A more streamlined shape is often a lot better on me, and may well be on you too. Try things on and see; you may love how you look in a whimsical ruffled bikini (if so, I'm jealous).
Asos Tropical Animal Frill Plunge Bikini Top ($32) and Frilled Briefs ($23)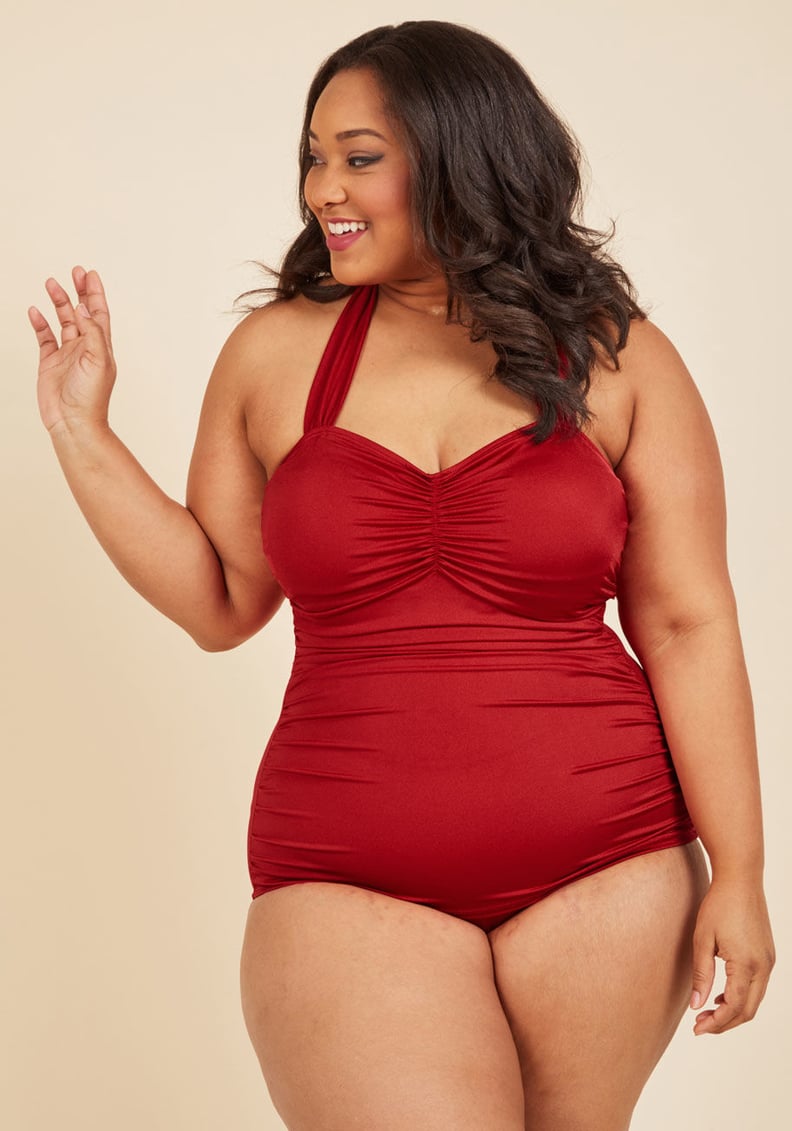 If in Doubt, Go Retro
In my opinion, there is no better swimsuit than Esther Williams's retro one-piece, and believe me, I've done extensive research on this. You may balk at spending $90 on a swimsuit, but if you can save up, you won't regret it. I own this in two colors and I also have the matching bikini, and the moment I put them on I feel like a pin-up girl. They're good quality (lined in the front to avoid any see-through postswim moments), and the clever gathers hug the body perfectly. ModCloth sells extended sizes and ships to the UK, but note these are US sizes, so you'll need to subtract 2 or 4 depending on the kind of fit you like (they run fairly small, but a US 10 still fits me fine). You can also buy some colorways from For Luna in the UK, which is where I picked up the amazing lobster-print version.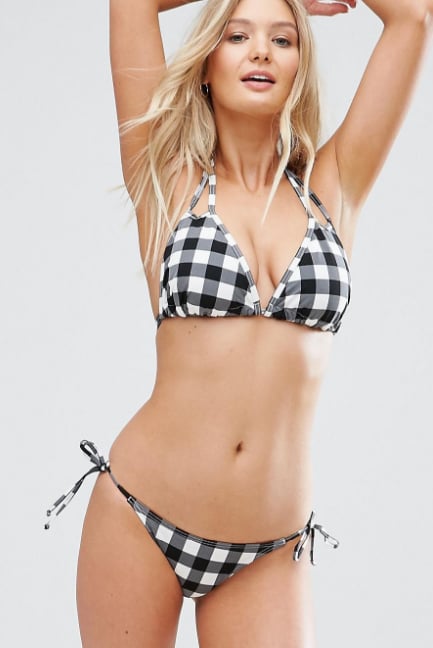 Just Try the Triangle Bikini On
One of my most well-loved bikinis is actually a classic triangle bikini with tie-side briefs and a skimpy top. It goes against everything I've ever read (or indeed said) about shopping for swimwear for my body type. But that's the thing about fashion: sometimes you just have to ignore all the advice and just try the damn thing on. If it's got the right cut, in the right fabric, and the sizing is right, you may be surprised. Just order from a brand that does free returns!
Asos Fuller Bust Mix and Match Soft Triangle Bikini Top ($29) and Tie-Side Briefs ($19)