As POPSUGAR editors, we independently select and write about stuff we love and think you'll like too. If you buy a product we have recommended, we may receive affiliate commission, which in turn supports our work.
We know fall just started, but if you (like us) are more than ready to get a head start on embracing some of the season's biggest style trends, we recommend stocking up on a few styles now before they sell out — and trust us, if TikTok has anything to do with it, they will sell out. One of our favorite fall fashion trends is the return of nostalgic, '90s fashion — think platform shoes, fringe jackets, low-rise bottoms (yes, it's true), and, our newest obsession, cargo pants.
Love 'em or hate 'em, cargo pants are proving to be one of the most versatile fall trends — Kim Kardashian and Emily Ratajkowski are just a few of the celebrities who have been donning the baggy style as of late, and a recent study carried out by Boohoo even showed that green cargo pants are primed to be this season's biggest fashion must-have, with searches for the Y2K bottoms showing an increase of 163 percent on Pinterest.
If you're tempted to experiment with the style for yourself, you can shop our picks of the best cargo pants for women just ahead. Styling these pants is actually pretty easy — hence why seemingly every celebrity and fashion editor has already added the style to their wardrobe this season. They look great with T-shirts and crop tops or even an oversize button-down shirt.
Whether you're looking for something colorful and eye-catching or more muted and neutral, there's a pair of women's cargo pants you're bound to become obsessed with this fall. Our standout picks include (but aren't limited to) a pair of denim cargo pants that are elevated and polished, satin cargo pants that mirror that iconic pair worn by Zendaya, and even high-waisted cargo pants that come from some of our favorite brands like H&M, Nordstrom, Amazon, and more. Keep reading to shop our top picks for the best baggy cargo pants and get excited to spruce up your closet for the new season.
— Additional reporting by India Yaffe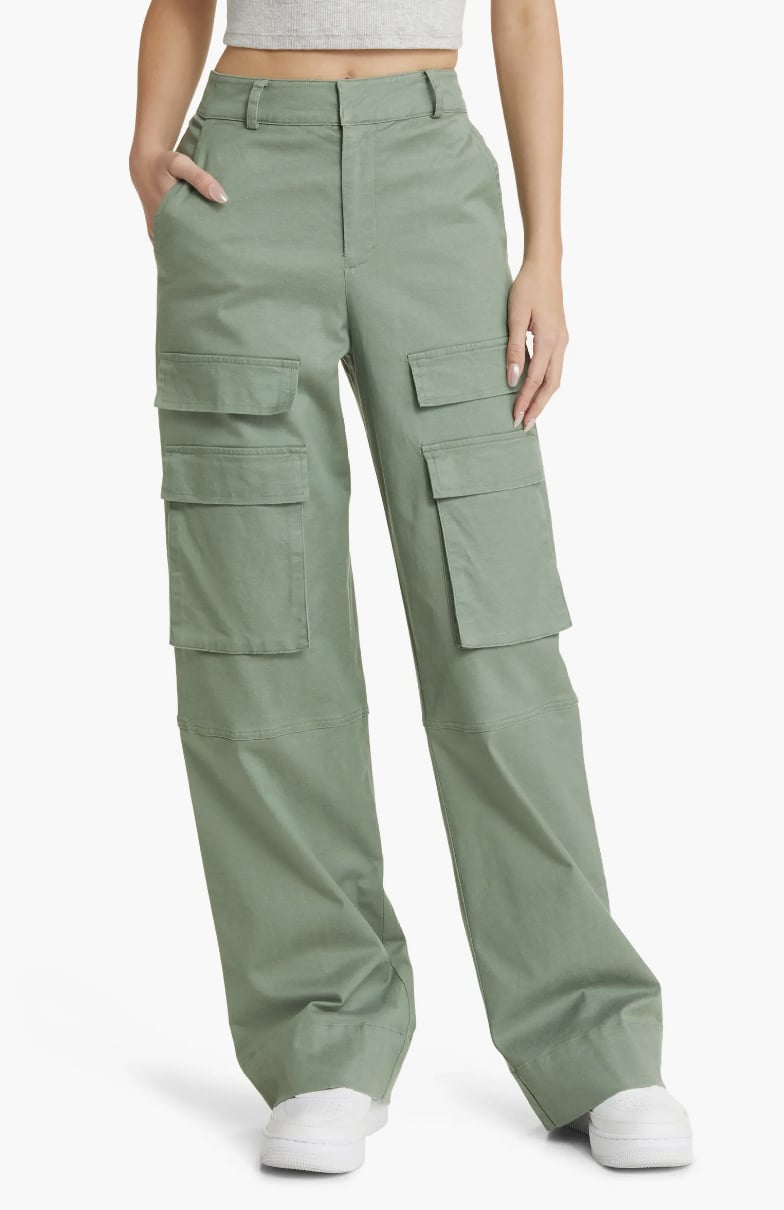 Best High-Waisted Cargo Pants
BP. Cargo Pants ($60)
Low-rise styles might have dominated '90s fashion, but these green cargo pants prove that the bottoms are just as cool in a high-waisted silhouette too. We love that the bottoms have a more fitted design up top teamed with a baggier, lived-in design on the bottom. Plus, the light olive green coloring will make such a fresh addition to your fall color palette.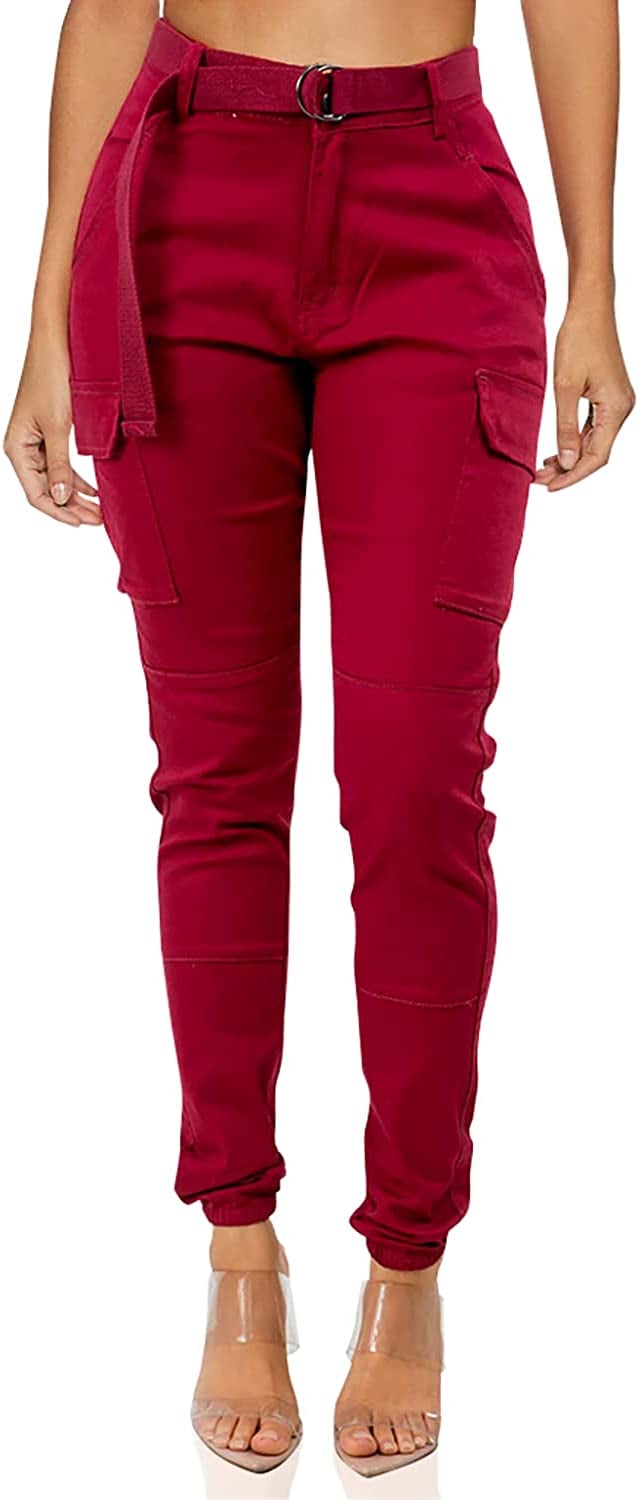 Best Cargo Pants on Amazon
TwiinSisters Jogger Camo Pants ($21-$34)
Perhaps unsurprisingly, Amazon is home to a lot of affordable cargo pants that come in all different shapes, sizes, and colors — though we're partial to these jogger-style cargo pants, in particular. The fitted bottoms are a fun departure from the usual baggy silhouettes we tend to associate with cargo pants, as they feature a more flattering and tailored design. Plus, they're a bestseller for the retailer and boast more than 7,000 near-perfect ratings.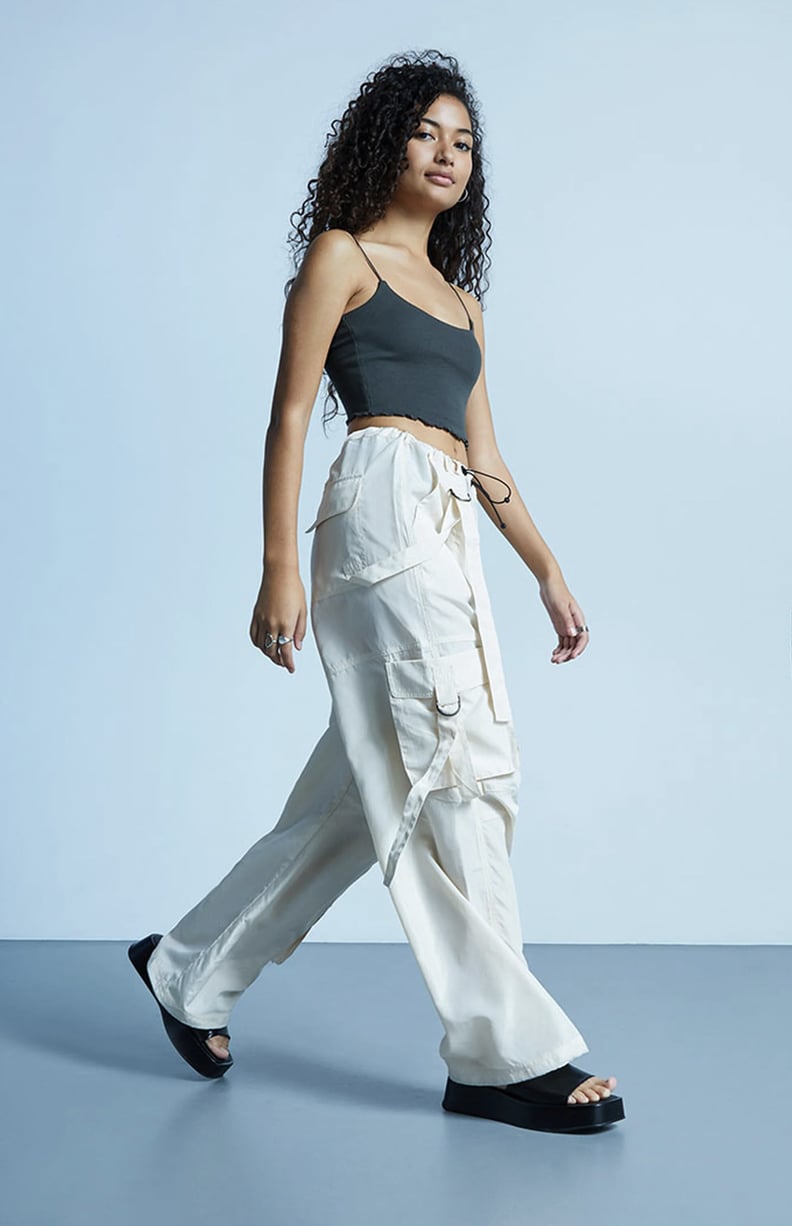 Best Cargo Pants With Pockets
LA Hearts Nylon Cargo Pants ($45, originally $60)
When we think of retro cargo pants, we think of something like these nylon cargo pants from PacSun. The bottoms pay homage to classic '90s fashion, and we're loving the wide leg and lower rise silhouette — both of which are also trending this season. Best of all, they've got a bit of elastic at the back of the waist, so they're a comfortable pair that's perfect for all-day wear.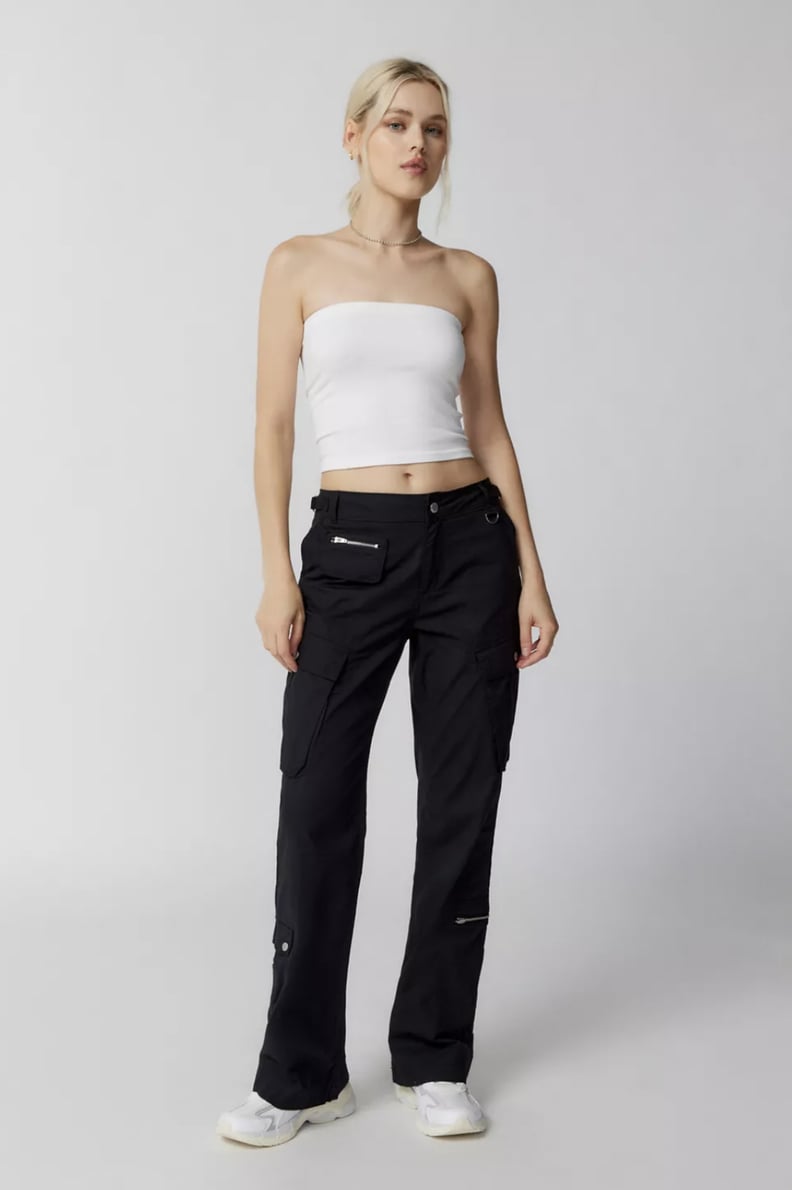 Best Bootcut Cargo Pants
BDG Eliana Bootcut Cargo Pants ($40, originally $79)
As much as we love a classic cargo pant, sometimes it's fun to do something different, and that's when we look to styles like this bootcut version which takes everything we love about black cargo pants, and reimagines them into a sportier silhouette. They're a low-rise bottom with a slight flare at the ankle. Plus, they've got zippered pockets, which are not only useful but also complete the pants with an edgier flair.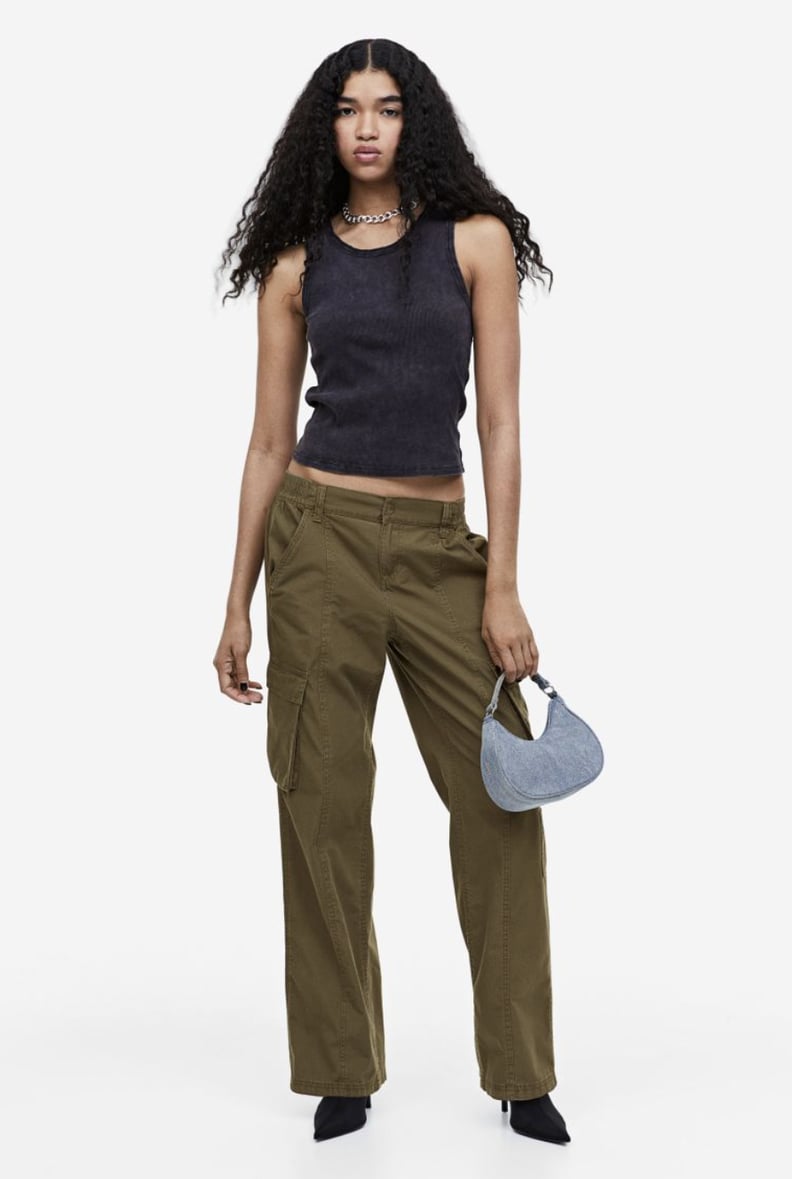 Best Canvas Cargo Pants
H&M Canvas Cargo Pants ($27)
We want to pick up these cute low-rise cargo pants ASAP. They're comfortable, easy to style, and they look great with a classic T-shirt or black button-down. Despite their low-rise design, the pants actually sit perfectly on the hips, so you can playfully tease some skin without worrying about your bottoms falling down. Reviewers say they run pretty true to size but are a little long, which is great if you're tall.
sponsored by
Anthropologie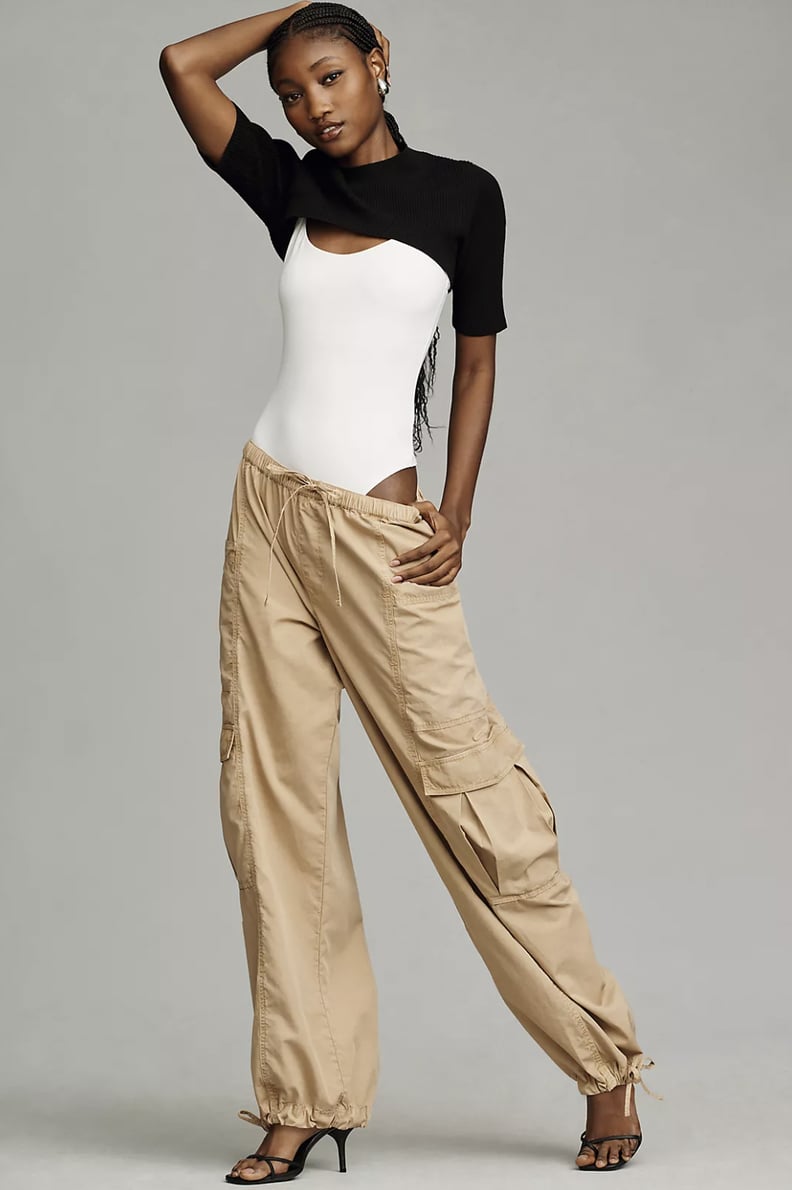 Best Khaki Cargo Pants
Sanctuary Canopy Cargo Pants ($99)
If you prefer a more refined look that still pays homage to the effortlessness of other '90s cargo pants, get this khaki brown style from Anthropologie. The stylish pant is a contemporary take on the '90s cargo pant with its structured, tailored silhouette. This cargo pant also has pockets galore (we love that), including ones in the front, the back, and on the sides. It's a versatile piece you can dress up or down for the ultimate cool girl look.
Best Plus-Size Cargo Pants
PrettyLittleThing Plus Camel Tie Detail Cargo Pants ($23, originally $30)
Stick to the classics with these die cargo pants from PrettyLittleThing. This style is crafted from a sleek, camel material that's breathable and soft to the touch. Shoppers also love the pant's tie detail design which allows anyone to adjust the bottoms as needed and achieve their perfect fit. What's not to love?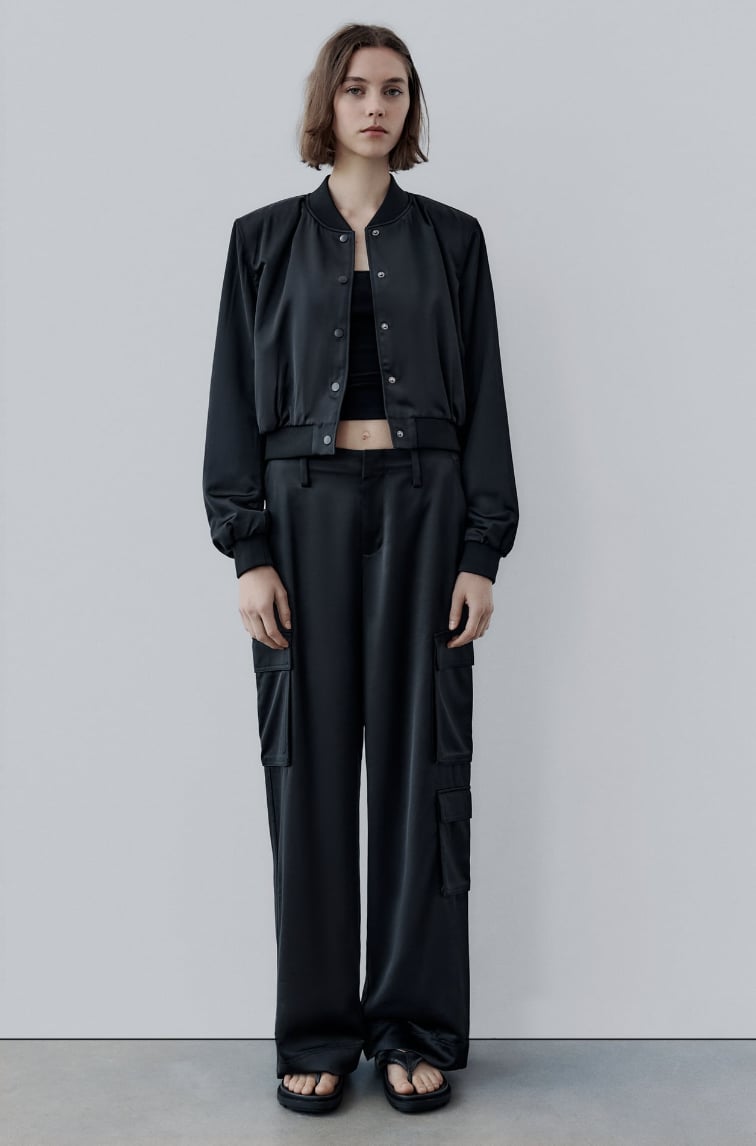 Best Satin Cargo Pants
Zara Satin Effect Cargo Pants ($60)
Zendaya famously wore a pair of white silk cargo pants for a late night talk show appearance — so, naturally, we now want a pair of glossy cargo pants in our life, too. While her pant style isn't too easy to come by, these satin-effect cargo pants come pretty close in drape and look — plus they even feature a cool, pleated detailing on the leg.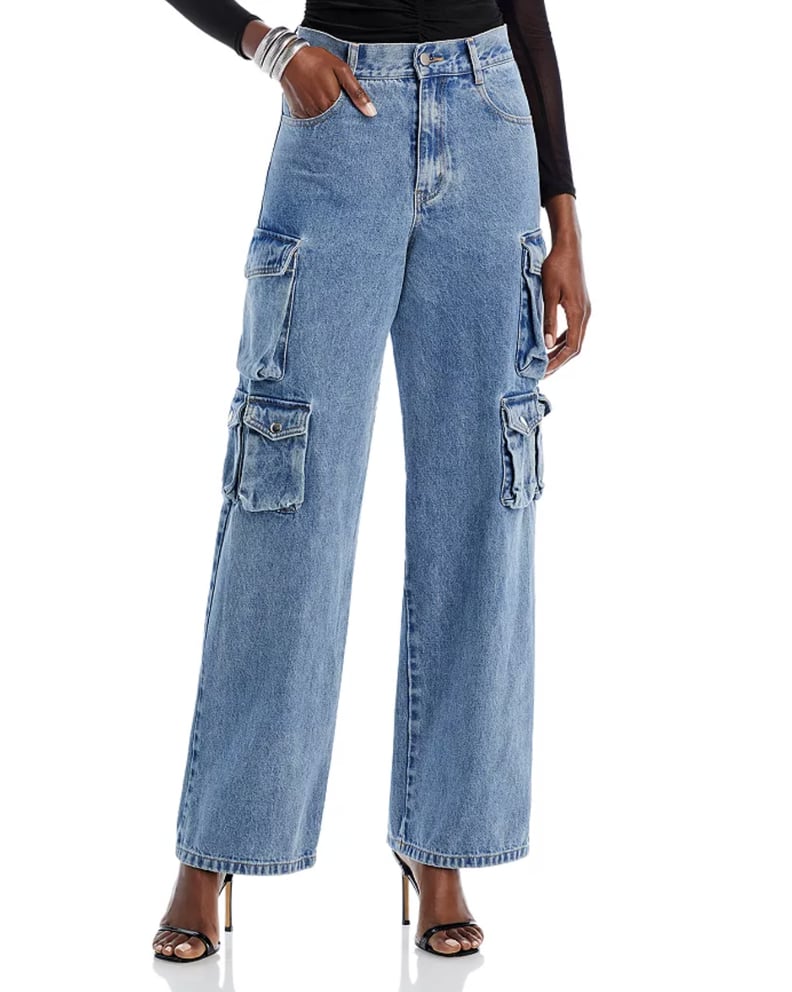 Best Denim Cargo Pants
Aqua Cargo Denim Pants ($98)
Cargo jeans are as cool as can be, and no one does cool clothes quite like Aqua. The brand is all about designing things that are sleek and trendy, which is why we're basically obsessed with everything it makes — including these denim cargo pants. They're made from a polyester and rayon blend, so they're rigid and even feature a little stretch.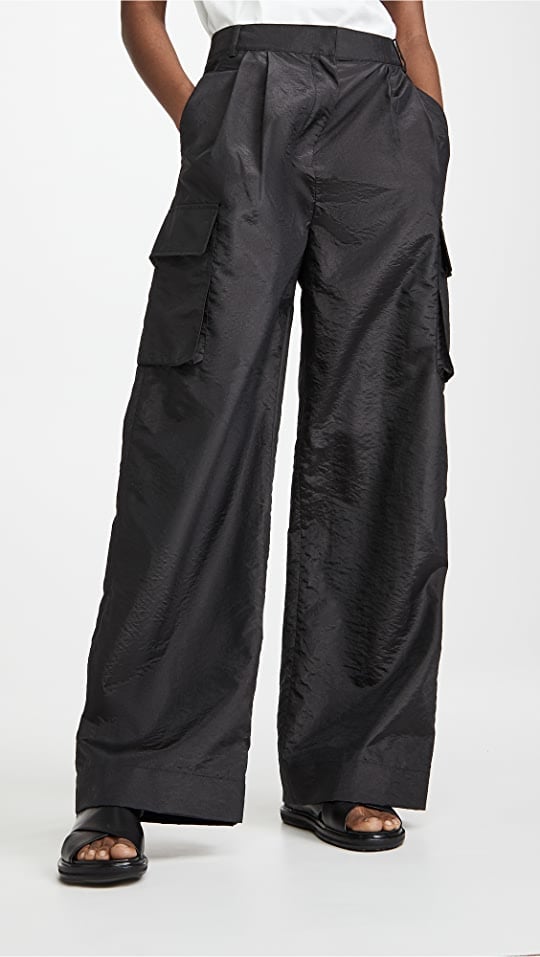 Best Baggy Cargo Pants
Tibi Crispy Nylon Pleated Cargo Pants ($395)
If you're looking to make more of a statement, these baggy cargo pants are so chic. We love the lightweight nylon and think that these bottoms are perfect for dressing up or down — especially if you're in the market for something that can take you day to night, from the office to post-work cocktails and beyond. Pair them with classic flat sandals or heeled booties and a neutral-colored top for a look that'll really pop.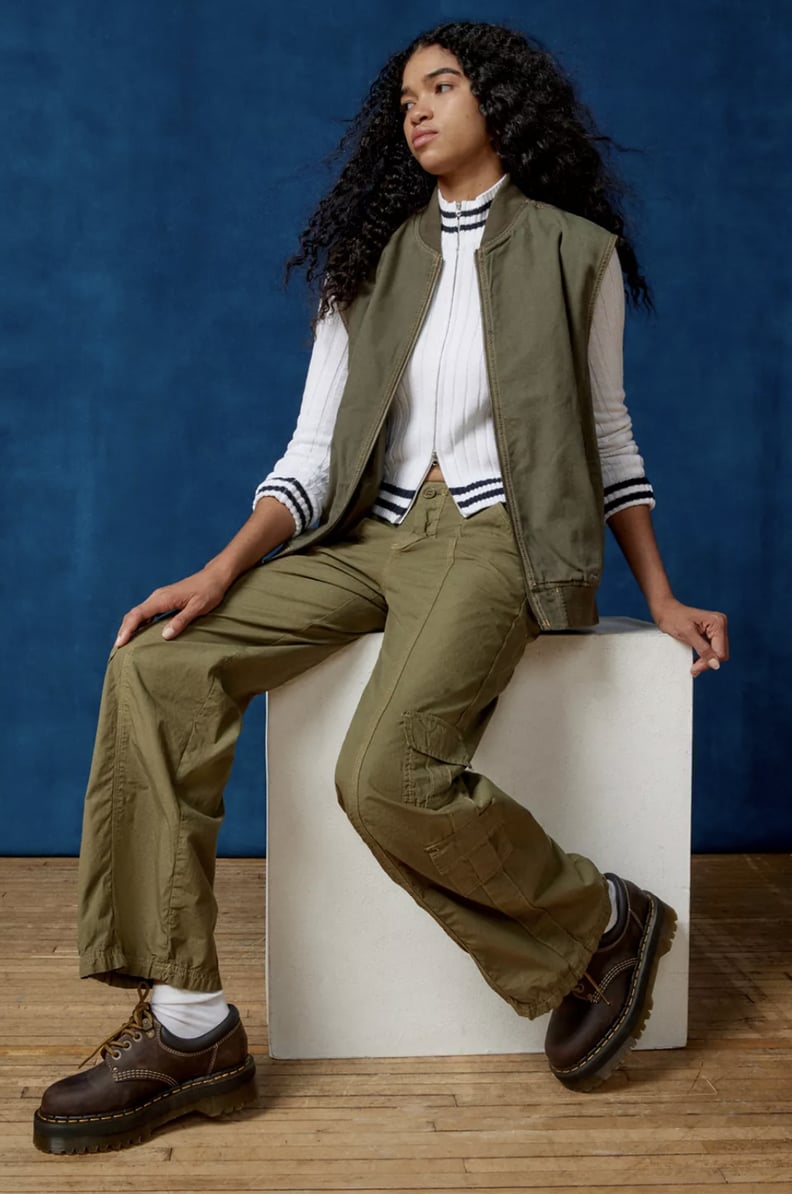 Best Low-Rise Cargo Pants
BDG Y2K Low-Rise Cargo Pants ($79)
These green cargo pants are exactly what we imagine when we think of styles from the '90s and early-2000s. The deep green color is a great option for year-round wear, and the low rise combined with a more elastic waist makes them easy to wear every day. Pair them with a cute crop top or a classic tank and oversize button-down.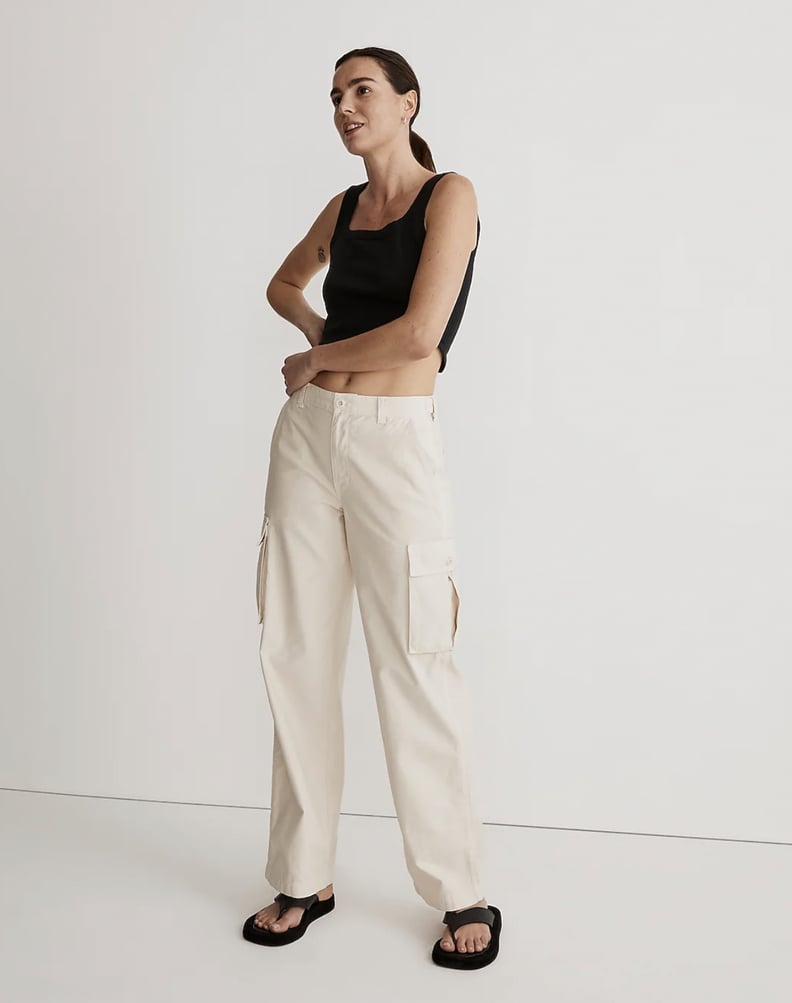 Best Cargo Pants For Work
Madewell Garment-Dyed Low-Slung Straight Cargo Pants ($83, originally $98)
Are they trousers? Are they cargo pants? With this straight-leg style from Madewell, it's honestly hard to tell — which is precisely why we like them. Cargo pants might have a reputation for their relaxed and slouchy fit, but some styles are designed with your workwear needs in mind — just like these fitted bottoms. The straight-leg cargo pant has a more sophisticated design that's elevated by practical side pockets, a fitted silhouette, and a versatile vintage linen coloring.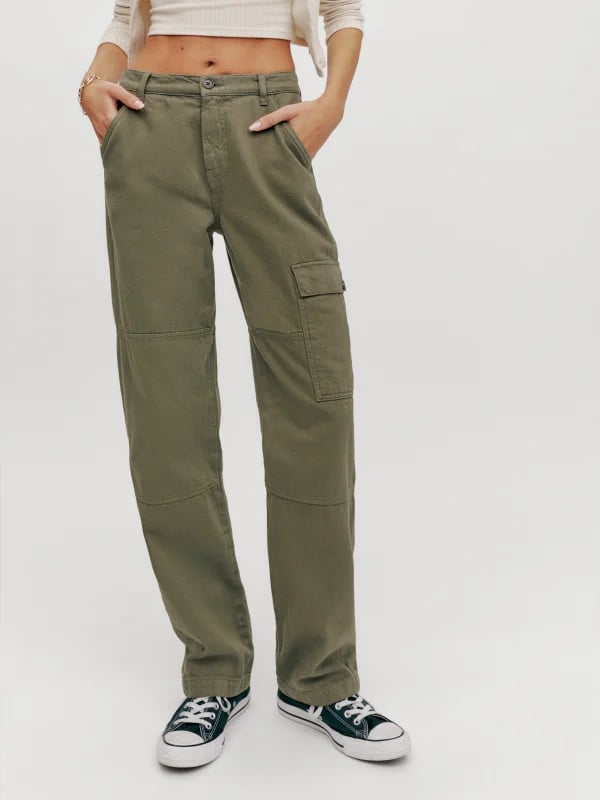 Best Green Cargo Pants
Reformation Bailey High Rise Utility Pants ($148)
You'll want to wear these green cargo pants on repeat this season. The bottoms offer a more minimal take on the classic shape. The straight leg looks great with lots of different shoe pairings, from booties to sneakers, and we're into these pants with a white crop top or cozy cardigan.