As POPSUGAR editors, we independently select and write about stuff we love and think you'll like too. If you buy a product we have recommended, we may receive affiliate commission, which in turn supports our work.
When it comes to swimwear, I can be notoriously picky. Usually, long before summer even begins, I've already started the search for that one perfect swimsuit that I'll be able to wear all season long — something that I can throw into my carry-on for any last-minute beach adventures, sport poolside, or even just don in my backyard while sunbathing. This year, that style has come in the form of a a one-piece swimsuit.
Year after year, I always spend my money on bikinis. And while a skimpy bikini can be great for perfecting my summer tan, it's often much less reliable (let alone supportive) when I'm embarking on a sporty water adventure. It's for this season that I decided to search high and low across the internet to find the best one-piece swimsuit for me and any remaining getaways I may still manage to squeeze in before vacation season is over. Naturally, the first retailer I turned to was Free People, because its swimsuit selection just keeps getting better and better — even as summer comes to a close.
If you're also on the hunt for a new option to round out your swimwear stock for the season, then you've come to the right place. To make finding your match easy, we've curated a list of the most sporty (and stylish!) one-piece swimsuits to shop from Free People right now. From sexy printed suits to flattering floral choices, no doubt you'll fall in love with at least one ahead. Keep reading to snag your size before it sells out.
— Additional reporting by Krista Jones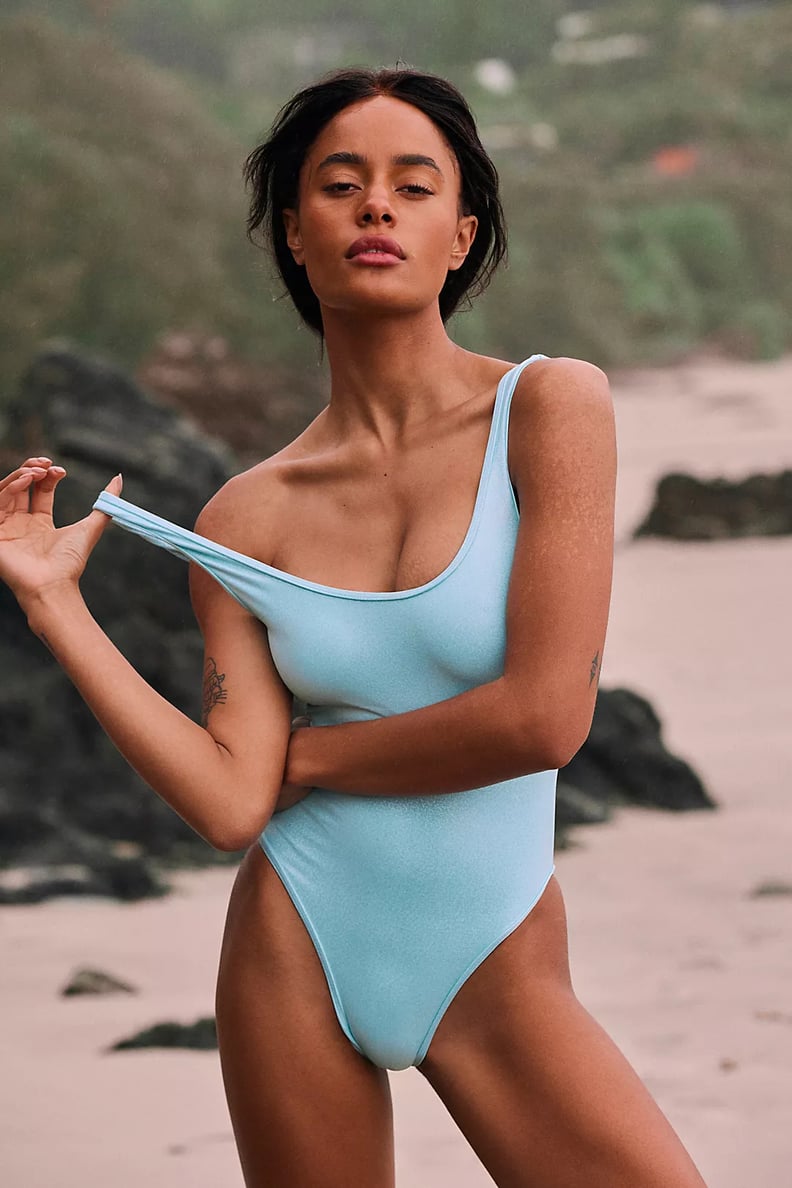 Frankies Kyle One-Piece Swimsuit
The truth is: your swimwear wardrobe just isn't complete unless it has a style from Frankie's Bikinis (aka the celeb and TikTok-loved swimwear brand that's practically everywhere at the moment) in it. Stock up on a FB style of your own with this decadent, blue-colored Frankies Kyle One-Piece Swimsuit ($185).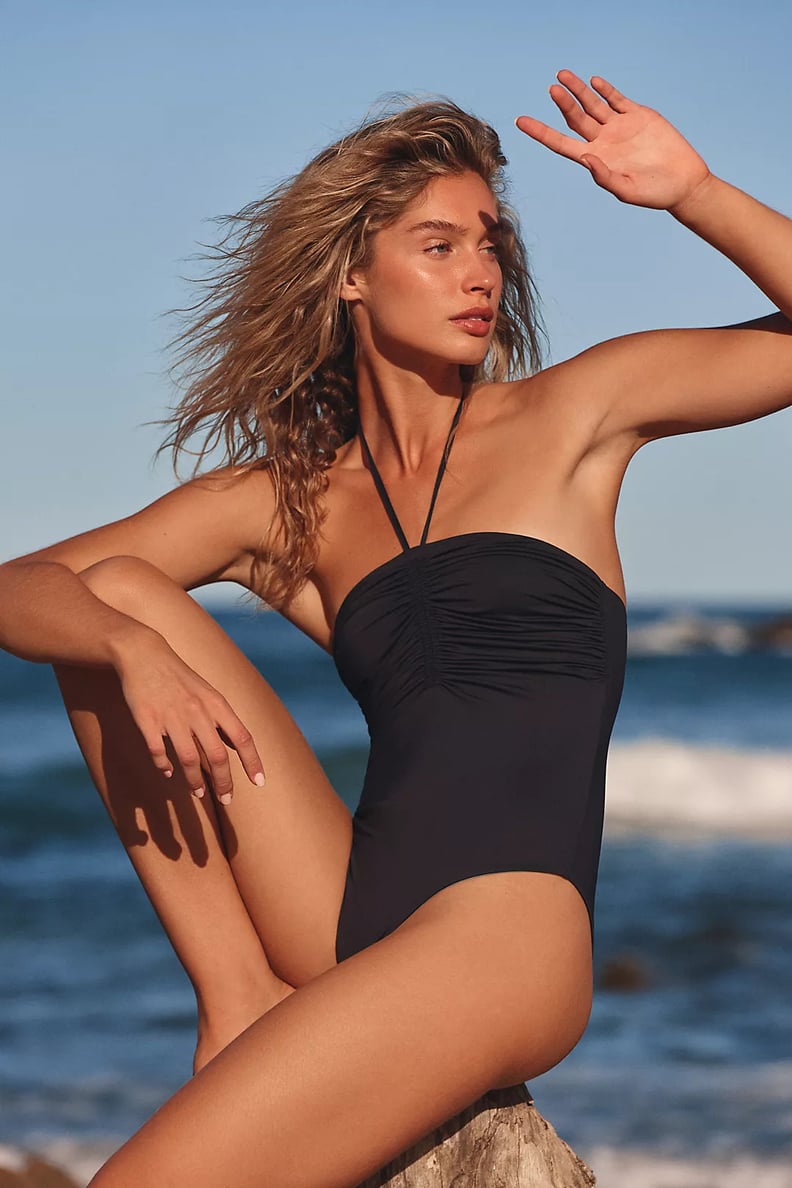 Kya Reversible One-Piece Swimsuit
The only thing we don't like about this Kya Reversible One-Piece Swimsuit ($167) is the fact that we're only just now finding it at the end of the summer season. This style embodies a classically elegant swimsuit piece. And best of all: it's even reversible!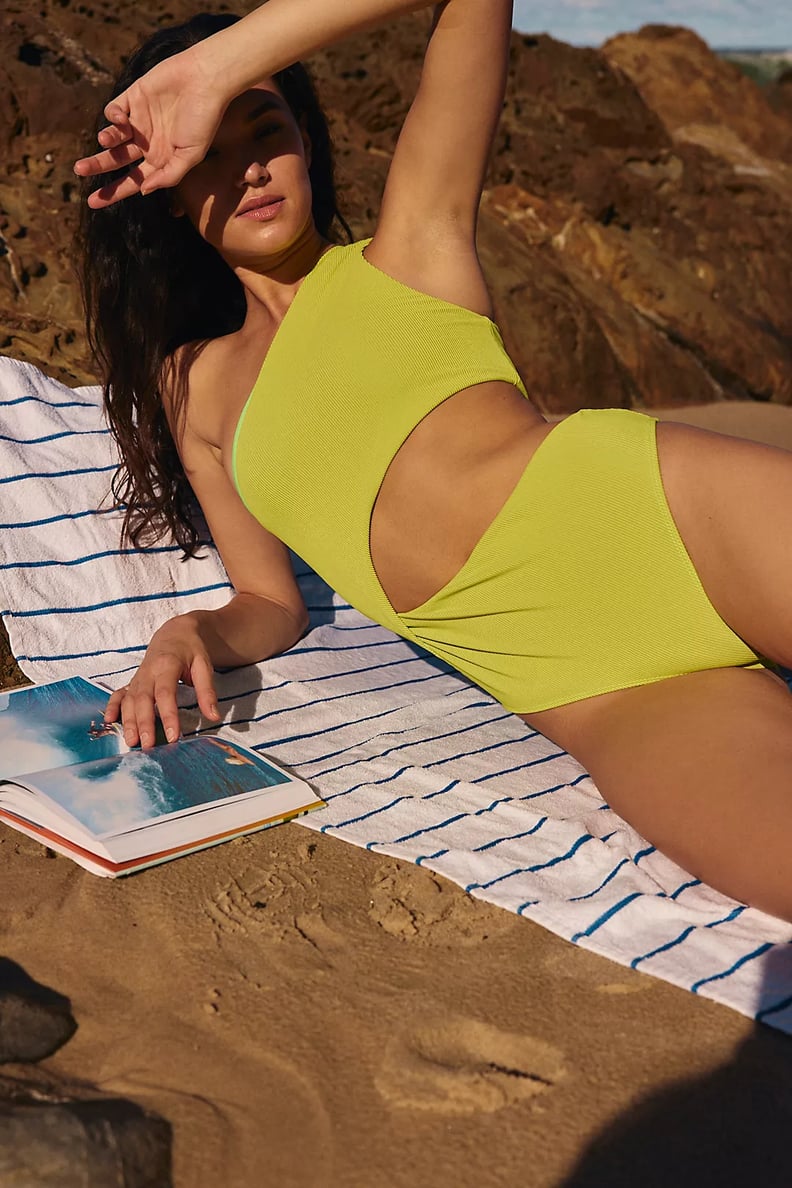 Beach Riot Ribbed Celine One Piece
As if this cut-out swimsuit wasn't cute enough, the Beach Riot Ribbed Celine One Piece ($148) is available to shop in over 10 other shades, too. We're obsessed with the swimsuit's ribbed silhouette, which provides a universally flattering fit. Plus, the one-shoulder design creates an added layer of support — allowing you to swim and run up the beach comfortably.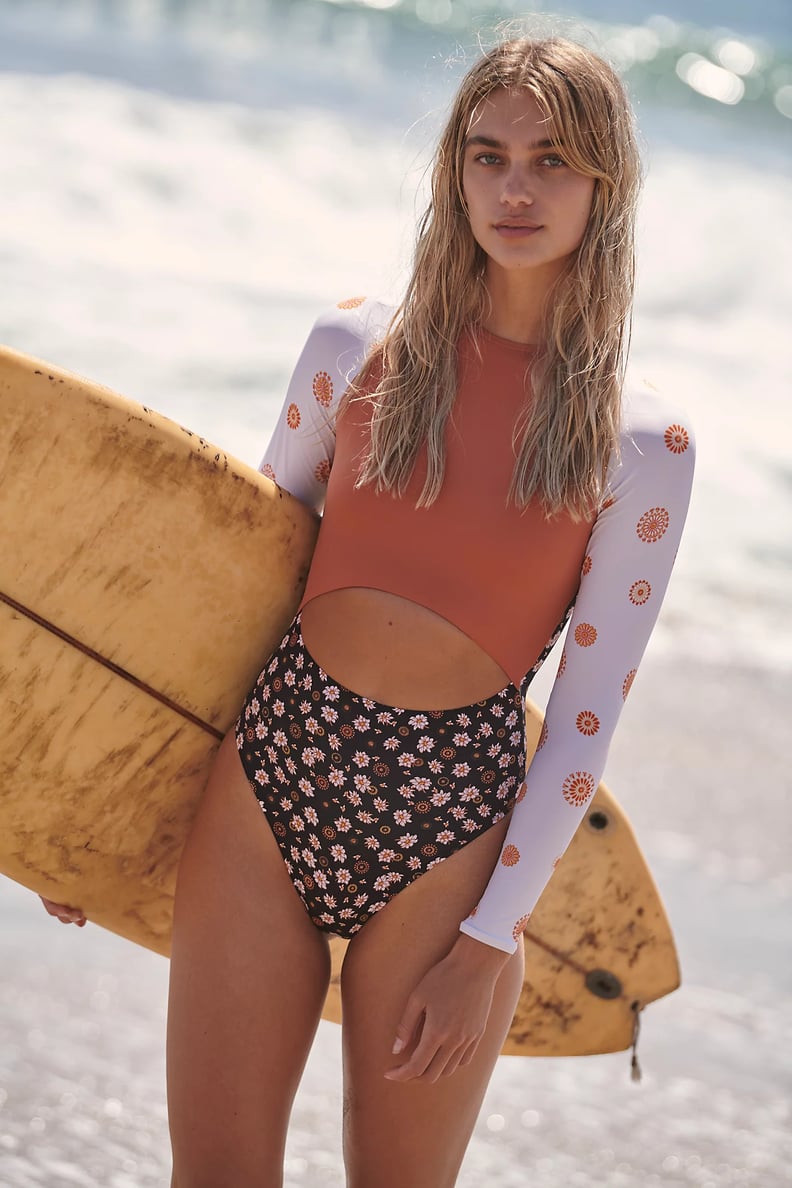 Rhythm Long Sleeve Full One-Piece
The fun, multi-patterned print on this Rhythm Long Sleeve Full One-Piece ($120) is really what sold us. Swimwear feels like one of the few spaces in fashion where you can freely experiment with mix-and-match styles — as demonstrated by this busy one-piece. We love how effortlessly the designs pair together, giving the illusion of a 3-in-1 swimsuit style.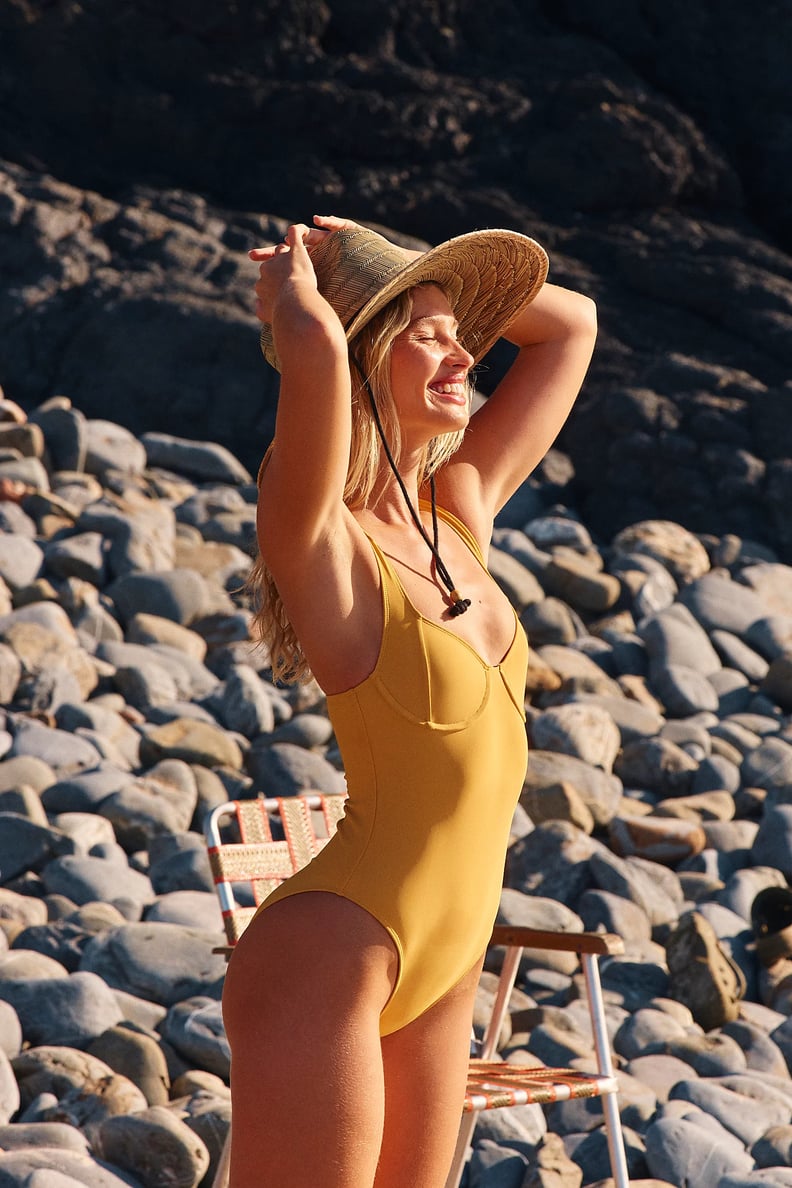 Free People Ginger One Piece Swimsuit
This Free People Ginger One Piece Swimsuit ($145) is the type of swimwear style you'll want to keep in your closet forever. The saffron-colored one-piece carries a timeless vibe to it — complete with a soft, gingham fabrication and cheeky fit across the back. We love that it's also available to shop in a bubblegum pink color, too!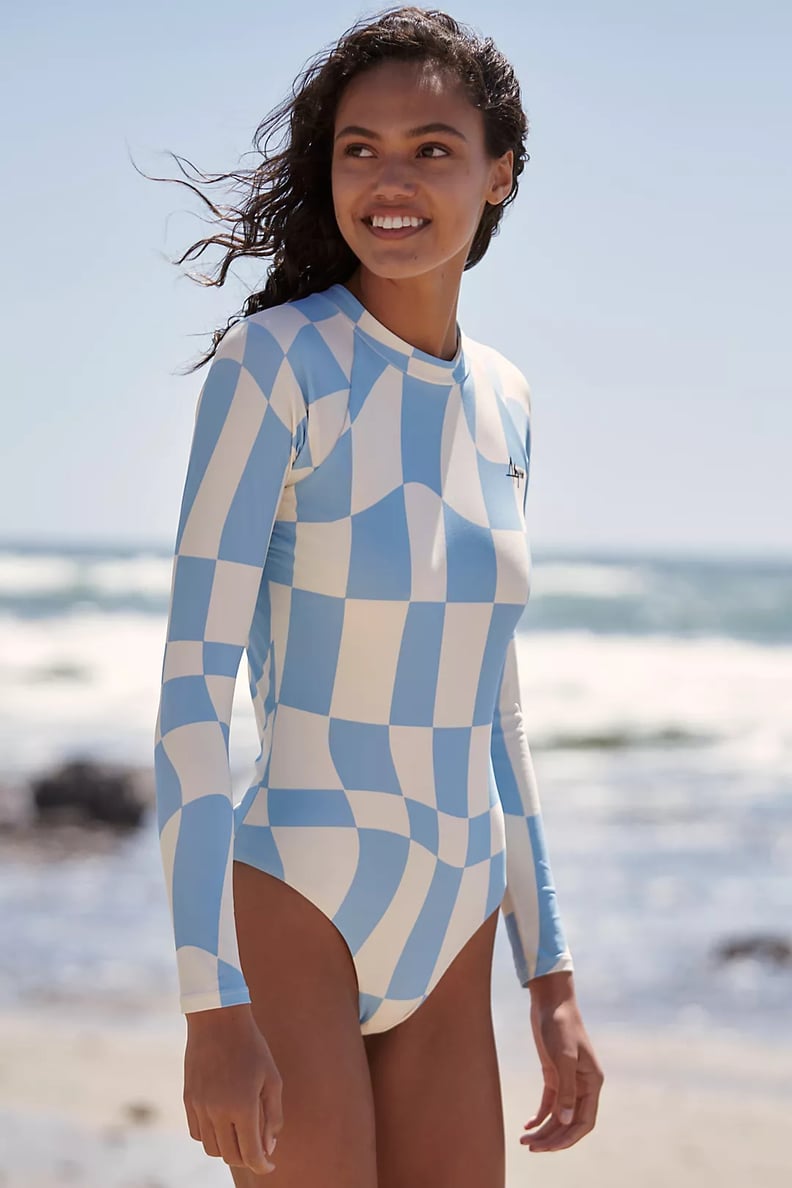 Abysse Ama Surf Suit
The checkered blue and white hue of this Abysse Ama Surf Suit ($300) is so pretty. Not only is the long-sleeved style great for helping to protect your skin from the direct sun exposure, but it also doubles as a warmer suit option to reach for on those chilly beach days. The fun, Y2K-inspired prints across the style are just an added bonus!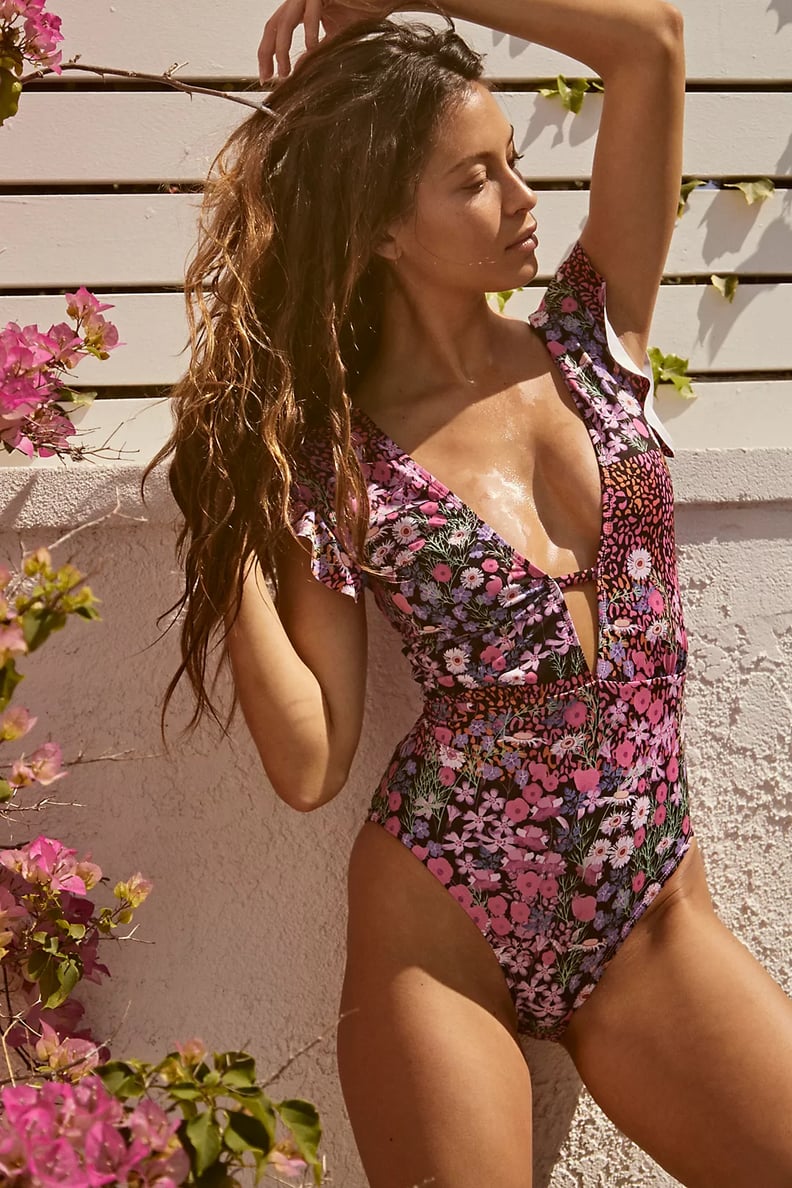 Beth Richards Sophia One Piece Swimsuit
We have total heart eyes for this Beth Richards Sophia One Piece Swimsuit ($280). From the beach to the pool and beyond, there's no doubt you'll turn heads in this floral-wrapped number. The plunging neckline also helps to elevate the classic one-piece swimsuit look with a sexier touch.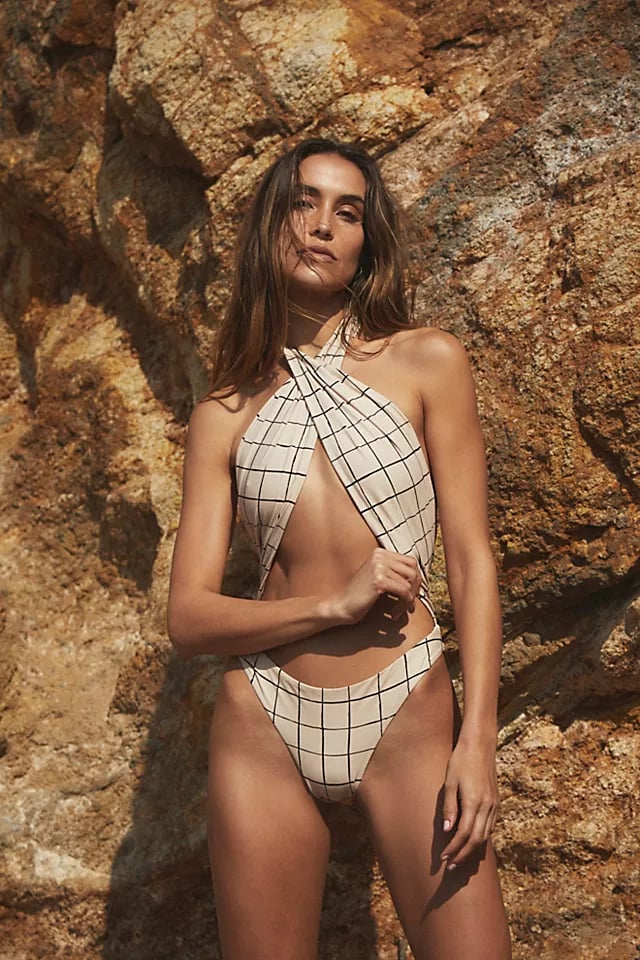 Stone Fox Azalea One-Piece Swimsuit
If you're looking for a more dressed up one-piece swimsuit but don't want to commit to a full-patterned one, then look no further than this Stone Fox Azalea One-Piece Swimsuit ($200). The figure-flattering one-piece boasts a pull-on style design — perfect for creating a hassle-free and beach-ready look.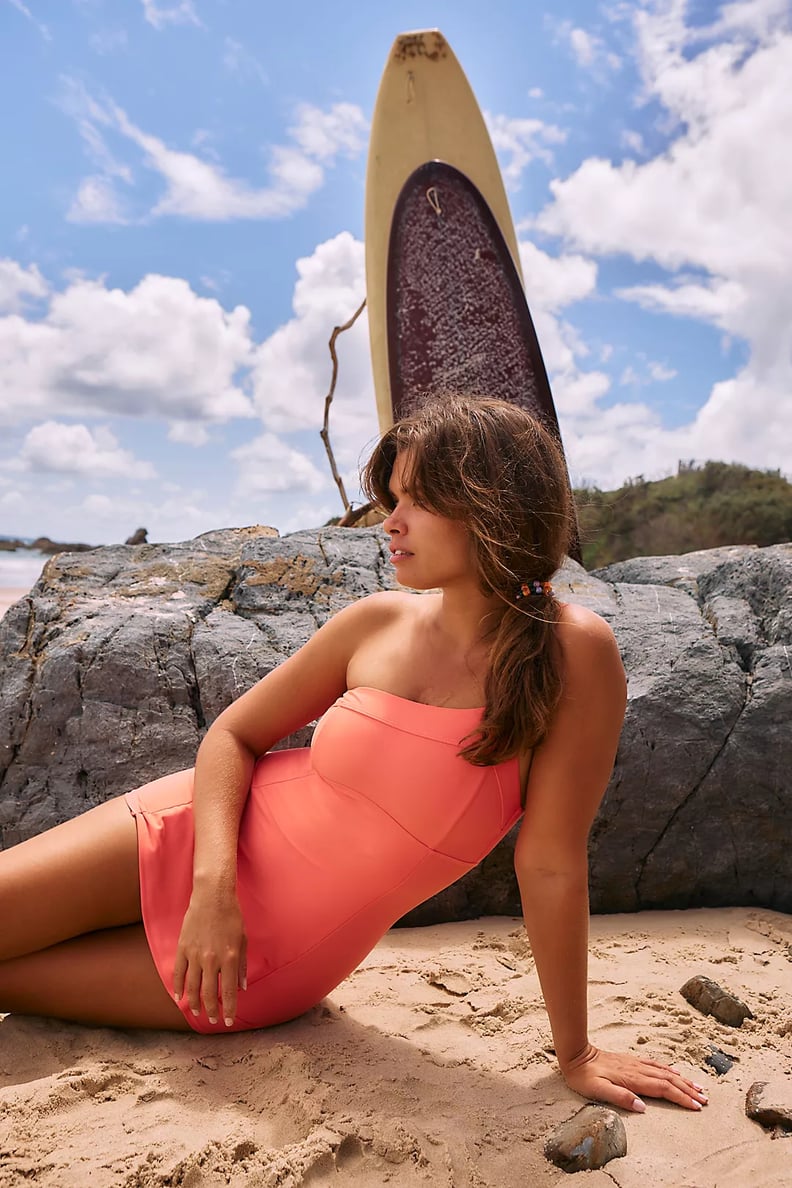 Seea Bolinas One-Piece Swimsuit
This Seea Bolinas One-Piece Swimsuit ($165) isn't your average one-piece — and it has a mini-dress silhouette style to prove it. If you prefer a more conservative look while at the beach or pool, then you'll adore the unique style of this particular suit. From the built-in shorts to the removable strap, this suit is equally versatile and chic.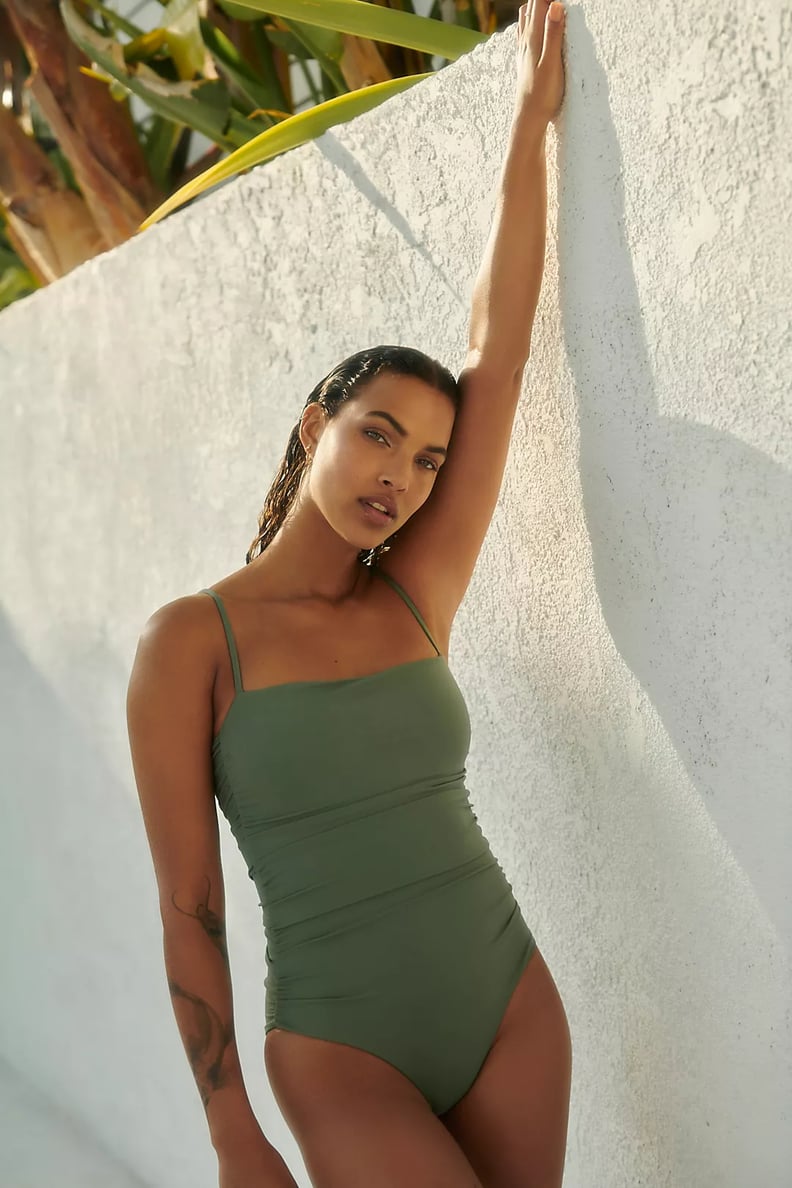 The Ruched Maillot One-Piece Swimsuit
For as fun as printed swimsuits might be, we also know that you can never go wrong with a simple classic — just like this The Ruched Maillot One-Piece Swimsuit ($144). The suit is available to shop in five, fresh colorways. And the low-back silhouette helps to provide the style with an added element of breathability.