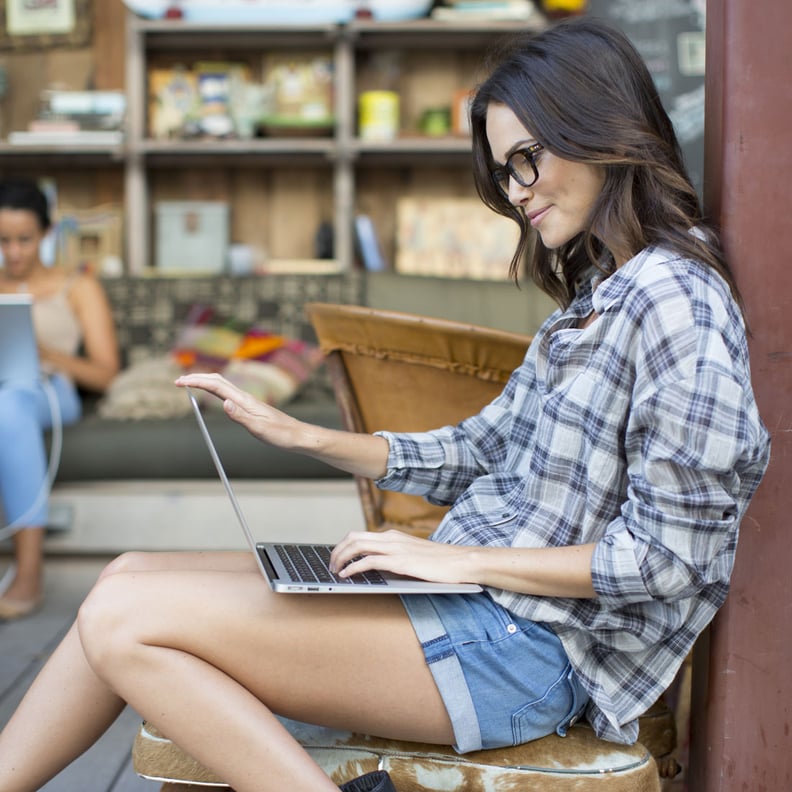 POPSUGAR Photography
POPSUGAR Photography
With Cyber Monday upon us, holiday shopping madness is about to hit its tipping point. And while we don't doubt your prowess when it comes to snagging a great deal in 10 clicks or less, this is a special case of seasonal sale overload. Bottom line: we don't want you to miss a beat as you scour the web for gifts. So, consider this an early present from us to you — all the "best practices" you could ever want when it comes to online holiday shopping like a pro. Free shipping? Check. Promo codes at the ready? Done. The insider scoop on how to save big on your favorite sites? Yours for the taking. It's all here.
Tuesday is the jam. For some reason (and aside from Black Friday and Cyber Monday), Tuesday seems to be the universal day that ecommerce sites post new sales and update their merchandise. And if you plan on scouring your favorite online destinations on Tuesday, start really early. Most sites post these discounts in the wee hours of the morning, so your best bet has everything to do with the saying, "the early bird gets the worm."

Promo codes are your best friend. If you're really serious about online shopping or you're just looking to score a great holiday deal, you should never be without a promo code. Quick ways to snag these discount-inducing passwords? Do a general Google search for what you need (example: Shopbop discount code), or subscribe to your preferred brands and online retailers' emails for early access to sale promo codes. We've learned that Shopbop, ASOS, Net-A-Porter, and LOFT are great at notifying us with new discounts promptly.

Know your free-shipping deadline. Mark it: Dec. 17 tends to be the last day most online retailers offer free shipping and guarantee it to arrive just in time for Christmas. Sure, you can spring for the more expensive same-day shipping if you're in a bind, but plan accordingly.

Addendum: you should never pay for shipping. Where there's a will, there's a way, and where shipping is concerned, you shouldn't have to shell out. This means you'll have to do some extra digging, but if you follow our promo-code tip, you'll most likely come across a coupon that will give you the gift of free shipping.
Compare, compare, compare. We're constantly online shopping and if there's one tip that always applies: remember to compare same and similar items to ensure you're getting the best possible bang for your buck. We swear by ShopStyle, which allows you to do an ultra-specific search for exactly what you want and voilá! You also have a side-by-side comparison of all your potential shopping options, priced out, and just begging to be sorted the way you want to shop it.

See what it looks like on a "real" person. With the help of live runway-style product shots and augmented reality "dressing rooms," you can now see what items look like before you even try it on yourself. Your best bet for this kind of virtual try-on experience? Rent the Runway, ASOS, and Saks Fifth Avenue.

Never miss a good sale (ever). We know it's not physically possible to know about every sale worth knowing about because, well, there are just too many of them. But that's where handy sale alerts come into play. You can sign up for curated sale alert emails on ShopStyle, and we promise they're not annoying. You set up the alerts to hit your inbox as many times as you see fit, so don't worry about being spammed.

Get your thrills in. For the eBay shopper, we know it's all about a careful balance of watching, bidding, and biding your time. Do your best not to bid on your item until the very last possible second – it helps to set a calendar reminder. And when bidding comes down to the wire, put the max amount you're willing to spend at the last 10 seconds. The rest is up to eBay fate, but at least you know you put in the most you wanted to spend, and not a dime more.

The last-minute rush is also the most inexpensive. This is possibly the riskiest way to shop if you believe in giving your presents in a timely manner, but it's also one of the best ways to ensure a great deal. Online retailers tend to drop the prices of their Winter and holiday merchandise the closer the date is to Dec. 25, so if you're willing to sweat it out a little, this is one surefire way to save.