As POPSUGAR editors, we independently select and write about stuff we love and think you'll like too. If you buy a product we have recommended, we may receive affiliate commission, which in turn supports our work.
If you're looking for a sign to finally invest in some zodiac jewelry pieces for yourself, you've definitely come to the right place. Rather unsurprisingly, we're very invested in all things astrology and horoscope related over here at POPSUGAR — so naturally, we totally understand wanting to take some serious pride in your zodiac sign and keep its energy close to you wherever you go. Fortunately, with the growing obsession surrounding astrology (hence why everyone is always on high alert whenever Mercury is retrograde), zodiac jewelry has become surprisingly mainstream and affordable these days — that is, if you know where to shop, of course.
Many celebrities have been embracing the astrology jewelry trend on their own terms as of late. Meghan Markle famously wore constellation necklaces of her family's signs back in 2019. Bella Hadid and Kendall Jenner have been spotted in their own zodiac accessories on a number of occasions. And even Rihanna has managed to accessorize (and regularly sport!) her sign in the form of a $15,000 medallion necklace. While zodiac jewelry can definitely lean on the pricier side, there are still plenty of affordable and chic pieces that are not only super personal but also perfect to wear in any season — regardless of your birthstone or astrology element.
Ahead, we've rounded up the best zodiac jewelry pieces to shop online right now and for under $100. From gold zodiac necklaces and constellation bracelets to birthstone rings and a number of other horoscope-inspired accessories, there are so many chic pieces to score online and just in time for Leo season. Shop our picks ahead — you and these zodiac jewelry pieces were practically written in the stars!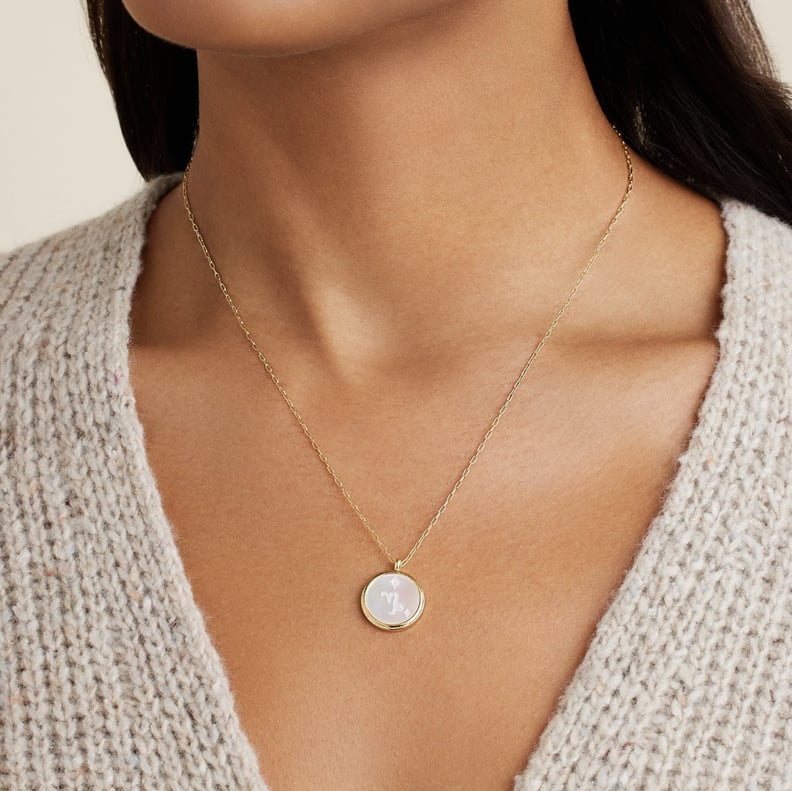 Zodiac Jewelry For Capricorn: Gorjana Zodiac Necklace
Let your love for the cosmos shine bright with this Gorjana Capricorn Zodiac Necklace ($70) on hand. This gold zodiac necklace is especially fun because it's reversible, allowing users to switch between showcasing their birth-month constellation or a chic, gold-plated charm with their sign written across it. The pearl detailing also completes the necklace with such a timeless touch.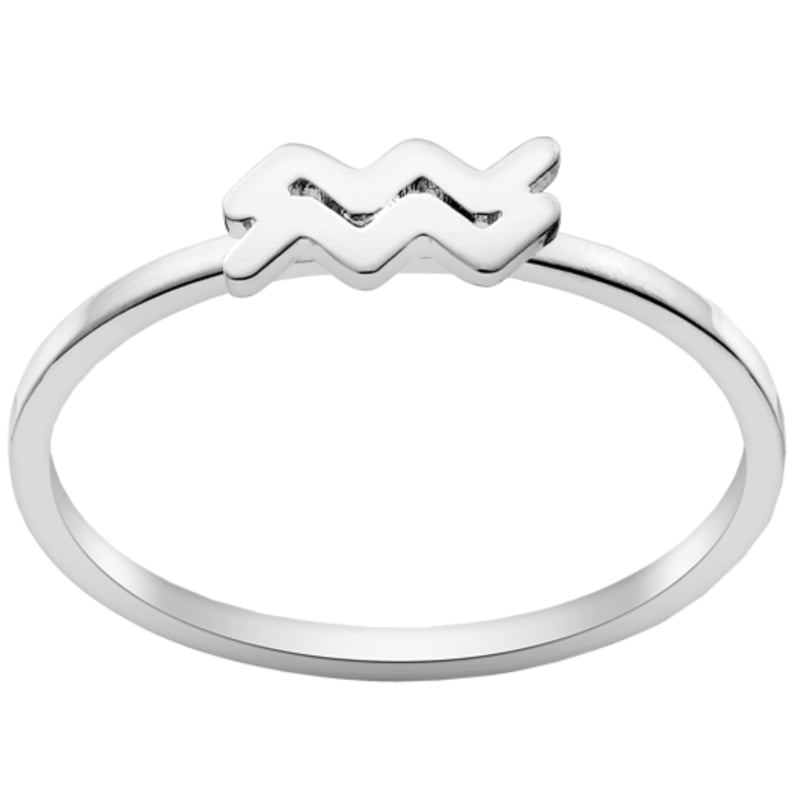 Zodiac Jewelry For Aquarius: Zales Zodiac Sign Stackable Ring
Forget birthstones and diamonds — sometimes rocking your zodiac sign can be as simple (and muted!) as wearing this Zales Aquarius Zodiac Sign Stackable Ring ($50). The sterling-silver style oozes a sort of timeless elegance, meaning the zodiac ring will still feel fresh even long after the horoscope trend fades (that is, if it ever does). Plus, the style is totally customizable based on your sign!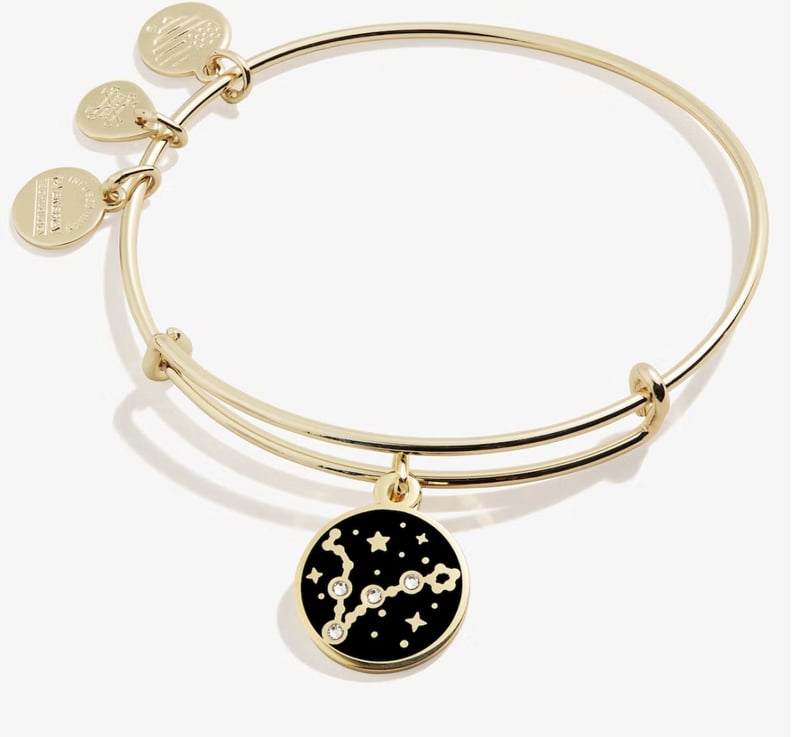 Zodiac Jewelry For Pisces: Alex and Ani Zodiac Charm Bangle
We're taking this Alex and Ani Pisces Zodiac Charm Bangle ($40) as a sign to stock up on some more zodiac bracelets ASAP — because who knew they could be this cute? Alex and Ani bangles are made to be stacked, so you can easily pair this style with your already existing bracelets from the brand. Or you can even add more horoscope-inspired charms to the bangle for a buildable (and totally chic!) style.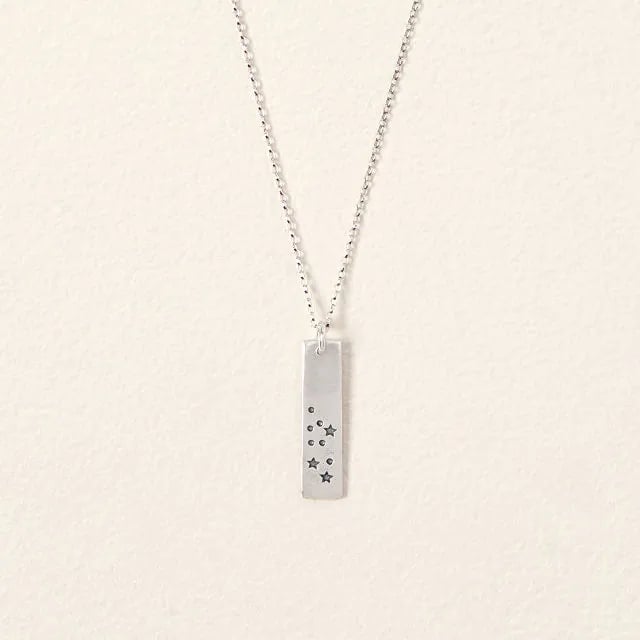 Zodiac Jewelry For Aries: Uncommon Goods Sign of The Zodiac Necklace
With this Uncommon Goods Aries Sign of The Zodiac Necklace ($38), you can always keep your Aries energy close to your heart. This delicate, rectangular pendant features a gorgeous, galactic constellation design on the front that's both subtle and stylish. The zodiac necklace is especially great because it's delicate enough to be paired with other horoscope-inspired styles.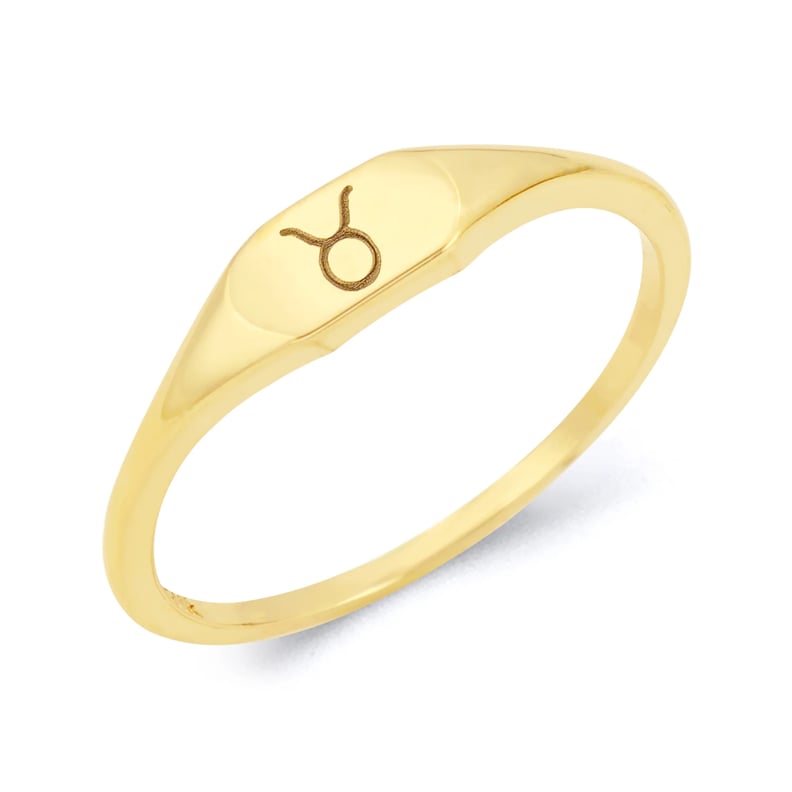 Zodiac Jewelry For Taurus: Solid Gold Zodiac Stack Ring
Unlike some of our other favorite zodiac jewelry styles at the moment, this Solid Gold Taurus Zodiac Stack Ring ($83, originally $93) is definitely a bit more of an investment — and for good reason. The handcrafted ring is made from solid gold, making it feel incredibly luxe and also durable — perfect for longterm wear.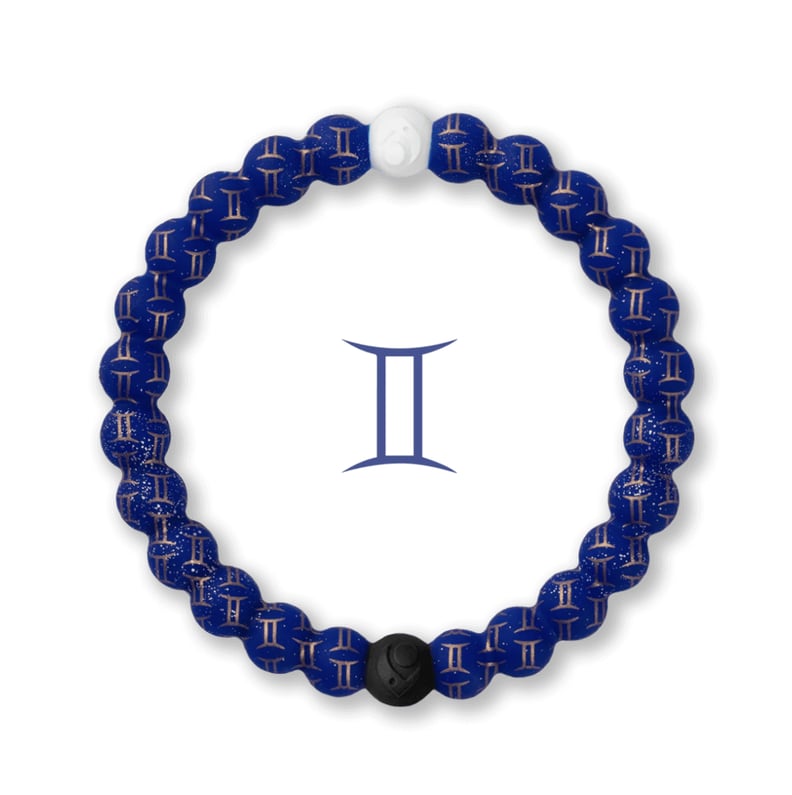 Zodiac Jewelry For Gemini: Lokai Zodiac Bracelet
Lokai is notorious for creating "good vibe" jewelry that helps to keep its users feeling balanced, whole, and in sync with the universe wherever they go. So it's only right that the brand delivers in the zodiac-jewelry department, too — with this Lokai Gemini Zodiac Bracelet ($18) being our favorite style for Geminis. This astrology-inspired bracelet aims to inspire you to honor your existence and everything that defines you.
Zodiac Jewelry For Cancer: Urban Outfitters Zodiac Layer Necklace Set
We can't stop obsessing over this Urban Outfitters Cancer Zodiac Layer Necklace Set ($25). The stylish zodiac necklace manages to fit two beautiful pieces into one, allowing you to easily show off your astrology symbol and birthstone. Plus, the style is also available to be customized for every other sign!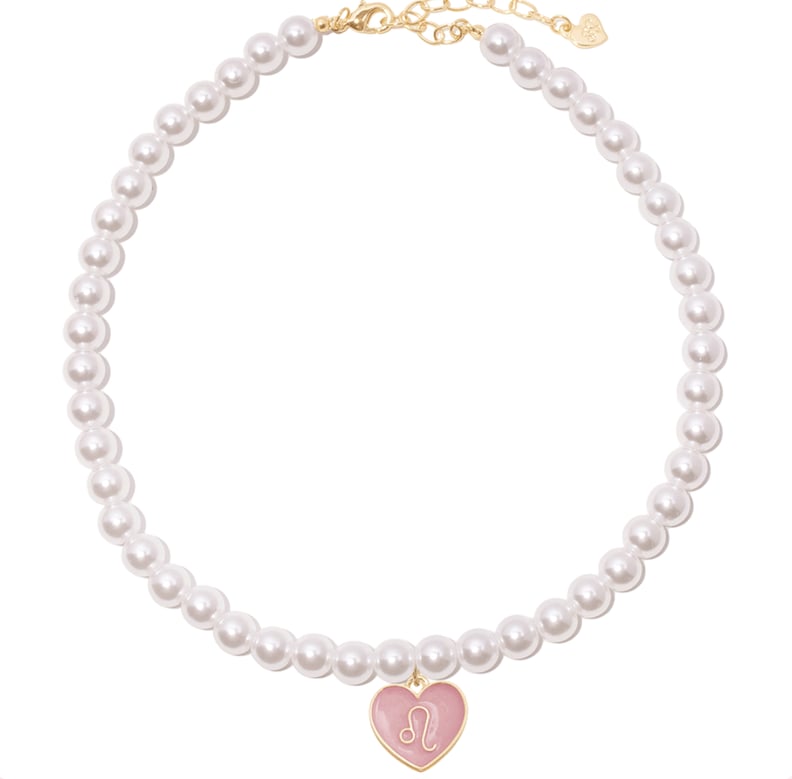 Zodiac Jewelry For Leo: Frasier Sterling What's Your Sign Zodiac Choker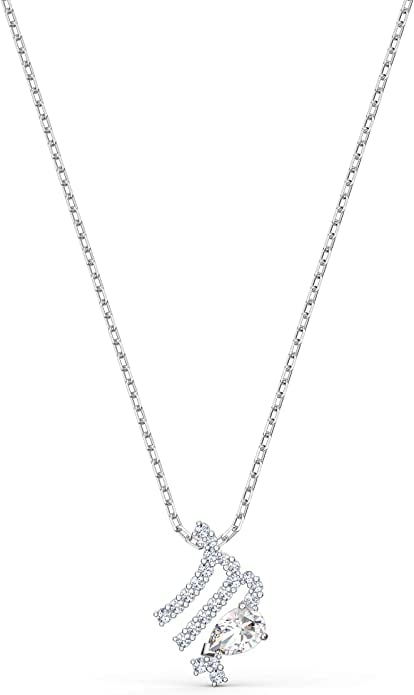 Zodiac Jewelry For Virgo: Swarovski Zodiac Symbol Pendant
We're pretty sure you won't be able to help but channel good vibes in this unbelievably luxurious Swarovski Virgo Zodiac Symbol Pendant ($71, originally $95). Simply choose your preferred zodiac sign when you place the order, and prepare to sparkle — with a star sign that's embellished in Swarovski crystals.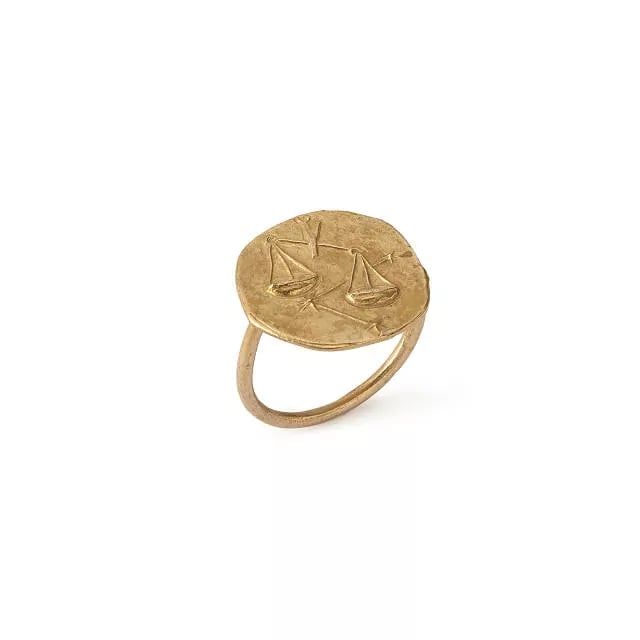 Zodiac Jewelry For Libra: Uncommon Goods Zodiac Ring
If you're looking for a piece of zodiac jewelry that's a bit more rustic and boho inspired, look no further than this edgy Uncommon Goods Zodiac Libra Ring ($68). The style is crafted from a gold-plated bronze material that's equal parts durable and trendy. We're obsessed with the textured appeal of the ring style!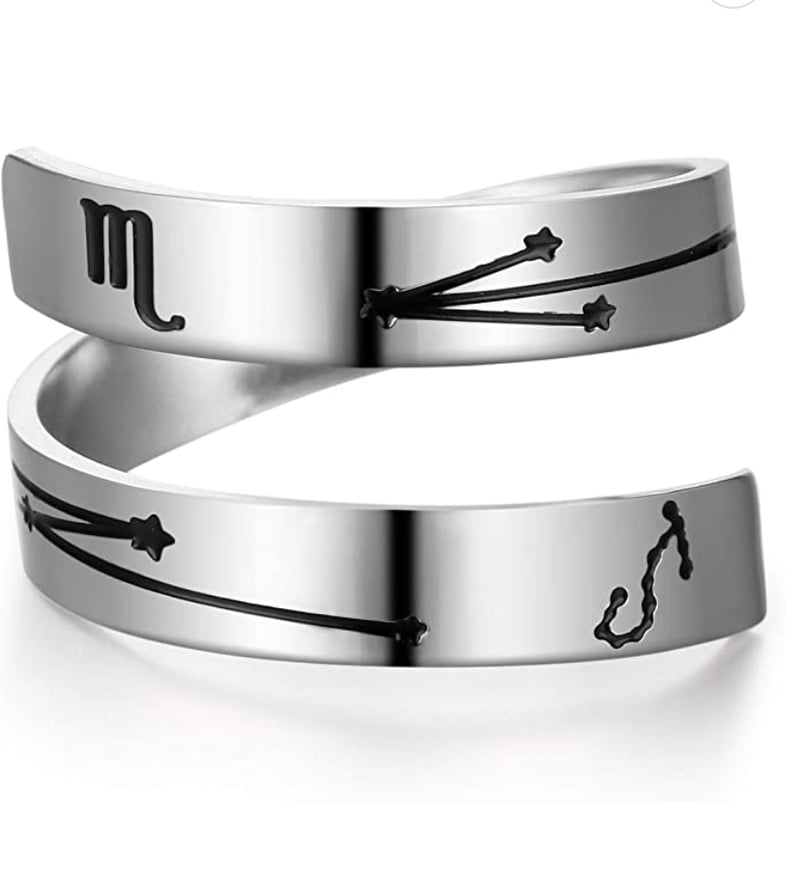 Zodiac Jewelry For Scorpio: Stainless Steel Zodiac Ring
All wrapped up in your horoscope these days? Honestly, we get it. And now, you can symbolize your love for the constellations and stars in a whole new way — courtesy of this Stainless Steel Scorpio Zodiac Ring ($10), of course. The wraparound style features all of your constellations and star signs in one convenient accessory. Plus, the stainless-steel material is size adjustable, so you can squeeze the ring to fit however you might prefer.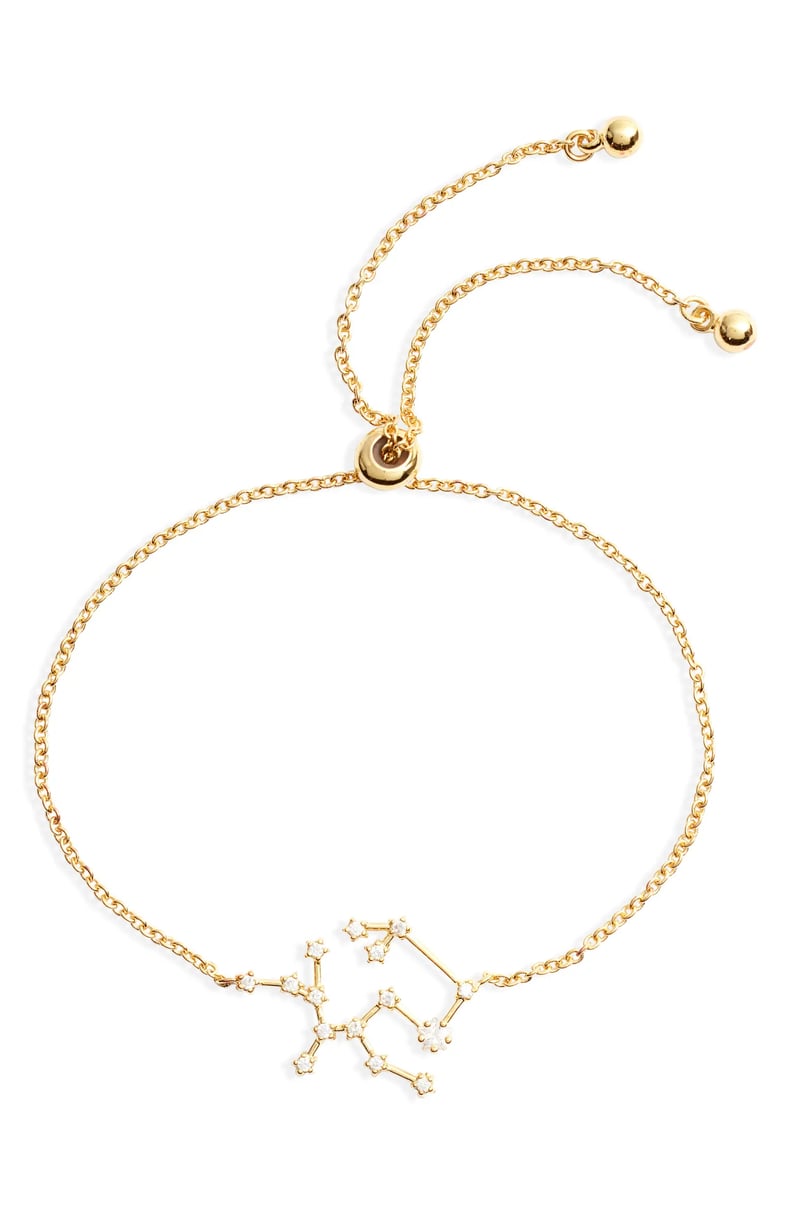 Zodiac Jewelry For Sagittarius: Sterling Forever Zodiac Bracelet
You and this Sterling Forever Sagittarius Zodiac Bracelet ($58) were practically written in the stars. The delicate, gold zodiac style boasts a constellation design that's adorned in sparkling cubic zirconia. Plus, with an adjustable-size closure, you can adjust the piece to better meet your wrist size, providing an added comfort and flexibility.