Beyoncé and Lupita Nyong'o Both Own the Gucci Dress Made For Dancing
There's casual red carpet dressing, and then there is the Carter family in matching Gucci outfits. Beyoncé, Blue Ivy, and Jay Z attended the Beauty and the Beast premiere in coordinated looks created by Alessandro Michele. While Jay Z's denim embroidered jacket was certainly the most relaxed design out of all three, there was nothing subtle about the way it rounded out the matchy-matchy moment.
Beyoncé's kelly-green gown featured subtle pleating and a floral appliqué neckline, the perfect foundation for Blue Ivy's colorfully tiered fit-and-flare, which she paired with Converse. Beyoncé, on the other hand, upped the glamour with the addition of gemstone hoops, metallic sandals, and chunky diamond rings.
She shared a few dancing gifs to her website, confirming that her Gucci number is made for dancing and reminding us of that time Lupita Nyong'o wore the same dress at Cannes in 2015. She too went twirling across the red carpet as if it were a ballroom. Read on to compare Beyoncé's look with Lupita's, and see Blue Ivy and Jay Z complete the moment in their own stylish outfits.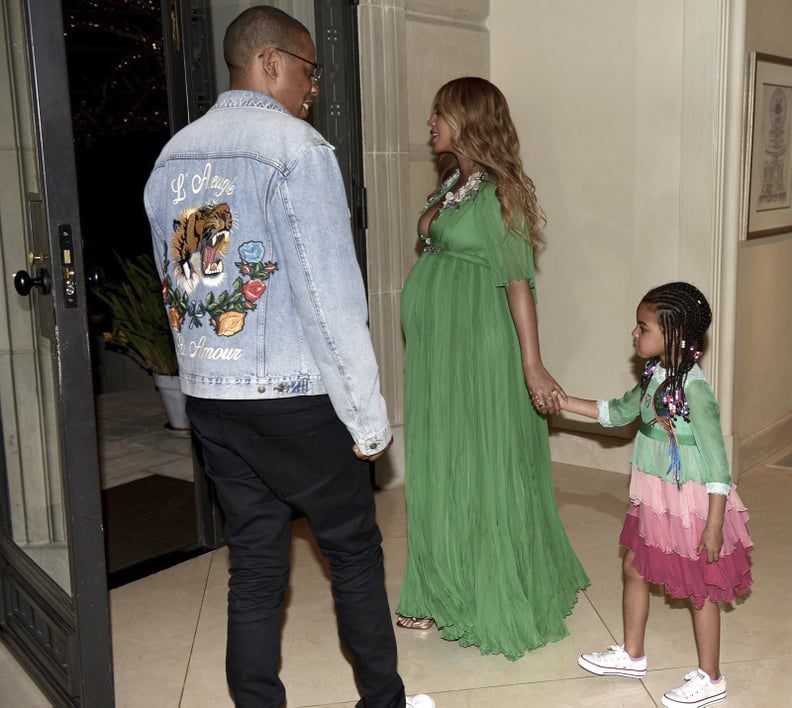 Beyoncé in the Gucci Dress, 2017