Meet the New Street Style Stars of 2017
They're not exactly new, but this handful of fresh faces was likely buried in your feed under the upper echelon of bloggers and editors you've been following for seasons. Take a closer look and you'll discover this set was hiding in plain sight, making their way to runway shows and running sites and fashion businesses of their own, all while appearing impeccably dressed. That's why this is their year. Read on for the 10 street style stars that are about to become household names.
Jan-Michael Quammie
You're about to see the fashion director of InStyle Germany everywhere, thanks to her attention-getting personal style, which relies on both smart, accessible streetwear and the liveliest kinds of colors, prints, and cuts.
Patricia Manfield
The street style superstar was born in Moscow, raised in Italy, and recently relocated to London, so it makes sense that she's a bit of a fashion chameleon. The common thread is a trend-driven, edgier feel, though she switches up the pieces and combinations in ways you never expect.
Anne-Laure Mais
As the Parisian trendsetter behind Adenorah, you can expect to see the stylish Anne-Laure rocking a collection of classic denim, countered with the utmost in ladylike accessories.
Laurel Pantin
As the editorial director at Coveteur, Laurel has likely spent a lot of time in other fashionable women's closets, but we'd like a peek in hers. The fashion vet has an eye for quirky prints and funky details that makes her street style refreshingly original.
Giorgia Tordini
The cofounder and creative director of Attico has a style that's almost deceptively simple. It's not overwrought with accessories or layers, but the way she plays with silhouettes and fabrics brings innovation to everything she puts on.
Zina Charkoplia
You've undoubtedly seen the blogger behind Fashion Vibe before, most likely snapped on the streets between shows at Fashion Week. She owns the trends, making loud, colorful pieces, dangling baubles, and flashy labels just a part of her outfit.
Veronika Heilbrunner
Most recently of Harper's Bazaar, Veronika is now one half of the Berlin duo that heads up Hey Woman, but she's been a regular at Fashion Week for seasons. Her mix of romance, nostalgia, and streetwear is both perfectly off-beat and absolutely inimitable.
Gilda Ambrosio
As the designer/cofounder behind Attico, Gilda has a way of making bold statement colors and pieces look downright easy to wear.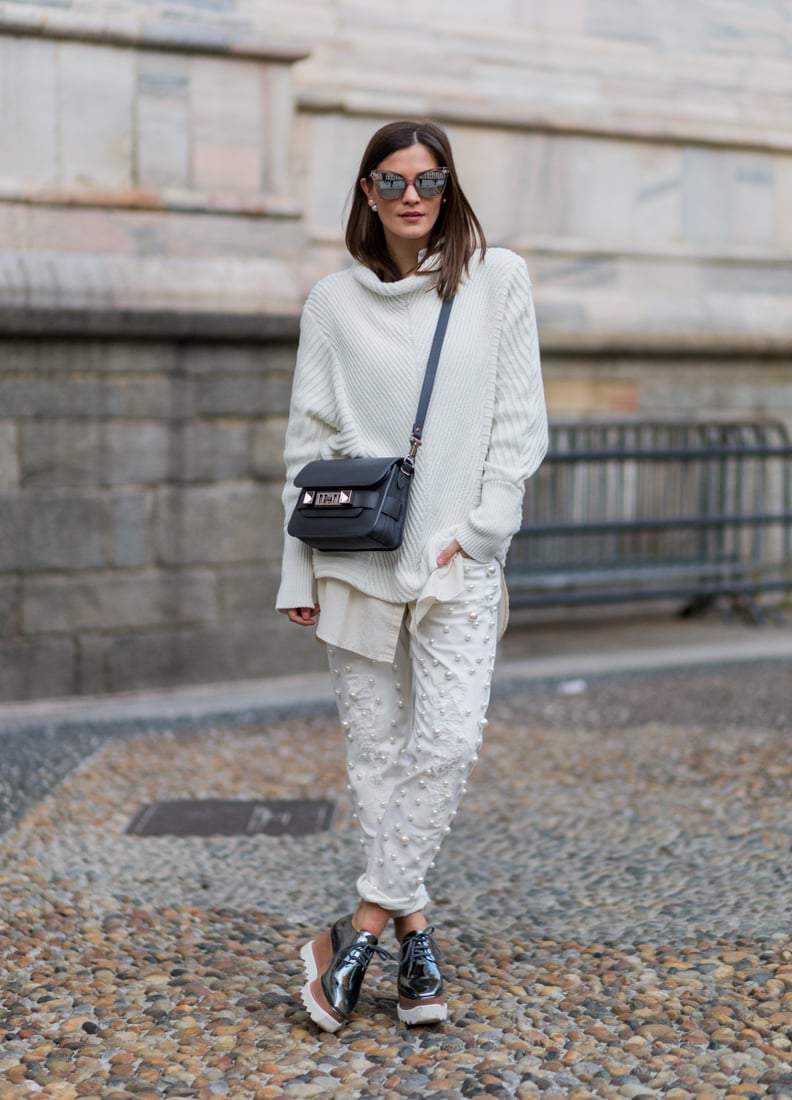 Nina Schwichtenberg
The blogger behind Fashiion Carpet seems to have an outfit formula for everything, though it never looks formulaic. It's as if she's just pulled random pieces that happen to layer up perfectly, showcase accessories brilliantly, and tell just the right color story. You'll want to re-create every outfit she wears.
Charlotte Groeneveld
As the style blogger behind The Fashion Guitar, Charlotte's made something of a name for herself on the street style scene. She carries off heels and bold outerwear with ease, though her brand of casual dressing is our favorite — cool riffs on jeans, chunky sweaters, and sneakers.