Shop Black Owned Everything, a Site Curated By Zerina Akers
How Zerina Akers Launched Shopping Destination Black Owned Everything in 6 Short Months
As POPSUGAR editors, we independently select and write about stuff we love and think you'll like too. If you buy a product we have recommended, we may receive affiliate commission, which in turn supports our work.
"So wait a second, how long did it take you to create this shopping site from start to finish?" I asked costume designer, wardrobe curator, and businesswoman Zerina Akers over the phone. She was out on a walk, just one day before she pushed Black Owned Everything live. "You know what's crazy? It feels like forever, but it's only been about six months, Sarah," Zerina said with a laugh. "People take five years developing things like this." She isn't wrong.
I had talked to Zerina back in September 2020 when her idea was slowly coming to fruition. The industry powerhouse — who has worked with the likes of Beyoncé (perhaps you remember the incredible fashion in Black Is King), Normani, and Chloe and Halle Bailey — is busy, to put it plainly. But in the middle of the pandemic, she launched the Black Owned Everything Instagram account championing Black-owned fashion, accessory, and beauty businesses, and by July she knew she had to turn her project into a shoppable retail space where she'd invite designers to sell their products, carefully selecting which brands would live alongside one another. Customers can add multiple pieces to their cart at once across several different labels, and check out knowing they are supporting all of the companies.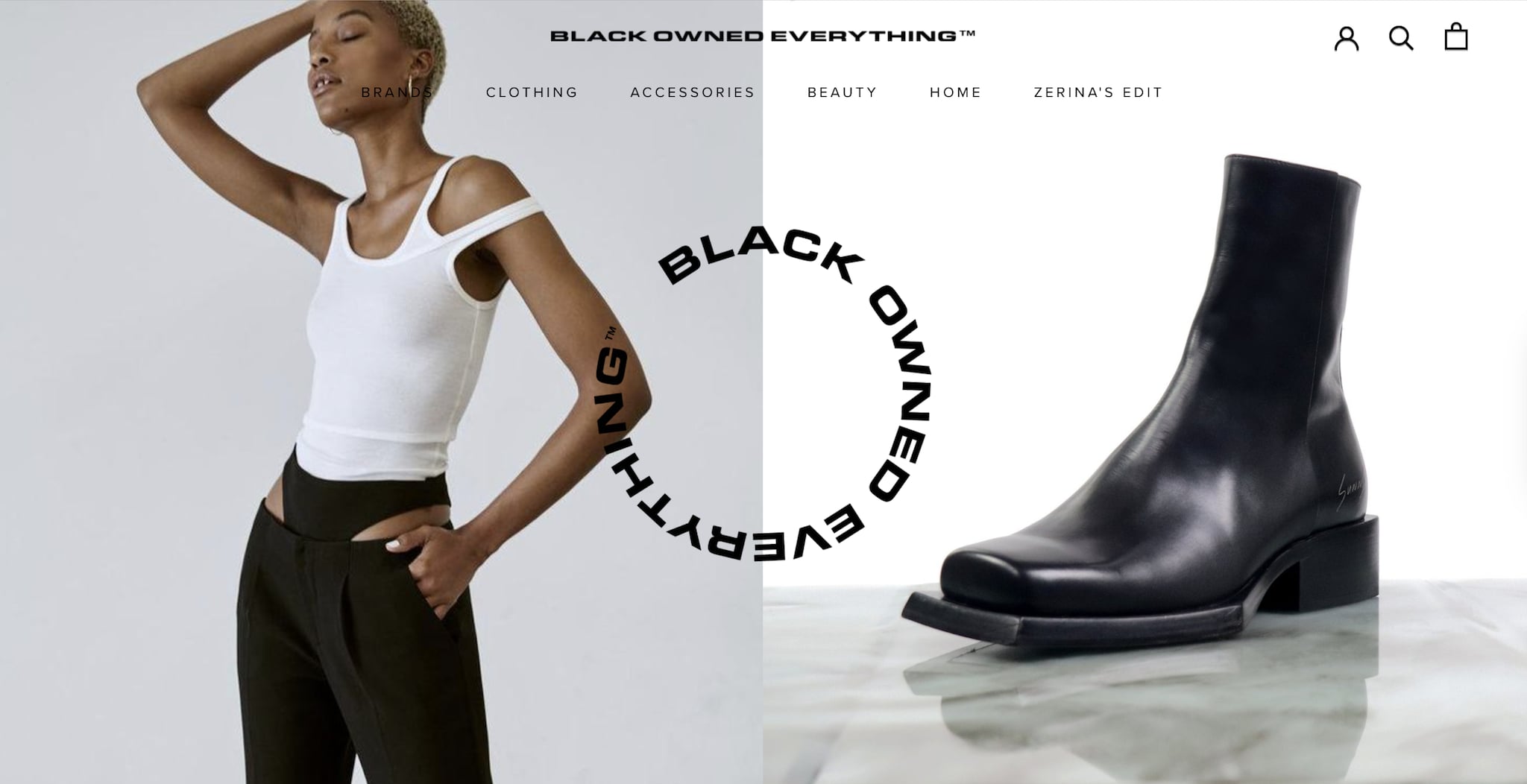 Not to mention, the interface of the website is beautiful, accessible, and clearly color coordinated with a stylist's eye. Personally, I have been following the Black Owned Everything Instagram for admiration of its aesthetic as well as for appreciation of its purpose. "Even on the page where you see all the brands, I still very much intentionally curated where they sit and who sits next to who, what images are leading the pack, and things like that. So the imagery for me is the most important. It really is what makes us," Zerina said.
Six months later, Black Owned Everything has officially launched during Black History Month, and is open for business with a lineup of unique brands you're going to love, and hopefully learn a lot more about. "It was an uphill battle, but I feel like all good things are worth the wait, and making something new, of course there's going to be obstacles and hurdles. It's about going through the motions and saying positive through the process. God saves everything. That's why I'm like, OK, everything's perfect, and I just have to sit back and let things be."
Ahead, read more about Zerina's goals as founder and curator of the site, and shop some of her favorite selects after the jump.