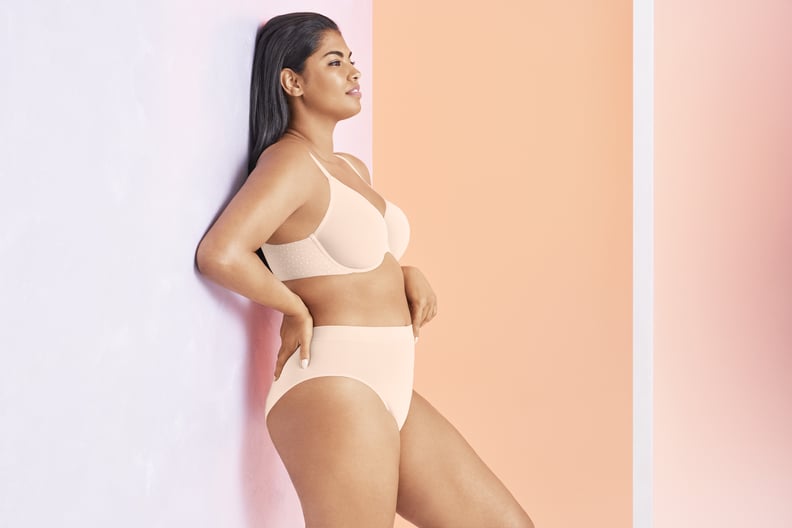 Wacoal
Wacoal
Don't know your bra size? Join the club. There's a deep confusion over bra sizing and how to measure your bra size. While it shouldn't be complicated, it feels like lingerie shopping is an endless maze that customers are left to decode without resources.
If this sound quite familiar and you're still left wondering how to calculate your bra size, we do have a solution: go to the experts. We spoke to bra guru Miryha Fantegrossi, Wacoal's senior vice president of merchandising and design, about several bra issues and questions.
Bra sizes aren't standard; some brands use the small to extra-large size range, while others use cup and band sizing. And the process of how to measure for a bra is ever-changing. While in-person bra fittings come highly recommended, you can now go the digital route, downloading an app to calculate your bra size from the comfort of your home. As convenient as that sounds, is it the best option? And how can you guarantee that the fitting results are accurate? It's also hard to determine the bra cup sizes that best work with the shape of your breasts. A cup-size chart, for example, might not be able to tell you which style works best for shallow-top, east-west, or pendulous breasts. Fantegrossi walked us through everything from the benefits of a bra fitting to the best bras according to breast shape. We even discussed tips for cleaning your bra and when it's time to get rid of it altogether.
In a world of seamless, underwire, demi cups, padded, bralettes, strapless, and beyond, here's how you determine the best bra for your breast shape and find your perfect fit. And keep reading for solutions to common bra-fit issues, courtesy of lingerie expert Jenny Altman.
— Additional Reporting by Lara Eurdolian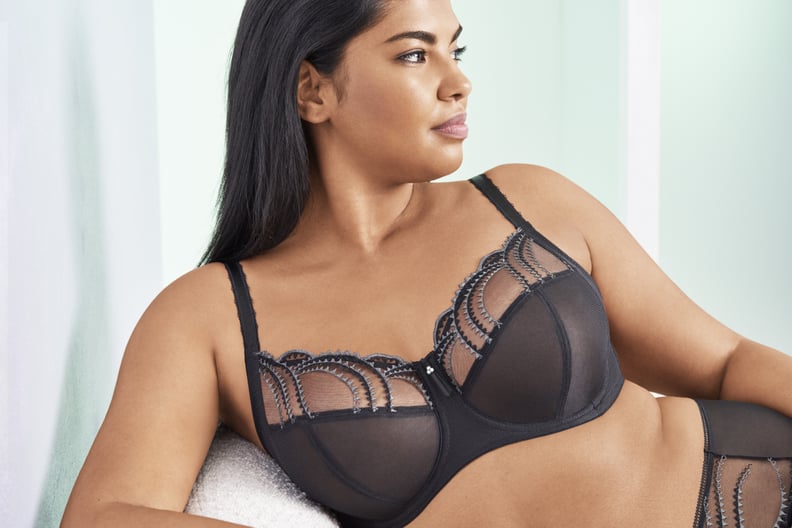 How to Measure Bra Size
POPSUGAR: First, let's start with the basics: how do we figure out our bra size?
Miryha Fantegrossi: You can either do an in-person fitting or use a fit app. Wacoal's digital fit app, MyBraFit — available for download on Apple or Android devices — has a voice-guided proprietary digital fit tool that securely takes all the measurements, does all the calculations, and makes a custom bra wardrobe recommendation. It's an at-home measuring tool that increases the accuracy of bra size calculations by 300 percent.
If someone is not interested in a technology-driven recommendation, Wacoal also offers virtual and in-person bra fittings with a Fit Expert, who will use old-school "bra math" along with their eyes and ears to ensure customers walk out with the best bra for their size and shape.
PS: I know my bra size, now what? How do I determine which style is best for my breast size and shape?
MF: Finding the perfect fit is a combination of size and shape along with personal preferences. In simple general terms, I can tell you the following:
People with shallow-top breasts feel the most confident when their tissue is raised. People in this category who wear sizes A to D should choose bras with thin foam cups. The key, though, is they must know their size, otherwise the cup will gap. Bras like our La Femme ($62), Instant Icon ($58), and Comfort First ($68) are some of my top picks and are offered in underwire and wire-free options.
We find that people who are DD and up often steer clear of thin foam as they fear it adds more dimension. They should look for styles that have elastic at the neckline, so it holds close to their chest wall, like our Back Appeal Underwire ($70), Softly Styled Underwire ($65), and launching soon Superbly Smooth Underwire.
People with uneven breasts should look for styles with high-stretch fabric, like our Halo Lace Underwire Bra ($55).
People with pendulous breasts should look for bras with support that wraps from the back to the front because this really helps to lift breast tissue. Seventy percent of the support in a bra comes from the band, and people with this tissue type really see the difference. Styles like our Elevated Allure ($68) and Evocative Edge Underwire ($68) that are designed to lift the bust line up to one inch look beautiful on them.
People with round breasts should look for bras that won't cut into their top tissue. This is typically their greatest challenge. If they are in the correct size but the coverage of the bra doesn't suit their round breast shape, they can still get lines from their bra at the neckline. The solution is to go for a bra with more coverage like Perfect Primer Underwire ($68) or Basic Beauty Underwire ($55) to capture all the tissue, or less coverage like Instant Icon T-Shirt Bra ($65) with a demi cup that goes below the fullest part of her breast.
People with east/west breasts should look to bring their breast tissue inside of their body frame. They do best in bras that have side support to capture their tissue and pull it forward, like our Elevated Allure Underwire ($70) or Wire Free ($68) or Side Note, which is launching soon.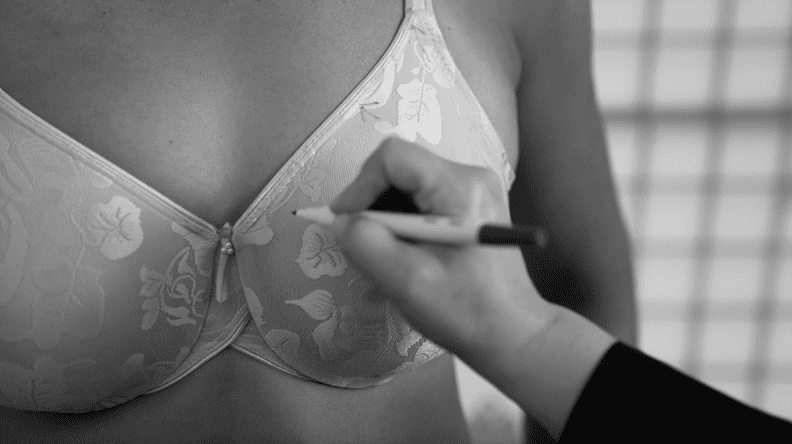 How to Measure For a Bra
PS: What if I have two different-size breasts?
MF: Every body is slightly asymmetrical. Due to their high-quality fabrics and performance characteristics, almost all our bras can accommodate that asymmetry. People who have breasts that are different sizes should look for fabrics that have high stretch and recovery. If someone is a full cup size different from left to right or the reverse, our Halo Lace Underwire Bra ($55) is hands down the best choice. We use a very special soft-backed lace that conforms to each breast while still hugging curves of different proportions.
The second thing to look for is an accommodating neckline. You want something that fits your larger side without cutting and fits your smaller side without gapping. Our Softly Styled Underwire Bra ($65) is a perfect balance of stretch and recovery fabric paired with a soft lace neckline that doesn't cut or gap.
PS: Many of us fluctuate weight between 10 pounds, can that impact our bra size?
MF: Depending on your base weight, a change of seven to 10 pounds can impact your bra size, and we recommend getting fit again. If you are fit for your bra on the center hook, you should be able to adjust accordingly for regular fluctuations like a monthly cycle.
If you buy bras that fit on the loosest hook, which is not Wacoal's recommendation, you won't have that option. Granted, I'm bra- and fit-obsessed, but I have my favorite bra in nude and black in two sizes for this reason.
PS: Are bra cups and sizes standard?
MF: It's unfortunate to say that sizing between bra brands is no longer consistent. This can be very frustrating to the customer. The introduction of bras sold in sizes Small to Extra Large made this even more complicated. If you are looking for a bra to fit and give you optimal shape and support, you should be shopping by band and cup size. In bra design, every 1/8 inch can change your size. Imagine if you buy something that's made for a wide range of physical measurements. How well will it fit your specific dimensions? It won't.
When you shop for band- and cup-size bras, they are crafted to fit, lift, and shape you. Many brands that don't have the bra fit development experience, the in-store staff to fit customers, or are looking for easy ways to reduce the number of styles, started moving in this direction of alpha sizing 10+ years ago. The net result is confusion and an audience of customers who are being underserved.
The sizing inconsistency in the market is one of the reasons we developed the MyBraFit app. Shoppers who are new to our brand don't have to concern themselves with conversion size charts; our fit tool does it for them.
PS: When getting a bra fitting, what can an expert provide that you can't do at home?
MF: Our Fit Experts know how to work with different breast shapes and consumer preferences. They also have a thorough understanding of our entire product line and how those styles work with your size, shape, and needs.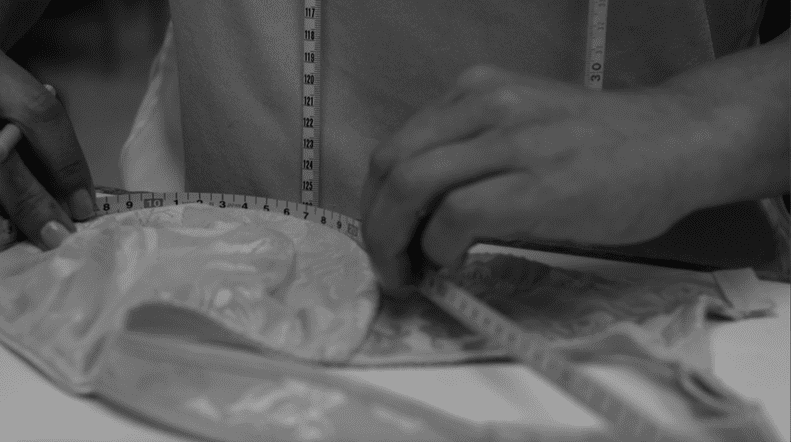 How to Clean Your Bra
PS: What are some tips on how to clean your bra?
MF: We recommend hand washing. If you are in a hurry, use a lingerie bag to wash your bras in the machine on the gentle cycle. Either way, lay them flat to dry. Never put them in the dryer because it distorts the wire shapes when they get twisted in the spin cycle.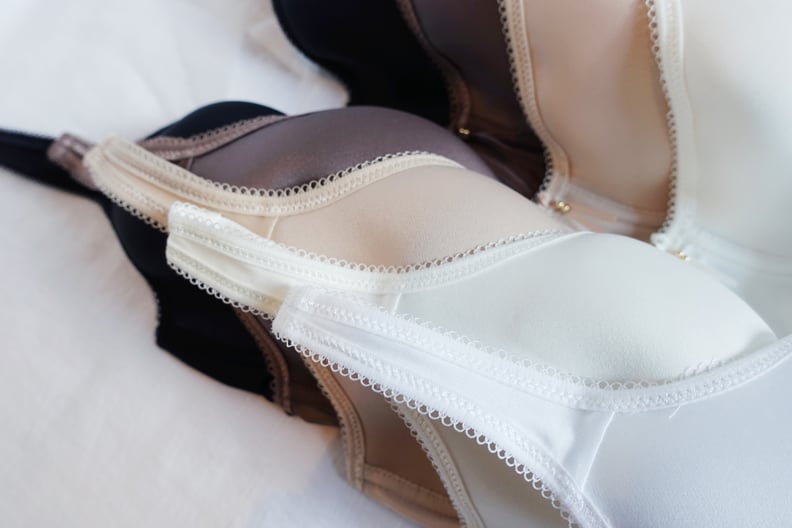 When to Get Rid of Your Bra
PS: When is it time to get rid of your bra?
MF: People in general hold on to their bras too long. I believe in less is more. Your base bra wardrobe should include five bras: two everyday bras, two sport bras, and one strapless bra. Then you can add a lace bra and a solution bra. In general, bras should be replaced every 12 to 18 months, but the more bras you have in your rotation, the longer each lasts.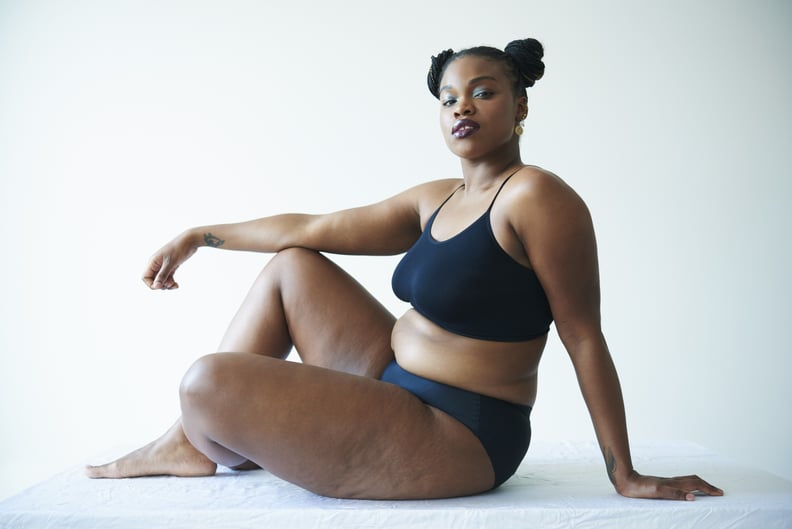 Common Bra Fit Problems
We also talked to lingerie expert Jenny Altman about all of the bra issues under the sun, and she had a hack for each one of them. Sometimes, a quick fix like "scooping" is the answer, but in other cases, it's time to invest in new intimates. Scroll for a full list of common problems and read up on Jenny's solutions.
If your bra feels a little off: The first thing you need to do each time you put on your bra is to scoop. Breast tissue tries to conceal itself as backfat, underarm fat, and spillage. Shift everything to where it belongs — in the cup!
If your bra is riding up in the back: The band is too big for you, so it's not the right size.
If your bra straps are slipping off the shoulder: The band is too big — yep, this is a repeat answer. Most often, our bands are too big. They need to be snug in order for a bra to do its job.
If there are gaps in the cup: Scoop. If there is still space in the cup, try going down a cup size.
If the straps are too loose: This is another thing you need to adjust each time you put your bra on. Don't assume the straps stayed exactly as you left them before you washed your bra or took it off. Adjust and wear them snug every time.
If you're spilling over: If your girls are spilling on the top or the sides, then try a bigger cup size.
If your underwire is digging in: The "smile" of the underwire should fully encapsulate each breast. If it's digging into your breast tissue at all, try sizing up in the cup. Sometimes this is about the bra style, and this particular silhouette might not be a good one for your breast shape.
If the wire pops out of your bra: Throw it away. If your bra is old, unsupportive, fraying, or the wires are popping out, throw it away. Shop for something that makes you feel great and is good quality.
If your bra hurts: Your bra should never hurt. Get a bra fitting or do one for yourself. Most women suffer because they don't know how good the right fitting bra can feel. Almost always, women have to go down a size in the band (or two) and up a size in the cup (or two).