Is It Safe to Donate Clothes During COVID-19? Here's Everything You Need to Know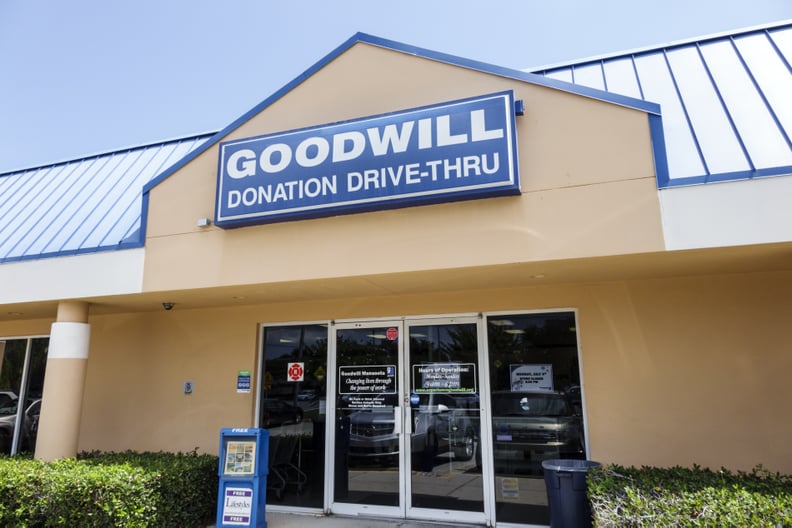 POPSUGAR Photography | Eric Helgas
POPSUGAR Photography | Eric Helgas
Since we've been staying home, a lot of us have been spending time cleaning and tidying up our closets. This has brought up some important questions, like is it safe to donate or sell clothes right now? Are thrift and consignment stores even open? The Centers for Disease Control and Prevention guidelines have stated that current evidence suggests the coronavirus "may remain viable for hours to days on surfaces made from a variety of materials." The CDC also mentioned that there is a low risk of the spread of the disease from mail and packages that are shipped over a period of days.
While thrift and consignment stores have closed their brick-and-mortars, a lot of them have been continuing business through the mail. We reached out for more insight from some of our favorites like The RealReal and Vestiaire Collective to see how they have adapted to the new normal. The RealReal is taking the extra step to give products an extra cleaning before shipping them out to customers. "We're cleaning and sanitizing our warehouses every hour of every shift. Consigned items get a light cleaning in receiving. Additionally, we steam-clean fine jewelry and watches, heat-steam ready-to-wear, and wipe down accessories and handbags," The RealReal told POPSUGAR. It turns out that consignment stores like Vestiaire Collective are seeing a spike in customers buying and selling products right now. Vestiaire Collective's cofounder Fanny Moizant told us, "There has been a noticeable increase in RTW deposits as well as items at accessible price points under $300, while iconic and timeless designs like classic handbag offerings also remain strong."
Ahead, we're breaking down which places are accepting donations and which stores are accepting consignment pieces. (PSA: Given the shifting climate, restrictions for these stores may change as we gain more information around COVID-19, so please check their websites for more up-to-date information.)
The RealReal
The RealReal is still allowing customers to sell and buy products from home. The luxury consignment store is also offering free UPS pickup for anyone who wants to donate medical supplies that will be distributed to hospitals and social service organizations in areas of need. The RealReal has also launched virtual appointments for customers looking to shop at home. "In this new world where we've had to temporarily close all of our Luxury Consignment Offices and suspend our in-home White Glove consignment service, virtual appointments have been our way of continuing to offer a personalized consignment experience. On our consignment page, you can now book a virtual appointment with one of our experts for a valuation or one of our Luxury Managers for a consignment consultation — both include complimentary UPS pickup of your items."
Vestiaire Collective
Vestiaire Collective is still accepting new products, and customers can buy and sell products as usual. The online platform launched the "Direct Shipping" program in the US, which provides a faster and more affordable process for buyers and sellers. The program will enable buyers "to opt out of physical quality control and authentication at checkout for all items under $500 and receive their purchases directly from sellers. To further give back to our community at this time, many of whom rely on resale as a form of income, VC will offer free shipping on all Direct Shipping items. This will also allow sellers to increase their sell-through rate and get paid faster. The service decreases average shipping costs for buyers by up to $20, reduces delivery time by nearly 40 percent, and cuts down on shipping-related carbon emissions," Fanny told POPSUGAR.
Goodwill
As Goodwills across the US and Canada continue to reopen, we suggest contacting your local Goodwill headquarters for more information regarding the organization's ability to accept donations. You can easily find and contact your local Goodwill to keep track of openings and hours through its website.
Salvation Army
Salvation Army is not doing donation pickups but is accepting basic necessities that can be given to someone in need. If you find yourself with extra nonperishable food, baby supplies, or cleaning and sanitizing products, donations can be dropped off at Salvation Army service centers. The organization is also accepting monetary donations if you can spare anything at this time.
Buffalo Exchange
While retail stores are closed, Buffalo Exchange is making it easier to sell your closet clean-out for cash from your own home, thanks to its "Sell by Mail" program. The organization is providing a free bag online and will also "send you 25 percent of our selling price in cash via PayPal or 50 percent in-store trade. For any items we're unable to take, you can have them returned for the cost of shipping or donate them to deserving local non-profits through our Clothing for the Community program."
Poshmark
Poshmark has extended shipping windows given anticipated delays related to social distancing and "shelter in place" orders in various states. Sellers now have 10 days instead of seven to ship their packages. Poshmark is also allowing customers to schedule a free home pickup with USPS. If you wish, you can also order packaging supplies online directly from USPS. The company is also keeping an eye out for price gouging and will ensure that unsupported items such as hand sanitizer and N95 masks (nonmedical fabric masks are allowed) are not sold on the platform.
Dress For Success
Dress For Success recommends people check in with their local affiliates for any new updates regarding reopening. At the moment, all in-person events and activities have been suspended due to COVID-19. If you wish to support your local community of women, the organization is accepting monetary donations.