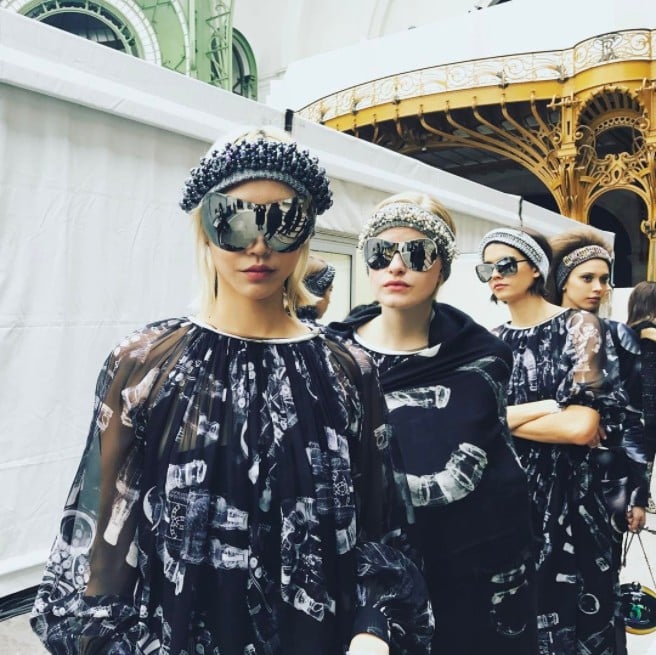 The season was Fall 2017 and the theme "Chanel Ground Control." Karl Lagerfeld took show-goers to space as models stomped the runway at the Grand Palais in their new glittering space boots. The proper astronaut attire, you ask? Tweed suits sprinkled with sequins, thick headbands, mirrored goggles, and all the playful little rocket ship bags you can imagine. Scroll to find out who sat front row for Karl's space race, which models walked, and whether lift off was successful. One thing's for sure: this was quite a way to end a very memorable Fashion Month.
The Theme of the Fall 2017 Show Was Ground Control
There Was an Actual Spaceship Launch
And Quite a Way to Dress to Show Your Support
Just ask InStyle editor in chief Laura Brown, who showed up in her NASA tee.
Models Had Teased Hair and Thick Headbands
They Wore Glittery Chanel Space Boots
With the signature two-tone cap toe, of course.
Fall's New Space Suits Come in Tweed, Sprinkled With Sparkles
Models Walked to — What Else? — "Rocketman" by Elton John
Gigi Hadid, Bella Hadid, Kendall Jenner, Binx Walton, and Lindsey Wixson All Took the Runway
The Chanel Thermal Blankets Are Quilted and Metallic
Short Suits Are Offered in Jewel Tones
And Space Goggles Make For Standout Accessories
Hudson Kroenig Walked the Runway, as Did Lucky Blue Smith
Lily-Rose Depp Sat Front Row, but Greeted Hudson Backstage
Mom Vanessa Paradis Was Also in Attendance
The Finale Wasn't Over Until Lift Off
And the Models Walked Back to the Landing Spot
It Made For a Smoky Finish to Paris Fashion Week