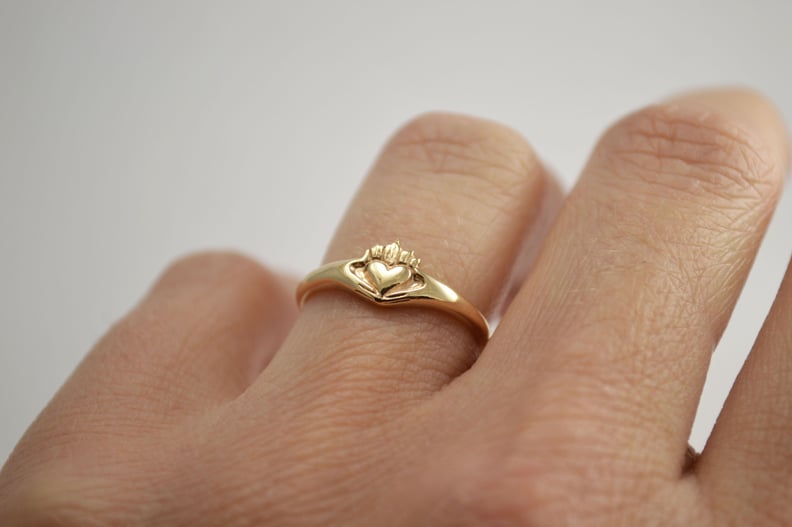 Courtesy of Stefanie Sheehan
As POPSUGAR editors, we independently select and write about stuff we love and think you'll like too. If you buy a product we have recommended, we may receive affiliate commission, which in turn supports our work.
The meaning of the Irish Claddagh ring is both special and sentimental. The design, which generally represents love, friendship, and loyalty, harks back to Ireland in the 1700s. Similar styles, such as the fede ring comprised of two clasped hands, can be traced back to ancient Roman history. As jewelers have reinterpreted the Claddagh through the years, they've designed modern shapes that can be layered into a stack or worn alone as a statement piece.
The Claddagh ring enjoys year-round popularity and sees a special jump in sales around the holidays. NYC-based Jeweler Jenny Norman reports that sales of her popular Claddagh ring remain consistent throughout the year. Stefanie Sheehan, an artist and metalsmith based in Long Island, has seen the Claddagh used as an engagement or wedding ring, mainly because of its beauty. According to Saks Off 5th, sales of the Claddagh, which is readily stocked online, tend to peak pre-Valentine's Day, perhaps a nod to its romantic symbolism.
Ahead, you'll find out more details about the Claddagh ring, including advice for how to style it and the way in which it should be positioned according to Irish culture.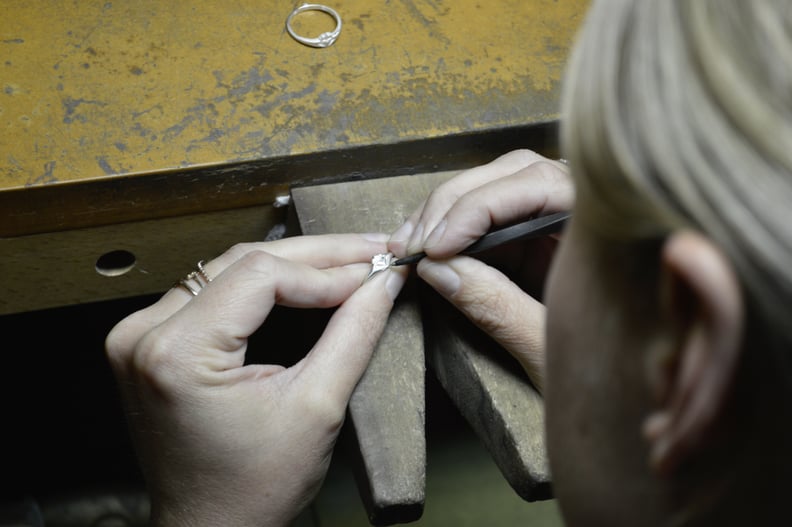 What Is the Meaning Behind the Claddagh Ring?
A typical Claddagh ring consists of three components: a heart, which represents love; hands, which signify friendship; and a crown for loyalty. The symbolism comes together to convey a strong message, as explained by Norman. "With these hands, I give you my heart and crown it with my love." The jeweler prefers to design her Curved Claddagh Ring ($495) as simply as possible, so that it is simple enough to stack with, say, an engagement ring. "It could be worn by those who want to celebrate their heritage — or the heritage of their loved ones — while being true to their personal style," Norman says.
How Do You Pronounce Irish Claddagh?
Of course, everyone pronounces names slightly differently, but Norman writes the pronunciation of the word as "clad-ahh" and Sheehan writes "kla-duh." To shop a wide range of Claddagh rings and even more related Irish symbols, look for Irish jewelers such as Eileen Moylan, who has been transforming silver and gold into jewelry for over two decades from her workshop in the south of Ireland. Her diamond weave style ($2,210) is particularly mesmerizing.
How Are You Supposed to Wear a Claddagh Ring?
Tradition says that if you're single, you should wear the ring on the right hand with the heart facing away from your body, suggesting you're open to love. If you're in a relationship, it should be worn on the right hand but with the heart facing inwards. If you're engaged and not yet married, the ring should be worn on the left hand on the third finger, with the heart positioned outwards. Finally, if you're married or in a lifelong, committed relationship, wear the ring on the left ring finger with the heart pointed inward.
Both Norman and Sheehan confirm there are generally no rules when it comes to ring stacking with a Claddagh, but Norman suggests playing up a daintier version with diamonds or gemstones for added sparkle. Momocreatura's In Death Love Survives piece ($194) makes for a great complement to your other jewelry if you favor emeralds. Meanwhile, Sheehan prefers the shape of a classic Claddagh with a chevron or arch-shaped contour band.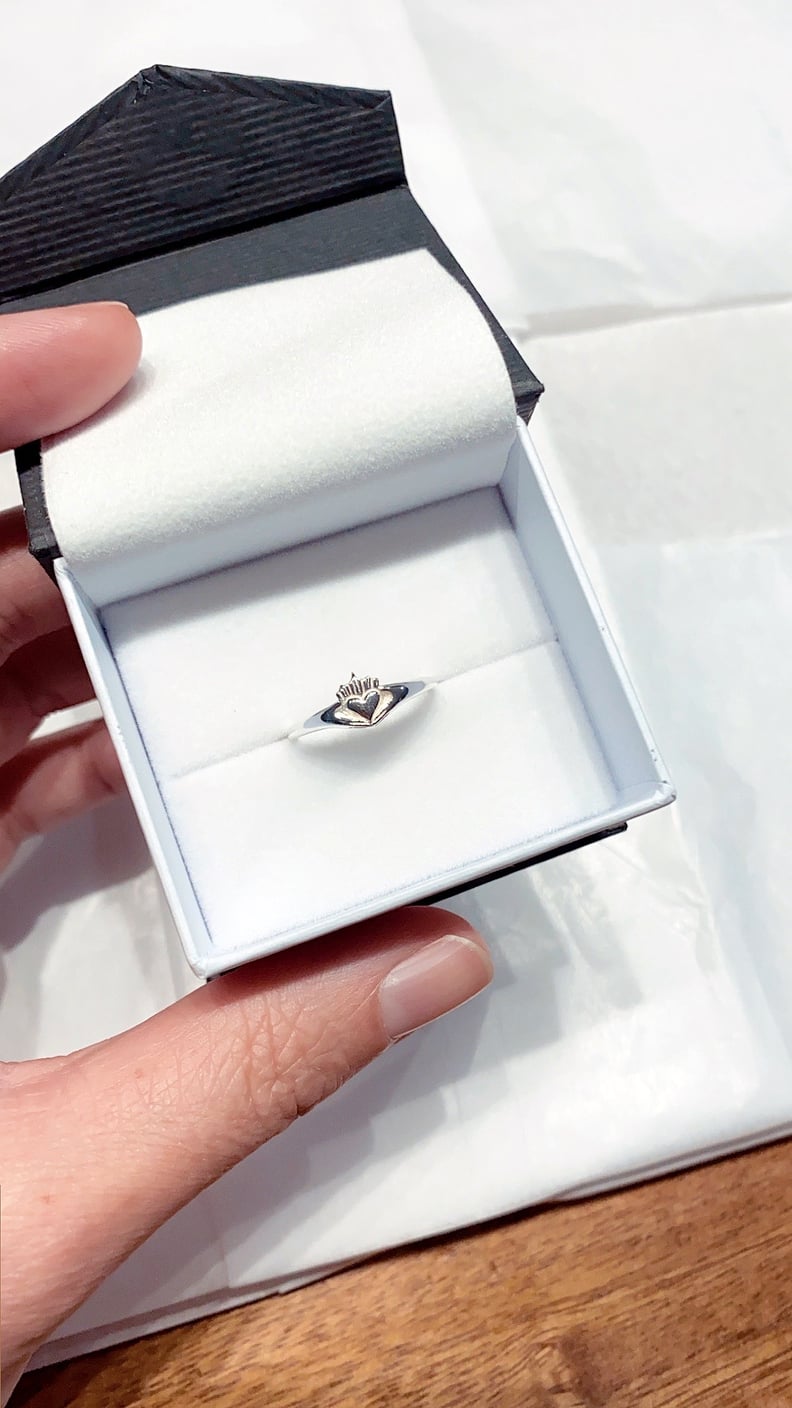 Is It Bad Luck to Buy Yourself a Claddagh Ring?
Even though Claddagh rings date back to the 1700s, when they were typically given as gifts, Sheehan says it's an old folk tale that you shouldn't purchase one for yourself. Buying yourself a special piece of jewelry as a tribute to your cultural background is extremely meaningful, after all. Sheehan's own Claddagh ring ($82) is equipped with all the recognizable symbolism, but she updated it with her own signature style flourishes.
Which Finger Is the Claddagh Ring Worn On?
As detailed previously, tradition says you should wear the Claddagh ring on your right hand if you're single or in a relationship and on the left hand if you're engaged, married, or dedicated to a lifelong commitment. If you prefer it as the focal point of your overall look, consider opting for something chunky and modern, like Burning Rose's Claddagh Signet ($231), which features a floral tattoo motif.