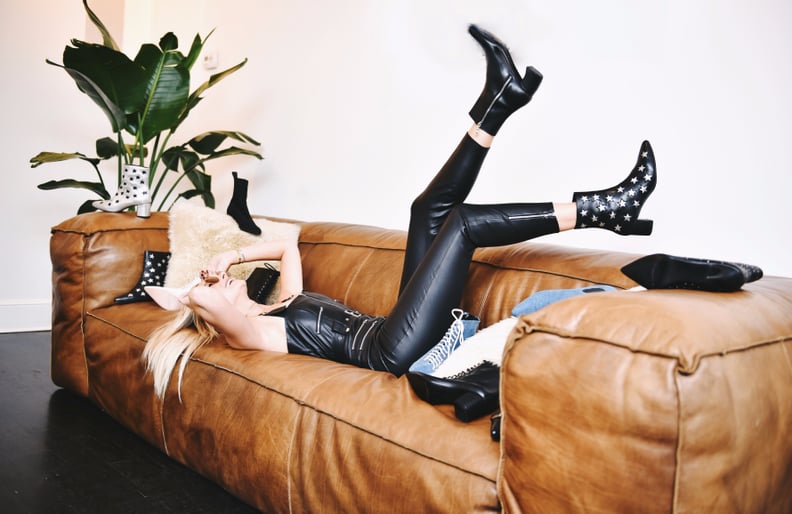 Courtesy of Archive Shoes
Courtesy of Archive Shoes
A fashion influencer really hits her stride when she launches her own collection. At 25, Danielle Bernstein is already there. As the creator of WeWoreWhat, Danielle boasts 1.7 million Instagram followers and already has two fashion lines under her belt: Second Skin Overalls and Archive Shoes. She's cornered a niche market in these two areas by providing easy pieces anyone (aka her followers) can work into their wardrobe. If you need inspiration for how to wear one of her items, look on Danielle's 'gram, where she's always showing off her own designs.
We sat down to talk to her about her pre-Fall shoe collection. On our tour around Modern Vice's showroom in NYC (where Archive Shoes are made), Danielle chatted about how her shoe line came to be and what else she's got in store for her fans. (Hint: pointy-toed boots are just the beginning.) Now that Danielle's mastered boots, she's also designing mules, slides, and, hopefully in the future, heels. The street style star's come a long way from her 2010 blogging days, so scroll to see what she has to share with the world.
The 1 Boot She Loves From Her Collection
"The Chelsea boot. I had never found the perfect Chelsea boot. I had ones that I liked, but they would fall apart really easily or they weren't comfortable. For me, making something comfortable that was also high-end looking, fashionable, and durable was important, and we really mastered that."
The Styles the Boot Comes In
"I wanted it in black, but we also made it in a camel suede and a snakeskin to start, and now we're introducing the denim, which I'm really excited about."
Who She Would Love to See Wearing the Boots
"Oh, all my friends. I want all my followers to wear them. My followers are my biggest fans, so I want them to be able to afford the boots, wear them, and keep buying the brand until they fall in love with it. As far as celebrities and influencers [go], everyone that I'm friends with. I also have my line of overalls, and I've been gifting that out to all of my favorite bloggers and celebrities."
As to Whether Boots Belong at Weddings
"I think the white boots you could definitely pull off at a wedding. It depends on where the wedding is. I definitely wouldn't suggest it, though. But we'll make heels one day, so we'll make something for weddings."
Danielle's Got a Book in the Works
"It's definitely not a style book. It'll be a book about how to make it in New York through my eyes and my stories. I'm a native New Yorker. I've built my own business. I'm an entrepreneur. I really want to share those tips, stories, and relations I've had along the way with my followers. I want to be able to get personal with it."