Elevate the Classic Canadian Tuxedo With These Head-to-Toe Denim Outfits
Every editorial product is independently selected by our editors. If you buy something through our links, we may earn commission.
If you ask us, the Canadian tuxedo (aka head-to-toe denim) has never gone out of style. But could it be improved? Absolutely. Instead of simply wearing jeans and a blasé denim shirt, we have a few ideas about how to take this look up a notch.
From a denim bucket hat to overalls, billowy dresses, and even denim boots, we have everything you need to be a runway-ready denim diva, not to mention updated options to make that denim shirt and everyday jeans a lot more fun. Get your closet ready.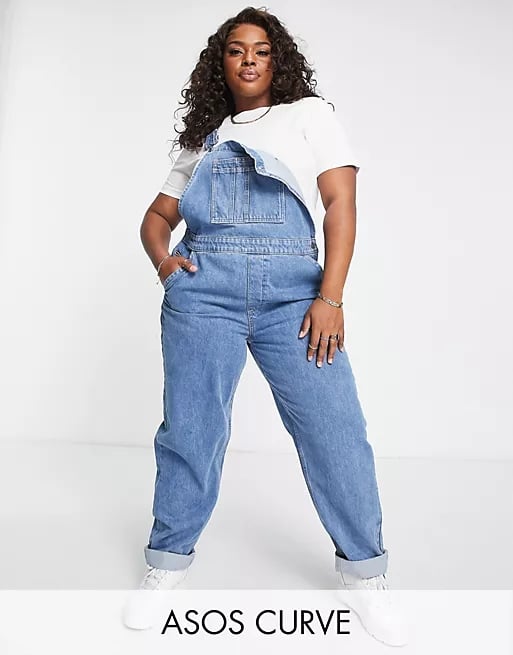 ASOS DESIGN Curve 'Original' Denim Overalls in Midwash
These overalls ($65) bring a '90s take to the Canadian tuxedo trend. Wear them open (as pictured) or closed, with a crop top or a classic tee, with sneakers or booties. You really can't go wrong. The best part? They've got pockets.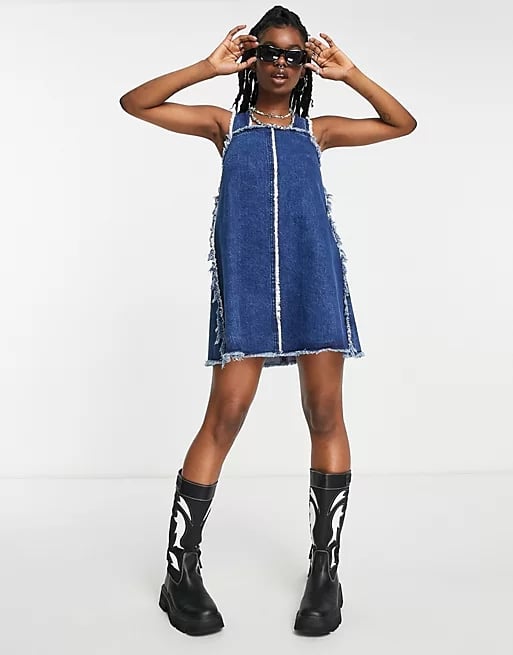 COLLUSION Frayed Hem Cross Back Denim Dress
This denim dress ($52) has attitude, standing apart from the crowd with a frayed hem and criss-cross straps. Continue the denim-heavy look with a jean jacket or keep your shoulders bare for warmer days in the sun.
Isabel Marant Lemony Cotton Pants
The best everyday jeans are buttery soft, have just enough stretch to make sitting at a desk bearable, and are figure-flattering, of course. These Isabel Marant jeans ($590) have that and more. High-waisted with a slight bootcut flare, they'll hug you in all the right places and make any outfit (whether you're sporting an oversized cashmere sweater, a casual tee, or a worn-in denim jacket) look thought-out and sophisticated.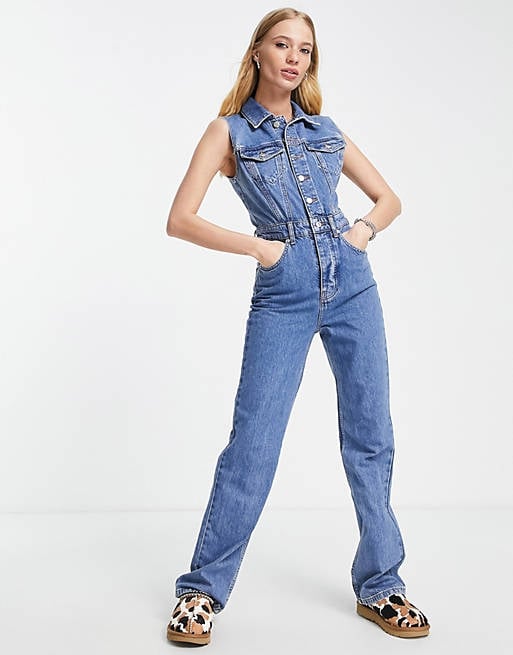 Topshop Kort Denim Jumpsuit in Mid Blue
It's easy to pick out an outfit in the morning when you've got this denim jumpsuit ($93) in your wardrobe. It's got all the trappings of a Canadian Tuxedo all in one piece. Got to run errands? Slip on a pair of sneakers and you're out the door. Heading to brunch? Try loafers and some fun earrings. It's just that versatile.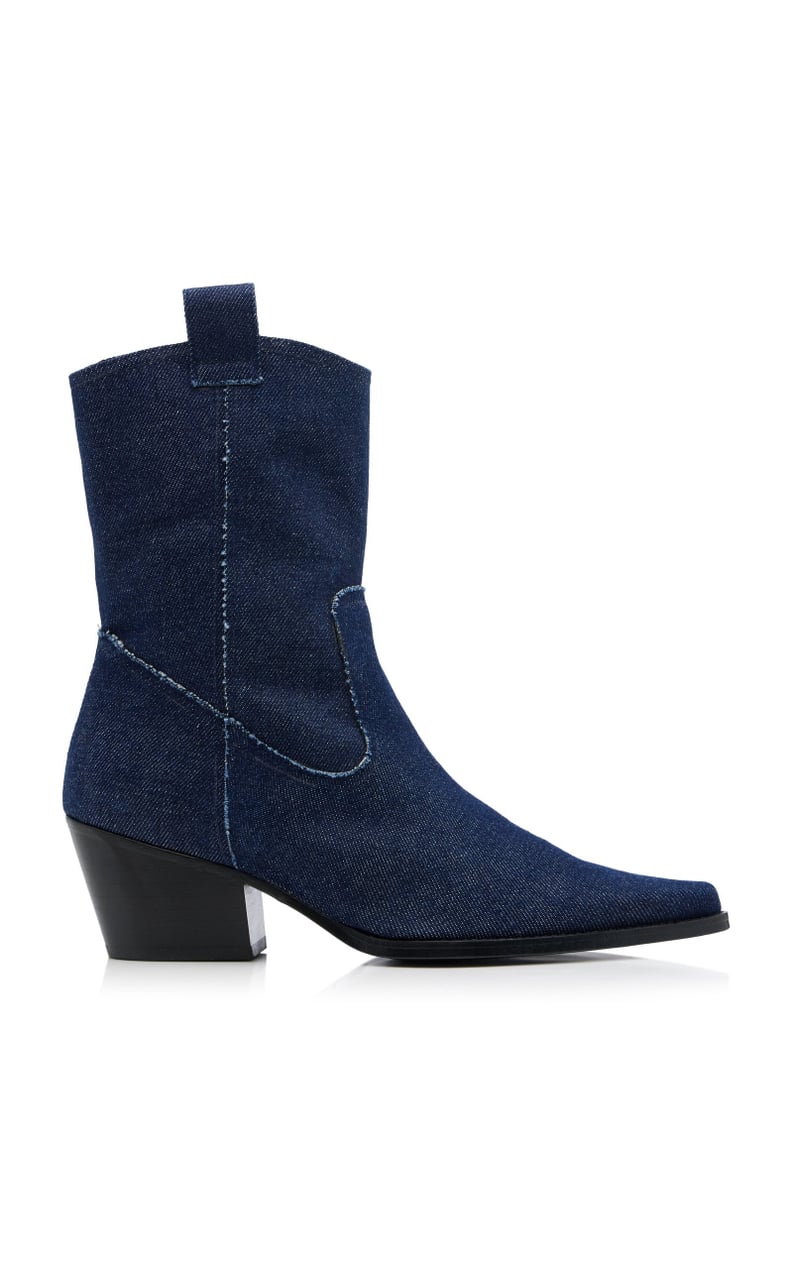 Staud June Denim Ankle Boots
If you really want to take your Canadian tuxedo up a notch, make sure your shoes are denim, too. Take these boots ($450), for example. With a western-style silhouette, they've got all the attitude — and would look extra chic with a pair of Daisy Dukes or relaxed cropped jeans.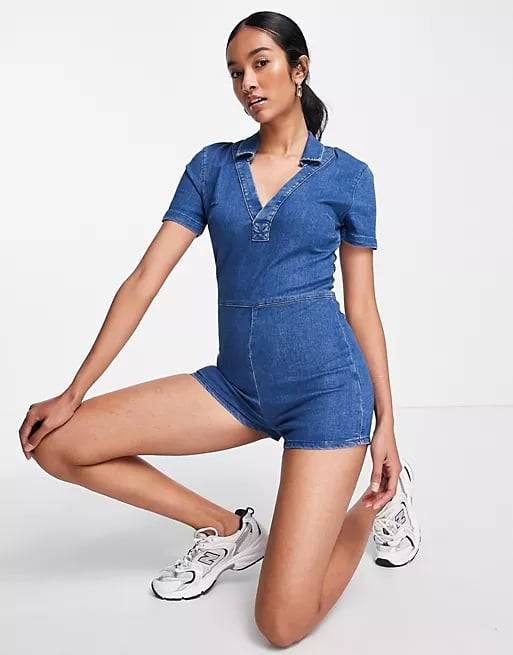 Topshop Joni Denim Romper in Mid Blue
This body-hugging denim romper ($56) gives off both sexy and sporty vibes, with a spread collar and ultra short-shorts. Continue the sporty look with your favorite kicks or jazz it up with gold hoops and a pair of espadrilles or knee-high boots.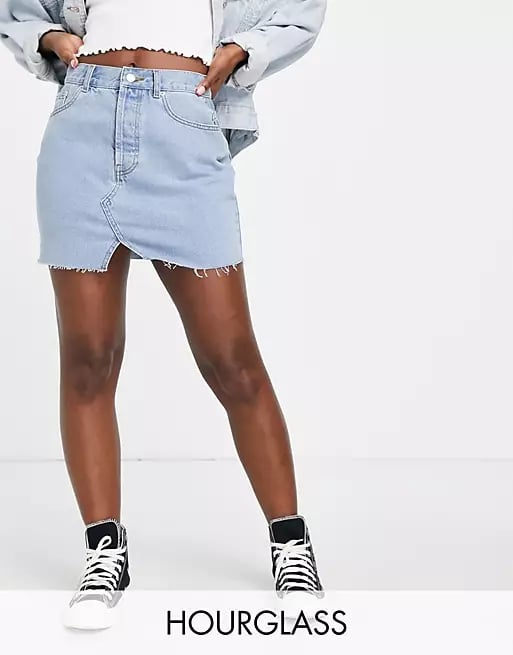 ASOS DESIGN Hourglass Denim Mini Skirt
You can't talk about a Canadian tuxedo without mentioning a denim mini ($30). This one has just a little extra attitude with a small slit and a raw-edge hem. Wear it with a white tee and an oversized denim shirt for an effortlessly cool full denim look.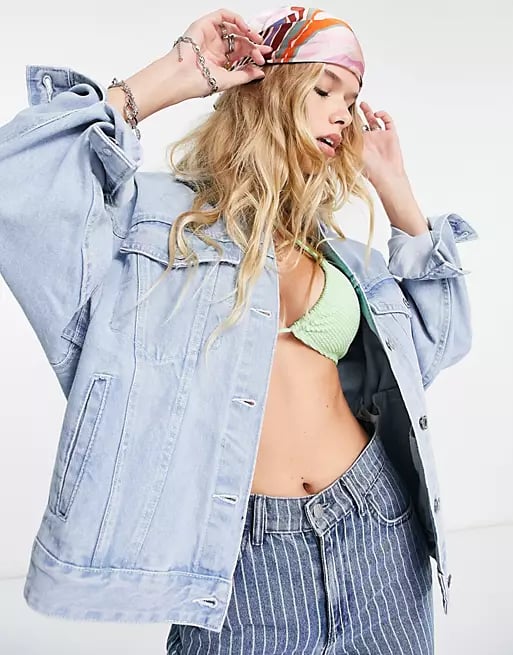 Bershka Oversized Denim Jacket in Bleach Wash
Whether you're wearing your favorite pair of jeans, a denim mini, or a little dress underneath, this oversized denim jacket ($50) will complete the Canadian tuxedo look in style. We love the relaxed fit: It's a piece you can toss on just about any time you need an extra layer. Just roll up the sleeves and you're ready to go.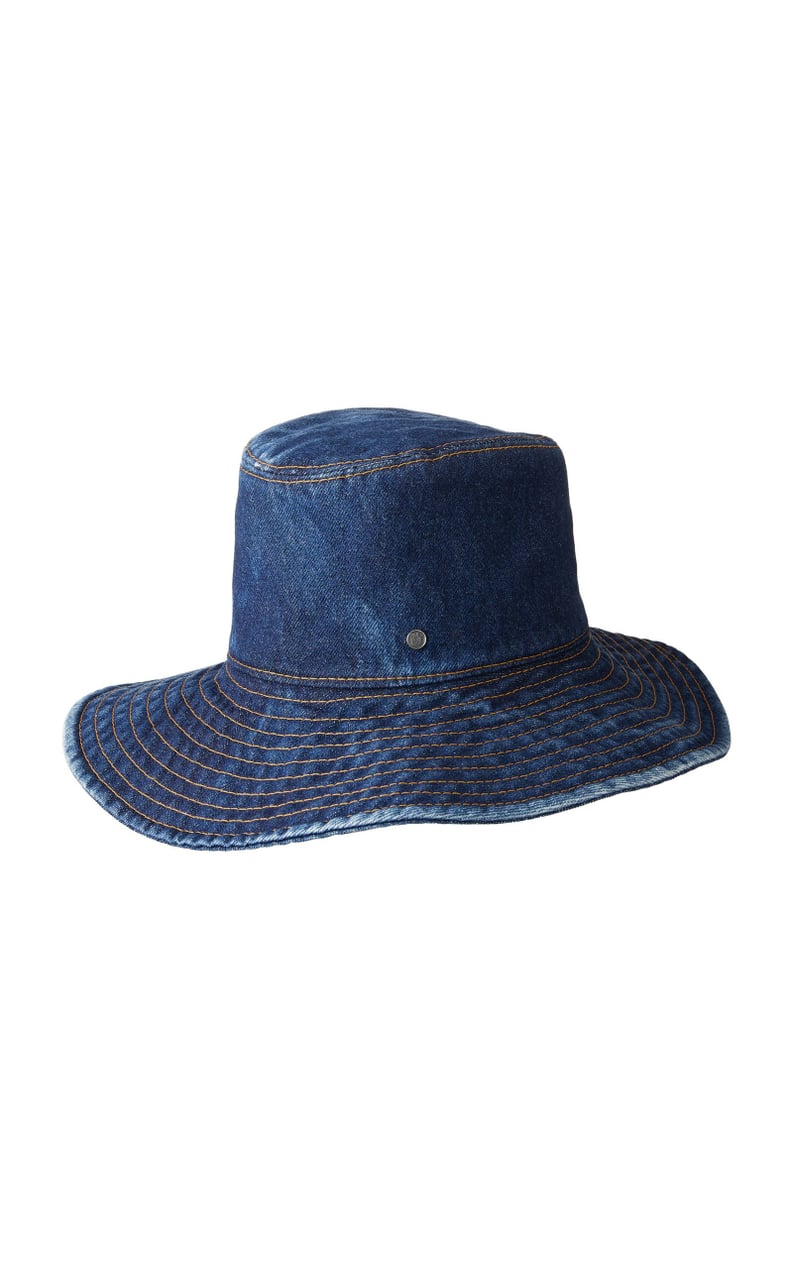 Maison Michel Lauren Stone-Washed Denim Hat
Want to go full '90s pop starlet? Pick up this chic stone-washed denim bucket hat ($535), another hot trend these days. With a wide floppy brim, it'll provide a little extra sun protection — and style — as you go about your day.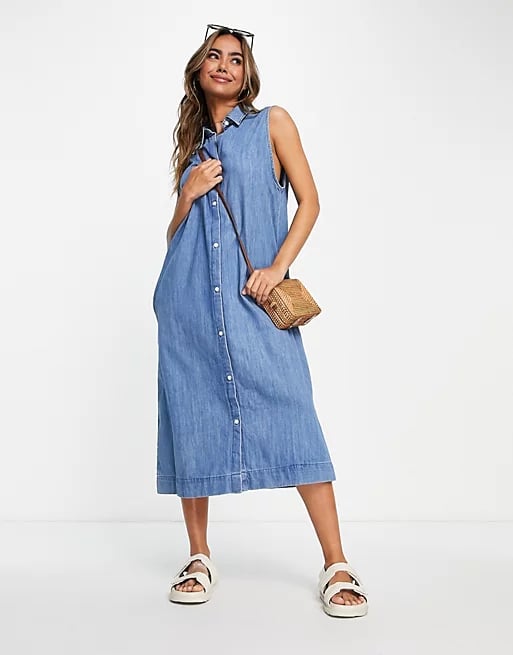 Monki Relaxed Sleeveless Button Down Midi Dress
If you're not sure how to style that new bucket hat, might we suggest this gloriously billowy denim dress ($70)? With a spread collar and a relaxed fit, it's the perfect piece to throw on on a warm day with a pair of sandals or low-profile sneaks. And don't put it away when the weather gets chilly: You can always wear a white long-sleeve tee underneath or pop on a denim button down.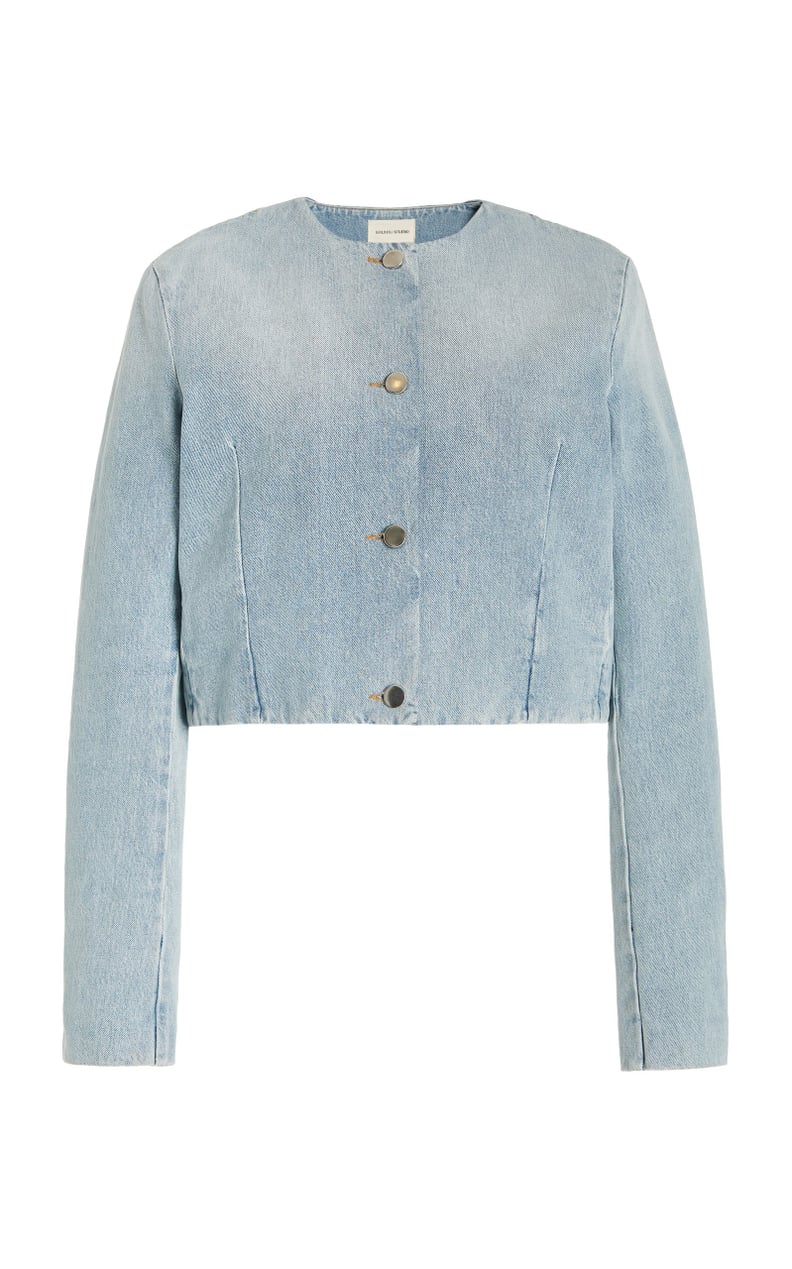 Loulou Studio Denim Jacket
Made from 100% organic cotton, this cropped, collarless denim jacket ($475) exudes Parisian style and will make any outfit look sophisticated and chic. Wear it with its matching pants or any denim items in your closet, and voila, your Canadian tuxedo is complete.