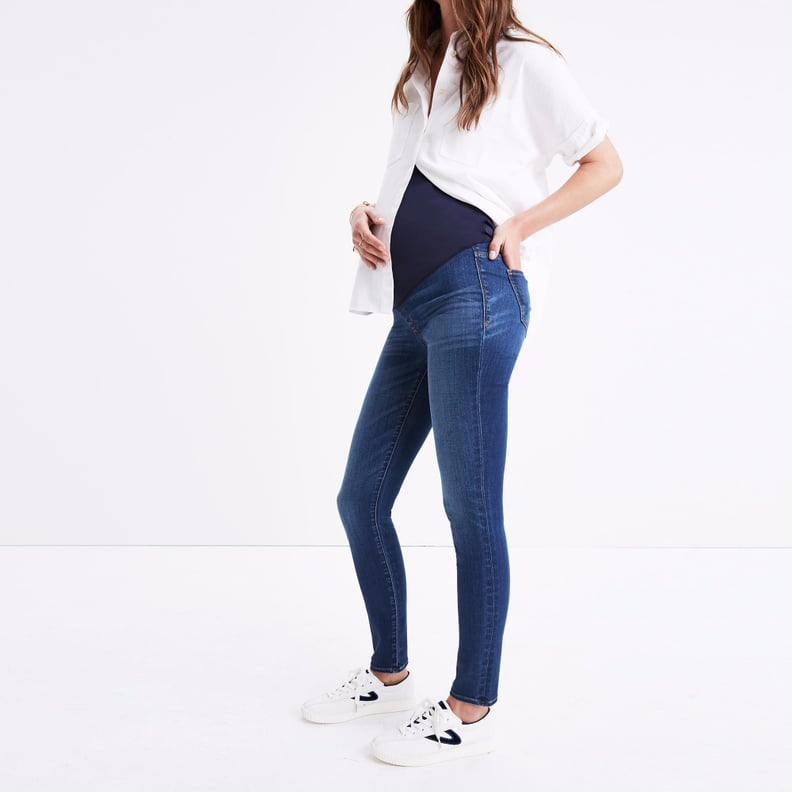 As POPSUGAR editors, we independently select and write about stuff we love and think you'll like too. If you buy a product we have recommended, we may receive affiliate commission, which in turn supports our work.
Before I shopped the maternity market, I was clueless. I had no idea what maternity wear actually entailed or what my options really were. Lots of it was disappointing, but thankfully, at least some brands have figured out the denim category. Sure, it's way different than your regular jeans — you may have to resign yourself to the fact that you aren't actually going to be zipping or buttoning a real fly in some cases.
Still, there are options, actually lots of options. But to help sift through the good and the bad, and spotlight the truly worthy, we enlisted a group of editors, who are either currently or have been pregnant and in search of comfortable, stylish jeans. While there's no universal option for every woman (we all have different bodies, pregnant or not), you may find some common denominators in their glowing reviews. Read on to see what pairs earned raves from a few women who really know.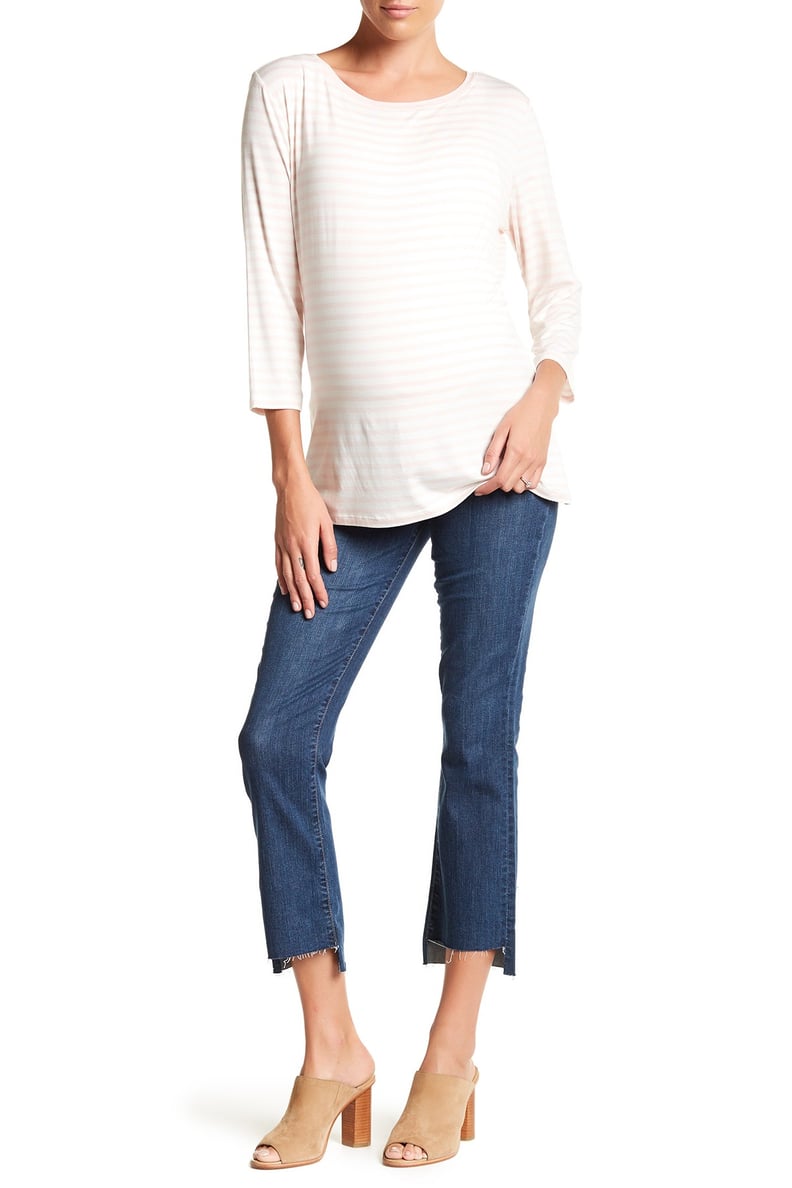 Paige Riley Maternity Cropped Jeans
"Thanks to a raw hemline and kick-flair silhouette, this Paige pair is right on trend. More importantly — and unlike other maternity jeans I tried in similar silhouettes — they have a real button fly and zipper that makes them feel like my regular jeans, as opposed to the pull-on variety that are so common in the maternity market. I've worn these religiously throughout my pregnancy and even into the final stretch, as they still have plenty give." — Hannah Weil McKinley, director, Fashion and Shop
Shop: Paige Riley Maternity Cropped Jeans ($80, originally $229)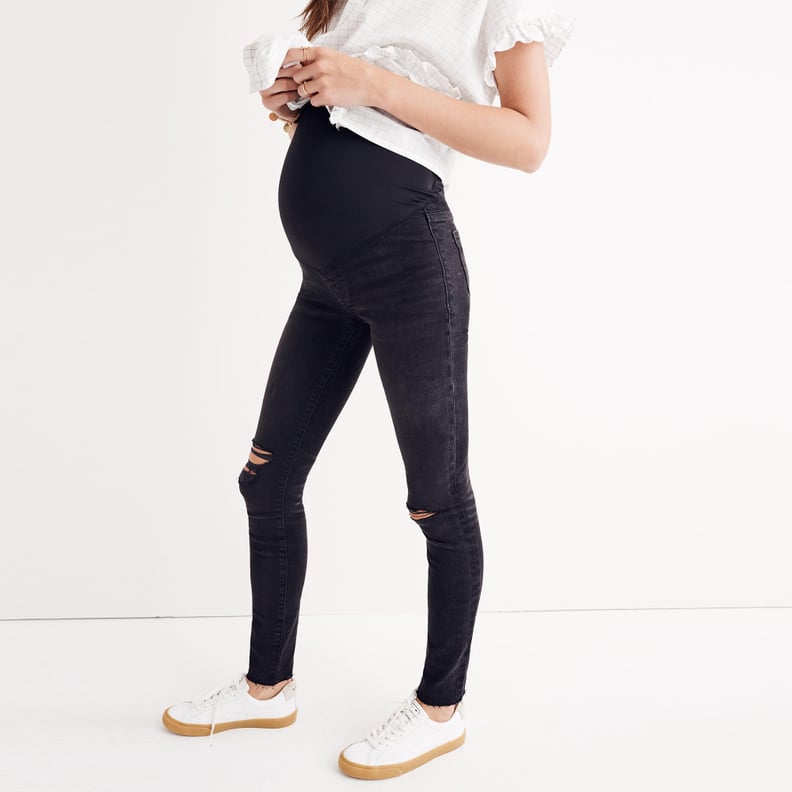 Madewell Maternity Over-the-Belly Skinny Jeans in Black Sea
"I'd read reviews ahead of time and decided to try these in my pre-pregnancy size. When I first got them I was around 20 weeks or so, and the waistband and waist area were too big for me, but I kept them because I knew I'd be growing. Now they're my go-to jeans for style and comfort. When it comes to jeans, I feel most like myself in black ripped jeans, so the fact that the knee rip and hemline were perfectly frayed for my taste made me feel like I wasn't compromising. On the comfort front, though the pants still slide down after long bouts of walking, my skin is never irritated. For me that's critical, as I just want to be comfortable. I can sit and work in these all day and never have any red marks in my skin from the fabric digging in. As happy as could be." — Rebecca Brown, editor, Shopping
Shop: Madewell Maternity Over-the-Belly Skinny Jeans in Black Sea ($138)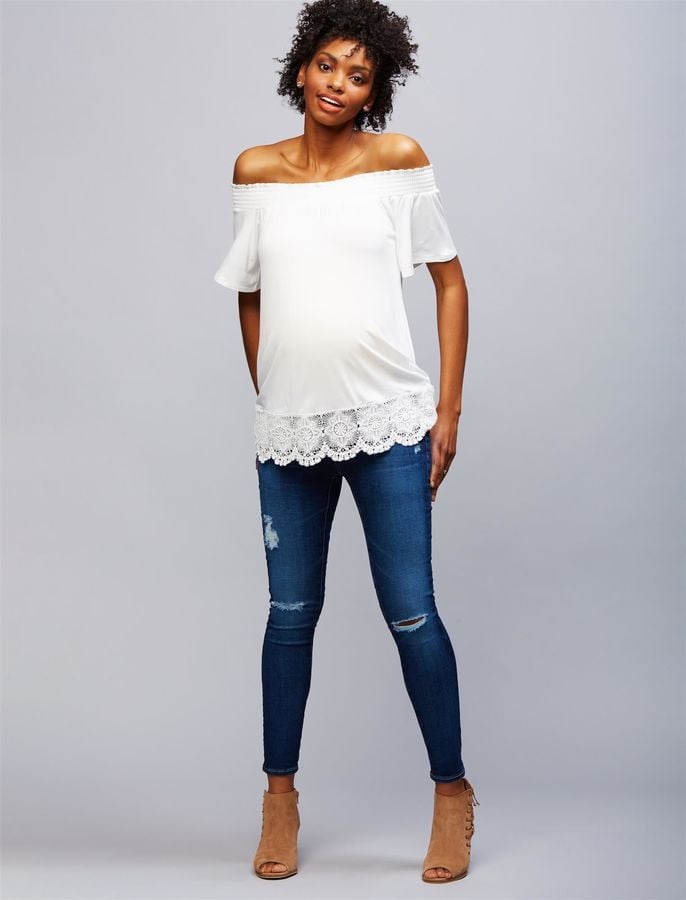 Pea Collection AG Secret Fit Belly Destructed Legging Ankle Maternity Jeans
"The ankle length makes them easy to wear with different shoe styles so they work through multiple seasons and the over the belly band stretches comfortably all the way to 40 weeks! The denim itself has the right amount of stretch but not too much that you feel like they are baggy or falling down around your waist and it's thicker than other legging styles I've seen so they've held their shape through two pregnancies!" — Lauren Turner, editorial operations director
Shop: Pea Collection AG Secret Fit Belly Destructed Legging Ankle Maternity Jeans ($235)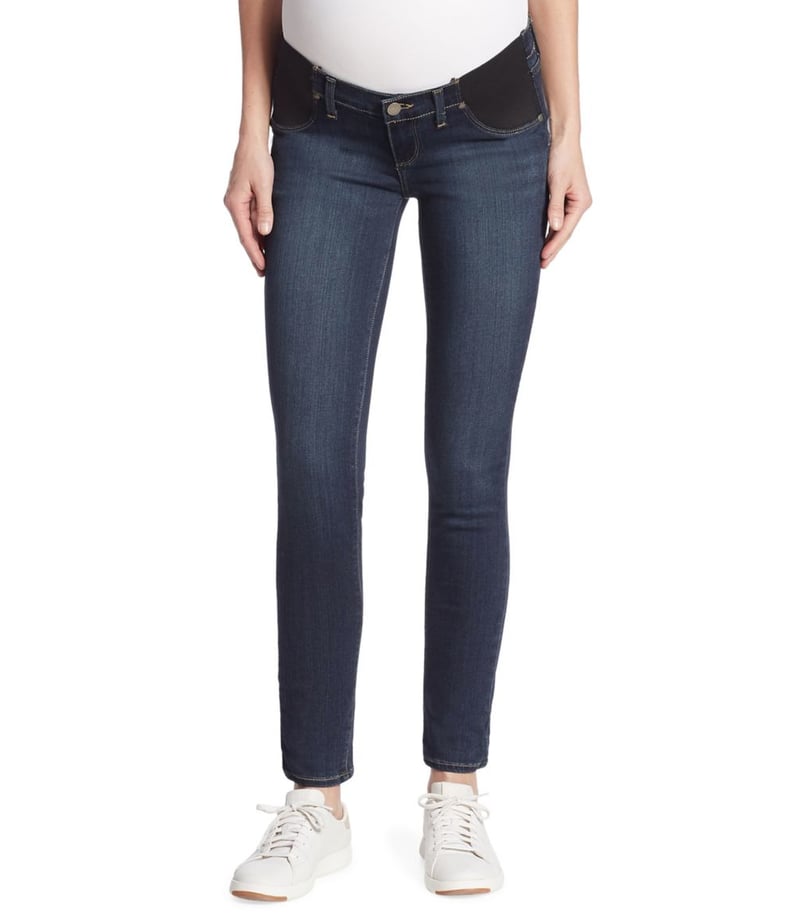 Paige Verdugo Ultra-Skinny Maternity Jeans
"Paige is my go-to denim brand for everyday wear, so I was thrilled to find out they made maternity wear as well. They were perfect when my belly was just starting to outgrow my normal jeans and I loved the discreet side panels. Because they don't have the full band, they aren't the most comfortable towards the very end of your pregnancy. However, I found myself wearing them enough to justify buying a pair in black, too!" — Stacy Hersher, director, Social & Partnerships
Shop: Paige Verdugo Ultra-Skinny Maternity Jeans ($189)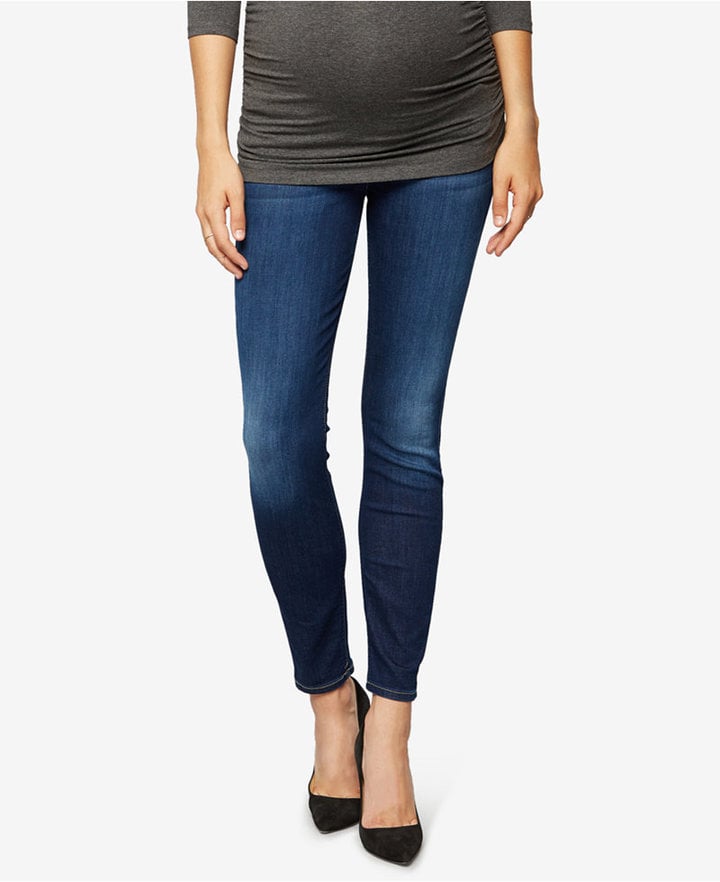 7 For All Mankind Maternity Dark Wash Skinny Jeans
"As a person who wears jeans literally every day, finding the right denim to wear throughout pregnancy was a high priority. Early on, a friend with multiple children told me her best pregnancy tip was to invest in a pair of maternity jeans that I actually felt good in — you're already so uncomfortable as you adjust to your changing body that you may as well have something that makes you feel like you. I'm so glad I listened to her because I bought two pairs of these maternity skinny jeans that I wore on repeat for months and months. The best part? Even after so much wear, they're still in great shape, so they'll be my go-to pairs if and when we have more children." — Laura Meyers, editor, Trending and Viral Features
Shop: 7 For All Mankind Maternity Dark Wash Skinny Jeans ($179)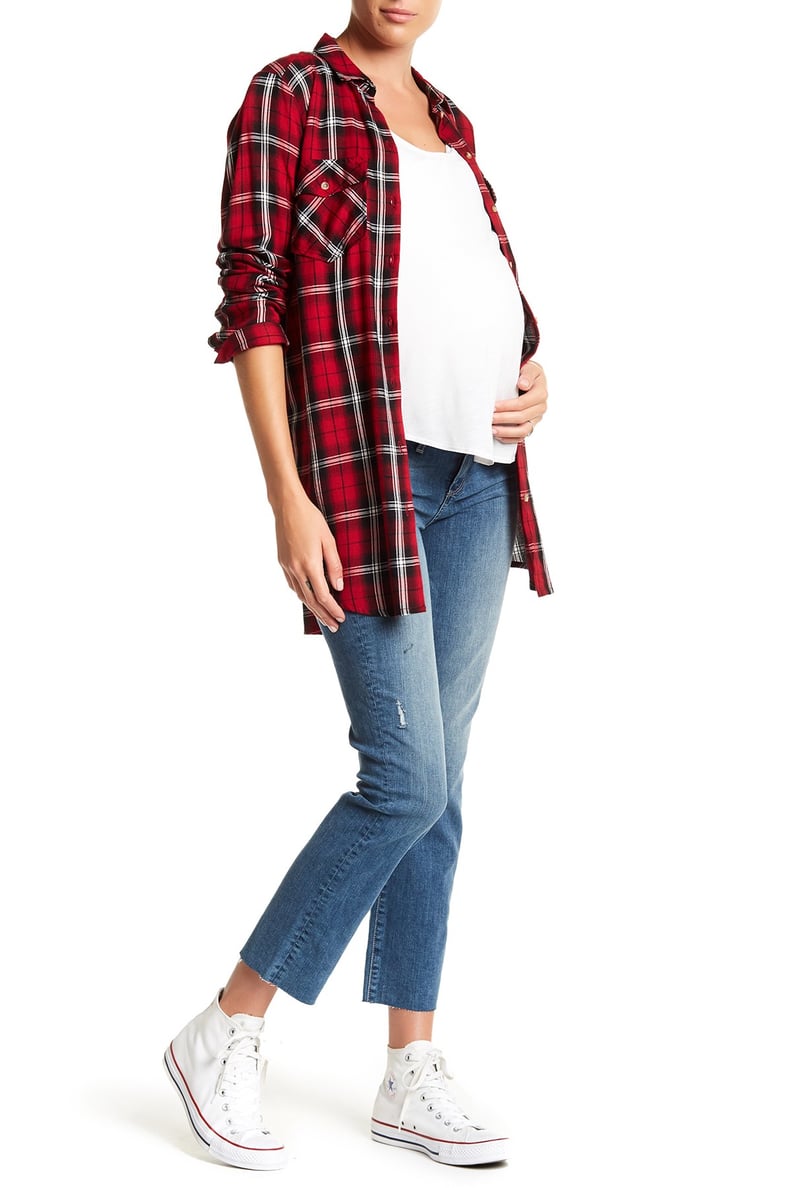 Paige Miki Straight Leg Maternity Jeans
"If I'm just going to dinner or will only be in them a short time, I like wearing these with ankle booties or mules. I'm a fan of straight legs, and the raw hemline is delicate. So from a style perspective I like the ankles of these. In terms of fit, they feel a little baggy around my thighs (which can happen with straight leg), and the below-the-waist band digs into my sides when I sit for a long time. On the plus, because they're below-the-belly, I can tuck sweaters into the front of the waistband the way I normally would. I keep these in roration for those moments when I want to focus on my shoes and the hem, or am desperate to tuck in a sweater. But they're not my favorites for all-day wear." — RB
Shop: Paige Miki Straight Leg Maternity Jeans ($80, originally $229)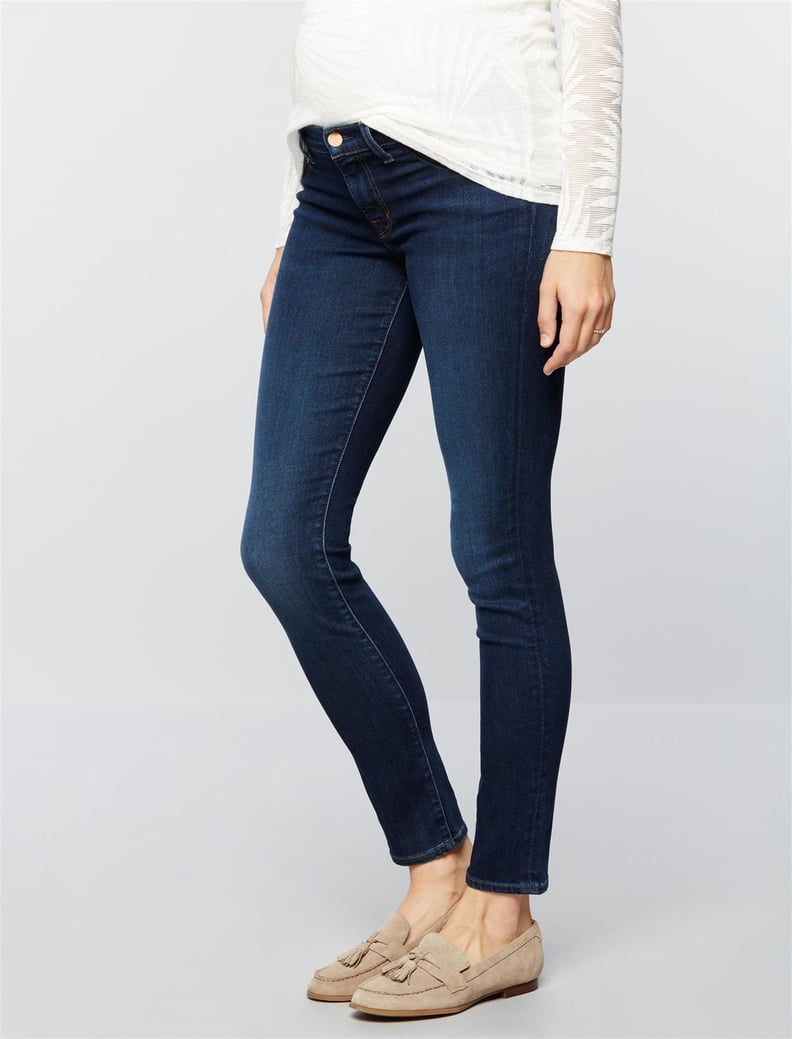 J.Brand Mama J Super Skinny Jean
"A versatile, classic jean style that goes with everything during pregnancy and can easily be dressed up or down. I appreciate that it has the same great style as their non-maternity jeans, and I especially liked that the under-the-belly-style waist dips down in front so it's not putting pressure on your bump. In this style (and most maternity jean styles) I size down, as I find the fabric has extra stretch." — Maggie Winterfeldt, editor, Moms
Shop: J.Brand Mama J Super Skinny Jean ($198)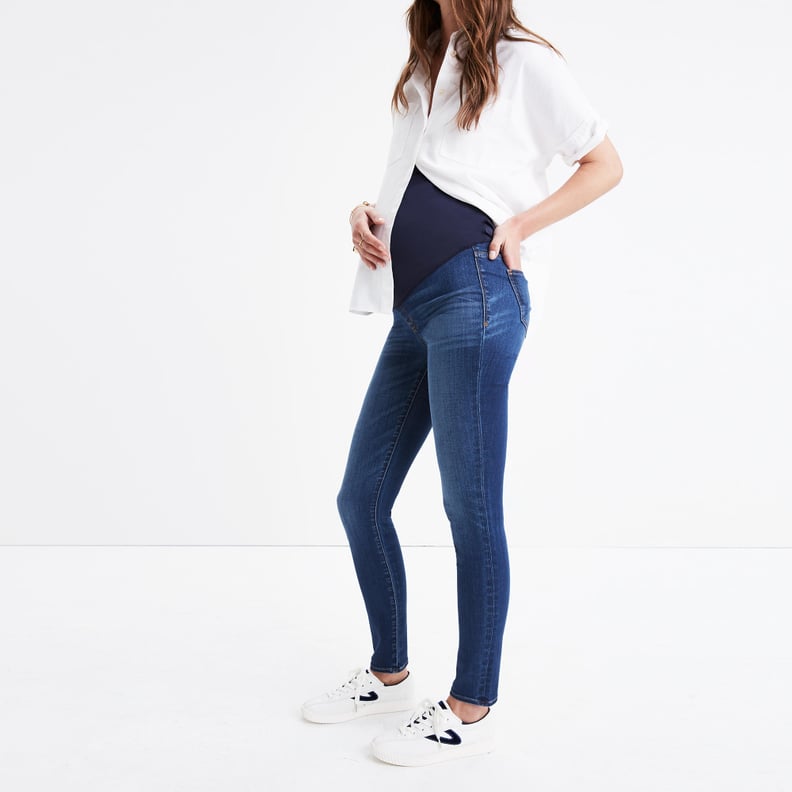 Madewell Maternity Over-the-Belly Skinny Jeans
"I wanted a pair of maternity jeans that just looked classic and easy — like my favorite, lived-in skinnies. These did the job perfectly, on both the fit and comfort front. Though they were a little roomy at the beginning, my belly has since grown nicely into the over-the-belly band, which is less of a band, really, and more of a nice, stretchy, soft swath of fabric. It cradles my bump, without squeezing and from the waist band down, you'd never suspect they were made for mamas-to-be. They're also the hands-down softest denim in my closet." — HWM
Shop: Madewell Maternity Over-the-Belly Skinny Jeans in Danny Wash ($138)