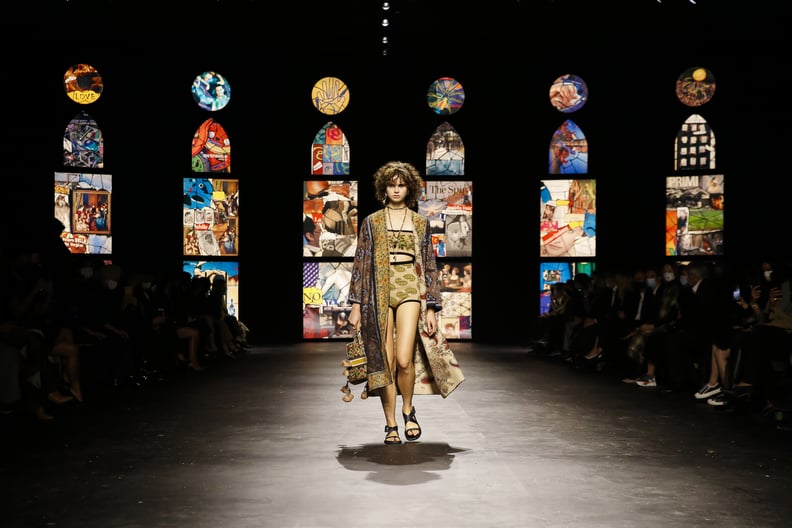 Dior
I can't say I've ever been impressed by Dior's commodity feminism, but I am relieved that they tried something new for Spring/Summer 2021. Maria Grazia Chiuri's inspirations for the new collection were clear — looking at fashion through the eye of divine creation, with cuttings of poetry and images being sewn together like a stained-glass window in a cathedral — but the actual clothes told a different story.
Dior's 2021 aesthetic is inspired by famed Italian artist Lucia Marcucci and authors such as Virginia Woolf and Susan Sontag. The clothes have mixed bohemian paisley and floral prints, with patchworks of scarves, and lace accents featured on empire-waist maxi dresses, trousers, and co-ordinated sets. There were also Japanese and Indonesian inspirations seen in Kimono-inspired jackets and Mandarin collars. Although the palette of the collection doesn't strike us with divine inspiration, we did enjoy the more casual styles of tie-dye loungewear and on-trend balloon sleeves. Dior's clothing is always undeniably beautiful, but we would have liked to see more ethnic and size diversity on the catwalk and a color palette that brought us a bit of joy in somber times.
Ahead, a look at the Dior Spring/Summer 2021 collection.