Blogger and author Geneva Vanderzeil of A Pair & A Spare shows us how to take one not-so-cute denim skirt and turn it into two superstylish garments.
On the eve of this blog turning 5 (yep, 5!), I wanted to share with you this before and after project, two in fact. Turning one thrifted ($1!) denim skirt into two functional, beautiful items has to be the definition of what this blog's about. Harnessing your creativity to make something out of virtually nothing.
In case some don't know the backstory, I started this blog mainly as an online journal, a place to share what I was making every weekend. This was well before blogging became a viable career option and I was working in London as a town planner — I never really thought people would read it, only that it would be fun to share and document my successes and failures in some way. Fast forward a few years and it's so amazing to have connected with so many talented and inspiring DIY addicts all around the world!
What was key, I think, in maintaining enthusiasm, was focusing this site on the things that I'm genuinely passionate about, whether it be reworking vintage pieces or traveling to weird and wonderful places. The concept naturally evolved over time, but it was comforting to have a core passion to focus on. Moral of the story? If you're thinking about starting a blog, or indeed have one but need more focus, drill down into the things that you love most of all, what's at your core. And stick to that. (Read here if you want to work out what you love).
I found this skirt a a local thrift shop in Hong Kong, and it cost around $1. With those limited materials, we created two skirts in a short amount of time. First we cut the skirt off to create the scalloped style and then turned the bottom half of the skirt around so the back split became a minimalist-inspired front split. Sounds hard but it was actually pretty simple.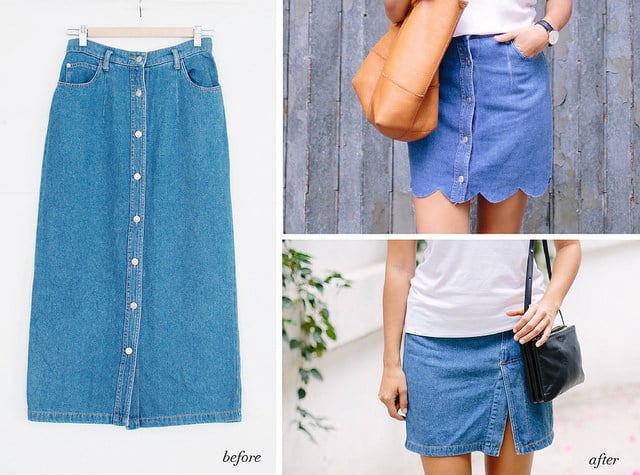 DIY Scalloped Denim Skirt
(You can also make this skirt as a simple denim cutoff!).
You need:
A long button-down denim shirt
A piece of card
A chalk pencil
Scissors
How to:
1. Decide how long you want your skirt (you should check to make sure both skirts will be an appropriate length). Create your scallop template by dividing the width of the bottom of your skirt by the number of scallops you want (ours are 10 cm wide) and then make the scallop template out of card. Then, trace it onto your skirt all the way along.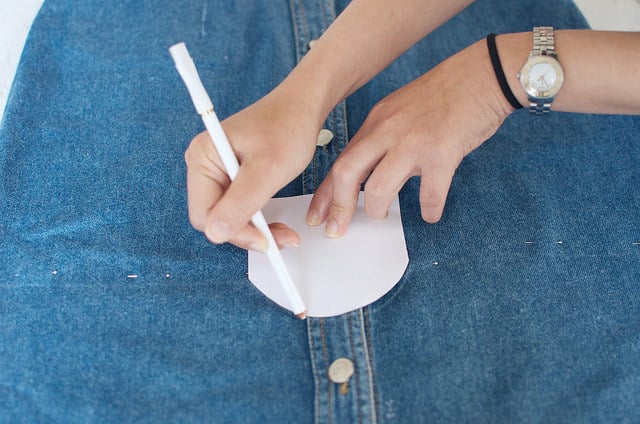 2. Cut the skirt out along the tracing. You can wash if you want a frayed edge.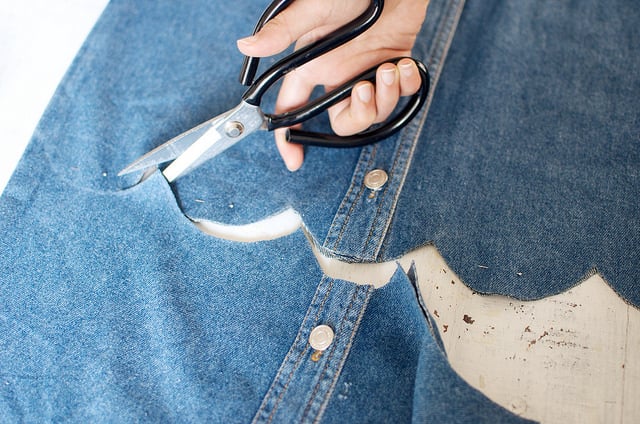 Skirt number one is done!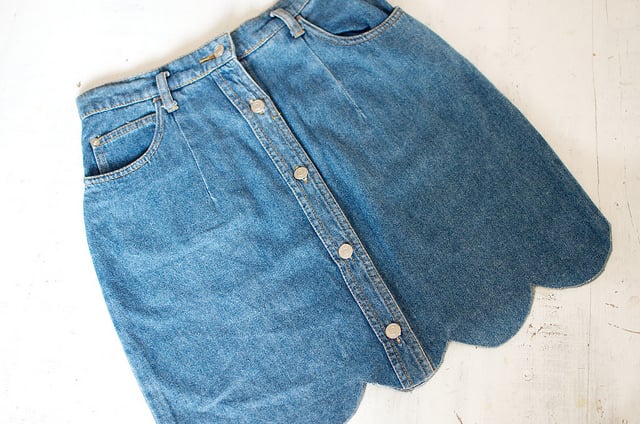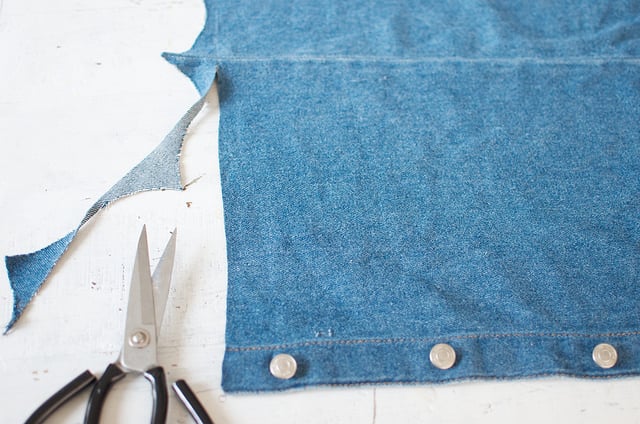 DIY Front-Split Denim Skirt
The second skirt is a little more tricky but so worth it and perfectly minimalist (in contrast to the feminine quality of the scalloped version).
You need:
The bottom cutoff piece of your skirt with a well-finished split at the back.
Scissors
Sewing machine or needle and thread
How to:
1. Trim the scalloped section off the top of the skirt.
2. The next thing you are going to do is orientate the back split to the front, you can see below that this was at the back before, but we put it at the front for a minimalist look. The buttons that were at the front will now be at the back (and more to one side if you chose to put the split in the centre of your leg like I did). We then created some darts around the waist to fit it properly on me.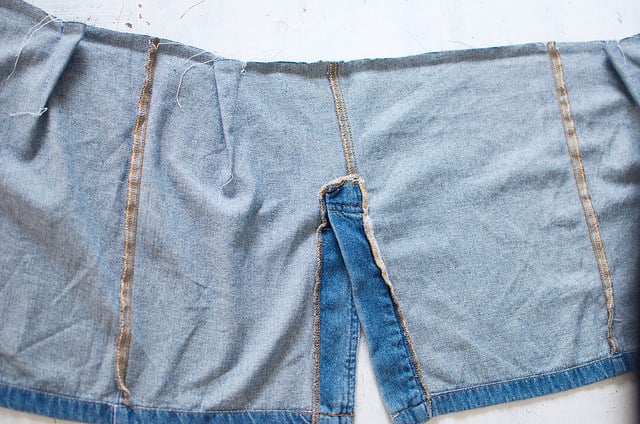 3. Finally, I finished the top hem of the skirt with a simple stitch on the sewing machine (or you can do it by hand).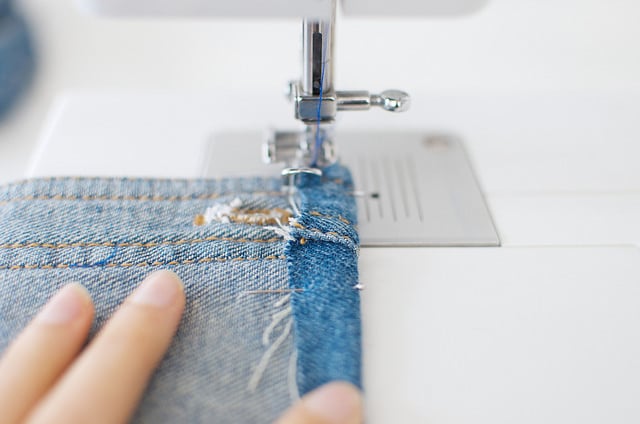 Voilà ! What was the back is now the front. Skirt number two is done.