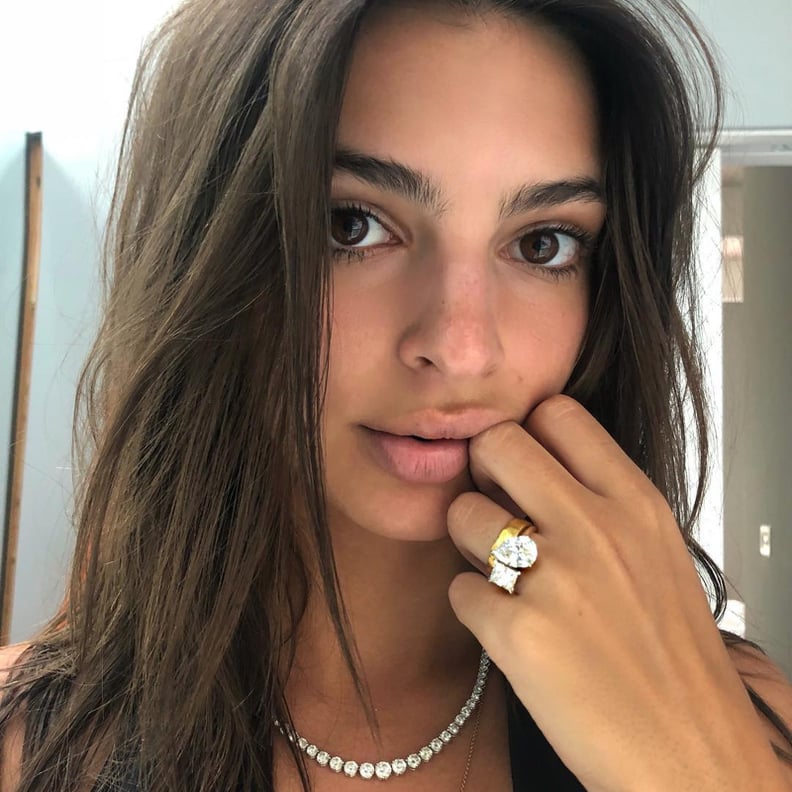 If an engagement ring could make an entrance, Emily Ratajkowski's would be breaking down doors. The 27-year-old model tied the knot with Sebastian Bear-McClard in a secret City Hall ceremony back in February, but we're just now seeing her accompanying ring for the first time. We've caught glimpses of her wedding band before, and while it maintains a simple elegance, her engagement ring is something else entirely. Oh boy, it's gorgeous . . . and gigantic.
Emily has admitted previously that Sebastian actually didn't propose with a ring; he proposed with a paper clip. But while this may not be the ring she got engaged with, it's obviously still taking a very special place on her left hand. Emily's unique ring sports not one but two diamonds: one princess cut, and the other teardrop cut. The massive stones lay side by side on what appears to be a thin gold band, perfectly complementing her homemade wedding band.
The model revealed in an interview to Vogue that she actually helped design the ring with her husband, and it took them over 50 sketches to create. "We wanted the stones to be the main attraction, so we went for the lowest possible setting in white gold and yellow gold band to match my wedding band," she told the magazine. Check out more snaps of her ring ahead — it's truly unlike anything we've ever seen before.
— Additional reporting by Nikita Ramsinghani