As POPSUGAR editors, we independently select and write about stuff we love and think you'll like too. If you buy a product we have recommended, we may receive affiliate commission, which in turn supports our work.
Melissa Lay, a stay-at-home mother who launched her own t-shirt line on Etsy, was shopping at Target when she found one of her bestselling designs — for sale. The tee in question? A casual tank top featuring the American flag and the phrase, "#MERICA."
While Lay sells her shirts both on Etsy and on her own website, SandiLake Clothing, in a racerback style for $26 — available in both kid and adult sizes — Target's version, retailing at $13, features a burnout effect and is made by the clothing company Stranded.
Lay has been spreading the word about the alleged knockoff on both Reddit and Katu.com, a local news source. Her goal was to ultimately receive credit for the designs she says she works so hard to produce, one by one.
The outcome? Target's agreed to pull the top from stores. Even if you find one and bring it up to the counter, you'll be prevented from purchasing it. Target, claiming the shirt was made by a third party vendor, has released the following statement: "Target has a deep appreciation for great design and it has always been our policy to respect the intellectual property rights of others. We are aware of this issue and have reached out to the designer."
Read on to see the #MERICA tanks available on Lay's site, along with her messages to Target and small businesses everywhere that are subject to being copied.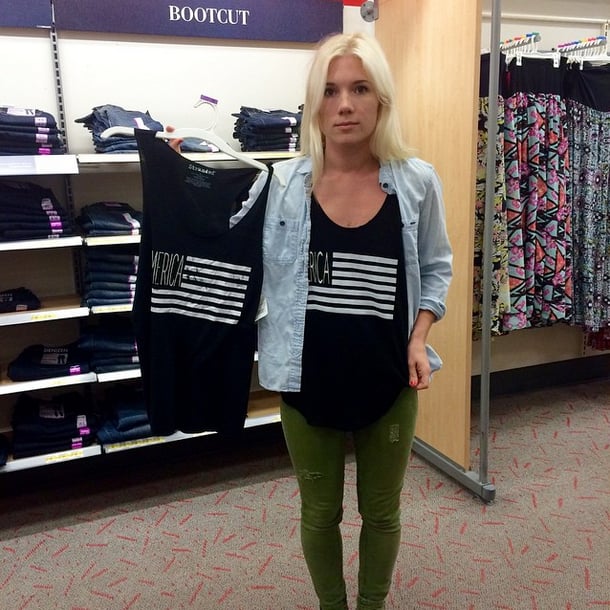 "The meaning and importance of #shopsmall has never really hit my heart until today when it hit my home and my livelihood. #MERICA is one of our original 5 designs. We opened April 1st, 2014 + this tank launched us to levels we didn't know we're possible. This photo is me in @target wearing MY #sandilakeclothing original design and holding up the tank they made using the same one. They are identical. And I'm not alone with my story. Small businesses are being copied everywhere with no leg to stand on. I contacted Target Corporate and they gave me an address to mail a letter to! That's it!!? Please share this story and others you hear of. We work incredibly hard to provide for our families, and dress you and your littles in a rad way that large companies can't. Know what you are buying and where it came from. I am going to think a lot harder about every purchase I make... @targetdoesitagain #stolen #plagiarism #dontsteal #comeupwithyourowndesigns" — Melissa Lay After being acknowledged by Target and receiving support from small business owners, Lay released the following statement on Instagram: "I can't believe all the support I have received today. It's insane! I love you all and I am blown away by today. Taking time to think about all of it, but wanted to clear up that I wanted to bring this in the open to bring awareness, not necessarily to take legal action. I have gotten many great suggestions from all of you, and i am so thankful you have so much knowledge. I will be deciding all that shortly and I will keep you in the loop. And I truly feel blessed to be a part of this community! night! #shopsmall"