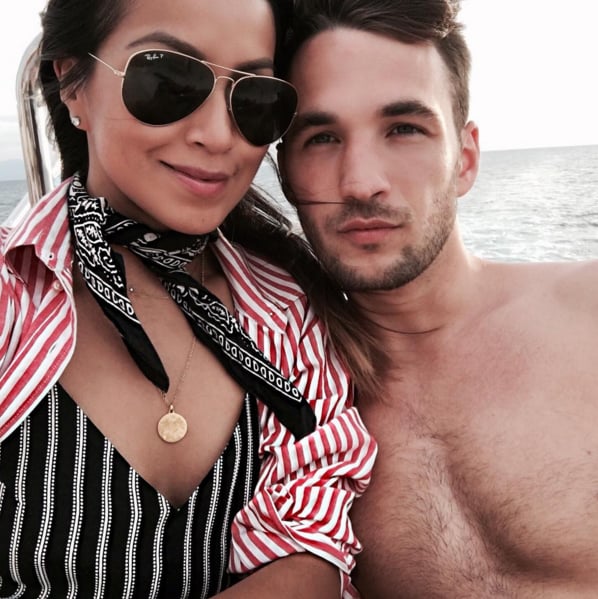 One scroll through the feeds of street-chic bloggers like Rumi Neely, Jane Aldridge, and Kelly Framel, and you'll find their partners pulling off eye-catching outfits, too. Our favorite thing about this crop of noteworthy couples is that they almost always coordinate their outfits — right down to their Ray-Bans — for formal events, vacations, date night, or weekend sessions of Netflix and chill. Read on to get to know some of the most fashionable duos on Instagram, all of whom we highly suggest you follow ASAP.
01
@adenorah
Mirror selfies in button-downs are the name of the game.
02
@colormecourtney
Her man knows his way around a seasonal color scheme.
03
@couldihavethat
They work their neutrals like a couple of pros.
04
@drunkonshoes
He does sporty. She does sophisticated-meets-sexy.
05
@jasminedowling
They've mastered that all-black-everything-and-sunglasses look.
07
@kristinsundberg
Even when she's just chilling in her loungewear, he still looks spiffy in a suit.
08
@lateafternoon
He even pulls off accessorizing with a fedora.
09
@lovelypepa
Their wedding guest style is coordinated, but not overly so.
10
@negin_mirsalehi
They know that classics are key.
11
@newdarlings
He completes her rustic-looking Summer shots.
12
@nicolettemason
They're women with an incredible eye for style — and texture! Just look at how well Ali's printed tie complemented Nicolette's floral appliqué Christian Siriano wedding gown.
13
@rumineely
He finds just the right muscle tee for the occasion.
14
@emilyschuman
Together, they form the perfect Canadian tuxedo.
15
@juliahengel
They coordinate their plaid prints.
16
@seaofshoes
Their couple style is super classy — and they love to cook together!
17
@smashleybell
He looks cool in a V-neck tee and printed pants.
18
@songofstyle
He knows when to let her standout outfits shine.
19
@theglamourai
He's got an extremely artistic eye, and they coordinate their accessories to prove it!
20
@thehautepursuit
The most slick-looking, eye-catching couple in the room — or beach.
21
@thriftsandthreads
They make cuddling up look seriously chic.