I'm 8 Months Pregnant . . . and Haven't Bought Maternity Clothes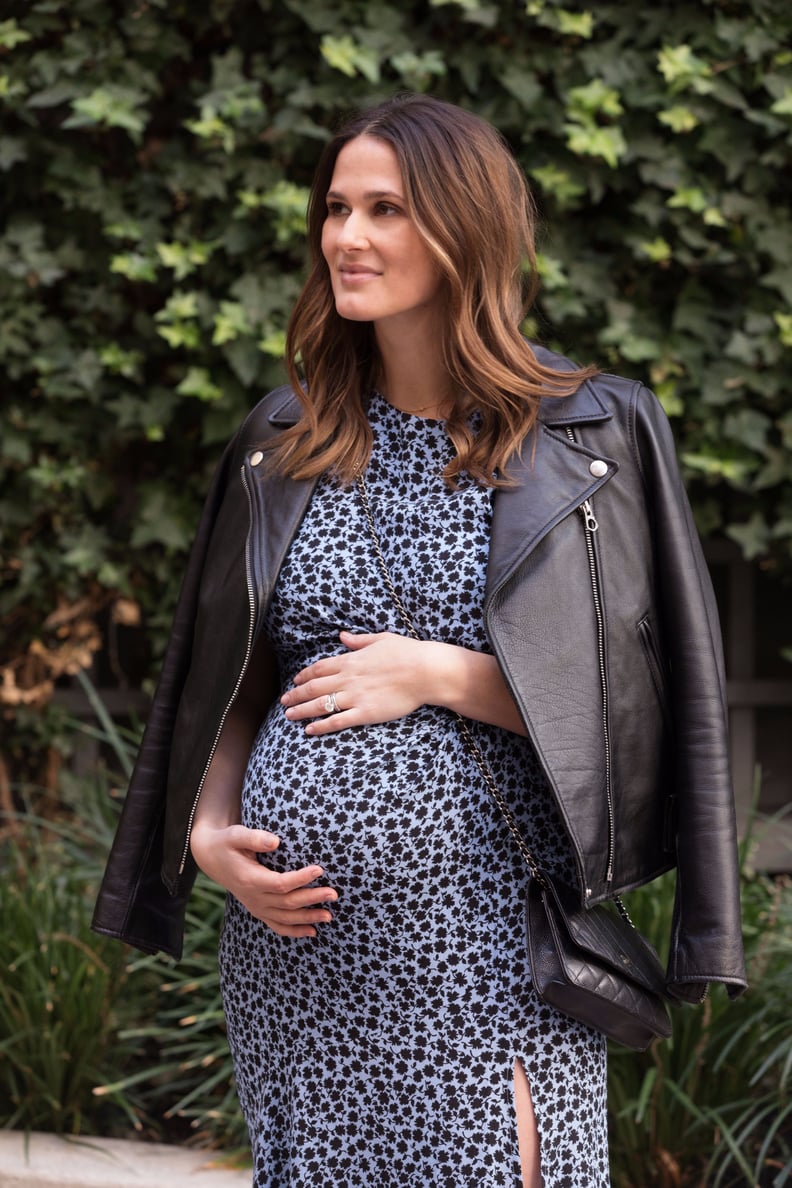 POPSUGAR Photography | Lacy Kiernan
POPSUGAR Photography | Lacy Kiernan
I was standing over my suitcase, wondering if I could get away with an elastic waistband at the Chanel show; thankfully, comfortable shoes like sneakers and block heels were still a fashion thing, not just a "me thing" for my increasingly uncoordinated body and shifting center of gravity. I was five months pregnant, figuring out how to pack for my first Paris Fashion Week and, simultaneously, how to clothe a sprouting bump for the first time. I thought about my options, what I'd seen out there in the maternity market, and mostly it made me cringe.
Now, I think about packing for the shows three months ago and laugh. My bump has more than doubled in size (my pregnancy app tells me the baby is about the size of a coconut now, but it feels more like the Berenstain Bears' "prized pumpkin" is stuffed in there), though the clothes I picked strategically to feel "chic" in Paris are still some of the pieces I wear on repeat and will continue to, god willing. But aside from just a couple of necessities, none are actually maternity clothes.
As someone who loves fashion, I wanted my "maternity style" to just be my style. I hated the awkward ruched shirts with expandable seams and over-the-belly or side-paneled bands touted as "stylish," functional pregnancy clothes. They mostly came in neutrals — lots of black jersey dresses and leggings — that made me sad and looked so plain, like something for women mourning the loss of their individual style.
I vowed instead to shop regular women's collections as long as I could, sizing up but not surrendering to a look that made me feel resigned to — not celebratory about — dressing this bump. The only concession: maternity jeans (Madewell's look like regular jeans and feel amazing on, and Paige makes some pretty decent preggo denim, too). The rest I pulled from H&M, Zara, and some affordable lines on Shopbop: a collection of both body-con knit dresses with plenty of stretch, tunics, and flowing silhouettes to pair with the shoes and jackets I have and love. Some pieces I already owned worked well, too — a ruffled dress from Rebecca Taylor I wore religiously in my first and second trimesters (first, to conceal the tiny bump from coworkers), and anything with an empire waist.
Here's the thing about pregnancy: of course I noticed my body changing a lot, but does it have to mean a total upheaval of what you want to wear? Dealing with the emotional and hormonal challenges that come constantly for 40 weeks is enough to make any woman question her sanity. It's uncomfortable and weird, and your body does some truly crazy (and, yes, amazing) things you can't prepare for, so if part of holding on to my sense of self means holding on to my sense of style, I'm not going to let being pregnant challenge something as basic as waking up and putting on whatever I feel like wearing. As long as it fits comfortably, who says it has to be made exclusively for pregnant bellies?
Call it superficial, sure, but deciding what to wear has brought me joy for most of my life, and I thought dressing the bump should be joyful, too. This is what I've learned and the outfits I've loved, coming into the home stretch of my pregnancy — no maternity spanx or jeggings included.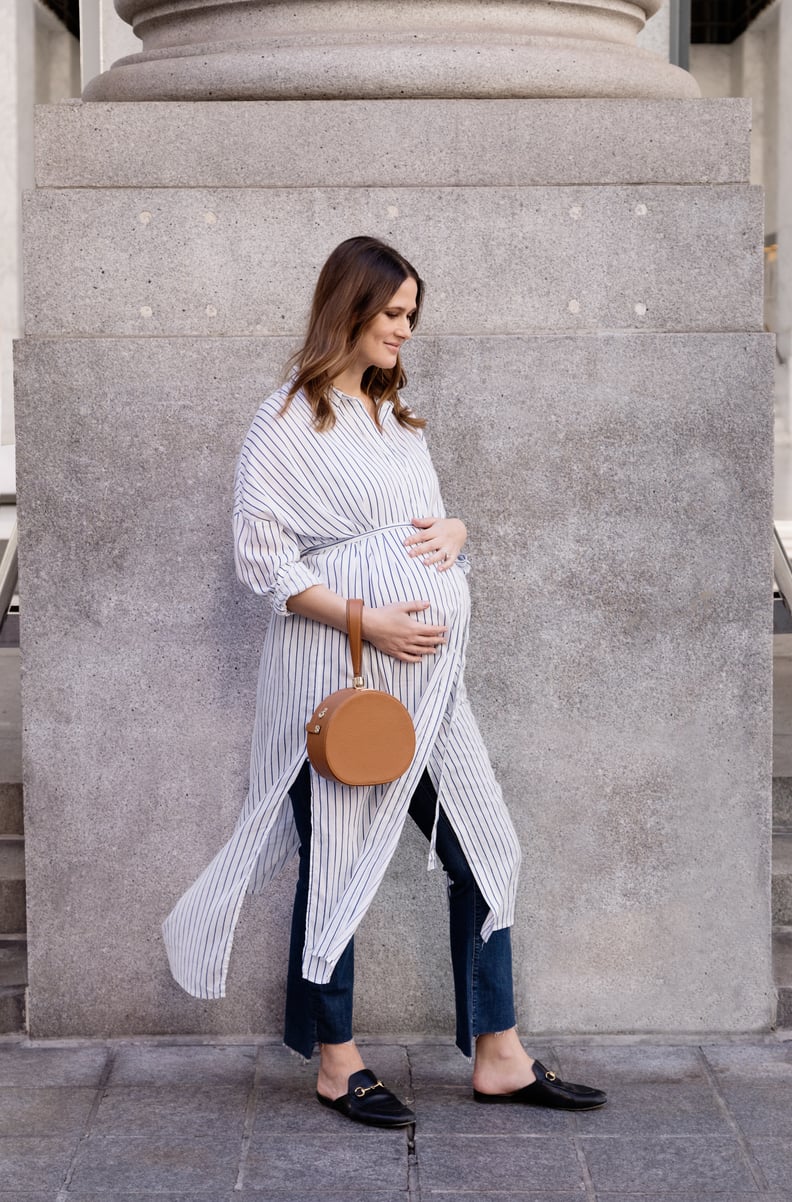 I bought this tunic long before I ever got pregnant and have worn it through various stages of my pregnancy, all the way up to my current bump size at 31 weeks. During the Summer, it doubled as a swimsuit cover-up, and now it's perfect for throwing on over my maternity jeans when a t-shirt doesn't feel dressed up or, frankly, like enough coverage the farther I've come.
Zara tunic (no longer available), Paige jeans, Gucci mules, Freya bag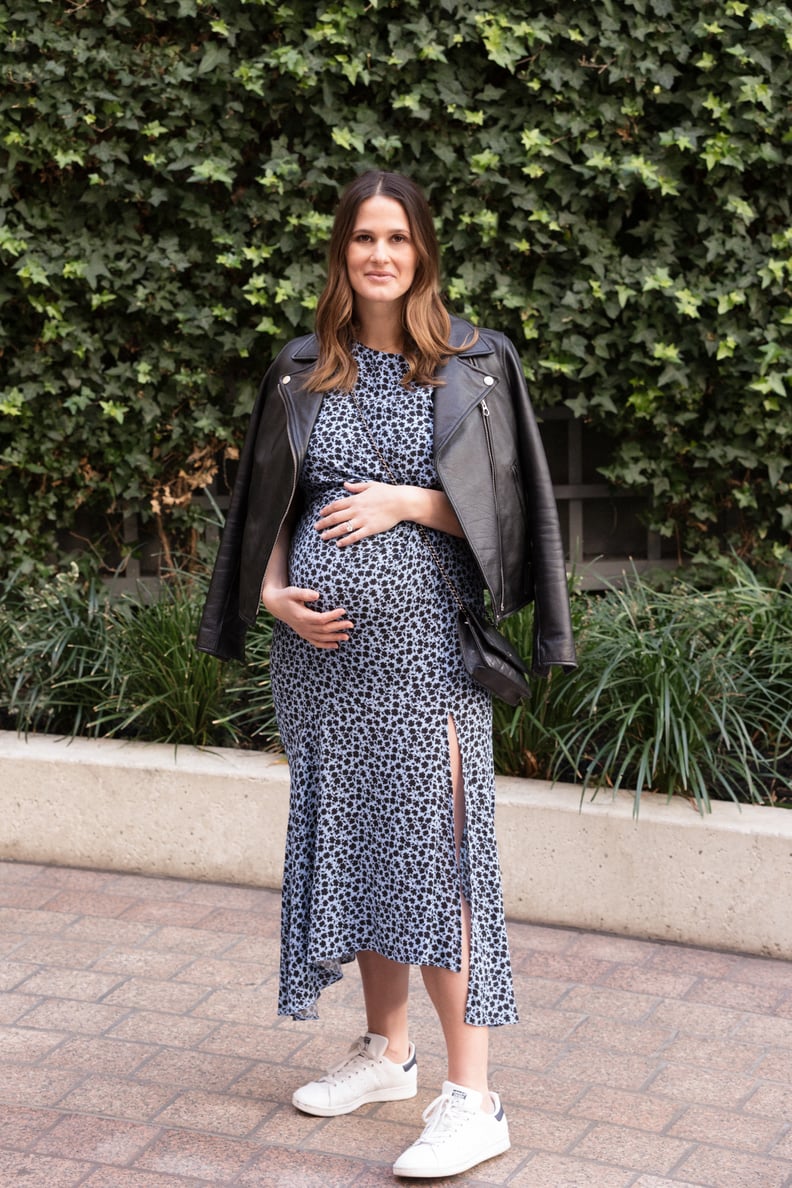 You wouldn't find this dress in the "maternity" section, but the silhouette is pregnant-belly friendly. It's cut with an empire waist and floats away from the body from the chest down, giving baby plenty of breathing room. Plus, it comes with a slit, a versatile print, and a day-to-night hemline that looks good with flats, sneakers, and heels. It's all the things I'd take note of in a dress, whether or not I was almost eight months along.
Madewell jacket, H&M dress, Adidas sneakers, Chanel bag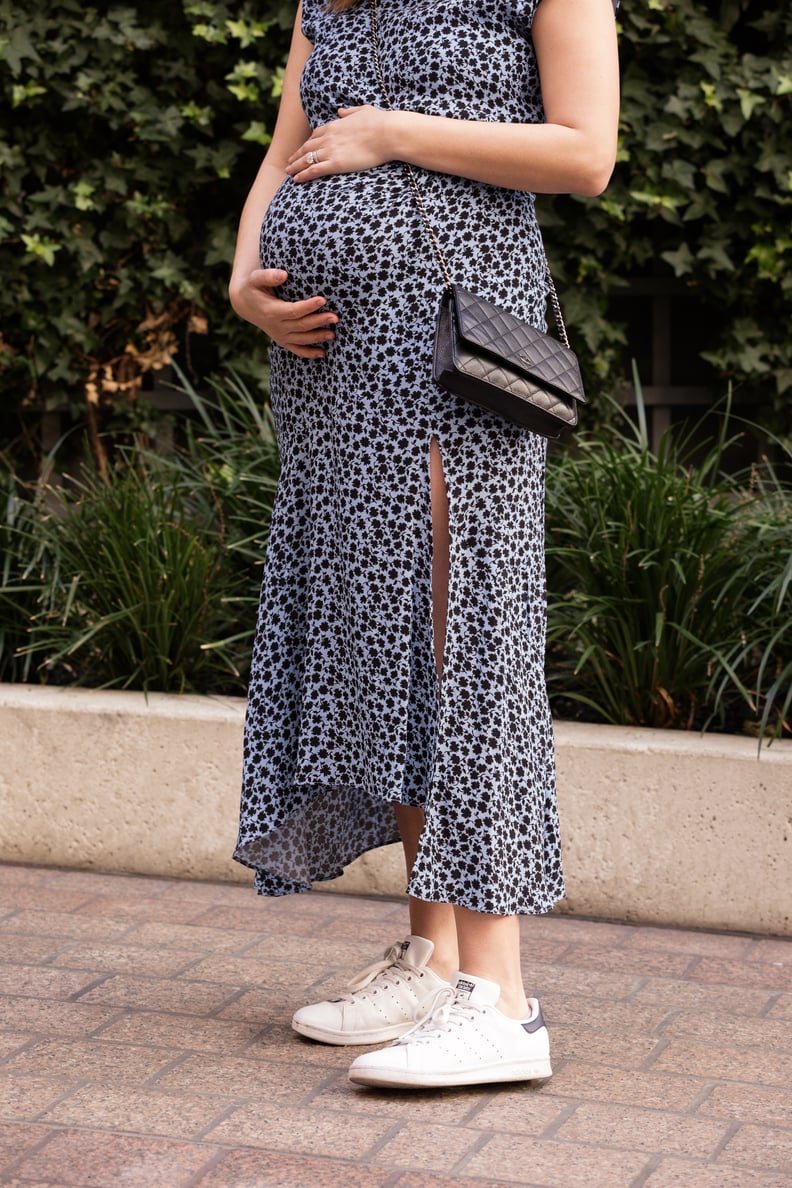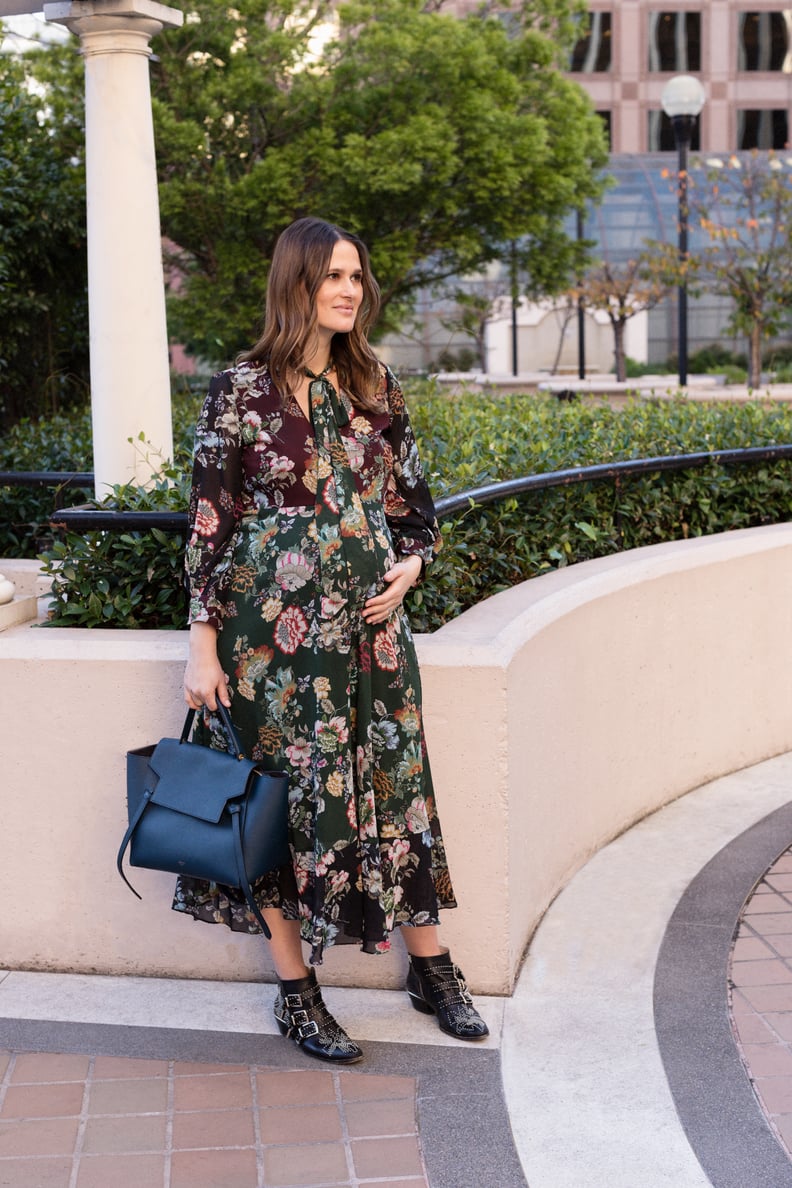 Zara doesn't make "maternity" clothes, but that hasn't stopped me from finding plenty to shop. Again, with an empire waist (that's key!) and a silhouette that skims the hips and leaves plenty of room for a growing belly, the fit has held up from 20 weeks through almost eight months (and counting!). I love that it has a pretty, feminine neckline and print; that it feels contemporary, but not too trendy; and that it, once again, has a hemline that works with all my favorite shoes — from ankle boots to heels, when I have to get all dressed up. Because holiday parties don't just stop because you're pregnant.
Zara dress, Chloe boots, Céline bag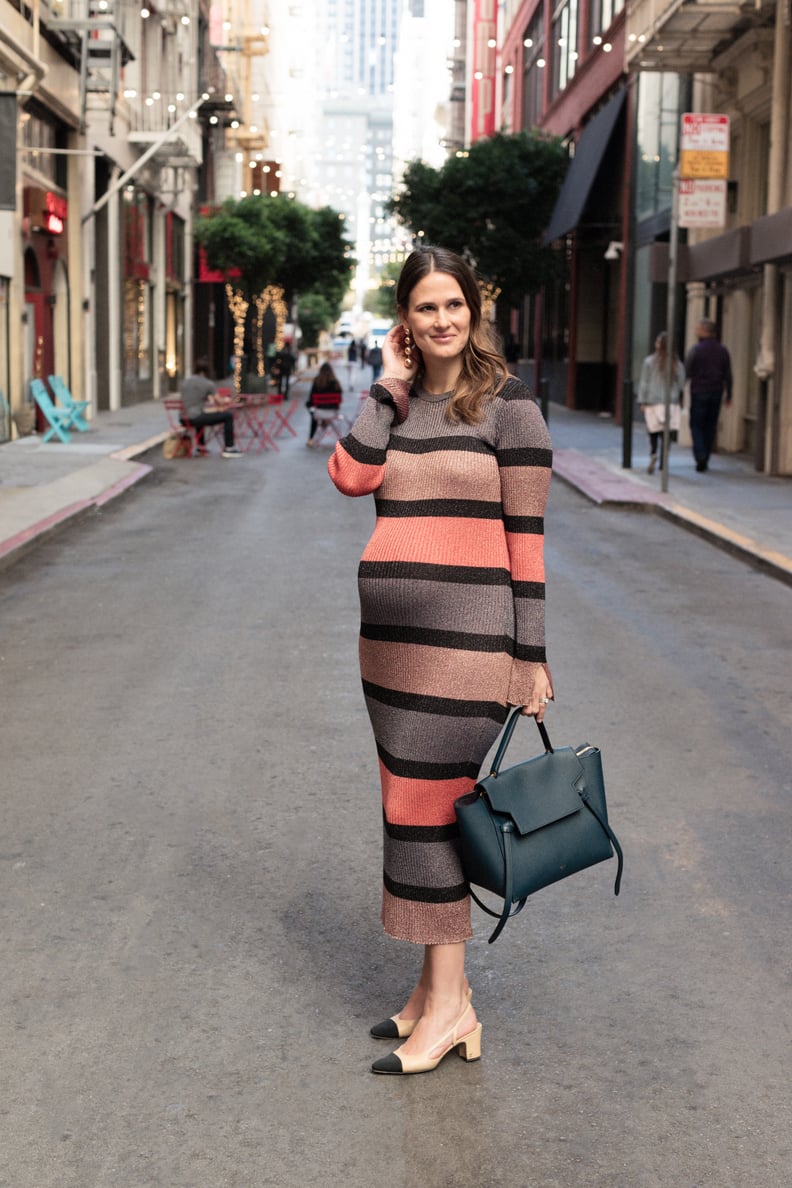 In my prepregnancy life, I might never have picked this dress. Something about it being too body-conscious and putting my curves on display would have made me second-guess it every time I put it on. I would have complained about how my hips looked and how wide the horizontal stripes made me feel; but with a round belly prominently on display, I leaned into the fit. It made me smile to see my bump getting bigger and showing it off a little; like the rest of my maternity wardrobe, it makes me happy to put it on. Fortunately, it continues to stretch into my third trimester and goes with both fancy-schmancy shoes and basic sneakers. Again, versatility is key . . . but it doesn't have to mean a plain black t-shirt dress.
Zara dress, Baublebar earrings, Chanel shoes, Céline bag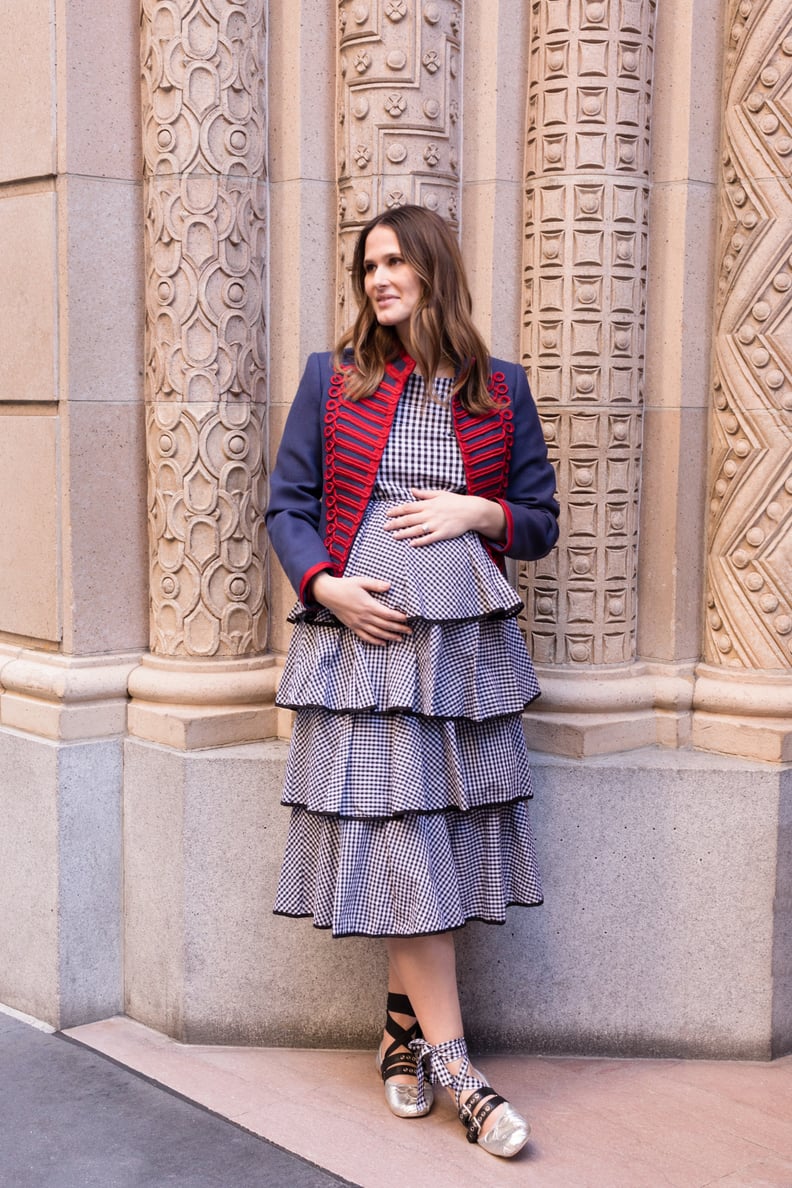 I picked up this ruffly dress and brought it with me to Paris just when my belly started to appear. Now, the ruffles don't conceal the bump but kind of show it off. There's so much personality in this dress; it's noticeable, but not just because I'm pregnant. And I imagine the tiers of ruffles will flatter my postpartum body, too. I add a military-inspired little jacket to it that, if you're wondering, no, I can't button for the life of me, but it still fits just fine in the meantime. It's an outfit that makes a statement with no attempt to blend in or hide — and that's exactly what I've wanted.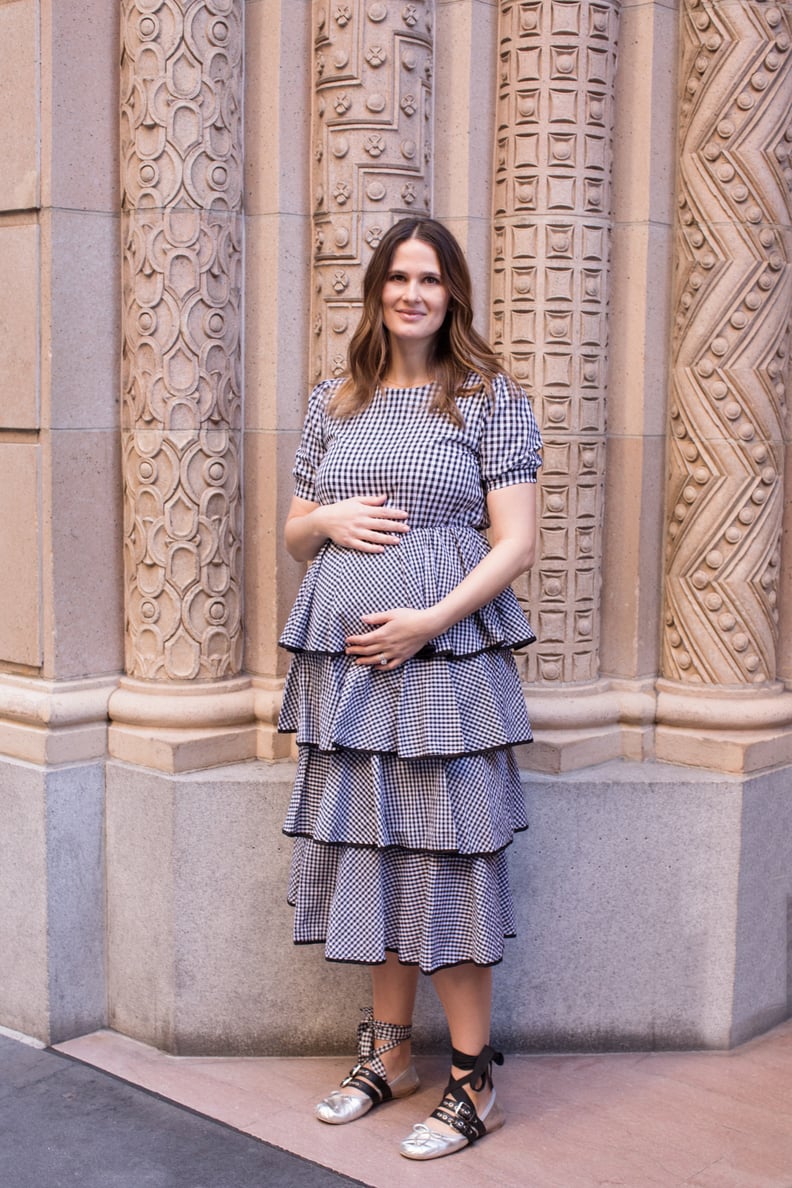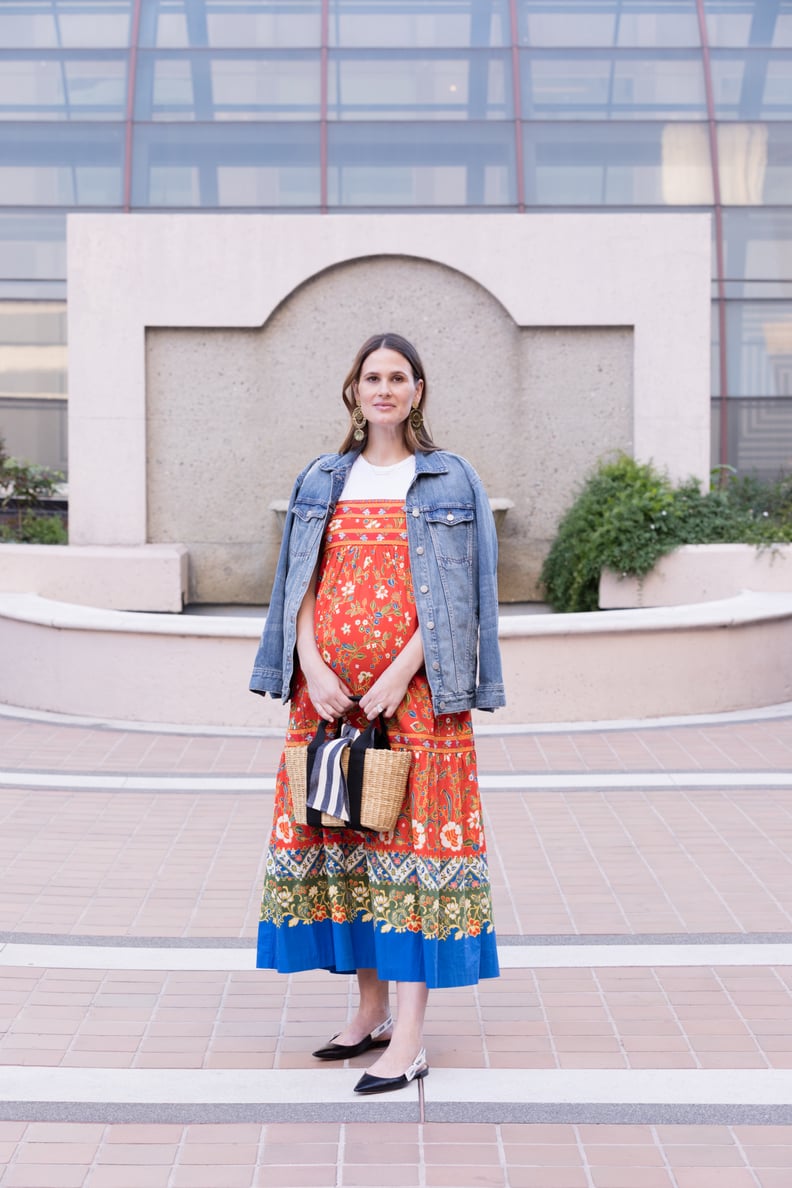 This is a dress I snagged long before this baby was ever on the way at all. I wore it to Spring weddings and parties and never thought about what it might look like on my pregnant body one day. When I started showing, again, it was a look that conveniently hid my belly before I wanted to share the news. Now, it works layered with a t-shirt, denim jacket, and piled up and styled with earrings, flats, or sandals. Since it's San Francisco Winter, I can get away with it still and plan to — with a slouchy sweater worn over it at holiday parties or a turtleneck underneath as a happy alternative to any predictable sweater dress.
Tory Burch dress, Madewell jacket, Gap t-shirt, J.Crew earrings, Muun bag (shop similar), Dior shoes