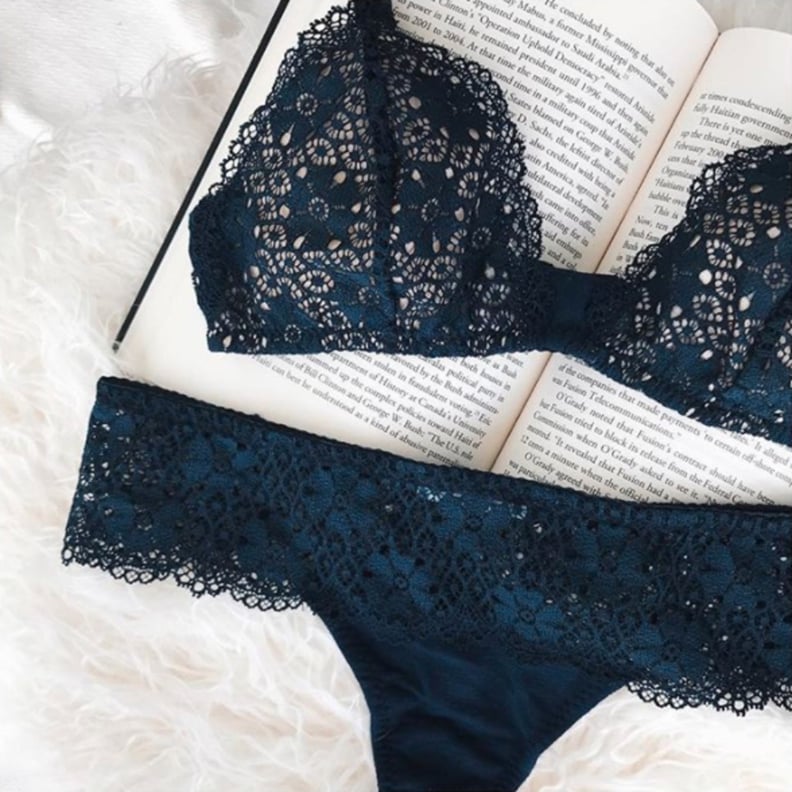 As POPSUGAR editors, we independently select and write about stuff we love and think you'll like too. If you buy a product we have recommended, we may receive affiliate commission, which in turn supports our work.
Lingerie has always been important to me. I can't really explain why, but there's nothing quite like wearing a pretty, lacy matching set to instantly make me feel sexy and empowered. Because of the hefty price tag that comes with quality underwear, it's not something that I often splurge on, but when I do, I always make sure to turn to the best labels available.
When it comes to beautiful lingerie, the French have always dominated the market, with some brands having been created as early as the 19th century . . . no wonder they have since perfected the art of comfortable yet elegant underwear! Here are 10 brands you should know about.
Simone Perele
Madame Perele opened her first Parisian workshop in 1948 and helped women embellish their silhouettes with lingerie that was elegant and comfortable. Today, the goal of the company hasn't changed, making it one of the world leaders in lingerie.
We love: the Amour Demi Cup ($89)
Passionata
Passionata was founded in 1988, and its very first advertising campaign featured working women.
We love: the Blossom Lace Bustier Bra ($46)
Aubade
If you ask a French person about French lingerie brands, Aubade probably will be the first name that comes out of their mouth. Its creations are beautiful and elegant without being too much, and you'll definitely enjoy wearing them.
We love: the Rive Gauche Passion Basque ($346)
Princesse Tam Tam
Princesse Tam Tam was founded 30 years ago by two women who had "a new vision of femininity." Its collections are much younger and more colorful than your typical French lingerie brand, and millennials will love that.
We love: the Taylor Half-Cup Bra in Turmeric Brown ($51)
Maison Lejaby
Maison Lejaby is a French brand that was born in 1930 in Lyon. Its collections are made from the finest materials, and its sizes go up to 38F, allowing a range of women to possess lingerie that will make them feel special.
We love: the Maison Lejaby Corolle Full-Cup Lace Bra ($95)
Chantelle Paris
The company was founded in 1876 and created the very first elasticized fabrics, which was a big game changer in the corset industry. Today, Chantelle Paris is still a leader when it comes to French lingerie, and it prides itself on being "innovative for women in search of elegance and well-being."
We love: the Merci Underwired Half-Cup Bra ($55)
Ysé
Ysé is a brand that creates lingerie without padding, which means that you can expect its creations to be perfectly fitted for each cup size.
We love: the Padded Half-Cup Bra ($71)
Chantal Thomass
Chantal Thomass probably is one of the most famous French lingerie brands, and it's easy to see why. Chantal sees and treats lingerie as fashion, and once you get one of her creations, you'll never look at lingerie the same way again.
We love: the Plumetis Tulle Bodysuit ($213)
Lise Charmel
Lise Charmel is yet another very famous French lingerie brand, and if you like sexy and flirty underwear, then it will definitely be your cup of tea!
We love: the Dressing Floral Demi-Cup Bra ($167)