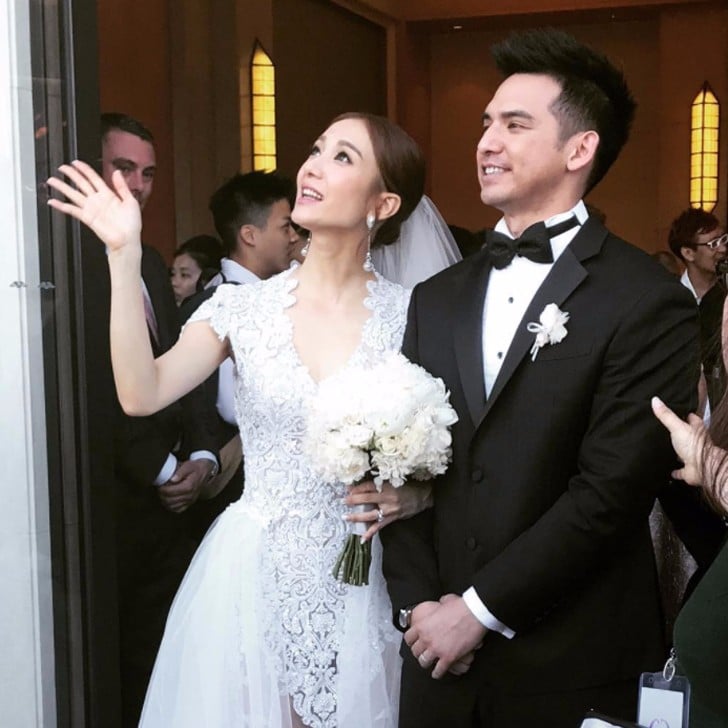 Most brides only get to wear their wedding dresses once, but not Grace Wong. The actress from Hong Kong first threw her dream wedding in New York, then, a month later, hosted a second wedding in her hometown. The star walked down the aisle (again) in a dress by Hong Kong designer Marco M. The bridal gown featured flattering embroidered details on the bodice and a sheer bottom complete with a detachable skirt. While the bride did take off the extra fabric for photos, Grace also had two more outfit changes ready.
Her second dress was a silver fitted number by Cindyalan and her third look was not a dress, but a pantsuit! Make no mistake, though, the unexpected number was still equally as sexy. The blazer and trousers were tailored to her petite frame and she left her blazer open to reveal a sheer lace shirt. As far as outfits go, this actress looked exactly like the pop star she is on her wedding day.
Grace Wong Married Daniel Chang
She Wore a Sheer Wedding Dress by Hong Kong Designer Marco M Chan
It Had a Detachable Tulle Skirt!
The Bride Walked In Singing
The Couple Had Their Second First Dance
For the Reception, She Slipped Into a Silver Dress
It was designed by Cindyalan.
The Silvery Number Hugged Her Petite Frame
But That Wasn't All: She Had This Bridal Pantsuit Left
It Was Sheer, Sleek, and Tailored to Perfection