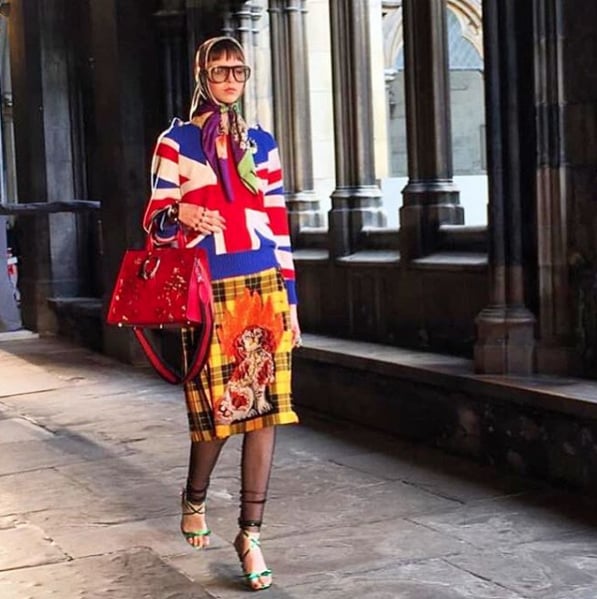 While Fashion Month brings out a handful of new collections at once, the Resort shows are few and far between. While Karl Lagerfeld took his guests to Cuba to see the fresh Chanel offering, Louis Vuitton was revealed in Rio, and Gucci designer Alessandro Michele just took over Westminster Abbey in London. It's clear from the fashion set's latest 'grams that no detail went unnoticed. They shared runway shots, their souvenir embroidered pillows, and close-ups of the clothes, too. Read on to see how Michele integrated tartan print and the Union Jack into his looks, and don't miss the A-list stars who had a front-row seat for it all.
The Show Was Stationed at Westminster Abbey
Guests Enjoyed a View of The Cloisters
They Pulled Their Invites Out From This Pouch
They Were Designed Like Vintage Stereoscopes
Showgoers Brought Their Gucci It Bags
Like the iconic Dionysus.
And Gucci Shared a Sneak Peek of the Next Must Have
Alessandro Michele Described His Inspiration For the Cruise Collection
He Brought the Bees Right Out of the London Gardens
He Embroidered His Pieces With New Gucci Slogans
Guests Enjoyed the Show on Embroidered Velvet Pillows
Of Course, Everyone Toted Their Pillows Home
Salma Hayek Got Shady With Will.I.Am
Elle Fanning Looked Pretty in Pink
She Hung With Bel Powley Backstage
Elle Rolled Up to the Show With Her Stylist
She Shared 1 of Her Favorite Looks on Instagram
Carine Roitfeld Wore Her Classic Leopard
The Lineup Was as Fresh and Fierce as Ever
There Were Plenty of Glittering Sequins
Rainbow Stripes Met Plaid Prints
We Wouldn't Say No to These Pleats
And This Tartan Gown Belongs on the Red Carpet
Of Course, We Spied the Union Jack
And a Furry Leopard Coat With Muff Sleeves
The Shoes Were a Cherry on Top of the Gucci Cruise Sundae