Halle Bailey's Bra-and-Skirt Set Is Inspired by "The Little Mermaid"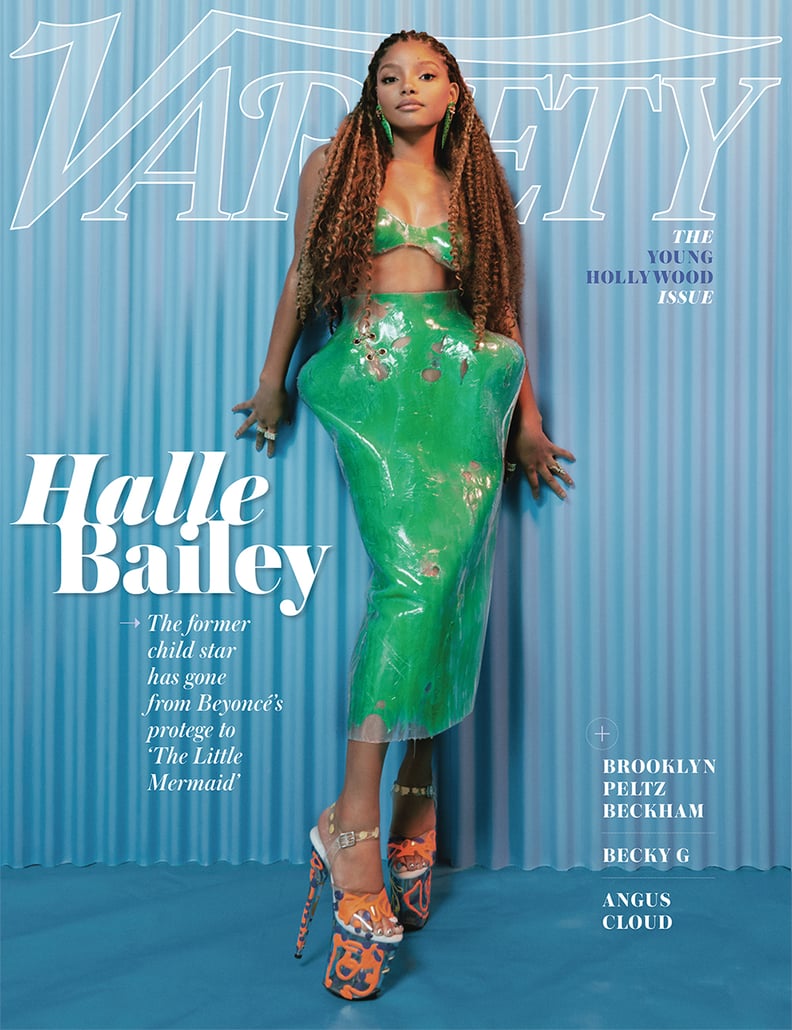 Greg Swales for Variety
Greg Swales for Variety
Halle Bailey is stepping firmly into her Ariel era for the 2022 Power of Young Hollywood issue of Variety. Bailey is making waves not only for her music — and snippets and covers on TikTok — but also for her blossoming film career. She's the first Black lead actress cast in a Disney live-action remake, starring as Ariel in "The Little Mermaid," out May 2023. And the "Ungodly Hour" singer morphed into character for her latest photo shoot, choosing an outfit inspired by Ariel.
She covers the issue wearing a green multimedia coordinating bra-and-skirt set by Joanna Prazmo that pays homage to the sea with its algae-like structure. The under-the-sea aesthetic was taken one step further with towering archive plexi heels by PR Solo, adorned with orange abstract swirls to allude to a coral reef. The cover look includes a slight dye to her hair, and inside the story, the movie's director confirms that Ariel's hairstyle will indeed incorporate Bailey's locs.
Bailey's historic role didn't come without its share of ignorant criticism, but she remains focused on breaking barriers for Black girls and inspiring future generations. "I want the little girl in me and the little girls just like me who are watching to know that they're special and that they should be a princess in every single way," Bailey says in the cover story. "There's no reason that they shouldn't be."
In the issue, she recounts her experience filming "The Little Mermaid" overseas, teases new music, and opens up about her other forthcoming project, "The Color Purple."
Halle joins Brooklyn Peltz Beckham, Becky G, and Angus Cloud as cover stars for the 2022 Power of Young Hollywood issue of Variety. Check out the full interview, and scroll up to take in Bailey's stunning cover.