Hanifa Debuts Bridal Line With a Whimsical Wedding Show: "This Is Just the Beginning"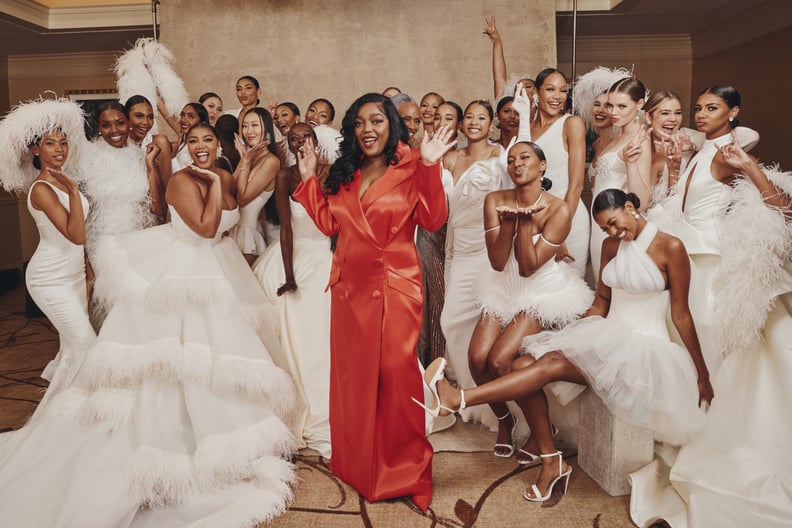 ABDM Studio
ABDM Studio
On the evening of Sunday, Oct. 15, guests from New York and the DC, Maryland, and Virginia area attended the fashion wedding event of the season.
Anifa Mvuemba, founder of the bold and colorful celebrity-loved brand Hanifa, reached new heights with her expansion into the world of bridal. But ahead of the Hanifa Bridal debut, the self-taught designer, who says she's always learning, revisited her journey to bring the bridal collection of her dreams to life — what she's learned and grateful for as a Black business owner and designer.
"When I started, I actually did not know how to sew, but from the experience that I've gained over the last few years, I'm always a student," she told POPSUGAR backstage ahead of the show. "Anywhere I go, you won't see me being the loudest person in the room. I'm going to be in the corner observing every single person in the room. I ask very strategic questions and things like that. For me — I had to go through 12 years of Hanifa to get to this point." She continued: "My design team is amazing and I've learned so much from them because they actually have the college fashion design experience, the little things I didn't get to experience and learn, I'm learning from them. So, I've never been in this high and mighty seat because I own a business, I'm still a student of my own business."
"[I]t really speaks to who the Hanifa woman is and who I am. It's all about intent. I don't do anything I don't want to do, or that doesn't make sense for my business, and that my customers can resonate with."
But collection aside, the big question for the designer was how and where she was going to showcase her new line.
In 2021, Mvuemba presented her debut runway show in Washington DC at the National Portrait Gallery. The "Hanifa Dream" show, which showcased the designer's fall 2021 ready-to-wear collection, set the stage for what was to come. Flash forward three years, she once again chose the DMV area to present her next chapter. But instead of downtown DC, the new mom of one landed on Salamander Resort & Spa, in the heart of Virginia wine country, as the setting for the Hanifa Bridal show.
"I used to live in DC and there was a Mandarin hotel right next to my building and we saw it sold. And I was like, 'Oh who bought it?' And they said, 'A Black woman (BET cofounder Sheila Johnson) bought it,' and I said, 'A Black woman bought it?!' It was so inspiring and then everything just aligned the way it was supposed to and I even got to meet [Sheila] today, so it really speaks to who the Hanifa woman is and who I am. It's all about intent. I don't do anything I don't want to do, or that doesn't make sense for my business, and that my customers can resonate with."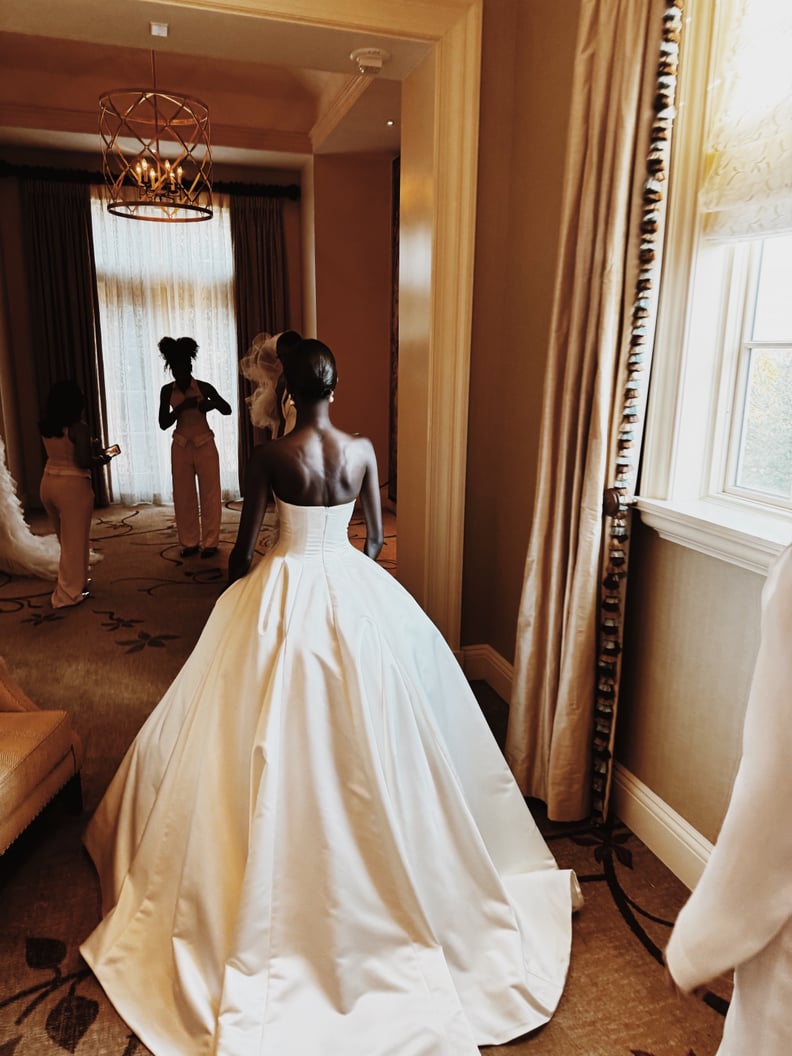 And her intent for this collection was certainly to wow. Mvuemba's vision went beyond your average runway show. It was an elaborate bridal experience that did, in fact, feel like a real wedding celebration. The evening's run of show, which was a clever play on real wedding-day events, included an elegant welcome cocktail hour, the anticipated runway show (or "the wedding ceremony"), and a lively reception.
"We have an amazing wedding planner. I wanted to make sure we had an amazing wedding planner because the DMV is also really known for wedding culture. A lot of great vendors come from this area. So, I wanted to give that wedding experience, I was like, 'OK, we need the best wedding planner we can get,'" she told press backstage at the show, explaining how she hired Melissa Williams of B Astonished Events to bring the show to life.
In addition to debuting Hanifa Bridal, the night was a celebration of Black-owned businesses with sponsorships by Mielle Organics and Fashion Fair, the hair and makeup partners for the show, as well as flowing McBride Sisters wine and sparkling rosé — all amid the backdrop of Johnson's Middleburg, VA, resort.
The show began around 5 p.m. that evening and took place under a white whimsical wedding-style tent that was erected on the resort's bellowing green grounds. Once it started, the models were met with "oohs" and "ahhs" as they showcased Mvuemba's wide range of beautiful bridal looks. It was clear that the designer had every type of bridal event in mind when creating this collection: white versions of signature Hanifa pieces; full duchess satin and tulle ball gowns; beaded and sequined sheaths; fanciful separates; sexy yet bashful bridal lingerie adorned with flowing feathers; leggy mini blazer dresses; and fluffy tutu-style skirts.
Mvuemba's collection is a balance of classic, traditional looks alongside some fun and sparkling naked dresses, for the bride who wants that eye-catching statement piece at the party. In addition to fabulous fashions, the designer also incorporated unique accessories into the collection, showing feathered hats, boas, dainty slippers, tulle gloves, satin platforms, and mules with rosette detail on the heels.
Following the models' final walk, the designer graced the stage in a floor-length red blazer dress with her newborn daughter in tow. As she walked down the white aisle, she was met with a booming standing ovation and cheers from the audience. The afterparty had the essence of a bridal reception with a plethora of food stalls, from a decadent doughnut display to a burger and fries corner, booming beats, fully stocked bars, pink cocktails, and a sparkling rosé tower.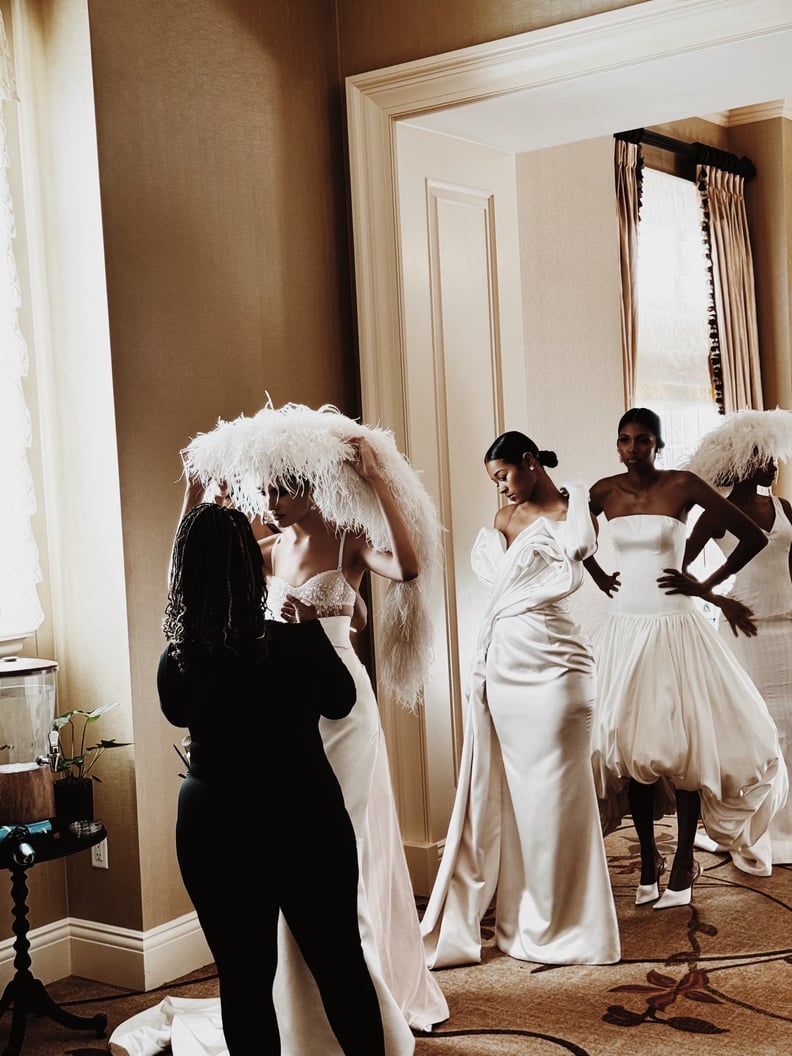 As for her own wedding, the engaged designer said she may not be wearing her own designs when it comes time for her walk down the aisle. "I am so invested in Hanifa sometimes," she explained. "Sometimes I neglect myself because I am so devoted to this dream. When the time is right, I'll be there. But of course I've already started figuring out all these ideas, like I have all these events I'm thinking about doing for my wedding. You know, that also helped in designing the pieces. She needs a bachelorette look, she needs a lingerie piece, she needs a reception look — so it's going to be like a one-stop-shop type of thing."
And if you're thinking bridal is where Mvuemba has decided to peak, think again. The Hanifa designer is just getting started.
"I think being able to have beaded gowns, that's a dream come true. The intricacy of some of the pieces — if you look at where we started to where we are now — it's mind-blowing to me because it's been such an incredible journey to be able to include silhouettes from our ready-to-wear — something our customers could familiarize themselves with — and also . . . new things," she said. "So, it's all about the journey and experience. Just learning and growing. And this is just the beginning."