Advertiser Content From

Much like award season for the Hollywood obsessed, June was a particularly exciting month for the sneakerheads of the world. From colorful variations of chunky silhouettes (affectionately dubbed 'dad sneakers' by the internet) to the latest rollouts of Nike's partnership with designer Off-White, the new drops are a timely addition to today's streetwear roster. The only problem? These coveted collabs and long-awaited launches tend to sell out immediately, or be near-impossible to find online.

So what's a sneakerhead to do when their heart was set on snagging a specific pair? Rather than scour the corners of the internet to find a lucky lone pair or stumble upon an under-the-radar retailer with every size still in stock — both extremely unlikely situations — there is one way to fulfill your wardrobe dream. Like so many greats that came before them (OG Fenty x PUMA Creepers or literally any pair of limited edition Jordans, we're looking at you!), that one place is eBay.
Over time, eBay has evolved into a mecca for locating everything from home appliances to music memorabilia to, of course, sneakers. Many of them are even brand new — a whopping 80 percent of all sneakers sold on the site, to be exact — or direct from the retailer! And if you didn't already know those little pieces of information, imagine how much more there is to learn. Sneakerheads, get your screenshots ready, because this guide will help you score your dream styles like the savviest shoppers in the game.
Need-to-Know Terms
No one does acronyms quite like online sellers; NIB, NWT, BIN — the list goes on. Here's a handy glossary of terms that'll make it easier to weed through the seemingly-endless pages of listings.
BIN: Buy It Now. This is eBay's function for instantaneously purchasing an item without having to enter a bidding war or wait for an offer to be accepted.
BNIB or NIB: Brand New in Box or New in Box. The sneakers will be brand new and never-before worn.
DS or DSTK: While certainly a less common term, it's not a stretch to say you might see this a handful of times. Essentially, this refers to sneakers that are new — the only catch is they may be an older release that never got (re)purchased or worn. You may also see this written out in full as "Deadstock."
LE or LTD: Limited Edition or Limited, respectively. Used to label rare styles.
NBW: Never Been Worn. You get the satisfaction of being the first and only one to wear this pair!
NWOB: New Without Box. If you're interested in a listing with this label, make sure you do your due diligence. The lack of a box may put the authenticity of the item into question, so be sure you're purchasing from a trusted seller, or that they've posted a copy of their receipt or order confirmation.
NWT: New With Tags. This acronym can interchangeable with NIB.
NWOT: New Without Tags. Exercise the same caution as NWOB listings.
Every editorial product is independently selected by our editors. If you buy something through our links, we may earn commission.
When to Buy
Good things come to those who wait . . . said no sneakerhead ever. But, on second thought, maybe you should follow this mantra a little more closely. A number of factors can influence the availability, prices, and volume of active listings at any given time. For example, you might not head straight to eBay the second after those brand new Jordans sell out. First, no one lucky enough to get a pair will have received their order yet, so pickings will be slim to non-existent for the first few days after a new launch. Second, they're red hot on the trending scale, which can spike prices like you'd never believe.
Our tip? Hold out if you can bear it. Not only will new options become available, but prices may change significantly if a release ends up being less buzzworthy than anticipated. On the other hand, if you spot an extremely rare style or you just gotta have 'em now, do your thing and place that bid or add to your cart.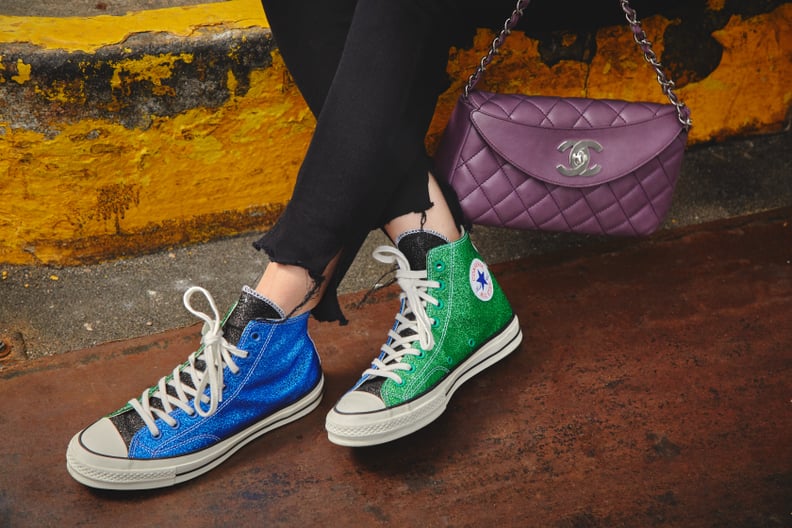 What to Look For
We can't tell you exactly what sneakers to like (or love, for that matter), but what we can do is help you figure out which listings are worth your time. A few examples:
Buy It Now: If you're the impatient type, keep your eyes peeled for that handy "Buy It Now" icon. No bidding to see here; when you find your dream sneakers, they can be yours at the simple click of a button. If they're especially trendy, they may cost you a small fortune, but sometimes you have to sacrifice for the things you love, right?
High Quantities: Did you know that a single eBay listing can include multiple quantities of one item? Whether it's two or 200, finding one of these can be a goldmine since you don't have to worry about fighting over the item with other people or rushing to place your order. In most cases, you'll see these on items posted directly by brands, large retailers, or more established resale operations.
Kids Styles . . . If You Can!: Having petite feet is a gift and curse. On one hand, popular styles of any shoes often sell out in smaller sizes first, leaving behind a mix of lonely 12s and 13s. But, this also means you might be able to shop kids shoes. Women's sizes eight and below can fit into 'big kids' or boys sizes — and they're usually a lot cheaper! It's as easy as finding your size equivalent, which you can do by subtracting 1.5 from your regular size. (Women's 7 = Kids 5.5, for example.)
Stellar Sellers: That "100% Positive Feedback" badge is nothing to overlook. If a potential seller has this eBay honor under their user name, you'll have comfort in knowing you're in good hands. This is especially helpful when you're dealing with limited edition or pricey sneakers, because product authenticity and a smooth transaction can always be nerve-wracking.
Exclusive Deals: Take a note from the extreme couponers of the world and seek out special deals and promo codes. In fact, here's one: from July 30 through Aug. 8, use code 'PUMPED10' to receive 10 percent off select $25+ purchases.
Listings We're Lusting After
More from eBay
Tweets by eBay
Discount Code Terms & Conditions: This Coupon is a 10% discount valid from 6:00 AM PT July 30, 2018 until 11:59 PM PT on August 3, 2018. Discount applies to the purchase price (excluding shipping, handling, and taxes) of an eligible item(s) of $25 or more on ebay.com, cafr.ebay.ca, and ebay.ca. Eligible items are item(s) purchased from select sellers. The discount will be applied to eligible item(s) only and will be capped at a value of $75. Eligible items exclude warranties and protection plans. Coupon can be used once per eBay account, within a single transaction (or cart), while supplies last. Any unused difference between the discount amount, as shown on the Coupon, and the purchase price of an item(s) in a single transaction (or cart) will be forfeited. Coupon is subject to U.S laws, void where prohibited, not redeemable for cash, has no face value, and cannot be combined with any other Coupon, or when paying with PayPal Credit Easy Payments or Gift Cards. eBay may cancel, amend, or revoke the Coupon at any time.