The Most Common Mistake Brides Make With Their Wedding Veils
If all you know about a wedding veil is that it's a piece of tulle that goes on your head, we understand. It's a topic most of us don't touch upon until we're actually in the stages of getting married. But in the interest of all brides, current and future, we decided to get ahead of the game and ask BHLDN experts Senior Stylist Caroline Dilsheimer and Buyer Celine Elefson all the burning questions we had about wedding veils. They both had plenty of knowledge to share, from shopping for one to styling it. Before you embark on your wedding veil journey, read on for tips and tricks to become the most knowledgeable bride ever.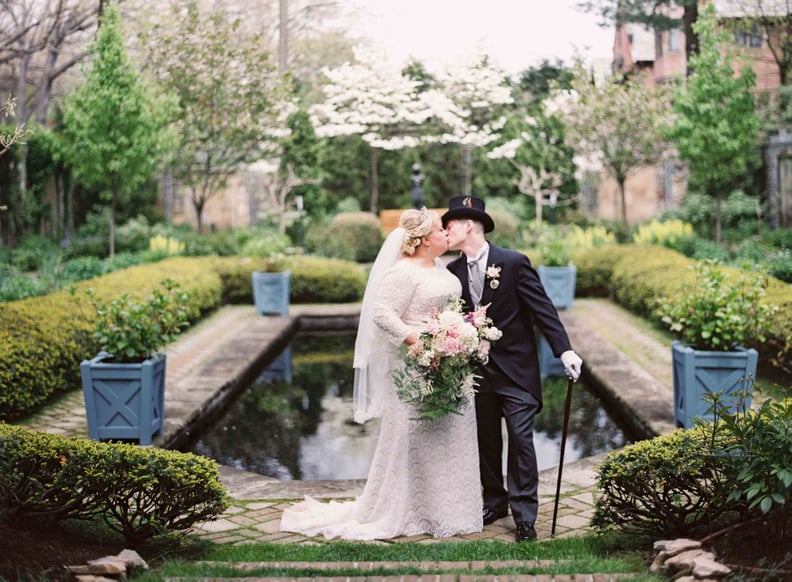 POPSUGAR: What's the biggest question you get from brides about veils?
Caroline Dilsheimer: Color is definitely really important to her; she's not exactly sure how to complement her gown the best, so we always give her that advice about the same shade or one shade lighter than her gown.
Another thing she's really concerned with is the length. I'm sure you've seen from just looking around the market there are different lengths, from a little short and sweet blusher, for that more kind of retro look, to a really dramatic cathedral-length veil with a full blusher. It kind of runs the gamut. We have a few different pieces of advice for brides when it comes to the length.
Something that a lot of brides don't realize is that a short veil can actually be more apparent than a long veil. When you have a short veil, it creates another line across your look so that can interrupt your gown, and it adds another layer and becomes more visible. A long veil is a really nice way to complement your gown. If someone is dabbling with the idea of a veil but they don't really want something that's going to stand out too much, we always recommend a long veil.
PS: What's the most common mistake women make when shopping for veils?
CD: One thing that's really key to consider with your veil is the placement of it. When you place your veil higher on the head, it lends a more traditional and romantic look. When you place it a little bit lower on the head, it feels a bit more easy and bohemian. I think a lot of brides are a little bit confused about exactly where to place the veil.
For the most universally flattering look, I would say if you're looking at the profile of someone's face, about the 1 o'clock mark, if that makes sense, that's usually the best place to start. If you have a really bohemian look and you're having a wedding outdoors, you can always move it down a little bit further or vice versa, if you're getting married in a traditional setting like a church you could always move it up a little bit higher.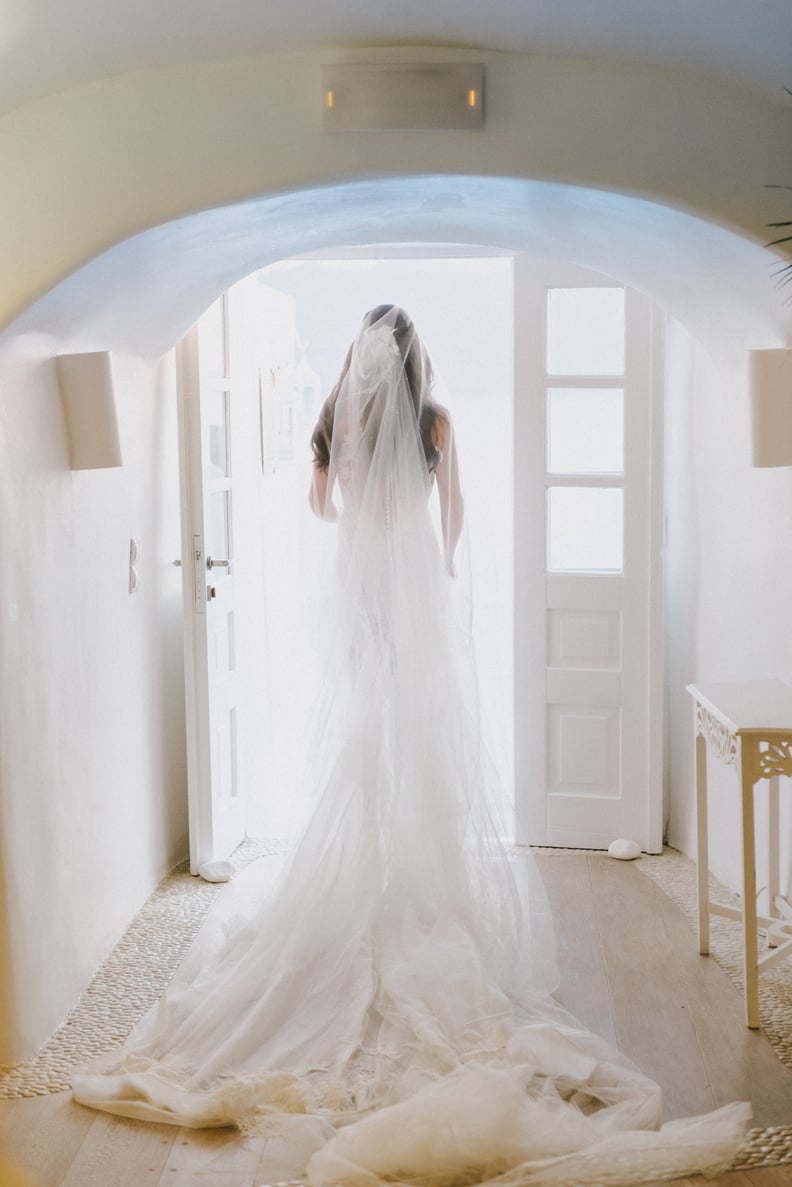 PS: What types of veils are trendy right now?
Celine Elefson: Traditional veils are still super strong. So anything that has long lengths and a blusher that goes in front of the face and can be flipped back, those are really strong with circle-cut veils. We've seen the shorter face veils kind of slow down a little bit. I just think that was a step away from the lady trend, but we have a big push behind lady for Fall, so I suspect we'll go back. We're looking for more appliqué options. We have ribbon trims right now, lace trims, but we'll see more crystal and beading and pearl options as well.
PS: What add-ons or additional accessories are favorites to pair with veils?
CD: I would say I do get a lot of questions about combs. Brides often want to know how exactly they're supposed to sort of marry the two pieces. They may find a comb that they really love and a veil that they really love and they're not sure that the two can work. Something we encourage our brides to do is tuck their veil in where they intend to have it and tuck the comb right between their hair and the veil, that way it's secure and adds a really lovely touch of sparkle to the look.
CE: Beyond what we offer, we do see a lot of brides go to their florists and have flower arrangement attached to the top of the veil as well. The crown headband trend is coming back; we're not seeing it yet, but I suspect we'll see it in the next few months. Our offering of crowns and headbands more specifically will increase, but right now it's more of the boho halo look, so the wire kind of wrapped around the head.
PS: What type of wedding should a bride nix the veil?
CD: When a bride is choosing a veil, she wants to keep her gown and venue in mind. If you are getting married outdoors, you can always wrap the veil around your arms almost like a shawl; that's a good way to keep it in place and make sure it's not flying in the wind in a way that isn't very practical like running into your bridesmaids. Another option of course is that if she is getting married outside she can opt instead for a short veil. Again the same with a beach wedding, she just has to keep her venue in mind and be mindful of that when choosing her veil.
CE: I know I keep saying English net, but the English net veils are also really good for outside and windy environments because they're so heavy and are not going to move as much.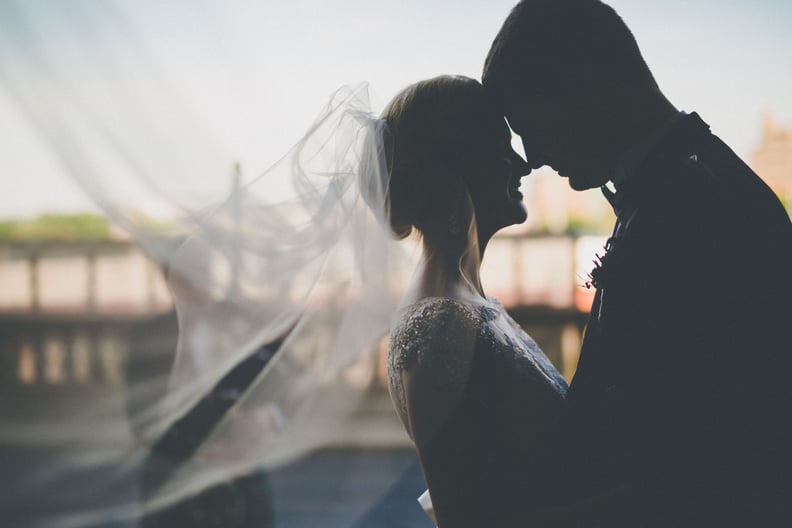 PS: What's the best way to care for your veil before and after your wedding?
CD: When the veil first arrives, we always recommend the bride take it out of the box right away so that it doesn't get any deep creases or wrinkles in it. Just hanging it up will naturally allow some of those wrinkles to loosen and soften a bit, and then closer to the big day she can steam the veil so that it's really fresh and nice.
One thing you never want to do is iron a veil. It can cause damage and discoloration to the tulle because it's such a delicate fabric, so definitely don't use an iron. Then you want to make sure that it's stored away from sunlight because sunlight can damage the color as well and weaken the material and make it kind of brittle. So make sure that it's in a dry, dark space; the back of your closet it usually a good way to go. After the big day, you can have a preservationist come in to make sure it's packaged properly and sealed and safe from any harm.