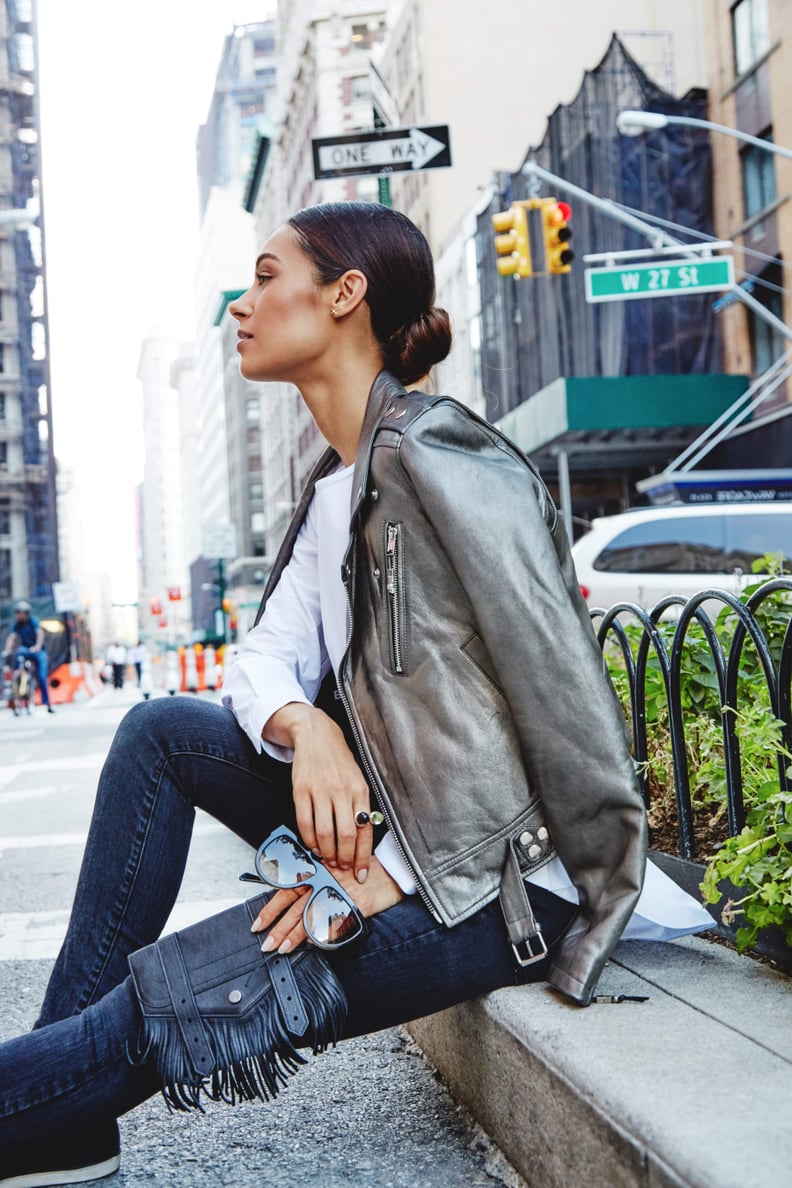 POPSUGAR Photography | Benjamin Stone
POPSUGAR Photography | Benjamin Stone
As POPSUGAR editors, we independently select and write about stuff we love and think you'll like too. If you buy a product we have recommended, we may receive affiliate commission, which in turn supports our work.
I started living, really living, the day I bought my first leather jacket. Its streamlined silhouette juxtaposed with its perfectly worn-in finish prompted an endless supply of outfit possibilities. From that moment on, it was a supple, slippery slope into the land of leather. Fast-forward eight years, and you'll find my love for leather has not only remained constant, but also has now blossomed into a full-blown obsession. Today's textured merger — a leather skater dress and faux-leather vest — prompted questions of how to care for and store the lavish separates. You can't just toss them into the washer machine with your favorite tee and blue jeans, but having them professionally maintained can be costly and inconvenient. So what's a girl to do?
From general care to cleaning and storing, we've assembled the best tips to help keep your premium staples in tip-top shape.
01
How to Choose
The first thing to consider is what kind of leather you're buying and how often you will wear the garment. Some types of leather are more durable and easier to maintain, while others look decadent but, in return, are a nightmare to care for.
These are the most common types of leather:
Cowhide: The most durable type of leather.
Water buffalo: Not as durable as cowhide.
Sheepskin: More durable than lambskin and usually more expensive.
Lambskin: Soft and supple.
Nubuck: Dyed leather with a velvet or nap finish.
02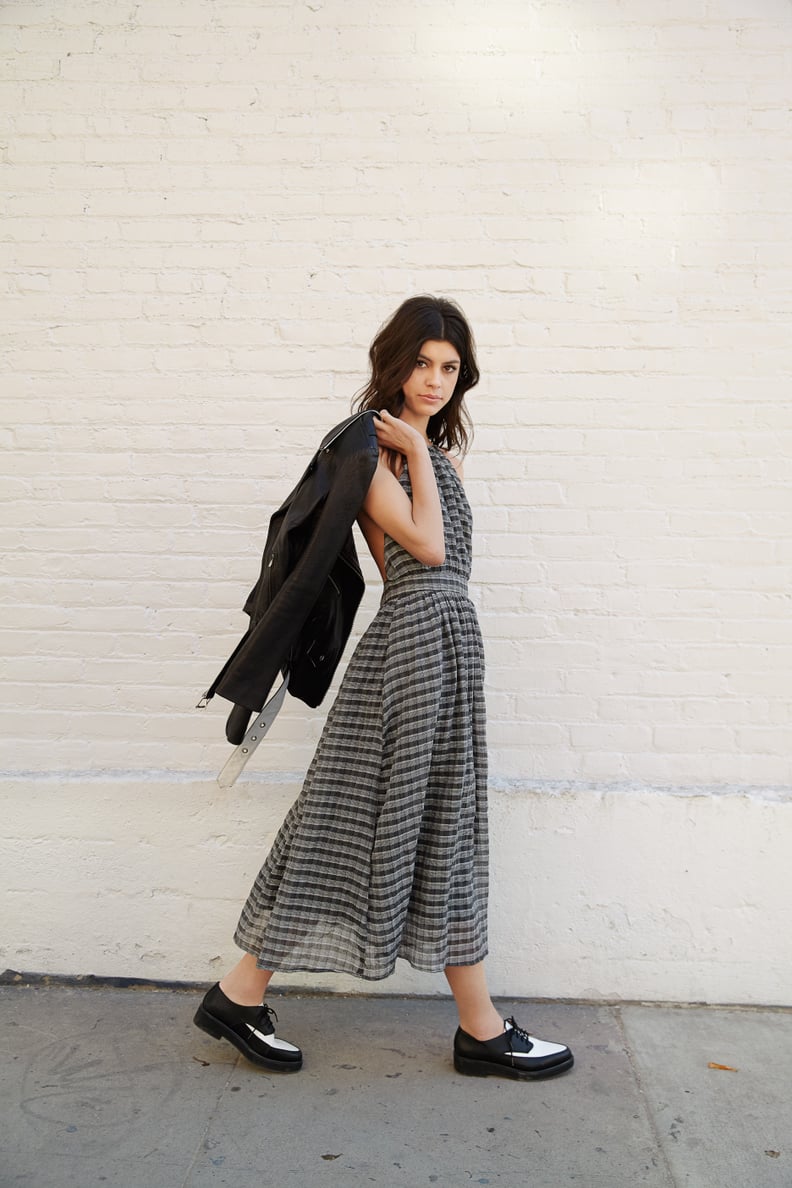 How to Care For and Store
Care
Once you have your purchase in hand, inquire about any specific care instructions, and ask a salesperson what at-home products she recommends. Be sure to treat your dry leather — it may require more than one session — before wear with an approved protector.
Strive to protect your leather items from excessive heat, precipitation, and other liquid hazards. If the inevitable occurs, allow your garment to dry naturally.
Store
When you're not wearing it, there are a few easy tips to help keep your garments in pristine condition:
Store your leather in a cool, dry place.
Avoid using plastic or nonbreathable covers.
Hang your leather jackets, dresses, and pants on nonmetal hangers. I love these huggable hangers ($10-$20).
Fill your empty handbag with newspaper or tissue paper in order to keep the bag's shape.
03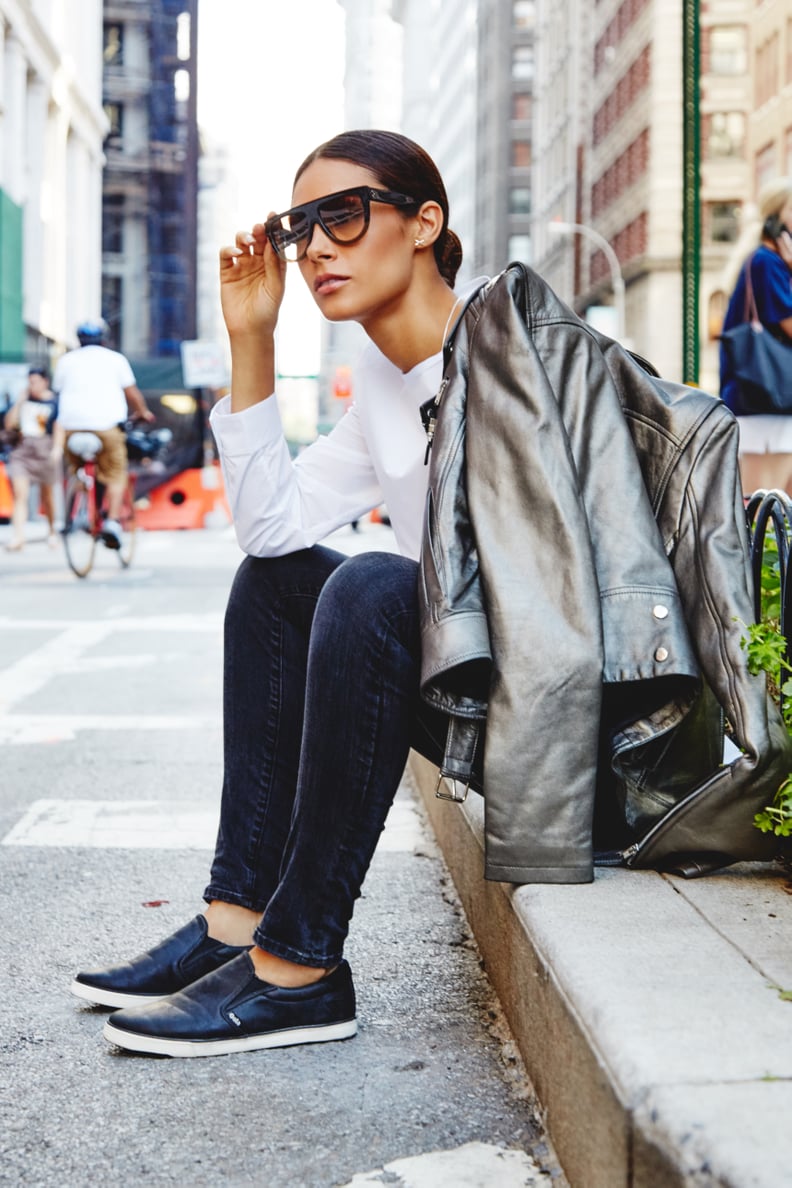 How to Clean
Spot-cleaning can be done in three easy steps. If your entire garment needs maintenance, it would be in your best interest to seek the help of a professional.
Cleaning: Choose a product that preserves the leather's natural oils, like Meltonian All Purpose Shoe Cleaner & Conditioner or Woolite Everyday ($14). Before going cleaning crazy, test your cleaner on a smaller, less visible area to ensure it draws the outcome you desire. Grab a damp towel — if the towel is too moist, it could aggravate the stain — or nubuck cloth, and dip an end into your solution. Gently rub in small circles, staying as close to the stain as possible, and then allow a few minutes of drying time. Once you've approved the product, proceed with the rest of your garment.
Conditioning: It's important to condition your leather several times during high season, especially when exposed to unseasonably warm or humid temperatures. Avoid conditioners that contain petroleum or mineral oils. We suggest Meltonian's Cream ($5).
Polishing: For a glossy finish, polish your leather with polishing spray. Avoid sprays with mink oil, as that will darken the leather.
Quick Fixes
Pen: Dab a splash of rubbing alcohol on a cotton ball, and then carefully pat the affected area. Don't be alarmed if a little color collects on the cotton ball. This is common with darker-hued products.
Oil: Let a pinch of cornstarch sit atop of the soiled spot for 15 to 20 minutes. Once the cornstarch has extracted the oil, brush the remaining powder with an old toothbrush, and then wipe the residue with a soft towel.
Water: Dip a damp towel into a mild moisturizing soap. Gently rub the solution in small circles, staying as close to the stain as possible. Pat to dry.
Mildew: Mix equal parts rubbing alcohol and water. Dip a clean towel into the solution, and then gently pat the affected area.