These Bloggers Will Help You Pull Off Kate Middleton's Look in Seconds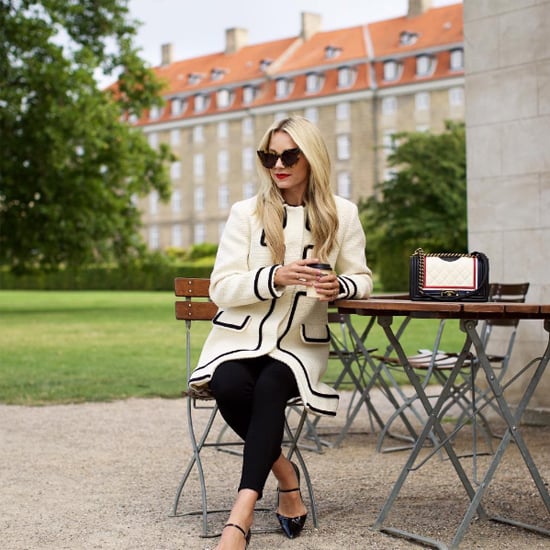 You're not just charmed by preppy style, you want to straight up dress like Kate Middleton. Her look is the perfect blend of feminine and sophisticated, and it's in a zone all its own. While you might not be able to get your hands on bespoke pieces from British fashion houses, we found a much easier way for you to channel the duchess.
Here, we've gathered our favorite bloggers who put a modern spin on Kate's polished outfits. While these ladies don't re-create her ensembles piece for piece, they definitely wear plenty of items the queen would approve of. Read on to start following the fashion girls who are as close to Kate as it gets.
01
Jacey Duprie aka Damsel in Dior
She's Mastered Kate's: Denim style. Whether paired with a blazer or tall boots and a button-down.
02
Blair Eadie aka Atlantic Pacific
She's Mastered Kate's: Coat-dress look. While she often wears shorter cuts over skinnies with flats, Blair also likes longer A-line silhouettes that she can coordinate with heels.
03
Ella Catliff aka La Petite Anglaise
She's Mastered Kate's: Fall through Winter style. For the duchess, coordination is key when it comes to her outerwear, and Ella is completely on board with a little matchy-matchy plaid.
04
Carly A. Heitlinger aka The College Prepster
She's Mastered Kate's: Stripes. When it comes to rocking the casual tee, Carly loves to pull on her boat shoes and skinny pants, just like Kate.
05
Jenn Lake aka Style Charade
She's Mastered Kate's: Lace. Now that the duchess has worked Dolce & Gabbana into her wardrobe, she's debuting feminine lace minis, and some knee-length numbers, on the regular. Jenn's dresses are just as colorful.
06
Sarah Vickers aka Classy Girls Wear Pearls
She's Mastered Kate's: Outerwear. Tall boots, a cozy sweater, and a functional vest are must haves when Kate heads out on a hike or boat ride. Sarah's got multiples of each item in her wardrobe.
07
Janie Flowers aka The Perennial Style
She's Mastered Kate's: Day dresses. Whether she's flaunting a print or a crochet sheath, her silhouettes are perfectly tailored and she always accessorizes with drop earrings, a clutch, and neutral pumps. Janie shares her blog with her sisters, both of whom are equally stylish.
08
Mackenzie Horan aka Design Darling
She's Mastered Kate's: Bag game. From more casual weaved clutches to satin designs Kate would tote on the red carpet, Mackenzie seems to follow the same rules as Kate when it comes to accessories.
09
Daphne Moreau aka Mode and the City
She's Mastered Kate's: Pants preference. While Daphne lives in Paris, not England, her trouser style is quite the same as Kate's. When she wears jeans, they've got no signs of holes or distress, and cropped, tailored silhouettes are never too loud, frequently printed with checks or polka dots.
10
Jenny Cipoletti aka Margo & Me
She's Mastered Kate's: Eveningwear. Every time she does slip into a fancy dress, Jenny chooses pieces with sleeves, a touch of lace, or perhaps sheer little details that make a gown feel way more intricate than sexy.