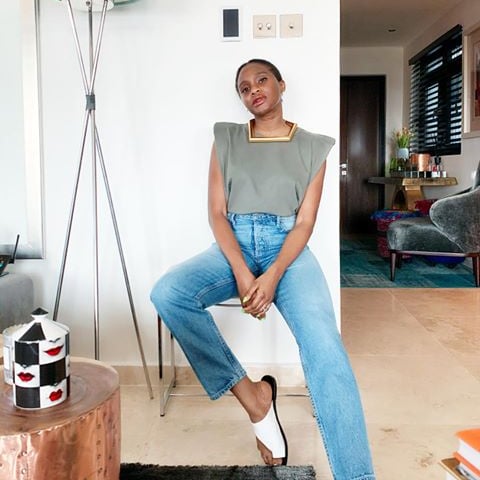 Lately, I have embraced a much more simplified version of my wardrobe and focused on a combination of only effortless, comfortable pieces. Admittedly, I have not worn a single heel this summer, and it's been really nice. Of all the shoe trends, I've definitely embraced chunky, flat sandals. I alternate between a couple of pairs that are a combination of sleek and sporty, and I purchased neutrals like black, brown, and ivory knowing they will work with just about everything I own. I pair them with denim, soft solid pastels, subtle muted prints, and minimal basics like tanks and Bermuda shorts. The result is a very simple yet stylish way of dressing that I barely need to think about. Here are nine easy outfits to inspire, re-create, and wear on repeat.
Slides + Wide-Leg Trousers
Oversize, yet tailored with just the right amount of unique details. What's not to love about this look?
Printed Skirt + Slides
A flat sandal makes this dressy look less serious and easy to wear all day.
Caftan + Leather Flip-Flops
We may not be traveling this summer, but that doesn't mean you can't wear your best travel pieces at home.
Sporty Sandals + Cotton Dress
Opposites do attract! Wear your favorite sporty sandals with a feminine midi dress.
Modern Slides + Unique Jewelry
Each piece is subtle but has one element that makes it special.
Deconstructed Suiting + Double-Strap Sandals
Summer suiting is really laid-back, especially in monochromatic pieces that you can break up and wear with other pieces. Add a heavy sandal for a relaxed vibe.
Ribbed Tank + High-Waisted Trousers + Birkenstocks
A true summer uniform — a neutral tank, trousers, and Birkenstocks never fail.
Minimalist Sandals + Knit Dress
A barely there sandal is a perfect mate to a sporty knit dress.
Nuetrals + Nudes
Keep it tonal with soft, earthy colors and a nude sandal.