As POPSUGAR editors, we independently select and write about stuff we love and think you'll like too. If you buy a product we have recommended, we may receive affiliate commission, which in turn supports our work.
Crop tops are a funny thing — always there, always in style, but popular in different iterations each and every season. Even still, we don't like to get rid of them because there are countless ways to wear them: over T-shirts, under oversize blazers, as part of a co-ord set, with high-rise denim, and the list goes on.
Figuring out which type of crop top is best for your body type is key, and we have plenty of tips surrounding the matter at hand. We sourced some of our favorite street style stars — with all different body types — to uncover some really strong, fashionable moments in crop tops and explain to you why they work, especially as the heart of the entire outfit at play.
If you already own the basics when it comes to crop tops, like a fitted ribbed tank and a cute stretch tube top, we also encourage you to check out some of our favorite styles available now as you scroll through the gallery. Personally, we're taking a strong liking to bowling shirts you can tie up effortlessly and complete with a silk midi skirt, plus floral prints that take it back to the '90s. Scroll to get 'em while they're hot.
If you're pear shaped, a great combination is a bowling shirt and rigid, high-waisted jeans. Tie up your button-down instead of letting it hang open to flatter your midsection right where you want to. Feel free to add a daring twist with a plunging neckline and a peek of your bra.
If you have longer legs, consider the bottoms you're teaming up with your crop top. We love the idea of a matching set with cropped pants and simple, short block heels. The subtle peeks of skin will break up your outfit and even add some sex appeal.
If you're petite, opt for a crop top that just barely skims the waistline of your pants. A high-rise jean will help you achieve this proportion, but a pant that's flared and skims the floor will also elongate your legs, if that's what you're going for. This same trick works if you're feeling a '70s vibe in a cropped cardigan and wide-leg jeans.
If you're pear-shaped and on the shorter side, try a flirty, feminine crop top with a frilly trim that draws attention to your midsection, and choose a cargo pant with a straight-leg cut that stops right at the ankle. Throw on some platform slides for an elevating, ultraflattering look that walks the line between girly and sporty.
If you have a fuller bust, make sure your crop top is something you feel comfortable and secure in. Formfitting tube tops can be just the ticket for a warm summer day. Keep your look polished by choosing one in a minimalist tone, and strike the right proportion with a free-flowing skirt, since you're keeping things more streamlined up top.
If you have a tall, athletic build and you want to show off your toned shape, consider a fitted crop top with a cutout and long sleeves that really define your arms. Your favorite flattering, high-waisted leggings and a statement-making mule make this loungewear look all the more appropriate for going out.
If you're apple-shaped, look for crop tops with interesting sleeve details or neat embroidery at the shoulders. A long maxi skirt will also help lengthen your look, and there's no shame in a side slit to show off your shoes.
If you have an hourglass shape, consider breaking up your look with a sliver of skin right at your midsection. Search for a crop top that isn't too short, but also fitted, so that it doesn't run over the hemline of your pants. A high-rise jean that's fitted up top and straight at the bottom will help accentuate your waist.
If you're curvy and petite, a fun, printed palazzo pant and knotted tee make the perfect combo for flattering your midsection. Add a pair of pumps if you want to elongate the look of your legs, and add a sophisticated bag like a clutch if you want to take the look from a.m. to p.m.
If you're tall and slender, we suggest an ultra-high-rise, rigid pant or jean with a neutral, basic top. An interesting neckline draws the attention upward, so it'll be all eyes on the crop top you're trying to show off. This is the perfect opportunity to rock a ribbed tank with your true blues.
If you're athletic and pear-shaped, your crop top — whatever the silhouette — is calling for a pair of your favorite fitted jeans. Try a skinny or a straight leg that flatters your booty and emphasizes your curves. Take a more modest approach to your top — instead of something with cutouts, go for buttons — and you'll really balance out that cool factor. Of course, jewelry is always a nice touch.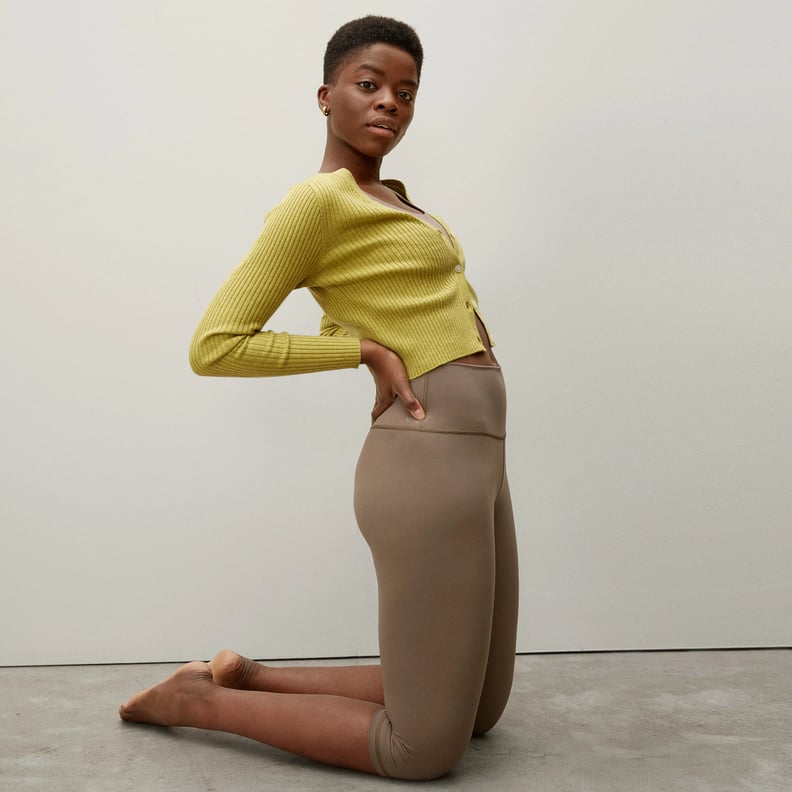 Our Pick
If you're petite and athletic, go for a neutral crop top and a pair of pants with vertical stripes. You'll be able to show off your sculpted abs and arms up top, and if you add a small accenting heel, you'll also draw attention to your toned legs.