Overalls Are Officially Back in Style — How to Wear Them the 2023 Way
No one had to search for how to wear overalls in the '90s, when they somewhat defined the cultural zeitgeist with icons such as rapper Tupac, hip-hop artist Lauryn Hill, and R&B singer Aaliyah popularizing the trend. While the denim silhouette first gained momentum in the US during the 19th century as industrial workwear, it is today a fashion statement that has seen so many different iterations through the years. The '70s gave way to overalls with flared legs or cropped and fitted versions that could be worn with nothing underneath. (See Olivia Wilde's free-spirited, skin-baring moment ahead.) And today we're seeing a nod back to the '90s as street style stars opt for baggy pant legs and may even wear one, or both straps, completely undone. Call it a twist on the deconstructed-denim trend, but overalls are fast becoming yet another example of not-so-basic jeans.
Hailey Bieber recently stepped out in a pair of oversize Dickies — an iconic brand also approved by Kourtney Kardashian — that she spotlighted under her long duster coat for date night with husband Justin in Beverly Hills. By adding slick accents, such as dark, skinny sunglasses and a sharp, pointed-toe heel, she put her own stamp on the trend with ease. Meanwhile, there are plenty of ways to wear overalls through all seasons — be it in shorts form, corduroy dress form, or rugged and distressed — that cater to different tastes.
Now that overalls are trendy again, you may be at first hesitant to try them out, initially worried whether they appear flattering. But one scroll through our how-to guide, and you'll feel well-versed in overalls, wearing them with lingerie to lounge around the house just as readily as you do for a night out finished with heels. Soon, you'll be treating overalls like jeans — they're easy to slip into, make for an effortless one-and-done outfit, and ridiculously chic.
Read on to see 10 of our favorite ways to wear overalls.
01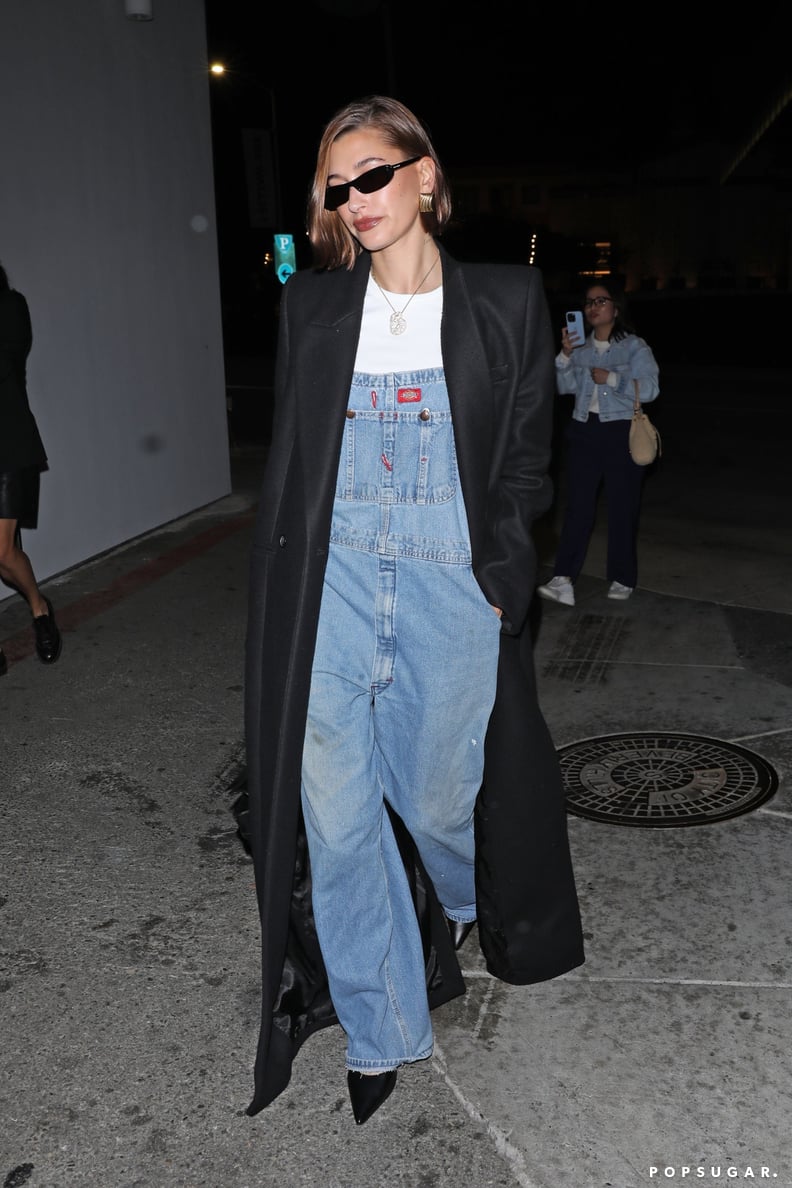 How to Style Overalls Like Hailey Bieber
Bieber styled light-wash, baggy Dickies overalls for date night in Beverly Hills with husband Justin. To get her look, pick up a distressed pair in a size or two too big and layer them over a fitted white tee. Finish with a long black duster coat and pointed-toe heels.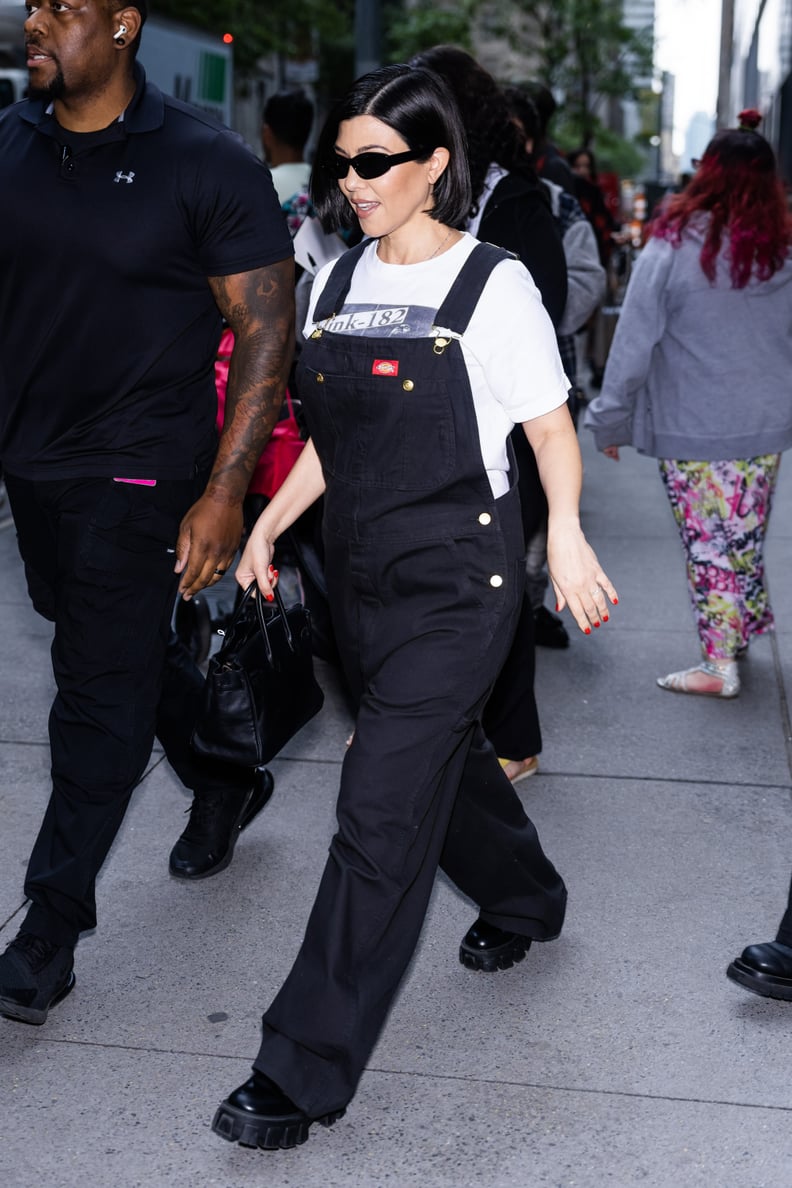 How to Style Overalls Like Kourtney Kardashian
Kardashian was pictured in a black pair of Dickies overalls worn over a Blink-182 graphic tee — a nod to her husband, Travis Barker. To bring similar '90s edge to your look, finish with creepers or thick lug-sole loafers and skinny dark sunglasses.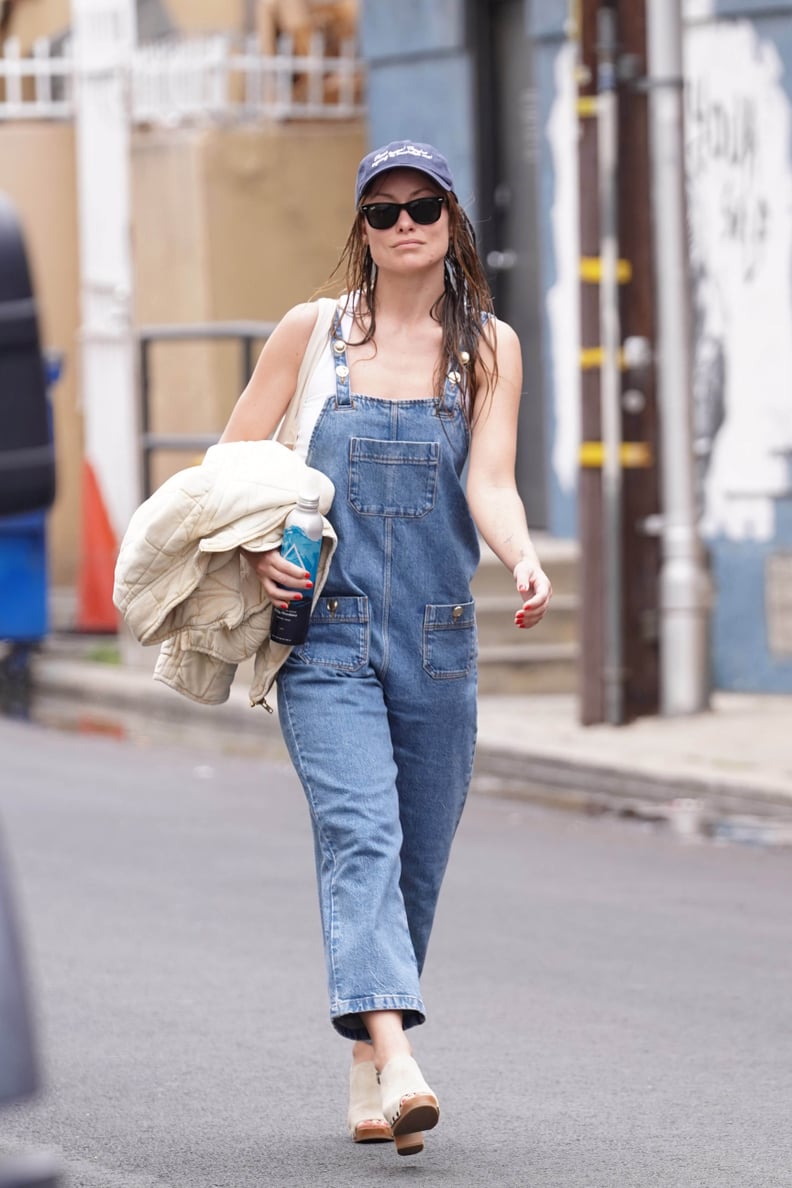 How to Style Overalls Like Olivia Wilde
Wilde showed some bare skin in her '70s-inspired overalls equipped with a cropped pant leg and two front pockets at the hips. Overalls like this are a bit more fitted and look cool worn over a simple tank or tube top. Wilde's wedges and Ray-Ban sunglasses were in line with her boho aesthetic.
02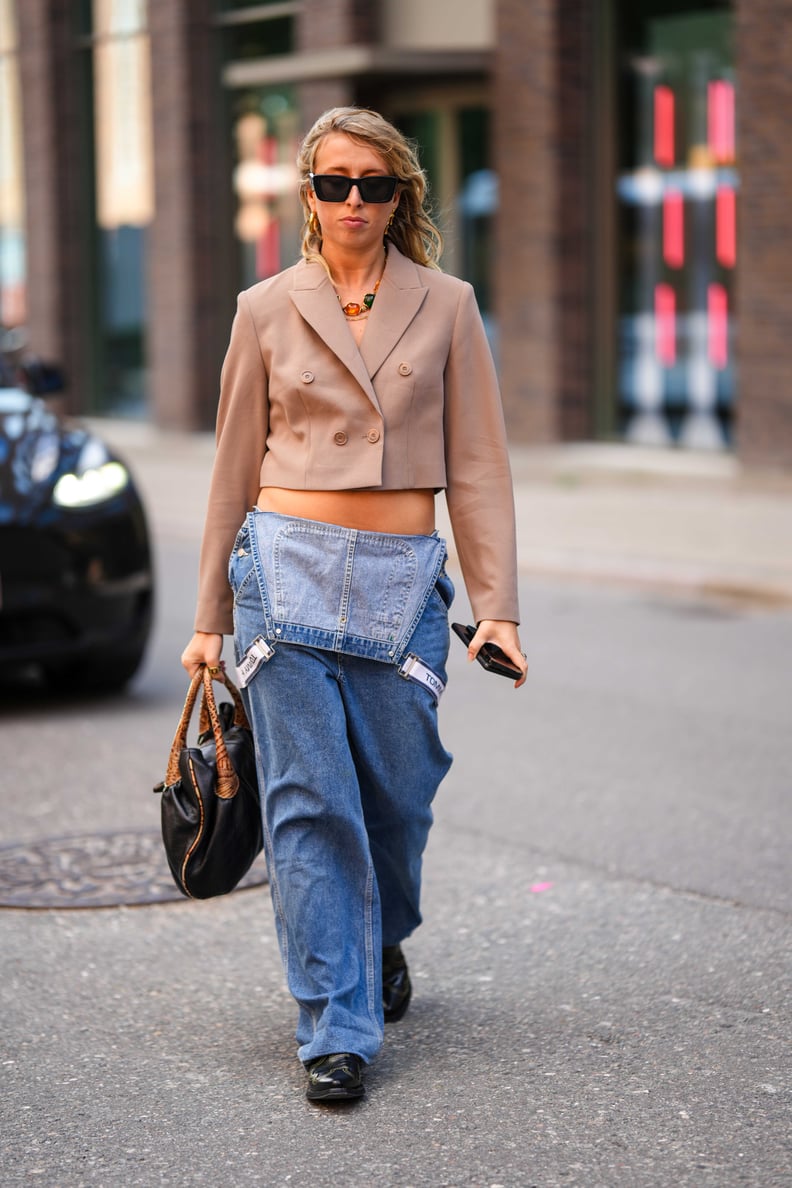 How to Wear Overalls as Pants
Choose a pair of overalls that are just baggy enough through the leg, but fitted or adjustable at the hips so that they stay up. When you unclasp the straps, the top half of your overalls will fold over the waistband, giving off the look of deconstructed denim. A cropped blazer is the perfect finishing touch, both adding polish and offering a glimpse of your midriff for subtle sex appeal.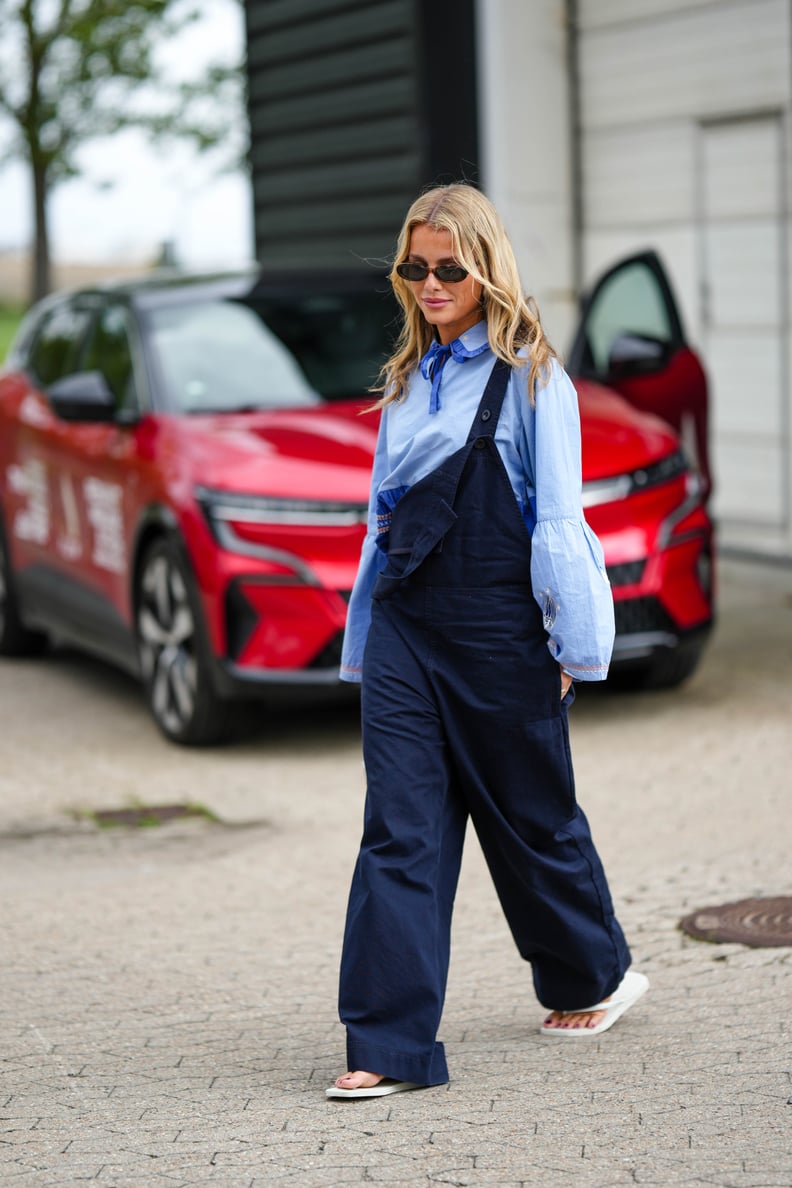 How to Wear Overalls With 1 Strap
The key to pulling off overalls with one strap starts with the slouch. Make sure your overalls are baggy enough to hang off your body, and start with the foundation of an interesting shirt, be it a colorfully stitched blouse or a design with pouf sleeves. Most of this top will be shown once you slip your arm out of one of the straps, so make sure it works to tie your whole outfit together and also speaks to the vibe of your other accessories. In this case, a pair of relaxed flip-flops brought the free-spirited feeling full circle.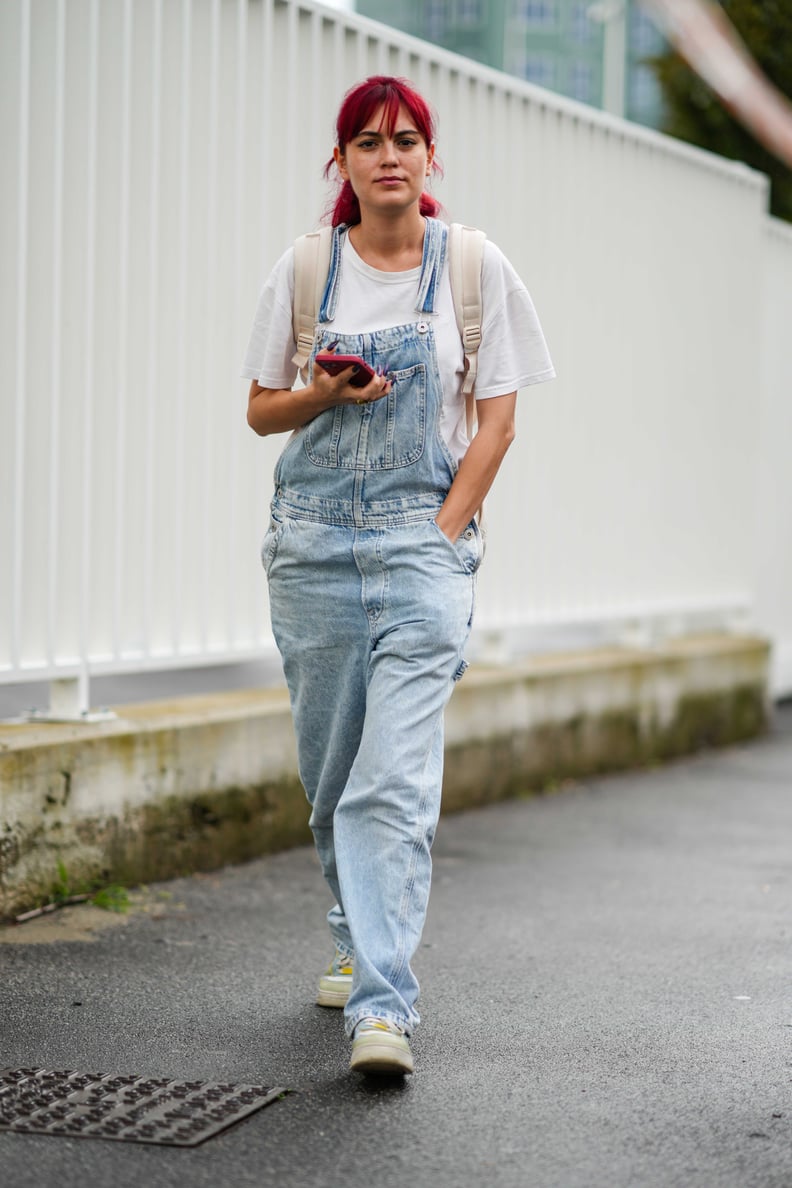 How to Wear Overalls '90s Style
A cool pair of '90s overalls might come in a light acid wash and with cargo pockets or a loop on one leg. To achieve a look most reflective of the decade, start with a breezy white T-shirt and make sure you finish with platform sneakers. Vans, Converse, Reebok, or Nike kicks all fit the bill. Of course, a backpack is a '90s staple, too, so adding one on will really drive your point home.
03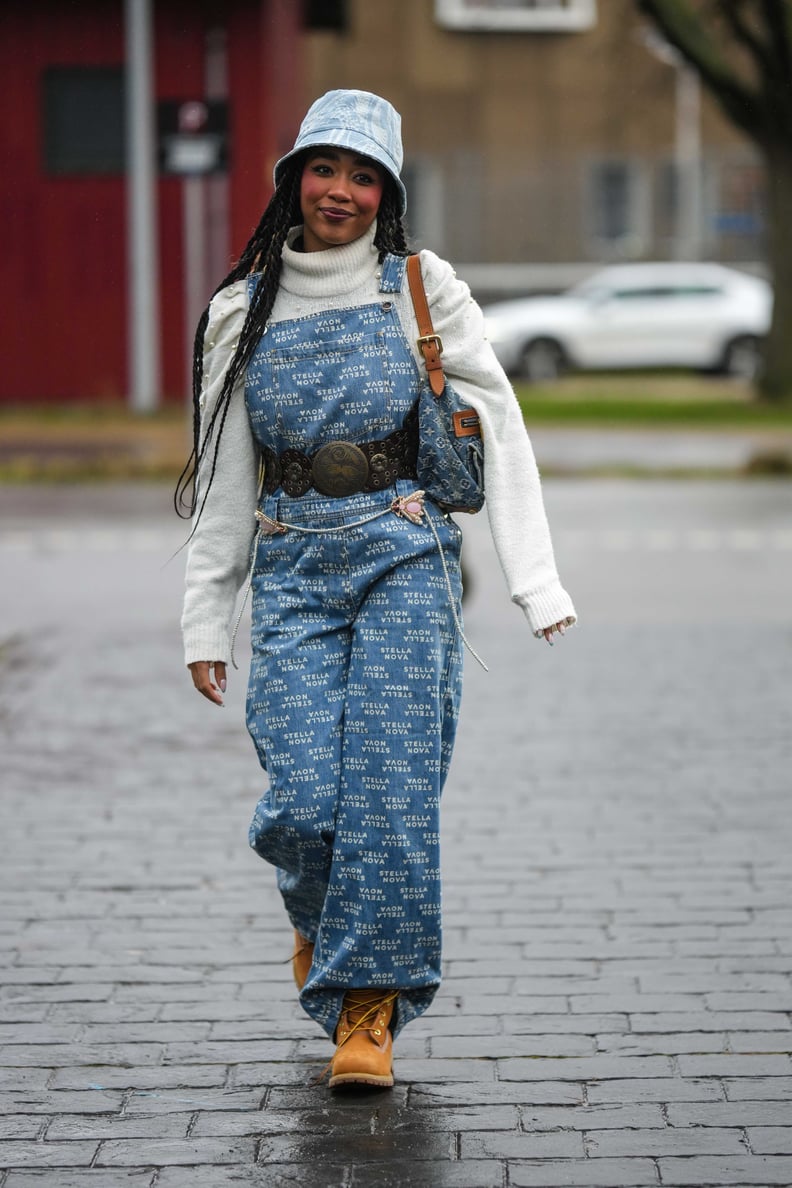 How to Wear Overalls in Winter
In the winter, you'll want to layer underneath your overalls simply to start with a foundation of warmth. While you can always add a jacket on top à la Bieber, a thick turtleneck sweater is a great starting point. Once you add the overalls, you can cinch your waist with a belt or two if your layers are feeling bulky around the bodice. Timberland boots make for functional footwear that also allow for a tuck of the pant leg if it's wet outside.
04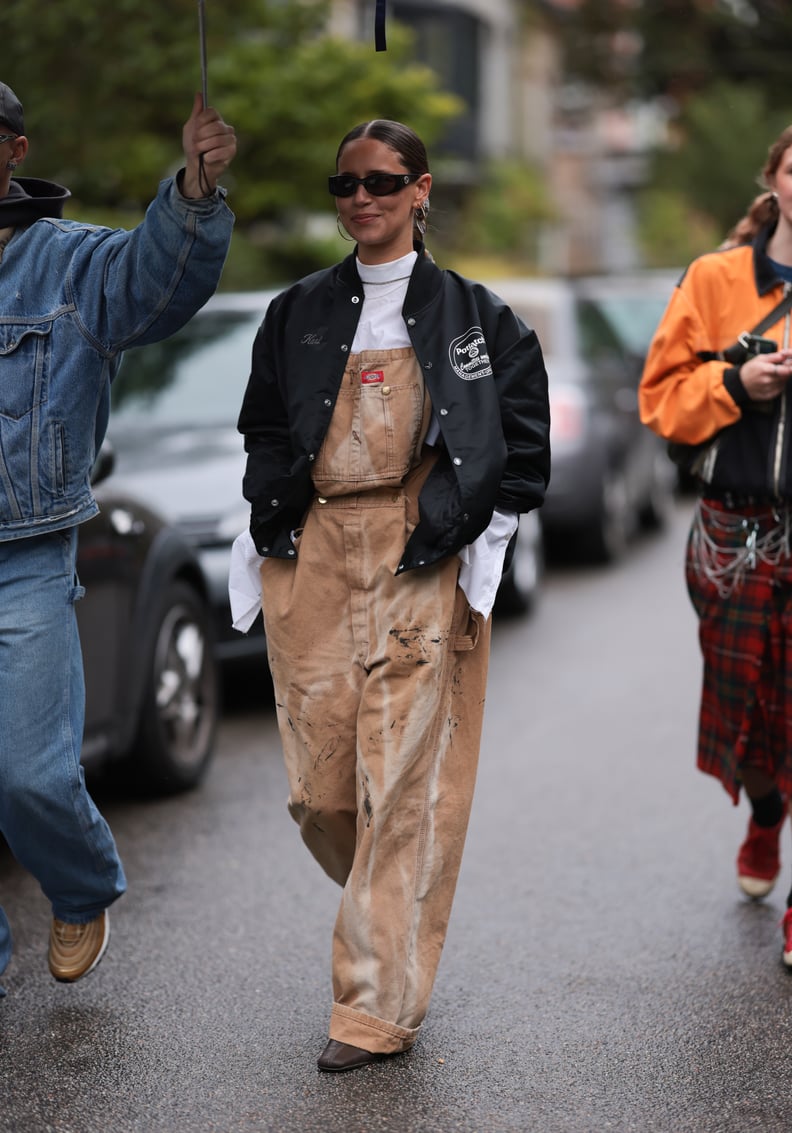 How to Style Men's Overalls
A pair of utility overalls that are rugged, distressed, and perhaps splashed with paint make a total street style statement. Style these over a white shirt and add on a printed bomber or varsity jacket, plus oversize hoop earrings and a slick boot.
05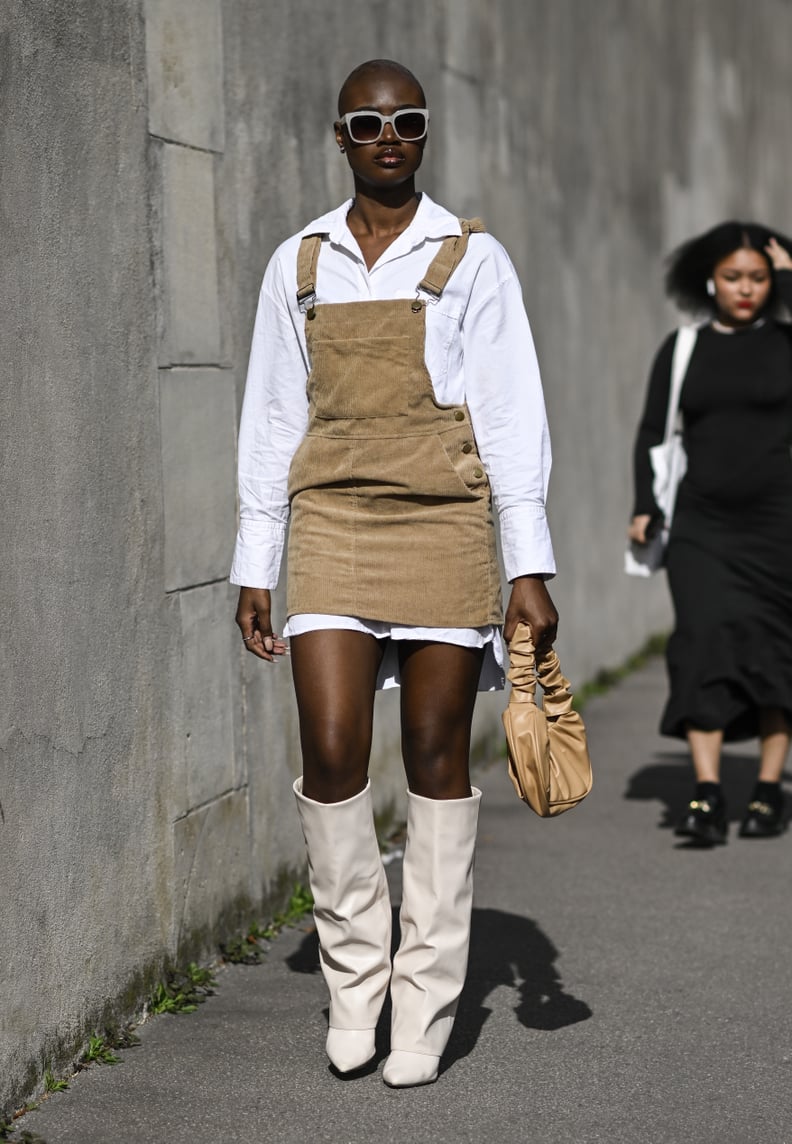 How to Style Overalls For Work
While there are plenty of dark-wash and tailored overalls that feel sophisticated enough for the office, our favorite way to wear overalls to work is in the form of a corduroy dress, which feels especially fall. If your mini is particularly skin-baring or short, layer it over a long-sleeved button-down shirt that has an even longer hemline. This combination feels slightly schoolgirl but is made instantly chic with a pair of knee-high boots and a leather shoulder bag. Sticking to a neutral color palette is another way to make this look appear more luxe.
06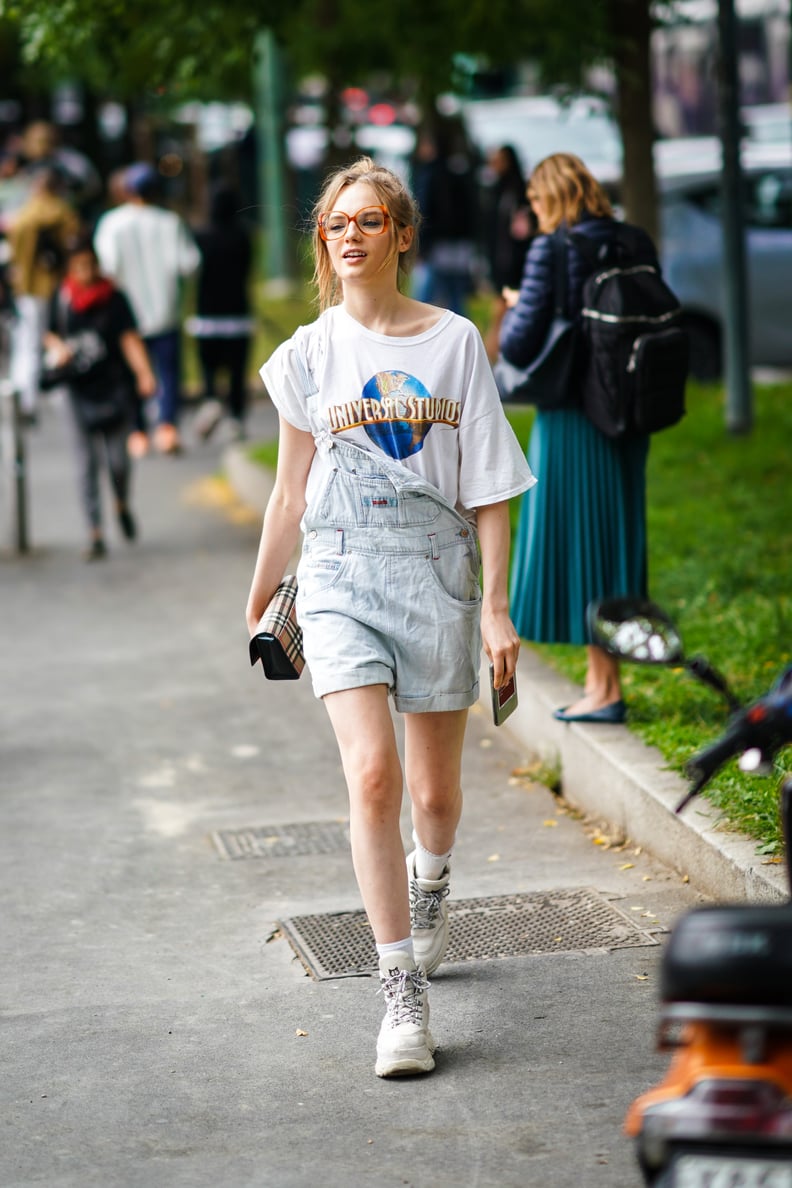 How to Wear Overalls Shorts
If you're looking for ways to style overalls for summer, shorts are the easy answer. Whether you DIY it and cut your long overalls into shorts or buy them as is, rocking them over an oversize graphic tee — perhaps with one strap undone — looks rugged and cool. Finish with a chunky sneaker or platform boot and a leather clutch for the ultimate street style statement.