As POPSUGAR editors, we independently select and write about stuff we love and think you'll like too. If you buy a product we have recommended, we may receive affiliate commission, which in turn supports our work.
There's no way you haven't seen Hunza G's flattering crinkled swimsuits all over Instagram, but did you know there's a connection to Pretty Woman? The brand, which was originally known as Hunza, was created by Peter Meadows in 1984. It had huge success, thanks to its unique crinkle-stretch fabric and was actually the brand responsible for creating Julia Roberts's iconic Pretty Woman dress! How wild is that? Years later, it was revived as the swimwear brand, called Hunza G, under the direction of Georgiana Huddart. We chatted with the designer about her foray into the swimwear world and her new-found success and celebrity fanbase, which includes Hailey Bieber, Kim Kardashian, Emily Ratajkowski, and Rosie Huntington-Whiteley.
Another amazing thing about Hunza G? The stretchy material allows the swimsuits to be one-size-fits-most, from sizes six to 14. (Side note: I was skeptical, but I own an orange one-piece from the brand and it is really flattering.) Read on to learn more about the swimsuit brand straight from Georgiana ahead. Then, shop some of our favorite selects if you're in the market for new swimwear ahead.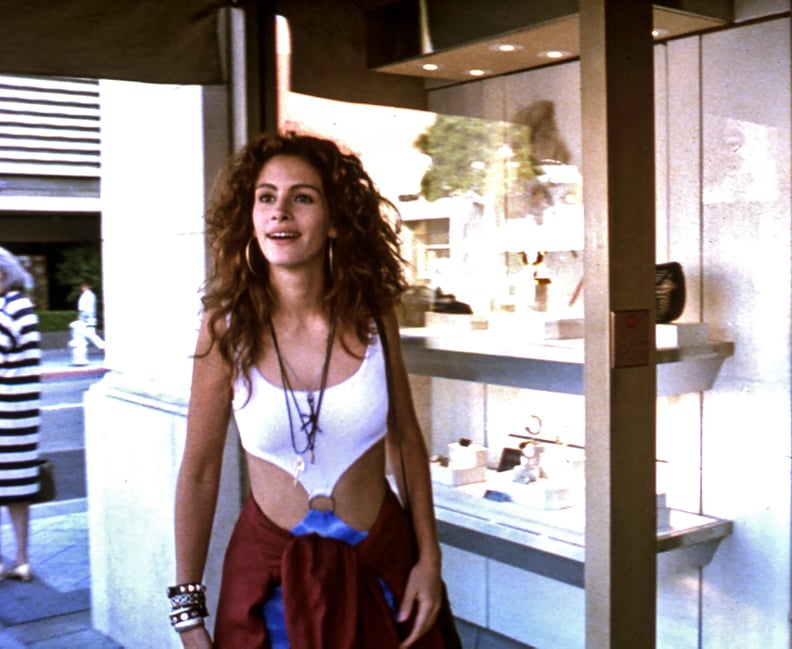 The Pretty Woman Connection
"I like the fact that the story of Pretty Woman is about a woman who proves all the preconceived notions about her wrong. She doesn't fit into one box of what she is expected to be. When people ask me who the Hunza G girl is I always say everybody and anybody — that's what's great about the brand. It has no exclusive type. It's such a range of ages, backgrounds, sizes, and ethnicities. I love the idea that it is about empowering women rather than setting them against one another."
Getting Into Swimwear
"It was less about entering swimwear and more just about the fabric, which I was obsessed with. It seemed crazy to me that no one was using it. Swimwear made sense because there weren't that many brands that crossed between function and comfort, while also creating great designs that made a woman feel fantastic."
Fun fact: After Rosie Huntington-Whiteley shared a photo of herself wearing a nude one-piece swimsuit by Hunza G, the high number of online visitors caused the brand's site to crash.
One Size Fits Most
"The fabric is made on a circular loom so it has no seams. It's tubular, which means it takes your best shape. I also try to design a broad range of cuts and shapes so that there is one for everyone."
Here is Kim Kardashian an orange bikini by the brand.
The Best Seller
"Either the Domino Swim or Gigi Bikini."
Here is Hailey Bieber wearing the Gigi Bikini in white.
Tips on Taking Care of Your Swimsuit
"Wash the salt out of it after swimming in the sea at the end of the day and don't get sunscreen on white fabric!"
Here is Emrata wearing a red two-piece by the brand.