Goat's Jane Lewis on How the Kate Middleton Effect Has Changed Her Business in America
As POPSUGAR editors, we independently select and write about stuff we love and think you'll like too. If you buy a product we have recommended, we may receive affiliate commission, which in turn supports our work.
Jane Lewis's label Goat is a favorite among women in the know in her native Britain. The clothes are well-made, crafted in elegant fabrics, and often modestly cut.
It's clothing that doesn't demand attention on first sight. Yet Lewis can't escape the limelight, thanks to a handful of very famous brand fans including Victoria Beckham, Keira Knightley, and Sienna Miller.
"In this day and age where celebrity life is looked upon with wonder by the general public, it does help raise awareness," Jane said. "I'm just pleased that people subscribe to what we do, but I'm not chasing anybody."
One shopper in particular has been something of a game changer for the label, especially in regards to Goat's official launch in the United States this year. Kate Middleton, the Duchess of Cambridge, has worn Goat on numerous occasions over the years, including mid-May 2016 at a royal engagement.
"Certainly in America, it rang a few bells. It's an honor — and we were delighted," Jane said. "It's a nice nod. We're quite humble here. We carry on with what we're doing."
Image Sources: Getty / Stuart C. Wilson, Getty / WPA Pool, and Getty / George Pimentel.
Jane's quintessentially British keep-calm-and-carry-on attitude translates into her designs. Her latest collection, Goat's Spring/Summer 2016 line, is a combination of seasonal and classic pieces. There are pastel dresses that work both in the office and for a night out. Basics come in classic white and black, with shirts and coats enhanced by subtle, modern details. These are pieces to keep for years to come.
This notion, that a shopper would buy one item and hold off on buying another, is slowly gaining acceptance in the fashion industry. More and more, shoppers are questioning how and where things are made.
The less-is-more attitude is inherent in Jane's label; Goat is an acronym for Get One Awesome Thing.
"When I started, [the notion of buying less] was a bit like going out on a limb and like being a maverick," she said. "But right now fashion is going through a metamorphosis as an industry . . . I think people really appreciate the quality and the refinement of a garment. It's a refined way of shopping, a cleaner, smarter way to shop."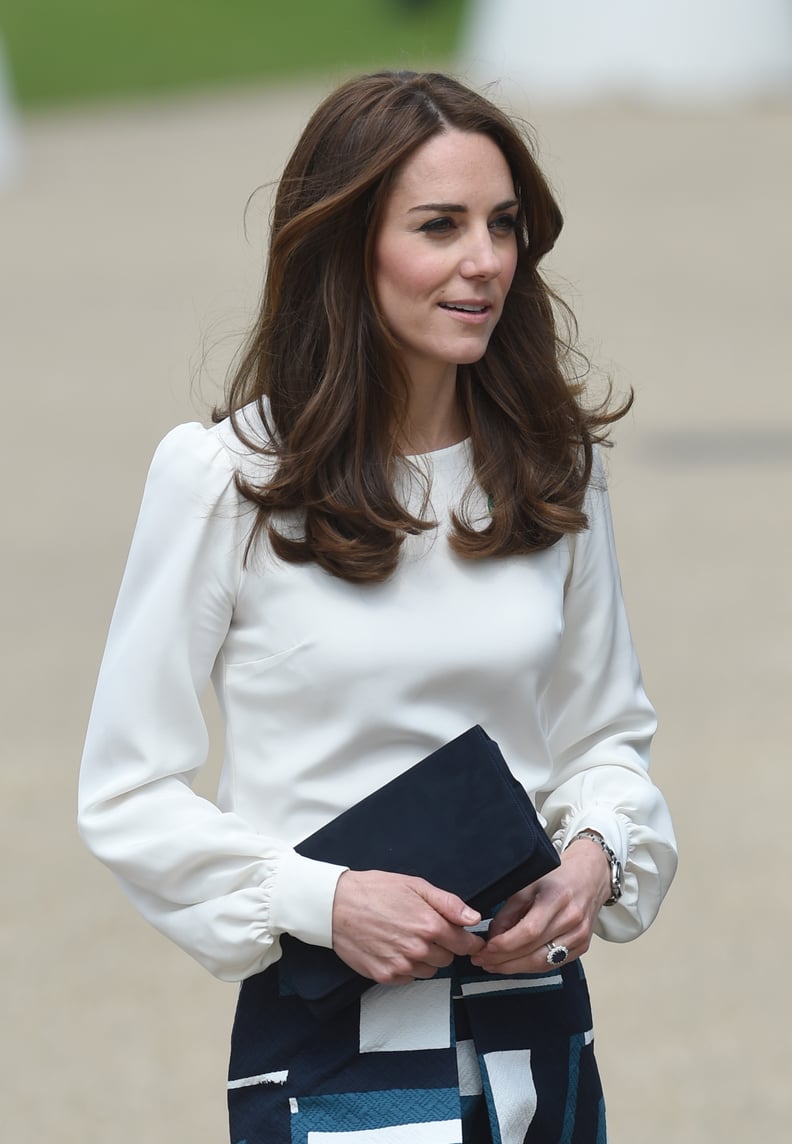 Image Source: Getty / Stuart C. Wilson
It's not just good timing that has placed Goat at the center of a quality-over-quantity movement. Jane put the label there through careful planning — and a vision.
"It's not about flippant, transient fashion, it's about future classics and cornerstone pieces in your wardrobe," Jane said. "I want to create a brand that women could invest in, building blocks for their wardrobe."
Another part of Jane's commitment to sustainable fashion is her dedication to British manufacturing; Goat isn't entirely made in the United Kingdom, but Jane endeavors to do as much there as possible.
"We manufacture most of our clothes here, and we are really proud to do so because we have wonderful craftsmanship right here on our doorstep," Jane said. As a result, of course, the price of Goat items is high relative to some competitors. "It comes at a premium price — we are fully aware that we're making a premium product," she added.
But price hasn't been an impediment to Goat's new American audience, who Jane says has welcomed the brand "almost with open arms."
America, for Jane, is the future for Goat.
"I'm very excited about America," she said. "I want to work with more outlets there, have more presence, and a firmer footing. I believe Goat will be there to stay."