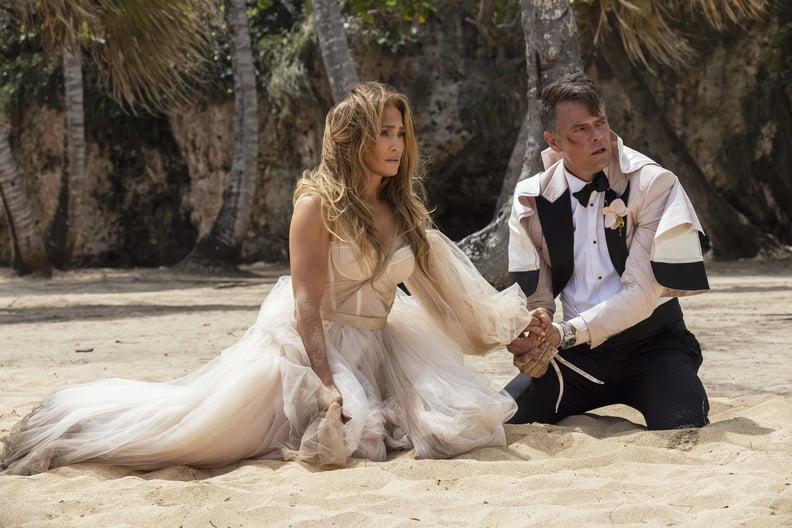 Amazon Studios
Amazon Studios
At this point, we've seen Jennifer Lopez in a multitude of wedding dresses, from intricate gowns with floor-sweeping trains to a simple fit-and-flare for her Las Vegas ceremony with Ben Affleck. The Galia Lahav design she wears as Darcy in 2023's "Shotgun Wedding," however, is by far her most elaborate yet. Created in collaboration with costume designer Mitchell Travers and Lahav head designer Sharon Sever, the blush-toned gown was crafted from fine silk tulle. Travers told POPSUGAR he was sure to incorporate vintage-inspired details such as pouf sleeves, patinas of embroidered lace, and silk netting, since it's written in the storyline that the dress was first worn by the mother of the groom (played by Jennifer Coolidge).
Throughout the action-packed film, Lopez collected blood stains and dirt on the dress while performing stunts — which is why a total of 30 dresses had to be produced. They were numbered 1-30, from the multi-layered voluminous ballgown to the leg-baring halter that Darcy rips in a later scene. "I researched a tremendous amount of bridal designers and found a house that could work with us to produce a gown that looked and felt like a wedding gown, but behaved like a superhero suit on set," Travers said. "We only showed Jennifer the one dress that we charted an entire film's progression through and luckily she gave me her blessing!"
While you'll be impressed by how the Galia Lahav bridal gown transforms in the movie, just as stunning are the three Ralph Lauren looks Lopez sported for her second wedding to Affleck in Georgia; the ivory embroidered Zuhair Murad dress she wore in 2022's "Marry Me"; and the plunging Valentino sheath she chose for her walk down the aisle to Cris Judd in 2001. We've rounded up Lopez's on- and off-screen wedding dresses ahead, so scroll to see them all.
— Additional reporting by Shelcy Joseph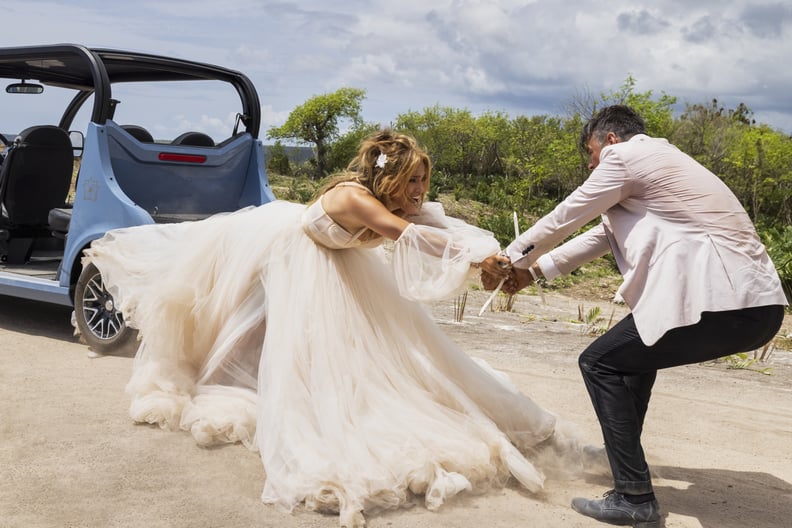 Jennifer Lopez's Wedding Dress in "Shotgun Wedding"
"Shotgun Wedding" costume designer Mitchell Travers worked with Sharon Sever at Galia Lahav to custom design the bridal gown for Jennifer Lopez's character Darcy.
Since it was originally written into the story as the mother of the groom's dress, Travers looked to incorporate vintage details, such as pouf sleeves, silk net, and lace.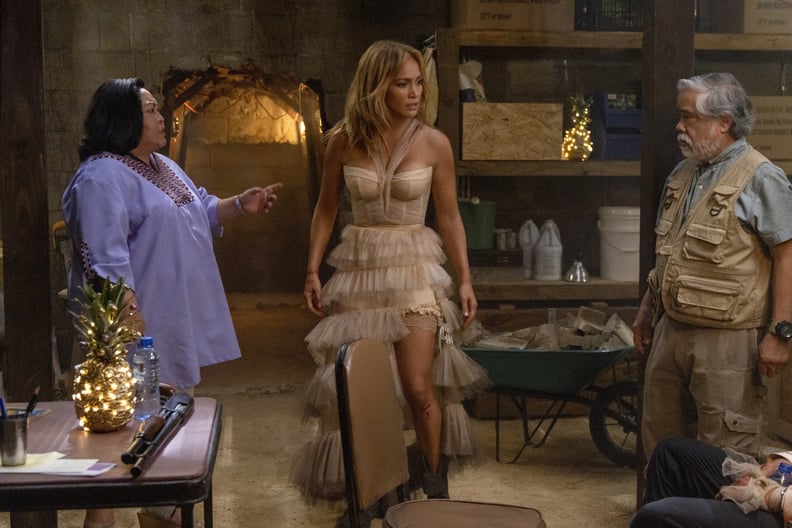 Jennifer Lopez's Wedding Dress in "Shotgun Wedding"
A total of 30 copies were made for filming on set, since the dress changes throughout the story arc. The wedding gown's transformation mirrors Darcy's as she goes from pristine bride to shredded action star. Along the way, the dress collects varying levels of blood splatters and dirt — and the neckline is modified as well.
"I knew I wanted the neckline of the dress to transform and help her mobility as she begins her transformation from Damsel to Savior," he told POPSUGAR.
Jennifer Lopez's Ralph Lauren Wedding Dress
Lopez worked with the Ralph Lauren fashion house on three immaculate gowns for her Georgia wedding to Ben Affleck on August 20, 2022. The ruffled, handkerchief dress she wore down the aisle (pictured above) was a reimagination of a turtleneck column sheath completed with over 1,000 handkerchiefs and 500 meters of fabric. The mermaid-style silhouette featured an open back and a sheer, 20-foot veil that began at the crown of her head and highlighted her slicked-back updo and Mikimoto pearl drop earrings.
Jennifer Lopez's Zuhair Murad Wedding Dress
When she officially tied the knot with Affleck in Las Vegas in July 2022, Lopez wore a Zuhair Murad lace gown featuring an off-the-shoulder sweetheart neckline, long sleeves, and a corseted bodice. The gown, plucked from the designer's spring 2023 bridal collection, was equipped with a fishtail train and complemented by a matching veil.
Jennifer Lopez's Alexander McQueen Wedding Dress
Lopez saved this Alexander McQueen fit-and-flare with a jacquard print from the 2004 romantic comedy "Jersey Girl," which she starred in with Affleck. When she arrived at the chapel in Vegas, she switched into the look that she had held onto for years as a keepsake. "So with the best witnesses you could ever imagine, a dress from an old movie and a jacket from Ben's closet, we read our own vows in the little chapel and gave one another the rings we'll wear for the rest of our lives," she wrote in her "On the JLo" newsletter, which was released on July 17, 2022. In that way, the McQueen dress is a tribute to Affleck and a nod to the first time they dated, before reconnecting in 2021.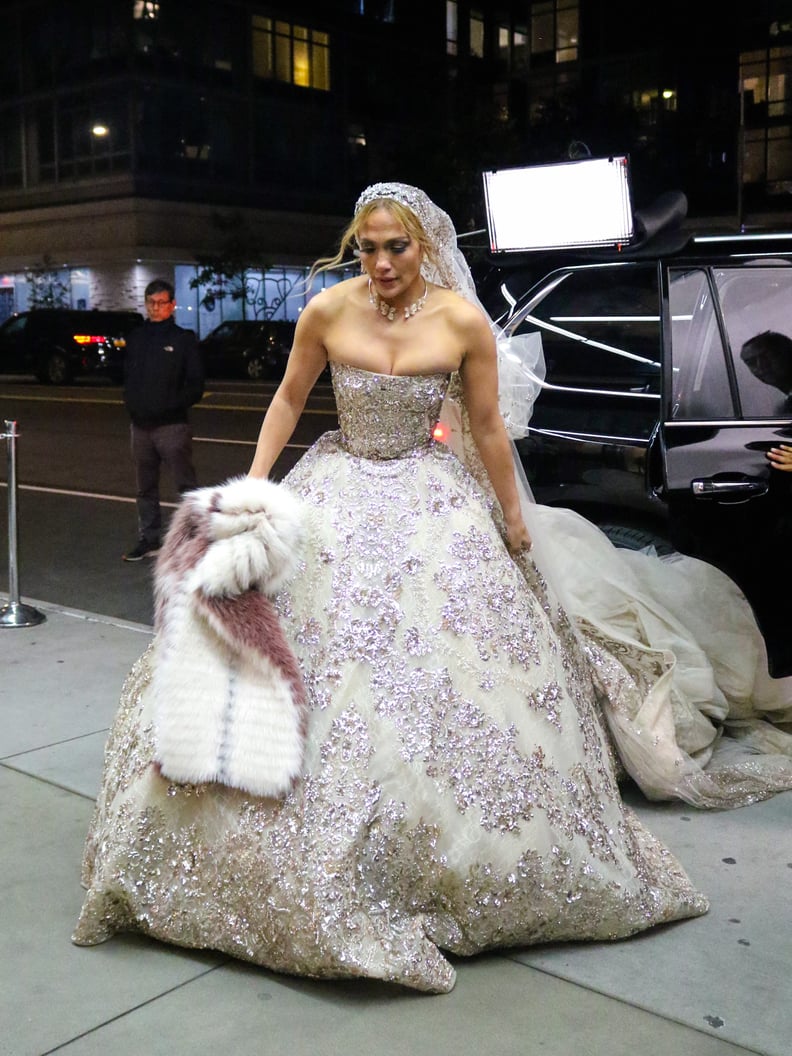 Jennifer Lopez's Wedding Dress in "Marry Me"
The actress stunned in an extravagant ivory bridal ballgown from Zuhair Murad's bridal collection, made even more alluring by a strapless neckline, a corseted bodice, and lavender beaded embroidery. She slipped into the design for a wedding scene filmed in Manhattan in Oct. 2019.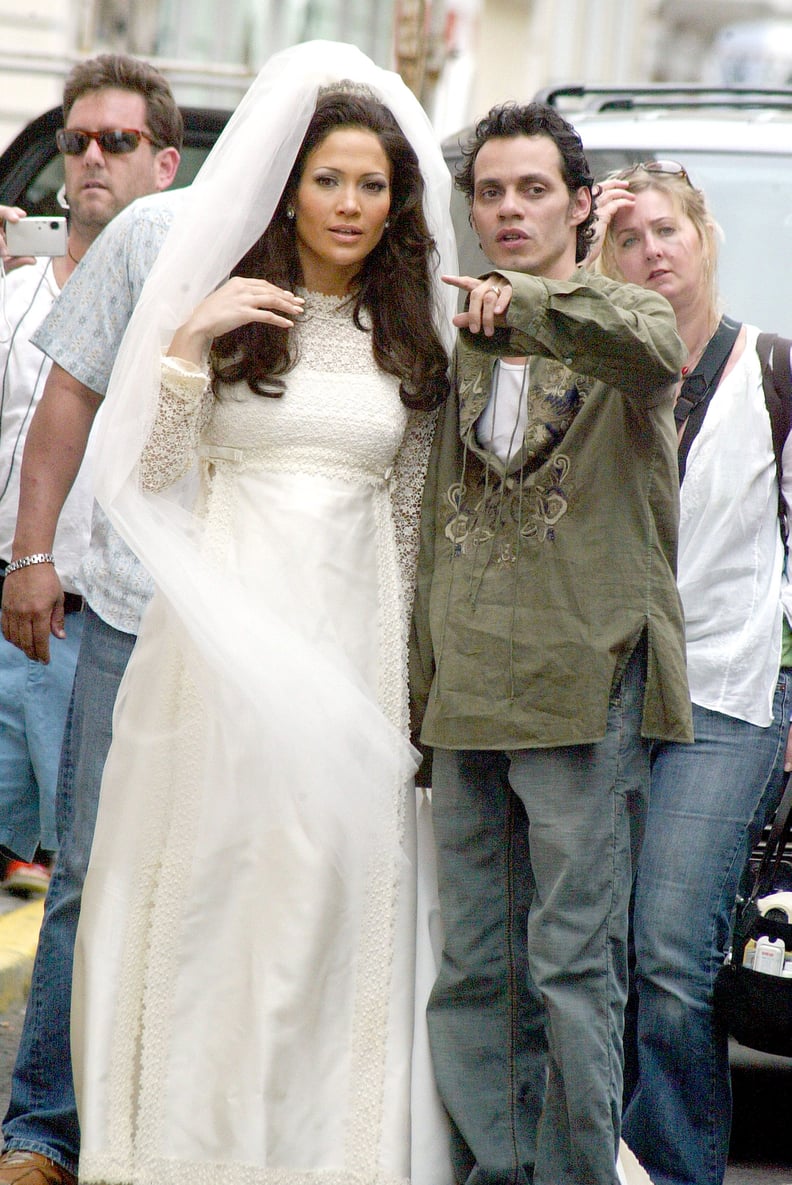 Jennifer Lopez's Wedding Dress in "El Cantante"
When Lopez and Marc Anthony were photographed in Puerto Rico while filming "El Cantante" in 2006, she wore a sleek empire-waist gown that featured a sheer lace top and a silky, pearl-encrusted maxi skirt. A classic veil was the finishing touch.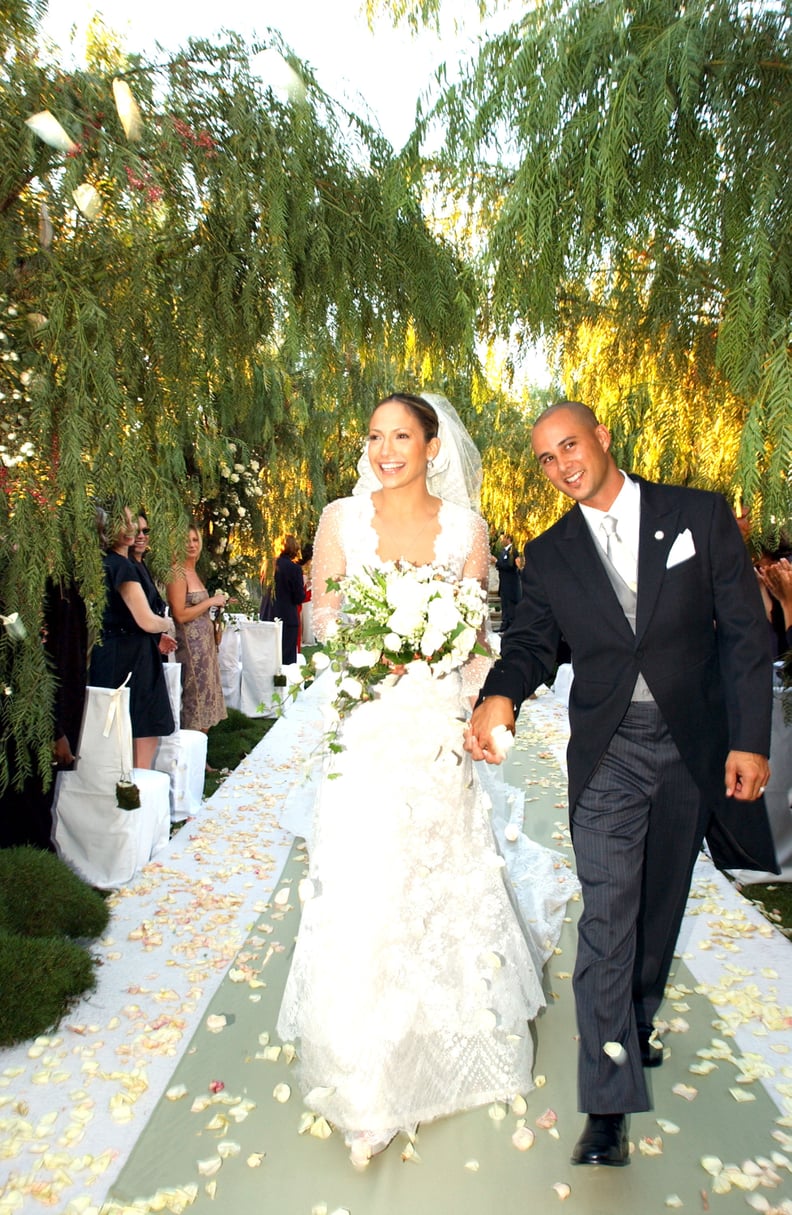 Jennifer Lopez's Valentino Wedding Dress
Lopez married former backup dancer Cris Judd in September 2001 and looked ravishing in a lacy white wedding gown by Valentino. The design boasted embroidered motifs throughout, sheer embellished sleeves, and a matching veil.