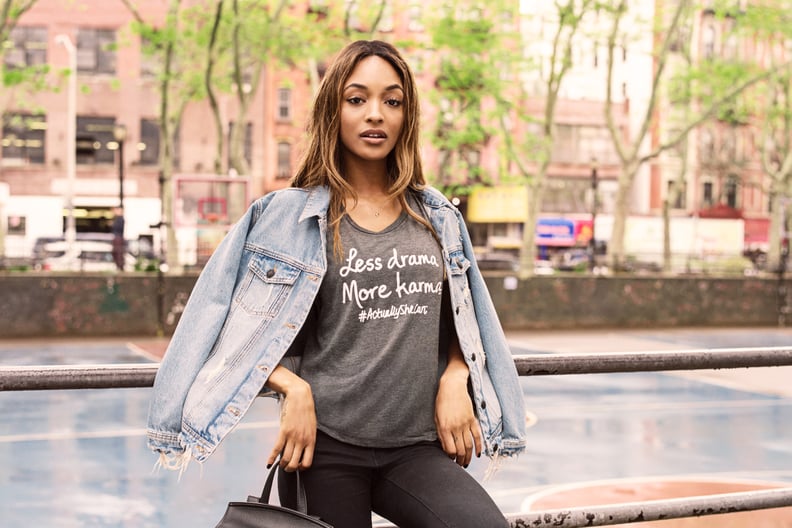 #ActuallySheCan
#ActuallySheCan
As POPSUGAR editors, we independently select and write about stuff we love and think you'll like too. If you buy a product we have recommended, we may receive affiliate commission, which in turn supports our work.
Overcoming obstacles and achieving goals is rarely easy, but a great way to give your confidence a boost on days when it's needed? With an inspiring story — and possibly a graphic tee, complete with a motivational saying. Luckily, top model Jourdan Dunn can offer both, since she's now the face of a retail collection for #ActuallySheCan, a female empowerment campaign by healthcare company Allergan.
Chatting with Jourdan about her new gig, we knew we had to ask: was there ever a time she was told she couldn't do something?
"When I fell pregnant, I saw a lot of stuff on blogs saying 'Jourdan might not recover from this' and 'Why'd she go and do this?'" the model told us, referring back to 2009 when she was expecting her son, Riley. "When you're young and seeing this discouragement, you start to think, 'well, maybe these people are right. Maybe I am done.' You kind of get down and out about that. I just had to not think about the negativity, think about myself and what I wanted. And I was like, 'you know what? I'm going to prove everybody else wrong. I'm going to come back better than ever.' And that's what I did."
In fact, Jourdan famously returned to the runway just 10 weeks after giving birth and has been making supermodel history ever since. Read on for more inspiring quotes from Jourdan, including her gushing about her equally famous BFF Karlie Kloss. Then, shop the limited-edition #ActuallySheCan collection from Le Motto, the proceeds of which will benefit female military officers.
The Motto That She Lives By
"A motto that I live by would be stand tall and own it."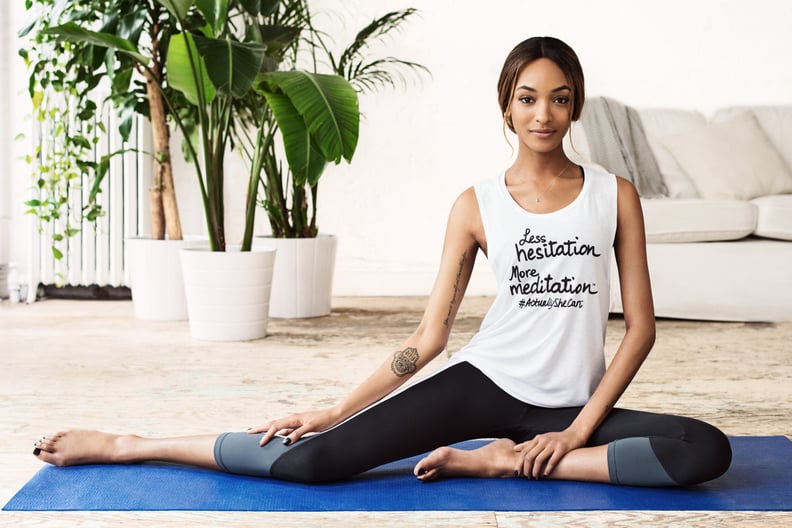 How She Handles Such a Hectic Schedule
"I love what I do, but at the same time, I know me. I can't just go from job to job. I have to have some me time. Even if it is a busy week, I feel like it's very important to just take a 10-minute break from what you're doing, put the phone down, and just sit down and breathe and just relax. Take those little moments for yourself. It's so important."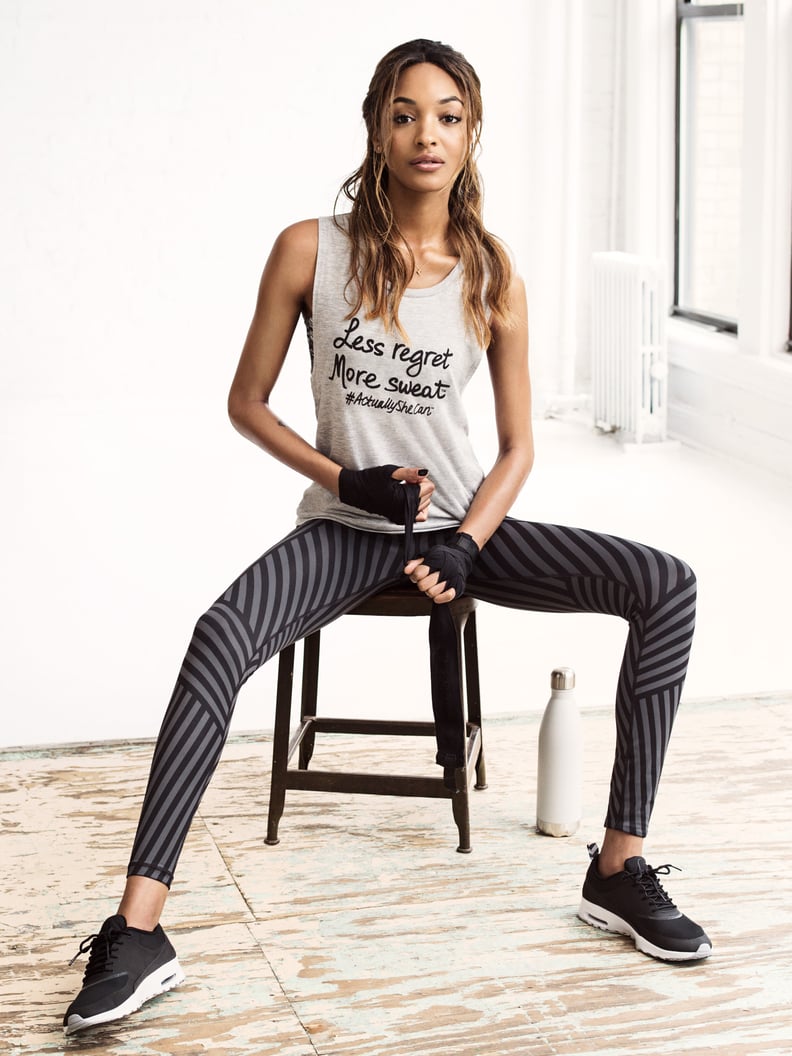 The Hashtag She'd Use If She Created Her Own
"#GetItDunn with a picture of me in the gym. Because some days I have to kind of, like, force myself into getting up and going to a class and going to the gym. So yeah, I feel like that's an appropriate post to use the hashtag for."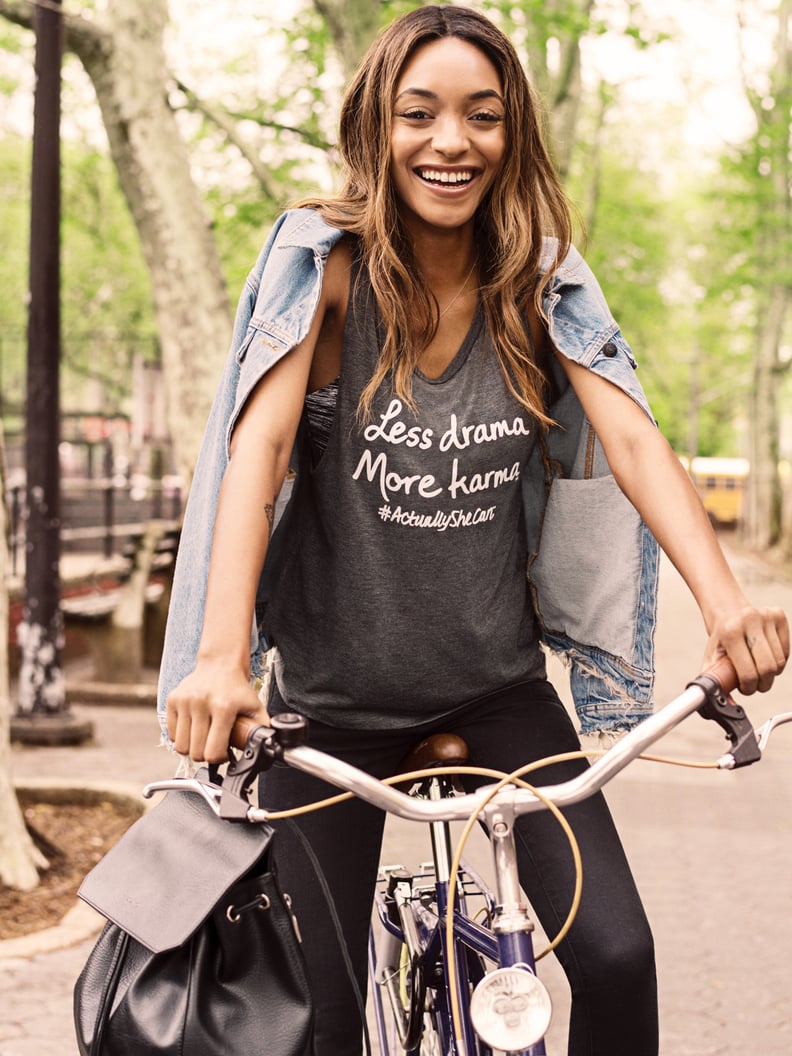 The 1 Person She'd Label a Modern-Day Supermodel
"For me, the one person who is the definition of today's supermodel is Karlie Kloss. And I'm not just saying that because she's my best friend and like my little sister. I just think that anything she does is amazing. Her walk is amazing, her editorial game is strong, the charity work that she does. She's all about power women. The fact that she's going to school and working, the fact that she's got her cookies. To me, she's like the ultimate supermodel."