A Blogger Found Her Wedding Dress in 30 Minutes, Then Packed It With Her For a Trip Around the World
Wedding dress shopping can take weeks, months, or even a year, so upon hearing that a blogger had found her gown in only 30 minutes, we were stunned. "I actually got my wedding gown in a sale . . . and for $199," Kach Medina said via email. "They [Simply Bridal] had a three-day sale and only few options for my size!"
Knowing that when a bride finds the right gown, it's best to say yes to the dress, Kach scooped it up and then packed it with her on a journey to 12 — yes, 12! — different countries. She and fiancé Jonathan Howe, the duo behind Two Monkeys Travel Group, traveled from California to countries such as Belize and Guatemala before finally landing in England for their wedding.
If you're wondering how in the world she fit her gown into her suitcase, Kach said, "It was in a vacuum ziplock bag so when I arrived in the UK I had it pressed professionally." Naturally, this wasn't a big deal for the travel blogger, who's traveled to 69 countries (and counting). On the couple's big day, Kach wore her strapless ballgown with a lace overlay and styled her veil with a flower crown, her signature item in all her snaps. The couple said their "I dos" in front of friends and family before, of course, jetting off to Antarctica for their honeymoon. Read on for more of Kach's story, and then see her dress from all angles.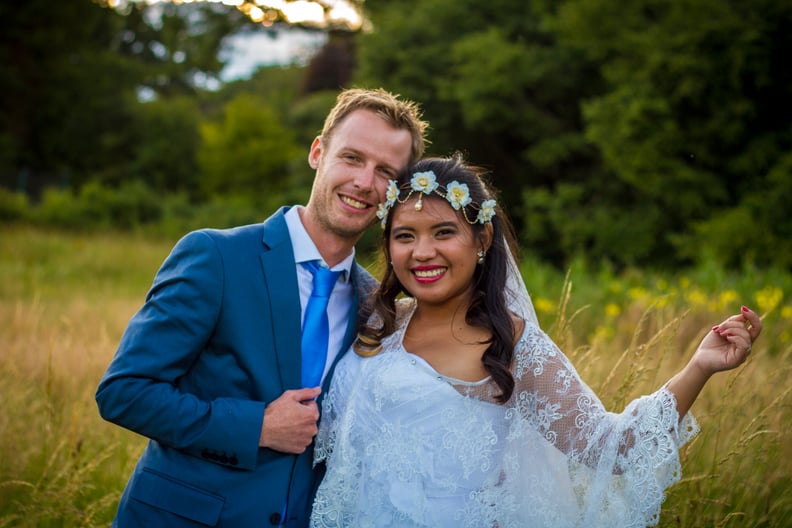 The Couple Took Their Travels to Henley-on-Thames, England, Where They Said Their "I Dos"
She's Known For Wearing Floral Crowns