Every editorial product is independently selected by our editors. If you buy something through our links, we may earn commission.
Jordan Peele's "Nope" masterfully reimagines the classic alien invasion, making for a genre that's Western-meets-'80s-sci-fi horror. In addition to beautifully layered storytelling techniques, the film features expertly curated wardrobes that illustrate more than meets the eye. As OJ (Daniel Kaluuya), Emerald (Keke Palmer), Angel (Brandon Perea), and Antlers Holst (Michael Wincott) risk their lives to snap the "Oprah shot" of the otherworldly entity that's been picking off residents of the Agua Dulce area one by one, we can't help but admire the vibrant outfits Palmer's character wears throughout the film.
"She's in charge, and she's fierce, so we wanted to make sure those elements [came through in her costumes]."
"She's in charge, and she's fierce, so we wanted to make sure those elements [came through in her costumes]," costume designer Alex Bovaird tells POPSUGAR. But a closer examination of Emerald's clothing reveals hidden clues about the Haywood family's past, proving that attention to detail is key.
For Bovaird, Emerald is the kind of person who shops anywhere and everywhere, so it only made sense to source pieces for her outfits from eBay, thrift stores, flea markets, the mall, and the Country General Store in Van Nuys, CA. A lot of the looks were vintage, rented, or specially made, with a major component being the curation of graphic tees that were meant to reveal her personality. (Think: the "Lovesexy" Prince T-shirt, which Peele and Bovaird decided belonged to Emerald and OJ's mom.)
While Emerald's wardrobe is a mishmash of borrowed pieces, old clothes dug out of cardboard boxes, and ranch-style hand-me-downs, the pop-culture references integrated into her outfits are a subtle homage to the past. "All those bands from the late '80s and early '90s are part of mine and Jordan's upbringing, so there's multilayered passion for [the shirts]," Bovaird says.
From the waffle squish keychain on her crossbody bag to the miniature cowboy boot she wears, Emerald's outfits are all about the details. "She wears a lot of little jewelry. We like the idea that she was just kind of peppered with rings, earrings, and little things that she stole," Bovaird says. "Sometimes, when you look at these details, it's really myopic. Like, 'Is this too much?' But when you keep in mind that it's on a huge screen, it really works."
Adding his own thoughts on the creative process behind Emerald's onscreen style, producer Ian Cooper said, "Jordan [Peele] and I were thinking a lot about Andrea Arnold's drifter-malaise masterpiece, 'American Honey,' when conjuring Emerald's style vibe. The 'stolen / borrowed / thrifted' melancholic assemblage that Alex so artfully curated for the characters of that film was truly inspirational."
In a movie where each scene is more jarring than the last, Palmer's "Nope" outfits act as a refreshing dose of nostalgia that remain unforgettable. Ahead, shop a few pieces from Emerald's closet, and find out more about the hidden meanings behind specific looks.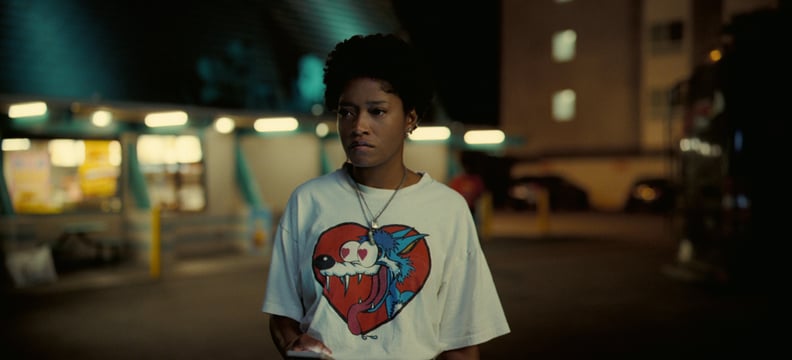 Emerald's The Jesus Lizard T-Shirt
One of Emerald's most memorable outfits from the film isn't even her own. It's a T-shirt she borrows from Angel after a rainstorm that sends the main trio speeding away from the ranch. "Emerald changes clothes into Angel's old T-shirt and jeans. So it had to be something that made sense for Angel but also looked dope on Emerald," Bovaird says of The Jesus Lizard shirt, which features a graphic of a cartoon wolf in love on the front — a vintage design that's been reissued since the film's premiere.
The Jesus Lizard Shirt, Wolf In Love "Nope" Film Graphic T-Shirt ($26–$36)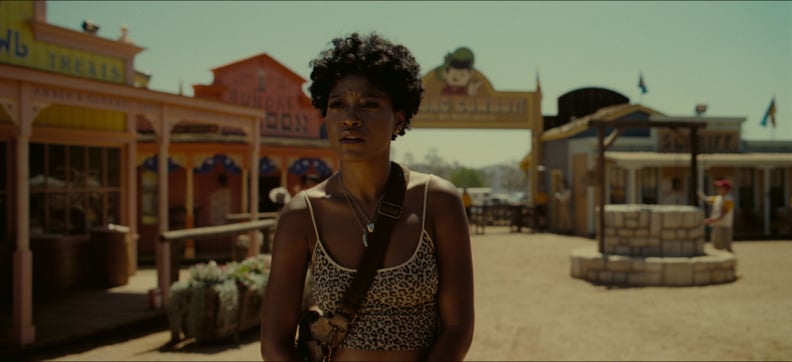 Emerald's Skeleton Cowboy Boots
Other standout pieces from Palmer's "Nope" wardrobe include a pair of Yippee Ki Yay Vesuvio skeleton cowboy boots, a leather vest that belonged to Bovaird's stepmother-in-law, a real-life cowgirl, and one of the designer's favorite pieces: a vintage Garfield pajama shirt that had to be replicated for the film.
"The undeniable swagger with which Em pulls off wearing Angel's vintage Jesus Lizard T-shirt and ill-fitting Rip N Dip jeans in the Copperpot's Cove parking lot, or a Garfield sleep-shirt and head wrap while throwing Sour Patch Kids at a praying mantis, just blows my mind," Cooper adds.
Yippee Ki Yay Women's Vesuvio Western Boots by Old Gringo ($378)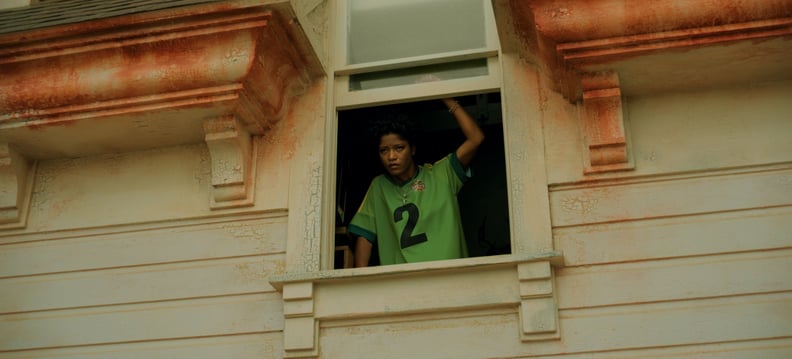 Emerald's Green Jersey
Between the denim and cowboy boots, one piece from Emerald's closet stands out as a tribute to the heart of the film: the green jersey she wears during the finale. "We wanted her to have something green to recall emerald, and I made that jersey in lots of different greens," Bovaird says. In piecing together different costume options, she eventually landed on the idea that the jersey was a hand-me-down from OJ's school soccer team.
Bovaird also revealed that the crest on the school (a cool graphic with a bendy horse) is from an actual high school in the Santa Clarita area. With the color choice and Canyon Creek Cowboys insignia settled, her only dilemma was choosing what number to put on the front of Emerald's jersey. After some careful consideration, the number two was the obvious choice, a heartwarming nod to Emerald and OJ's brother-sister bond.