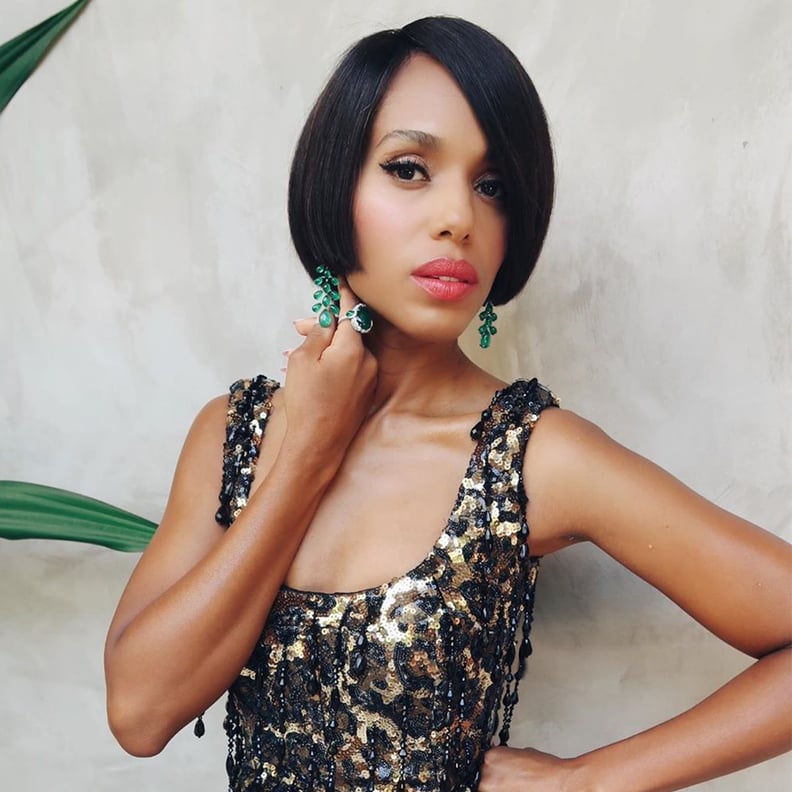 Kerry Washington might've spent this year's Emmys hanging out in Reese Witherspoon's backyard, but that didn't stop her from rocking red-carpet-worthy looks. "Haven't dressed up in a while so had to make the most of it," she wrote alongside one of her looks on Instagram — and she certainly did. The Little Fires Everywhere star stunned in two very different gowns for the occasion, and we can't decide which one we love more.
She started the night in a strapless floral number from Oscar de la Renta, captioning the look, "Little Flowers Everywhere." Since the elegant dress adorned with beautiful flowers spoke for itself, Kerry kept the rest of her look simple with Monica Vinader emerald earrings and dainty rings from Aurate New York. For her second look, which she wore for Reese's backyard festivities, the actress changed into a flapper-esque Dolce & Gabbana dress with every extra detail imaginable: leopard print, fringe, and sequins. She again accessorized with emerald jewelry, with earrings and a ring from Chopard.
The Little Fires Everywhere costars and friends threw a socially distanced New Year's Eve party in celebration of the Emmys, 'cause who isn't ready for it to be 2021? Ahead, get a closer look at Kerry's gorgeous outfits.
Kerry Washington's Dolce & Gabbana Dress at the 2020 Emmys
Kerry Washington's Oscar de la Renta Dress at the 2020 Emmys
Kerry Washington's Oscar de la Renta Dress at the 2020 Emmys