Kim Kardashian Was Queen of the Red Carpet in a Tight White Cape Dress
Kim Kardashian's white Valentino cape dress was the most elegant design at the InStyle Awards. While Selena Gomez wore a striking mesh top and supermodels Miranda Kerr and Alessandra Ambrosio showed up in sexy cutouts, we only had eyes for Kim. The star may have posted a photo to her Instagram alongside the rest of the crew on the carpet, writing, "Feeling extra thin with all of the super models! LOL #InStyleAwards," but we can safely say Kim stole the spotlight. In fact, we don't think we've ever seen her look so simply glamorous.
Since the evening honored actress Gwyneth Paltrow with the style icon award, we couldn't help but wonder if Kim even went as far as to channel her iconic Tom Ford ensemble from the 2012 Oscars. Read on to see how Kim's cape dress looks strikingly similar to the one Gwyneth wore so many years ago, and zoom in on all the little details of Kim's outfit — from her dazzling choker and golden chainstrap heels to the graceful way she balanced her hands on her growing bump, showing off her thin diamond ring.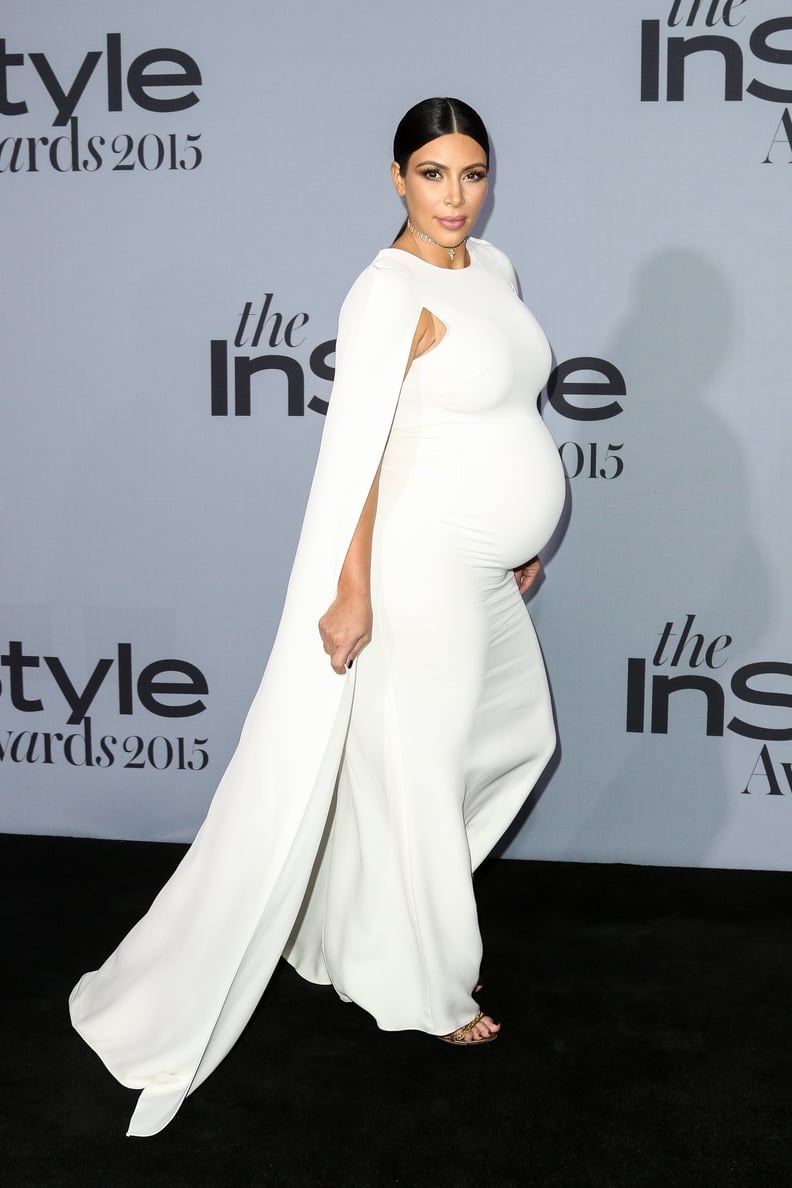 Kim let the cape of her Valentino dress trail behind her, showing off her gold chainstrap heels as she walked the carpet.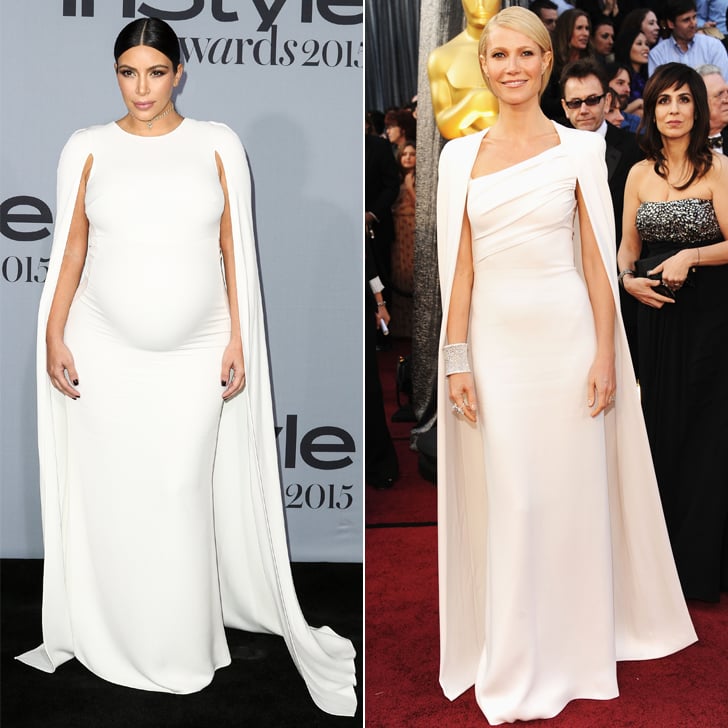 Kim's Valentino cape dress looked similar to Gwyneth's much-talked-about Tom Ford design from the Oscars. Since Gwyneth was named style icon of the evening at the InStyle awards, we wonder if Kim's outfit was a subtle nod to Gwyneth's 2012 design.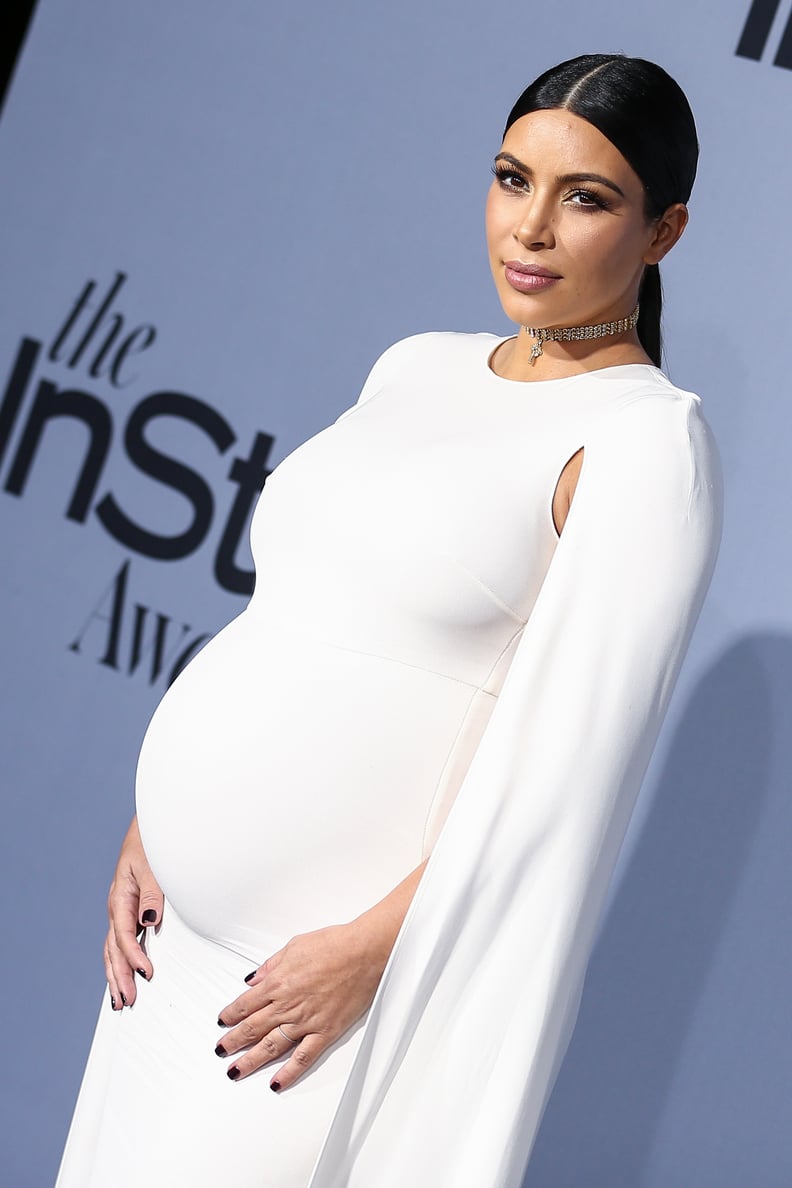 Kim swept back her hair into a tight low ponytail, letting her necklace and dress take center stage.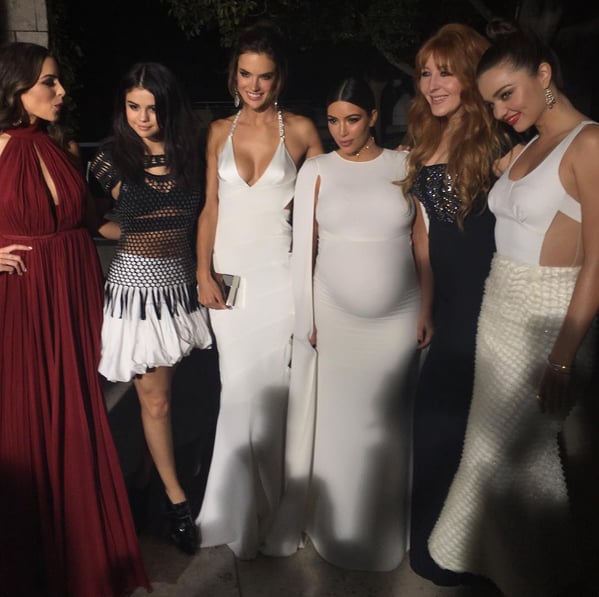 Kim took a snap with Olivia Culpo, Selena Gomez, Alessandra Ambrosio, Charlotte Tilbury, and Miranda Kerr, posting it on her Instagram with the caption: "Feeling extra thin with all of the super models! LOL #InStyleAwards."