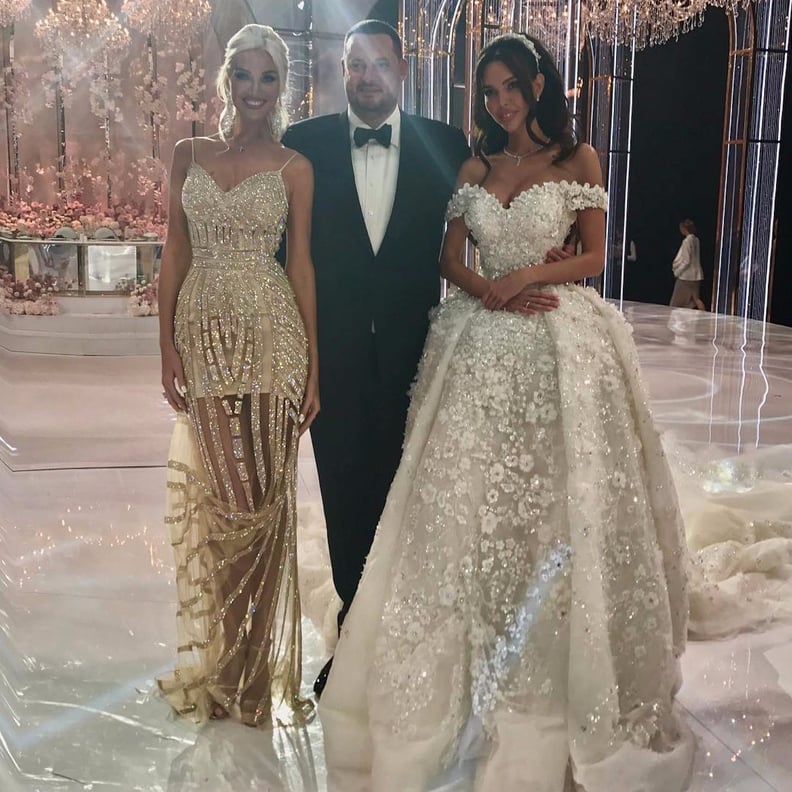 Russian oligarch Aleksey Shapovalov married his longtime girlfriend Ksenia Tsaritsina in one of the most lavish weddings we've ever seen. The extravagant wedding took place at Barvikha Luxury Village Hotel in Moscow. Ksenia, who's a model, wore not one but two stunning wedding dresses.
Her first dress featured a sweetheart neckline, intricate beading, and a poofy skirt that would make even Cinderella jealous. She styled the off-the-shoulder design with a bejeweled headband. Later, the bride switched into a second gown that was equally as stunning. The sheer dress featured lace panels and glitter accents that shimmered under the lights.
Guests danced while the rock band Leningrad played on stage, and the eight-tiered wedding cake was designed to look like a chandelier floating in the air. Have a look at the couple's impressive wedding ahead.
Ksenia's $7-Million Engagement Ring
The Couple Got Married at Barvikha Luxury Village Hotel in Moscow
The Stunning Bride Wore an Off-the-Shoulder Dress That Featured Intricate Beading
She Styled the Wedding Dress With a Bejeweled Headband
Guests Also Wore Lavish Gowns For the Occasion
The Wedding Decor Provided Guests With Many Instagram-Worthy Backdrops
The Bride Then Switched Into a Second Wedding Dress
The Sheer Gown Shimmered Under the Dance Floor Lights
The Wedding Cake Was Designed to Look Like a Chandelier
The Rock Band Leningrad Performed on Stage