Lack of Body Diversity at Chanel Spring 2022
Chanel's Reimagining of the '90s Still Fails to Include Women With Curves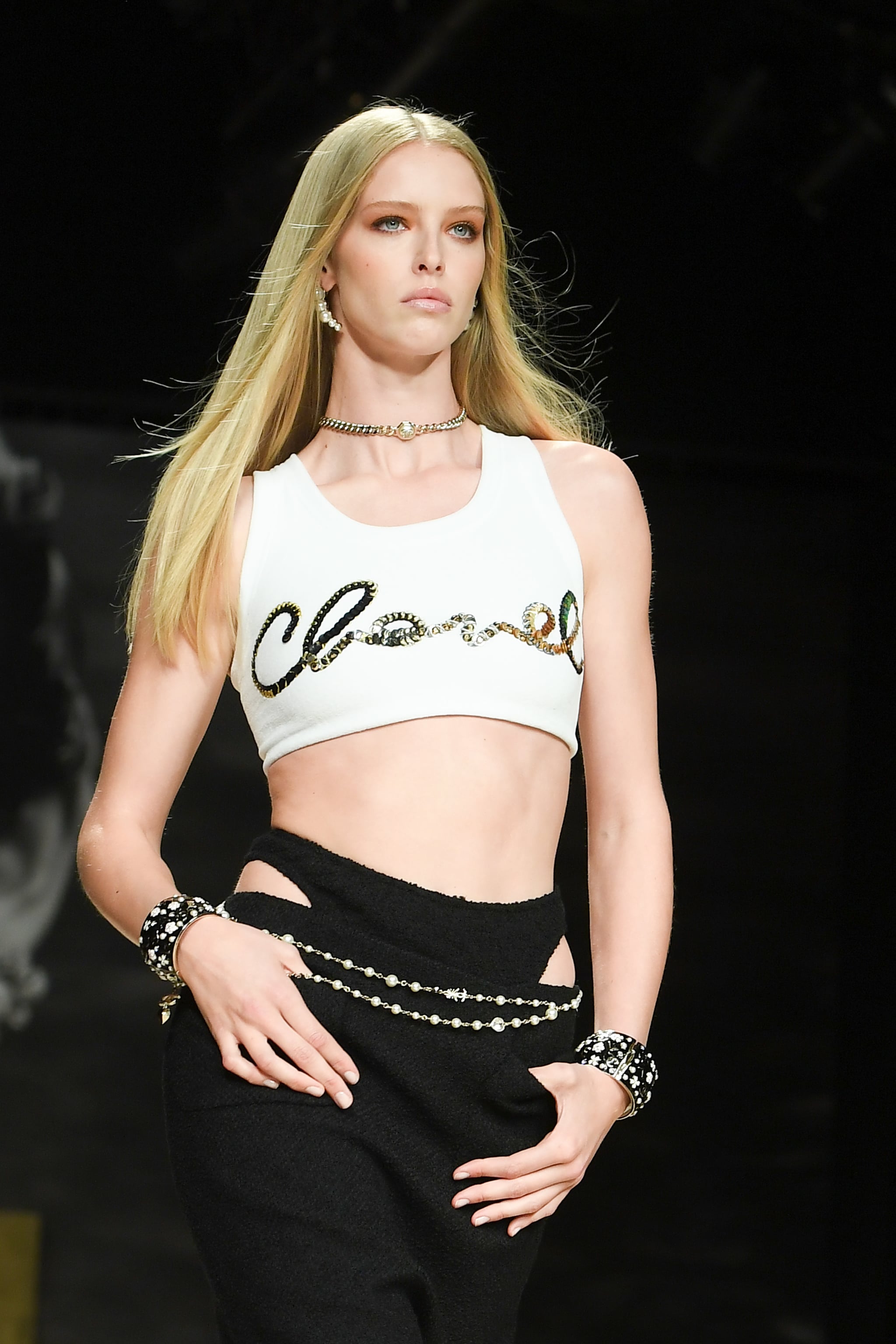 There was optimism and nostalgia baked into Chanel's spring 2022 runway, where Virginie Viard paid homage to the glory of the house's '80s and '90s collections and the era of the supermodel, and celebrity guests nodded along as models bopped to a cover of George Michael's '90s anthem "Freedom." Indeed, Virginie's collection was steeped in throwback references — a raised catwalk complete with old-school show photographers snapping the exuberant models making their way down the line, logo-adorned tees and accessories, high-cut swimwear, and purses shaped like iconic No. 5 bottles that all pointed to our current obsession with all things '90s. It was joyful and lighthearted, sexy and fun, complete with pelvic cutouts and Virginie's reimagining of '90s-era denim.
The reimagining, I'm afraid, stops there. While Virginie's designs tapped into the relevancy of nostalgic trends, giving them contemporary updates, the runway itself failed to meet the moment. The nostalgic lens with which the show was cast was, in fact, so strong, it essentially told the same story we saw on '90s runways and had hoped to move beyond in 2022. Again, we saw thin white women at the center of the collection, opening the show in high-cut swimwear, putting that toned '90s "supermodel body" on such obvious display that it mimicked the moment in '80s and '90s culture too literally, rather than referencing it and moving beyond it.
The nostalgic lens with which the show was cast was, in fact, so strong, it essentially told the same story we saw on '90s runways and had hoped to move beyond in 2022.
In an era where Rihanna's Savage show has become a gold standard for the representation Gen Z is asking for — where we have seen bodies in all their varying sizes (not to mention ethnicities and genders) normalized on the runway — was Chanel so consumed with recapturing the fashion of the past that it missed the moment? And more so, were we so blinded by the staging and the performance — the time capsule presented today in Paris — that we forgot to ask?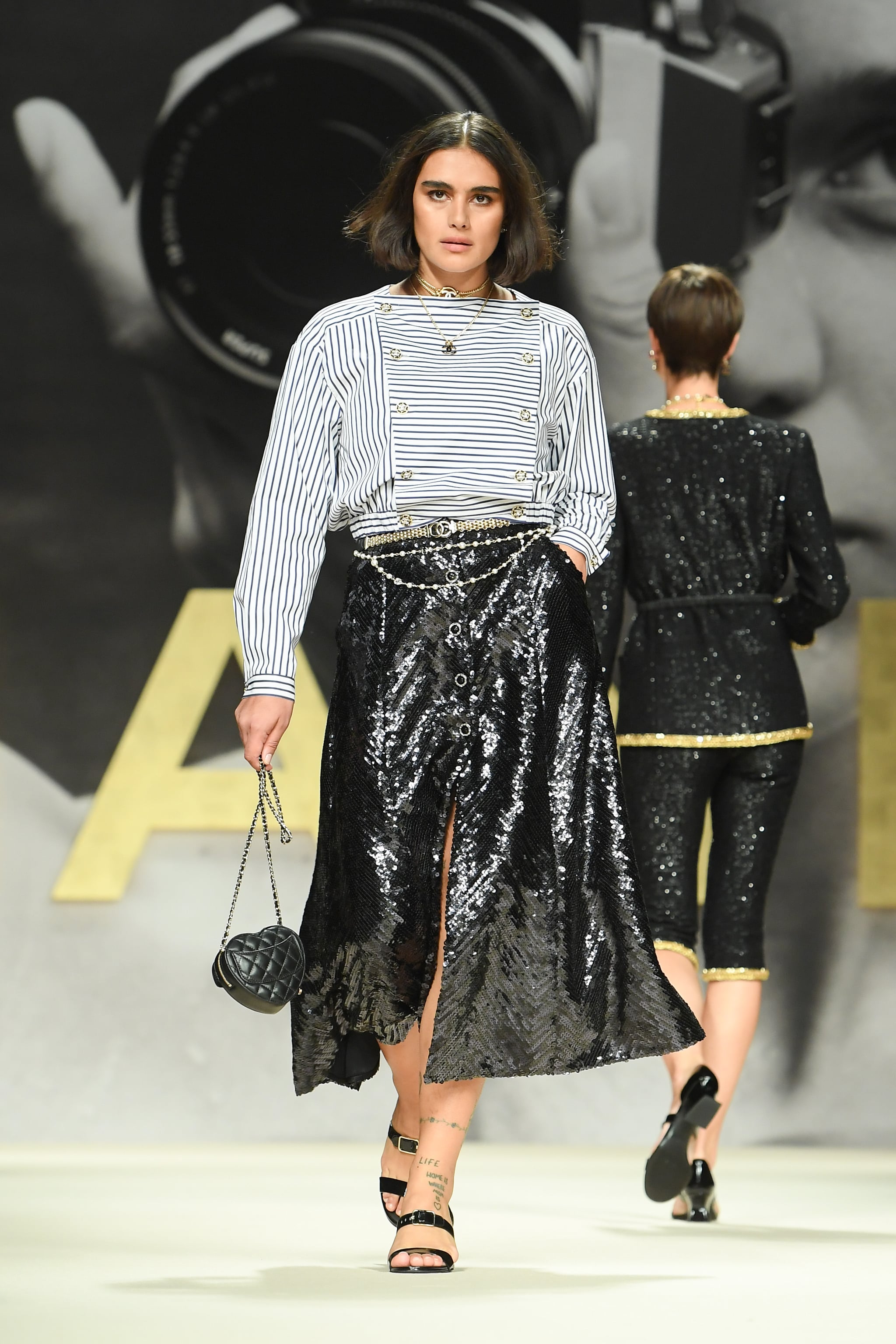 Above: Jill Kortleve was the only curve model to walk the Chanel runway.
It's easy to get swept up in the showmanship — that's been a part of Chanel's DNA since Karl Lagerfeld's legendary runway productions — but while Virginie's contemporaries, most notably Demna Gvasalia at Balenciaga and even Donatella Versace, are moving the conversation forward with their concepts and their casting, Chanel seems ultimately rooted in the past. That's ironic for a brand that's so clearly catering to younger customers with an onslaught of bra tops, chokers, and low-slung pants. Chanel seemingly delivered the vintage-inspired clothing Gen Z is asking for, all wrapped up in some pretty sizeist packaging.
It adds up to a missed opportunity — a moment to revisit the failings of the fashion industry in the '80s and '90s and retell that story with a 2022 lens. Sure, there was plenty of style here, no shortage of clothes and accessories we want to wear or covetable pieces you'll see on Instagram next season in the collection's 72 looks. But I have to argue that if Chanel's runway gave curves more visibility — and Jill Kortleve wasn't just where curve representation started and ended — that, I think, would give Virginie's take on the '90s the substance it was missing.