Lena Waithe's Statement Jacket Was the Reality Check the Met Gala Red Carpet Needed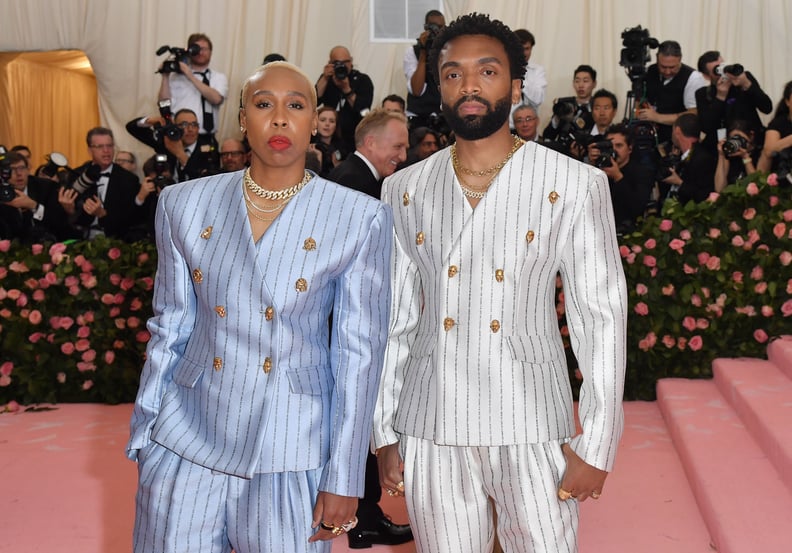 Getty | Angela Weiss
At Monday night's Met Gala, stars embraced the "Camp: Notes on Fashion" theme wholeheartedly, with an array of extravagant outfits that brought high camp and high fashion to the red carpet. While most celebs repped the night's theme with over-the-top outfits, one made a bigger statement with a simpler outfit. Multitalented actress, writer, and producer Lena Waithe showed up on the red carpet with a relatively simple outfit: a glossy, pale blue pantsuit. But when she turned around, the point became clear.
On the back of Lena's jacket, in bold font, was the sentence, "Black Drag Queens Invented Camp." Lena explained in a red carpet interview with E! News that she wanted to emphasize the roots of "camp" culture in black drag culture.
"Pepper LaBeija, Benny Ninja, RuPaul, all these pioneers . . . I really wanted to pay tribute to them and all that they did for the culture," she explained. "They started this whole 'camp' thing by being over-the-top."
It wasn't just the bold lettering that paid tribute to camp pioneers, though. The buttons on Lena's jacket, she revealed, are pictures of the drag and camp icons she mentioned, and the "pinstripes" on her suit are actually lyrics from Diana Ross's "I'm Coming Out" and Gloria Gaynor's "I Will Survive." Lena is on the committee for this year's Met Gala, so she's spent some time thinking about what "camp" really means.
"Camp, to me, means it's a little over-the-top, but it also means to take everything you're trying to do to the next level. It's about doing extra, it's about doing the most. And, you know, black folks do the most all the time!" she told E!. Check out Lena's fab look, plus some of the best reactions to her bold message.