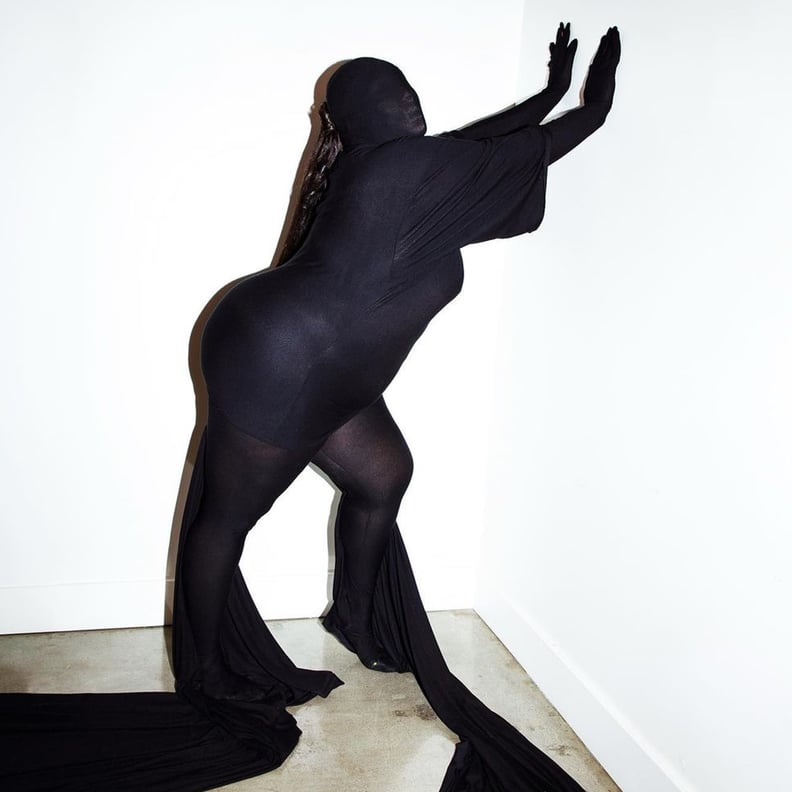 Lizzo's dedication to our favorite memes of 2021 is unshakeable, and not even the Force radiating off her Baby Yoda costume is a match for her re-creation of Kim Kardashian's Met Gala look from earlier this year. "UR FAVORITE SLEEP PARALYSIS DEMON💅🏾💅🏾💅🏾," Lizzo captioned photos of herself on Instagram, taken by photographer Bonnie Nichoalds. Like flicking through surprisingly hilarious snapshots of our worst nightmares, the photos show Lizzo covered head-to-toe in sheer black fabric with individual trains flowing past each leg and gloves covering her fingertips. So consider us spooked and impressed.
A spot-on copy of Kim's Demna Gvasalia ensemble, Lizzo's outfit was too perfect to pass up on a good photo op. The "Rumors" singer even took a moment to walk up a set of stairs just like Kim, face fully covered and extra-long ponytail on full display. After the photo shoot, Lizzo added a few slits for her eyes and mouth in the mask, making it slightly more haunting and hilarious all at once.
If you've been on Twitter at all since mid-September, you've probably noticed the thousands of memes that surfaced after Kim's appearance at the Met Gala, but this tribute is by far the funniest if you ask us, and even Kim approves. "Yesssss 🔥🔥🔥🔥🔥," she commented on Lizzo's Instagram post, adding a, "Love you!!! 🖤🖤🖤," shortly after.
Check out Lizzo's outfit from all angles ahead and see more of our favorite celebrity costumes from Halloween 2021 here.